Fifth-generation hybrid system introduced
Corolla Cross Hybrid is new for 2023
New hybrid trims and electronic all-wheel drive added to Corolla sedan family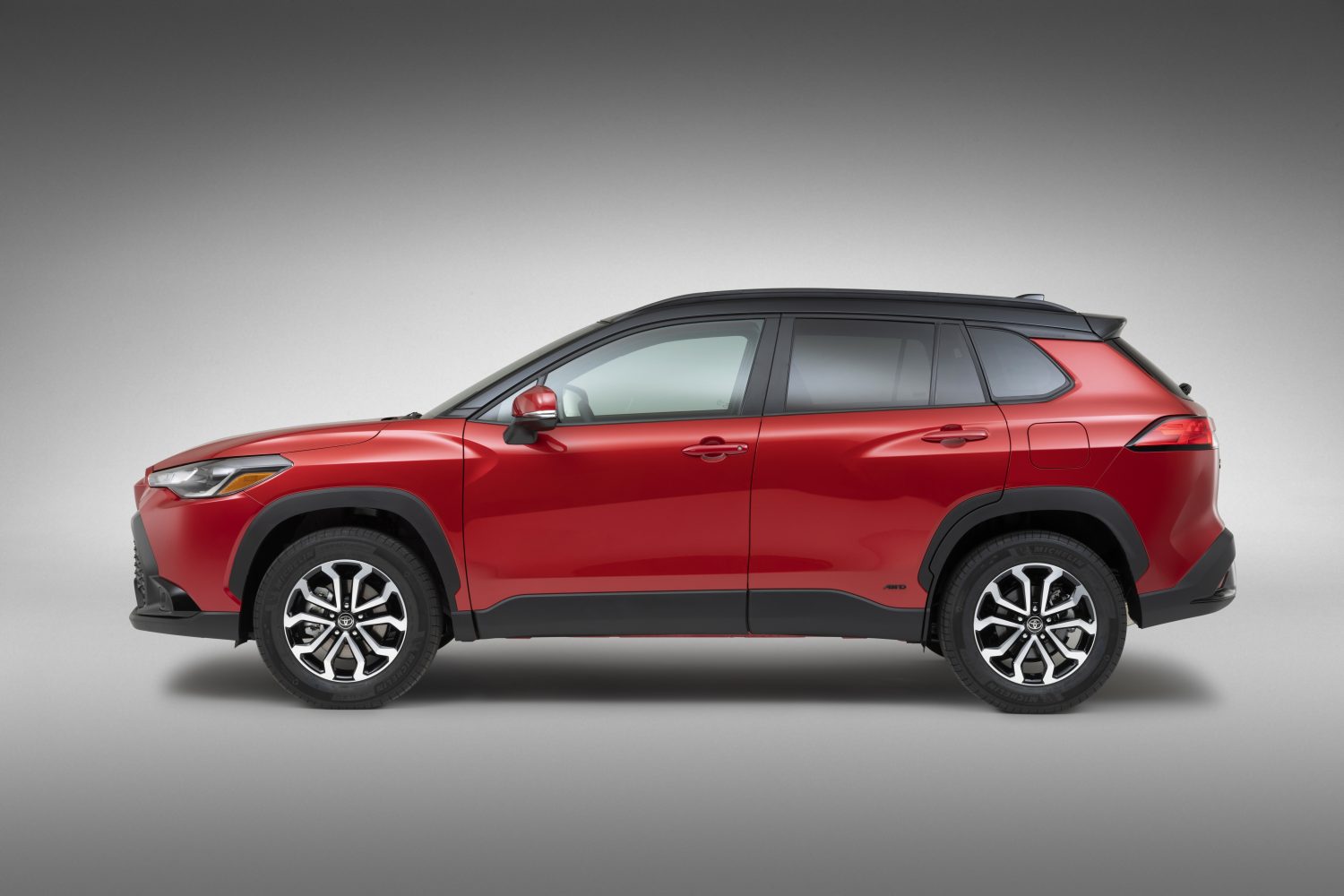 Toyota's on a hybrid tear for the 2023 model year, with five new gas-electric versions of its popular Corolla coming – including an all-new Corolla Cross Hybrid – along with the fifth generation of its Toyota Hybrid System.
[A 4-min. read]
The updated hybrid system debuts on a new model, the 2023 Corolla Cross Hybrid, an all-wheel drive subcompact crossover that will be available in five trim levels, all with 194 horsepower and Toyota-estimated fuel efficiency of 37 mpg for combined city and highway driving.
In the Corolla sedan family, Toyota is adding two new hybrid trim levels to the existing LE – a sporty SE and a premium-level XLE – as well as electronic all-wheel drive versions of the LE and SE hybrid trims. That's a total of five hybrid variants versus the single front-drive LE Hybrid available for the 2022 model year.
Toyota hasn't said yet whether the sedan hybrids will get the same power and fuel efficiency improvements as the Cross Hybrid – or whether there will be a hybrid version of the Corolla hatchback for 2023.
Corolla Upgrades
Across the Corolla lineup, all hybrid and non-electrified models get updated front and rear treatments; several new exterior colors, updated and customizable driver information displays, the new Toyota Audio Multimedia infotainment system with voice control and an 8-inch touchscreen, and the new Toyota Safety Sense 3.0 suite of advanced safety and driver assistance features.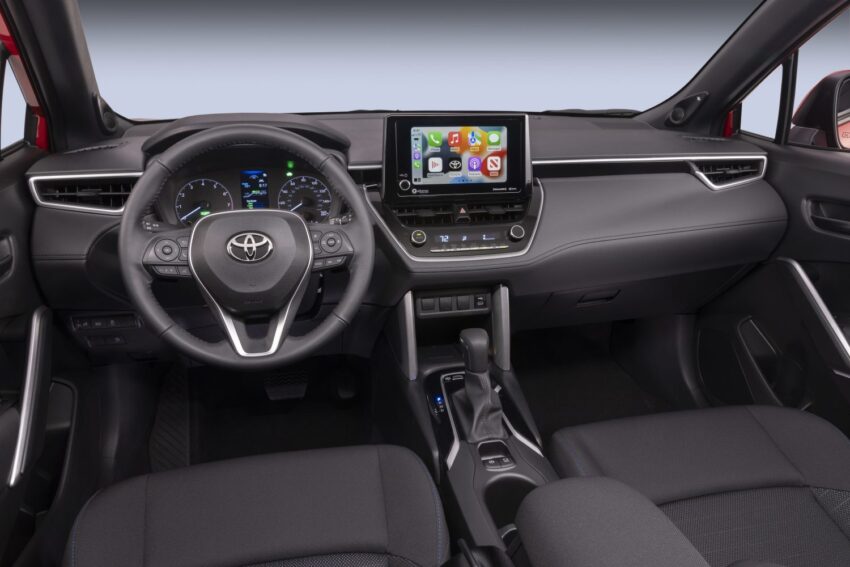 The multimedia system enables dual wireless smartphone pairing, wireless Apple CarPlay and Android Auto compatibility and subscription-based Wi-Fi hotspot with streaming music. A 9-speaker JBL audio system is an option on all but the base LE trim.
Corolla Safety
The new Toyota Safety Sense 3.0 suite that's standard across all Corolla models includes front collision avoidance with pedestrian detection and motorcycle detection in some situations, intersection collision alert and braking, lane departure alert with steering assist, lane centering assist, all-speed adaptive cruise control and automatic high beams.
The Corolla Cross Hybrid also gets blind spot monitoring and rear cross traffic alert on all but the LE trim, and hill start assist on all trims.
More Hybrid Power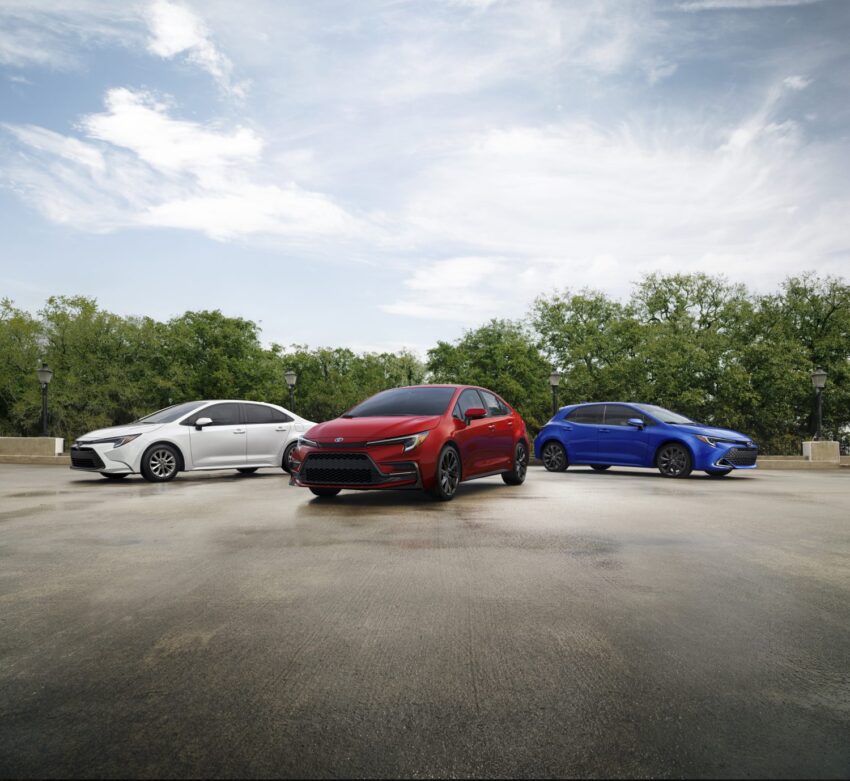 The Corolla Hybrid sedan uses an updated motor-generator system that pairs the a 1.8 liter gas engine with two electric motor-generators, a continuously variable transmission (CVT) and a newly developed electric drive motor.
All-wheel drive versions also get an electric motor on the rear axle that's electronically linked to the front drive system. The system engages the rear wheels to help reduce front-wheel slip at take-off, improve traction when cornering and minimize slippage on wet, icy or otherwise slippery surfaces.
The 2023 Corolla SE trims also get the firmer electronic steering system from the limited production Corolla Apex Edition.
The new hybrid system also uses a new lithium-ion battery that fits beneath the rear seat.
Toyota says the new system is both more powerful and more efficient than the fourth-generation hybrid system (power and efficiency levels vary by application), but specifications for the 2023 Corolla sedan and hatchback hybrids haven't yet been announced.
More Ponies for Cross Hybrid
The new 2023 Corolla Cross Hybrid crossover, which uses the fifth-generation hybrid system, will have 194 horsepower, though, and that's a nearly 15 percent bump up from the standard Cross' 169 ponies. It also represents a 60 percent, 73-pony uptick in output from the 121-horsepower, fourth-gen gas-electric powertrain used for the 2022 Corolla Hybrid sedan.
The Cross Hybrid is no lightweight, though, and Toyota says that even with the new electronic all-wheel drive hybrid system it will take 8 seconds to hit 60 mph from a standing start. That's quicker than the 9- to 10-second times reported for the standard Cross and a little above average for the subcompact crossover segment.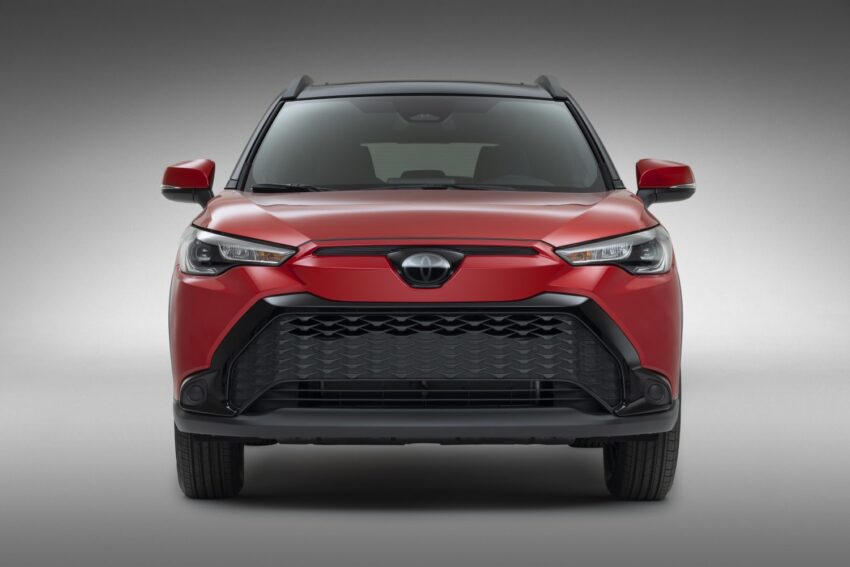 The 2023 Corolla Cross Hybrid's 37 mpg efficiency estimate, if upheld by the EPA when the official number is released, is a 23 percent improvement over the 2022 Corolla Cross' 30 mpg combined rating.
The Cross Hybrid will be offered in the LE and XLE trims already used with the standard Corolla Cross, along with three new grades – S, SE and XSE – with sport-tuned suspensions and LED lighting. The XSE gets Toyota's SofTex faux leather upholstery, heated front seats and a power-adjustable driver's seat.
Pricing hasn't been announced.
And More to Come
Toyota, which just introduced its first mass-market EV, the awkwardly named, RAV4-sized bZ4X crossover, has said it plans to add 30 hybrids, plug-in hybrids and EVs to its global lineup by 2030, half of them by 2025 –although whether it can meet that deadline is questionable as timelines for all automakers have been slipping because of global parts shortages and supply chain slowdowns.
While a number of the new electrified models will be introduced under the upscale Lexus nameplate, more than half will be Toyotas.
The electrified lineup, as teased in a late 2021 announcement, includes a pickup truck, a sports car, several crossovers and SUVs and a couple of sedans and commercial vehicles.