Honda is launching the redesigned 2018 Accord this month – but not the new Accord Hybrid, which has to wait until early in the actual 2018 calendar year for its debut.
[Estimated Reading Time: 1 minute, 30 seconds.]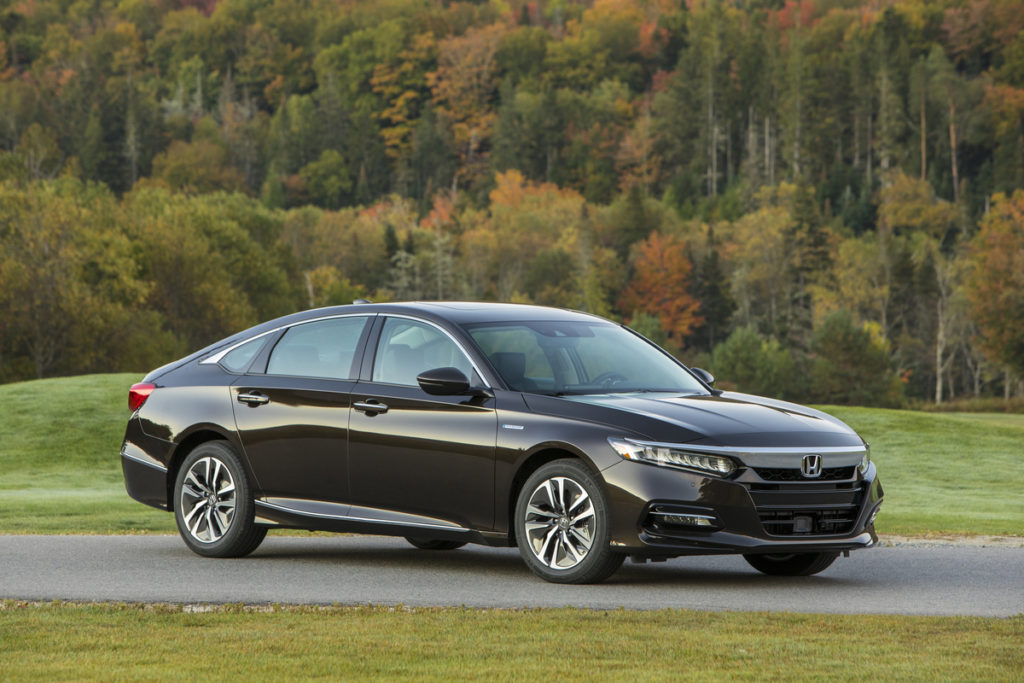 Still, the company's disclosed some details, so here we go:
The Honda Accord benefits are huge!! Like the all-gasoline 2018 Accords, the new hybrid will sit on new underpinnings. It is lighter and more rigid than in previous Accords.
The exterior and interior are new as well.
The redesign – and Honda's decision to abandon the VTEC engine in regular gasoline-only models – gives the 2018 Accords slightly smaller overall length, but larger interiors, than the 2017 models.
That earns the 2018 Accord – hybrid and otherwise – federal designation as a large car while the 2017 was ranked as a midsize.
The interior grows thanks to the smaller engine bay real estate required by a 4-cylinder engine, as well as the space gained by the new Accord's slightly wider body.
Honda says the 2018 Accord Hybrid will be more fuel-efficient than any previous Accord Hybrid. Look for it to try to equal, or best, the 2018 Toyota Camry Hybrid. The Toyota was the first mid-size sedan to earn a combined 50-mpg rating from the EPA.
With an EPA rating of 49 mpg city, 47 mpg highway, and 48 mpg combined for 2017, winning a combined EPA rating of 50 mpg for the 2018 Accord Hybrid shouldn't be too difficult.
Honda also says that the two-motor hybrid system for the 2018 Accord Hybrid – the 3rd generation of that system – will be the most powerful. Edmunds.com reports that it will produce 212 horsepower (the electric motors are combined with a 2.0-liter gas engine).
The hybrid's battery pack is now under the rear seat, enabling the 2018 Accord Hybrid to have the same split and folding rear seat as the standard Accord, as well as the same 16.7-cubic-foot trunk. That's nearly 25 percent more trunk room than the current Accord Hybrid.
Finally, there will be a hybrid version of all 2018 Accord trim levels except the 1.5-liter and 2.0 liter Sport trims.