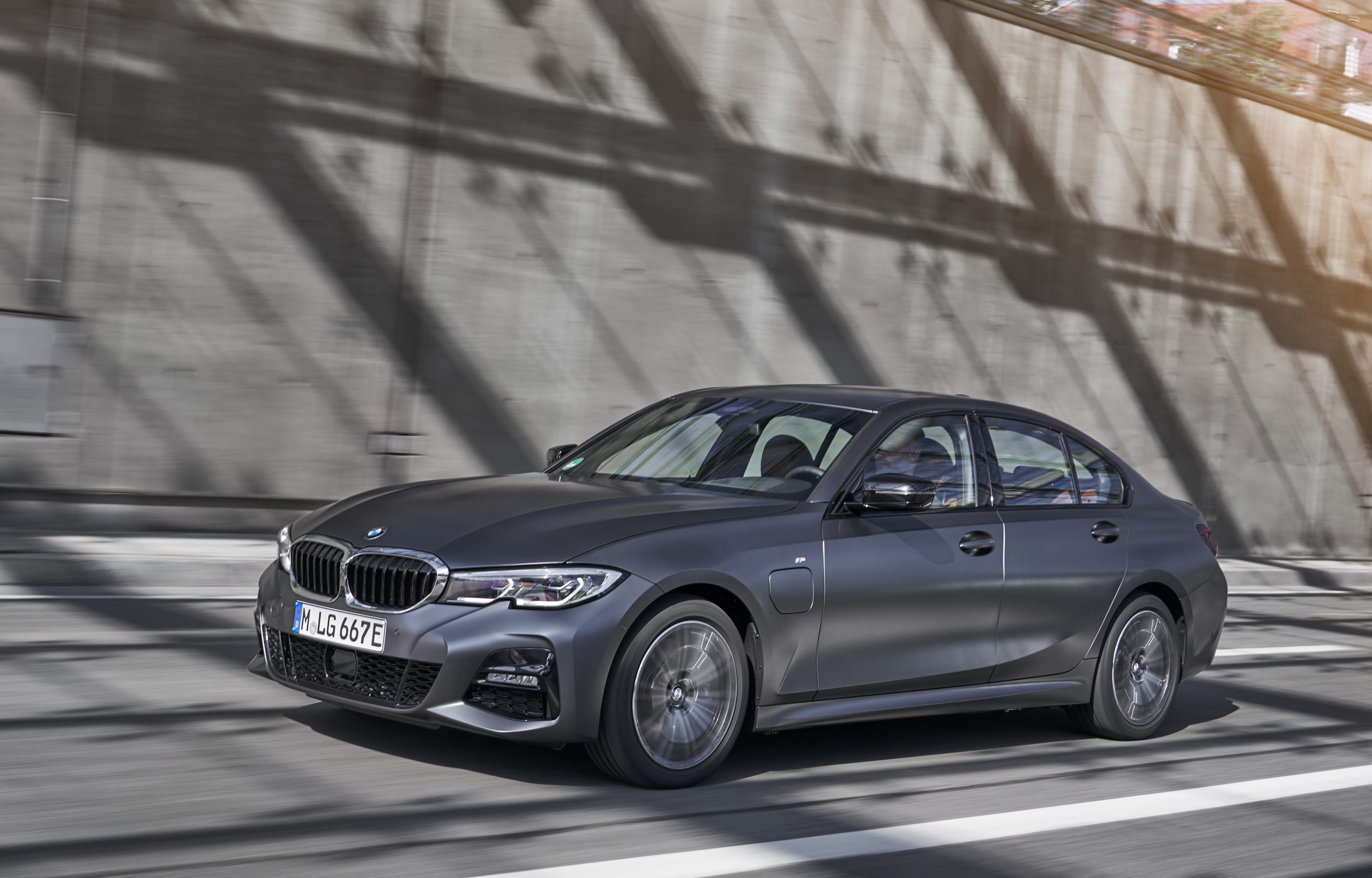 Two new BMW plug-in hybrids are slated to arrive in dealer showrooms in May, replacing the 330e sedan that was discontinued in 2019.
The 2021 3-Series PHEV sedans will come in two flavors: The rear-wheel drive 330e and the all-wheel drive 330e xDrive. They are new to the U.S. but were introduced in Europe last year as as 2020 models.
[Estimated Reading Time: 3 min.]
They feature improved all-electric range versus the previous generation 3-Series PHEV – 22 miles in the 330e and 20 miles in the 330e xDrive, versus 14 miles in the 2018 330e (there was no xDrive version in the last generation).
Fuel Economy
The sweet spot for plug-in hybrids is 30 miles or more of all-electric drive, so the new 3-Series PHEVs' range leaves a bit to be desired. Still, those who charge up every night will find that 20 or 22 miles of gas-free driving does wonders for overall fuel efficiency.
BMW says the EPA rating for the cars will be 74 mpg-equivalent for the 330e – up from 71 in the previous generation – and 67 mpg-e for the 330e xDrive.
Be aware, though, that because their fuel efficiency drops with every gallon of fuel consumed between battery charges, that mpg-e rating is pretty meaningless with PHEVs.
A plug-in hybrid's mpg-e rating is based on the distance it could travel in all-electric mode on 33.7 kWh of energy – the equivalent of one gallon of gasoline.
The previous generation 3-Series PHEV's 71 mpg-e rating says it could go that far if its battery were almost three times larger than it is. But it only goes 14 miles on electricity alone. The EPA also rates PHEVs on their efficiency when their battery charge is depleted. The 2018 330e gets a 30 mpg rating.
So for the first gallon of gas consumed in that 2018 model you could, in theory, drive 44 miles (no gas for the first 14 miles and then 30 miles for the first gallon), for a real-world efficiency of 44 mpg. Use two gallons of gas without recharging the battery, though, and your efficiency would drop to 37 mpg – 14 miles on electricity and 60 miles on two gallons for a total of 74 miles. Use three gallons between battery charges and theoretical fuel efficiency would be 34.6 mpg.
For the consumer, then, the EPA rating for a PHEV is really only valuable for comparison shopping against other PHEVs.
The official EPA numbers for the 2021 3-Series PHEVs aren't available yet. We'll revisit when they are.
Style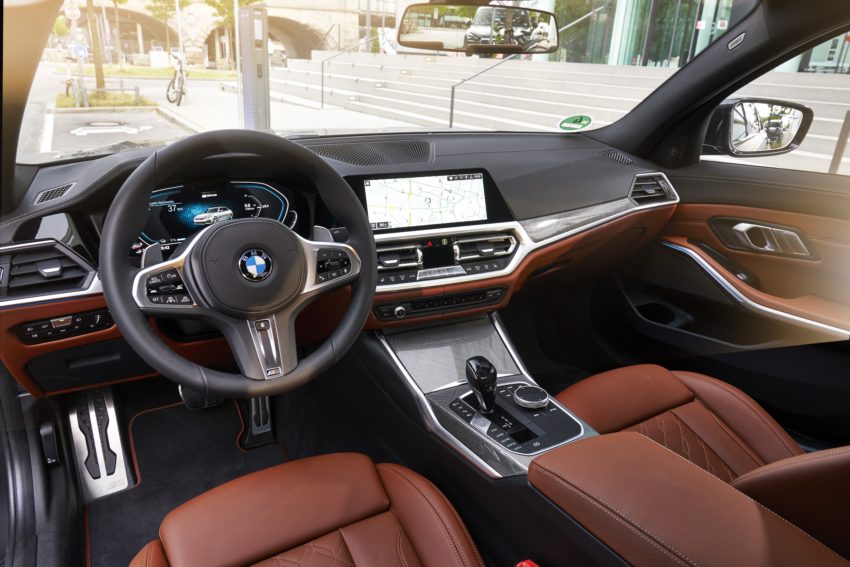 Stylistically the BMW plug-in hybrids are virtually indistinguishable from their plugless counterparts.
A charge port door on the left front flank and the "e" on the badge are the sole tell-tales that it's a plug-in instead of the normal gas-only 3-Series sedan.
Powertrain
The new 3-Series PHEVs use a 2.0-liter, turbocharged engine rated at 181 horsepower and 258 pound-feet of torque is paired with a 107-horsepower, 77 lb-ft electric traction motor. The electric motor is fed by a lithium-ion battery with 9.09 kWh of usable power – 12 kWh gross capacity. Usable capacity is the energy equivalent of 0.26 gallon of gas.
The battery is mounted under the rear seats.
Combined output with both engine and electric motor and at work is a peak 288 horsepower and 310 lb-ft of torque. Normal combined system output is 248 hp.
Power is sent to the wheels through an 8-speed automatic "Steptronic" transmission that can adapt shift strategy according to terrain and driving conditions. It uses data from the standard navigation system and, when available, the optional active cruise control system radar.
Examples offered by BMW are that it will avoid unnecessary gear changing when the car is barreling through a series of fast corners – on a twisty mountain road, for instance – and will downshift early to scrub off seed when approaching a vehicle that's ahead in the same lane.
XtraBoost
The 3-Series PHEVs achieve their peak power output in an XtraBoost range, achieved when the throttle is floored in Sport mode.
It provides a 40 hp power increase for up to 10 seconds.
Performance
BMW rates the 330e's 0-60 performance at 5.6 seconds and top speed at 130 mph – 142 mph with performance tires.
The all-wheel drive system's extra weight boosts the 330e xDrive's 0-60 acceleration time to 5.7 seconds. The xDrive PHEV's top speed with all-season tires remains 130 mph, but it drops to 140 mph with performance tires.
Cargo
Because the 330e models share their platform with the standard 3-Series, something had to give to permit the hybrid battery to fit. It is situated under the rear seat, and the 13.2-gallon gas tank is over the rear axle, which eats up a bit of cargo space.
While the standard 3-Series models boast a capacious 17 cubic-feet of trunk space, the plug in hybrids' trunks provide only 13.2 cubes.
The PHEV trunks do feature a dual-height floor, though. A portion can be lowered to fit bulky goods – like a golf bag,
Pricing. Features and Packages
The base 330e plug-in hybrid starts at $45,545 including BMW's $995 destination charge. That's a $3,800 jump from the base gas-only 330i.
The all-wheel drive 330e xDrive PHEV starts at $47,545.
Standard equipment includes 18-inch alloys; power adjustable sport-styled front sets; a moonroof; wood interior trim; dynamic cruise control with downhill braking and curve speed reduction; satellite-based navigation; Apple CarPlay connectivity; auto-dimming interior and exterior mirrors, and automatic climate control.
In BWM's usual style, the 3-Series PHEVs can be up-fitted via a number of stand-alone options or eight different options packages that can add features such as 10-inch wheels; adaptive cruise control with full stop-and-go; parking assistance; a variety of driving assistance and active safety systems; heated seats, and fancier interior treatments.