Sleek styling
AWD is standard
Facial recognition system
Super-fast charging
Hard to find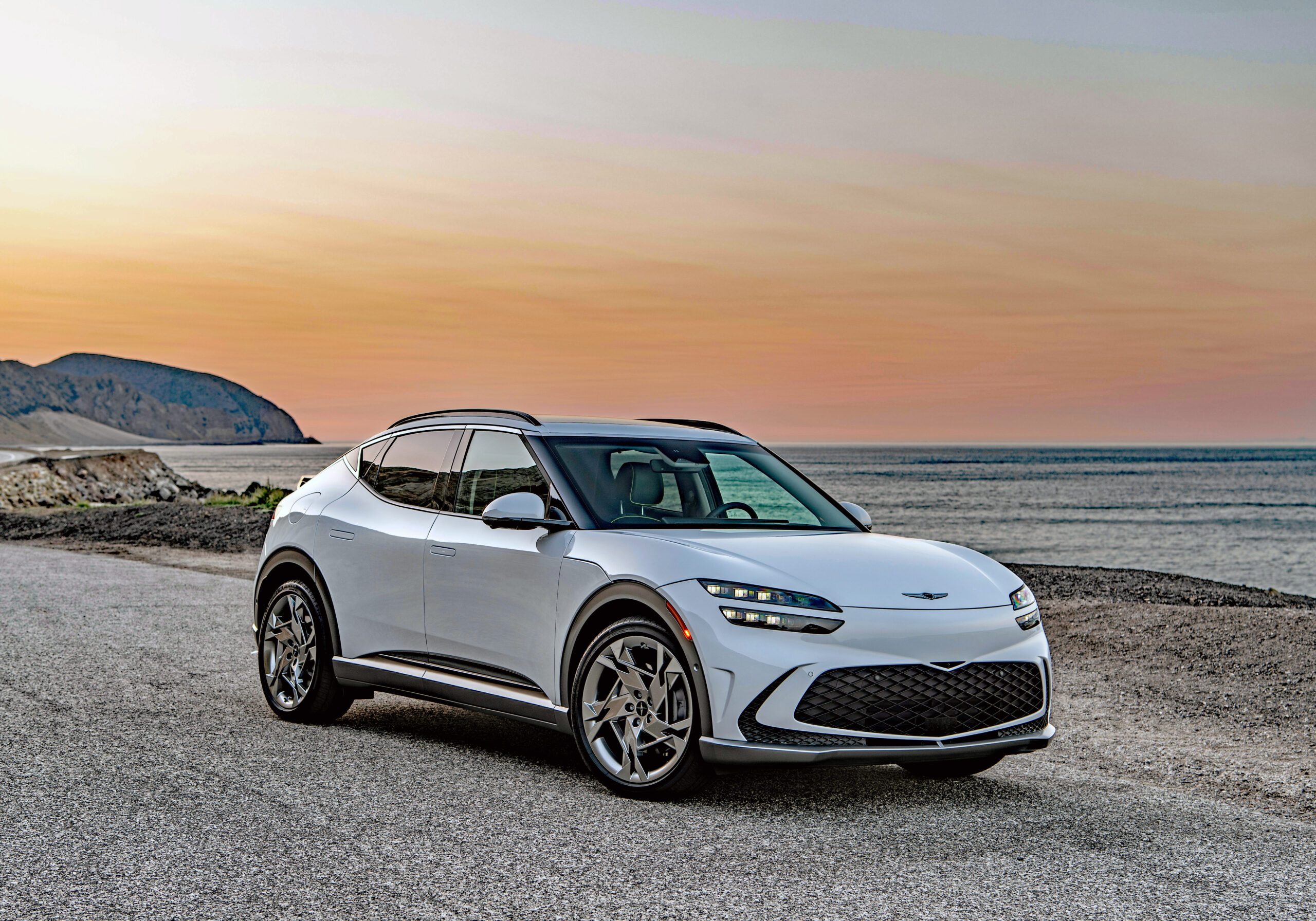 The Genesis GV60, uptown cousin to the Hyundai Ioniq 5 and Kia EV6, has landed in the U.S. – or in parts of it, anyhow, as initial sales of the brand's first EV are limited to select dealerships in just four states, California, Connecticut, New Jersey and New York.
While a lot about this compact crossover is familiar, at least to those who've experienced the Hyundai and Kia versions, the GV60 brings a few new things to the table – as befits its positioning as part of the Genesis luxury brand.
Among them are a fresh fastback design and techy features such as a facial recognition system for opening doors and fingerprint recognition for starting the electric drive system, and a revolving sphere in the center console that presents a faceted crystal face when the power is off and rolls around to reveal a dome-shaped, knurled rotary shifter when the GV60 is powered up. Here's hoping the revolving mechanism is sturdy because if it quit working, there's no shifter – the manual tells drivers to call the nearest dealership for help.
Also unique to the GV60 is a "Boost" button for the 429-horsepower Performance trim that ups the flow of electrons from the battery for a 10-second, 12.5% power hike that can be used for passing, drag racing the neighbor's Corvette or just for the heck of it.
Outside, the GV60 has a little bit of EV6 in its design. Both use rounded corners, smooth curves and a rearward sloping roofline rather than the creases, angles and planes that define the Ioniq 5.
The Genesis, though, is even smoother and softer than the EV6 – no creased character lines, for instance – and its rear roofline drops sharply for a fastback coupe-like appearance.
Unlike the flat-nosed, grill-less Ioniq 5, the GV60's gracefully curved snout houses what could almost pass for a standard grille – in this case used to provide cooling airflow for the electronics.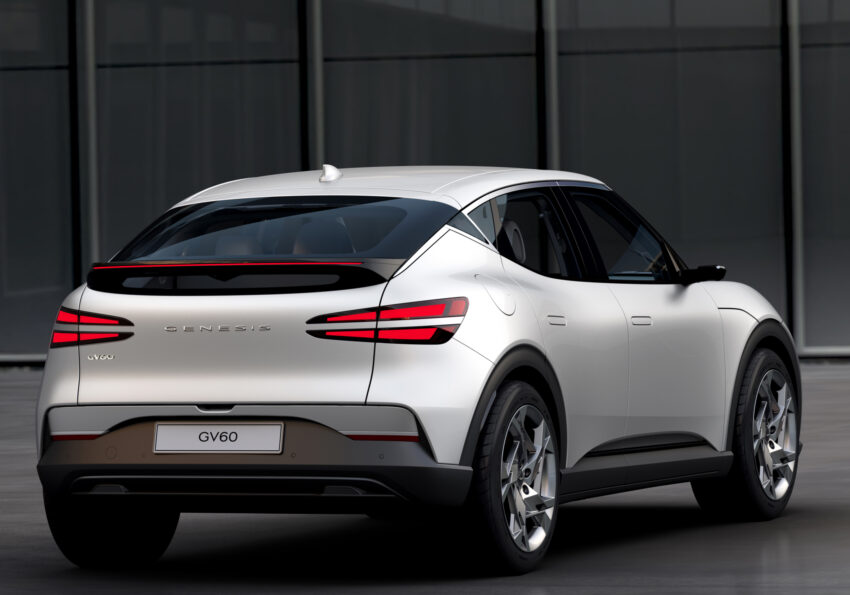 Its rear end design eschews the full width-light bars of its cousins for a pair of two-bar taillights set framelessly – like the LED headlamps – into the sheet metal. Old timers might refer to them as "frenched" lights. 
Like both of its cousins – all three companies are part of South Korea's Hyundai Group and all three EVs share the same skateboard-type electric vehicle platform co-developed by Hyundai and Kia – the GV60 is bigger than it looks.
Trims and Pricing
The 2023 GV60 comes in two trim levels, both with standard electronic all-wheel drive.
Advanced, the base trim, starts at $59,980. That's before any incentives and includes Genesis' $1,090 destination fee.
It includes 20-inch alloys, power mirrors and power retractable door handles, a hands-free power liftgate, leather upholstery with heated and ventilated power adjustable front seats, heated steering wheel, dual zone climate system, premium Bang & Olufsen audio system, Face Connect visual recognition for keyless entry and Fingerprint Authentication for keyless ignition, a head-up display and a vehicle-to-grid power takeoff system that lets the GV60's battery pack be used to power 120-volt equipment such as stereo systems, power tools, recreation equipment inflators and the like.
The GV60 Performance starts at $68,980 before incentives and adds 21-inch alloys, a bigger front motor, electronically controlled suspension and an electronic limited slip differential, Nappa leather upholstery, heated rear seats, a massage function for the adjustable driver's seat and a smartphone-based digital key system that functions while the phone remains in the driver's purse or pocket.
A very long wheelbase and flat floor that open the interior also give it a sporty wheels-to-the-corners exterior profile with short front and rear overhangs.
Inside the GV60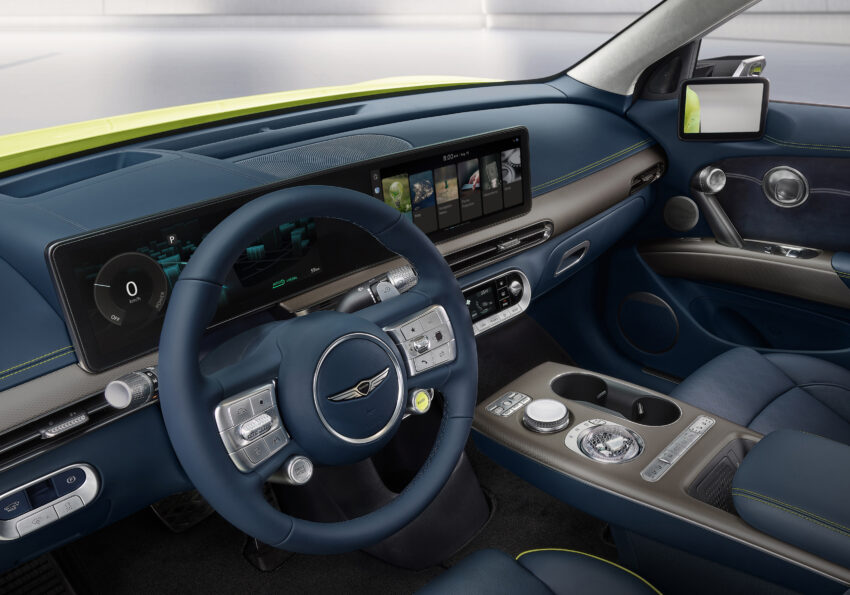 The GV60 doesn't have the world-class luxury interior appointments of other Genesis models, but it still competes well in its rather nrrow segment. Some who are cross shoppng the ioniq 5 and Kia EV6 may find the GV60's interior to be less starkly modern and a bit more comfortably familiar – with a glove box and shiny surrounds of control knobs and switches on the dash board.
The dual 12.3-inch digital screens – infotainment and drive information – sitting side-by side under glass atop a two-level dash do shout, however, that this is a modern EV. Horizontal air vents are housed in a broad metallic trim strip dividing upper and lower dash segments. An oval lower dash housing for climate system and audio controls fills the center of the lower dash segment. The GV60 also gets a glove box, actually a slide-out drawer, while the Hyundai and Kia versions go without.
The Genesis EV's floating center console has a covered cubby and dual cup holders up top with an open tray at floor level for larger pieces – purses, laptops, single shopping bags and items of that ilk.
A glass roof is standard, the steering wheel rim is comfortably fat and the seats are nicely bolstered. Front buckets have an extended thigh support.
Performance, Range and Charging
Both GV60 trims use 77.4 kilowatt-hour battery packs and dual electric motors – one for each axle. The batteries are cooled or heated – depending of ambient temperatures – to maintain maximum performance and battery life.
The Advanced trim has a 74-kilowatt motor (99.2 hp) up front and a 160 kW motor (214.6 hp) on the rear axle, for total output of 314 horsepower. Torque figures haven't been released. Range is an EPA estimated 248 miles per charge.
The Performance trim uses160 kW motors on each axle for combined output of 429 hp, and the "Boost" function can push that to 483 horsepower for up to 10 seconds and enable a 0-60 mph sprint in just under 4 seconds, according the Genesis engineers. Range for the Performance trim is up to 235 miles per charge.
The GV60s 's suspension is tuned for comfort, not performance. Even with the "Road Preview" feature on the Performance trim – a camera view that feeds information about the road immediately ahead of the car to the electronically controlled suspensions' brain for quick adjustments – some reviewers have found it delivers less than satisfying ride quality and control on curvy, twisty roads.
Like its cousins, the GV60 has "one-pedal" driving – called i-Mode – that uses a high level of regenerative braking to bring the car to a complete stop without use of the brake pedal (as with most EVs, it works best around town and isn't strong enough to be very useful at stopping effectively at highway speeds.)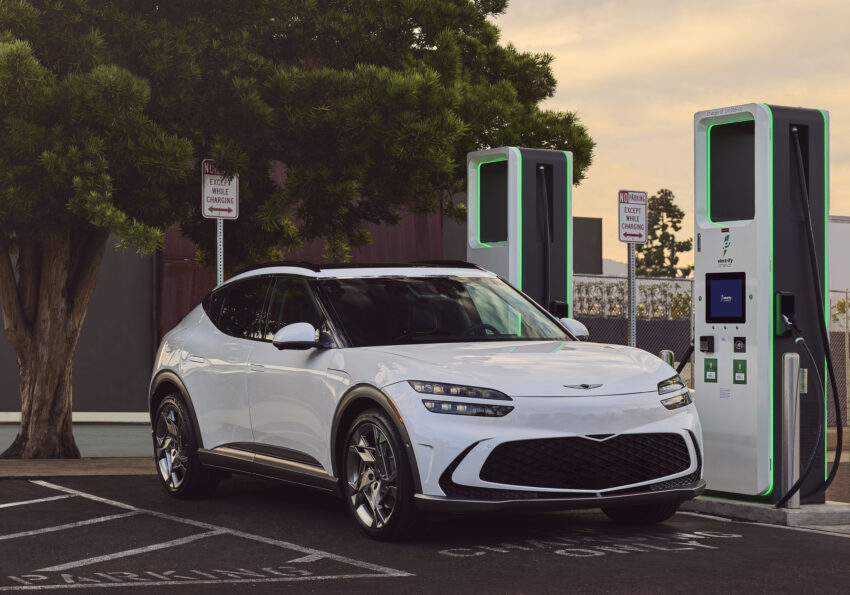 And like the Hyundai and Kia versions, the GV60 uses 800-volt/400-volt charging architecture, which enables it to take advantage of the most powerful 350-kW DC fast chargers available today.
That means that on road trips, when shorter sessions at the charging station are better, a Level 3 DC fast charger rated at 350 kilowatts can deliver an 80% recharge in abut 18 minutes when starting with just 10% of capacity – adding a total of about 170 miles of range. That time doubles on a more commonly found 150 kilowatt fast charger, though.
At home or work, the GV60's on-board 10.9 kilowatt charger working with a Level 2, 240-volt charging system, will replenish a depleted battery in about 7 hours.
Safety and Tech
The GV60 comes with the full suite of Genesis' advanced safety and driver assistance technology as standard equipment.
It includes full-range adaptive cruise control, forward collision and rear cross-traffic avoidance assist systems, lane keeping and lane following assist, blind spot monitor and collision avoidance assist, a 360-degree surround view monitor, parking collision avoidance assist, driver attention monitoring, remote parking assist and rear seat occupant alert and safe exit assist.
The 2023 GV6's standard infotainment tech includes a hands-free phone and audio streaming system, 4 USB-C ports (no A ports, however), wireless smartphone charging, Apple CarPlay and Android Auto compatibility and Genesis Connected Care, a system that includes automatic collision notification, emergency roadside assistance, over-the-air software updates, monthly vehicle health reports and maintenance and diagnostic alerts.
And more to come…
The GV60 is the first all-electric Genesis and launches the brand's effort to go all-electric by 2030. The Electrified G80 luxury sedan is slated to go on sale later this year and the GV70 all-electric crossover will begin production at the Hyundai Motor Group's U.S. plant in Montgomery, Ala. It will be the first Genesis model built outside of South Korea.