Hyundai's upscale Genesis brand says it is developing an EV platform that could be used for both a sedan and an SUV.
The brand also is eyeing its own version of the Hyundai Nexo fuel-cell electric vehicle.
[Estimated Reading Time: 2 min., 15 sec.]
The first Genesis EV could hit the market in 2121 and likely would be the sedan, according to a report in Drive, an Australian automotive site.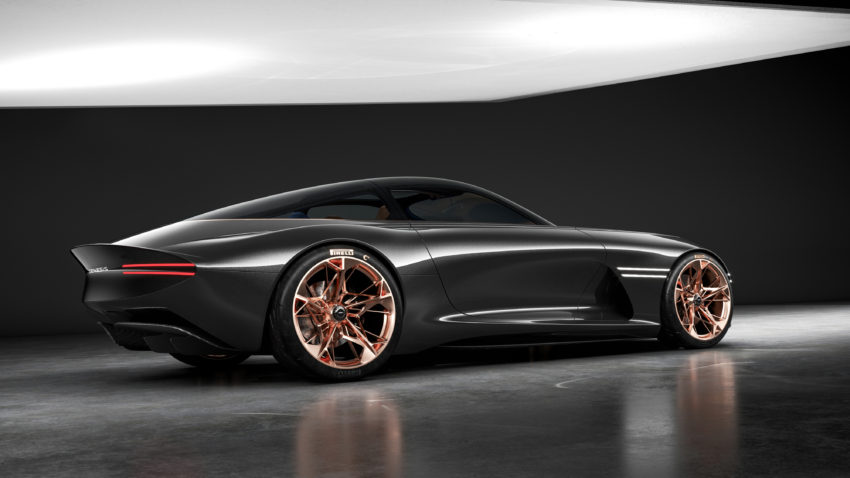 Hyundai Motor Group officials initially disclosed their plans for a dedicated EV platform in 2017, and said at the time there would be a Hyundai SUV on the platform in 2020 and a Genesis in 2021. This is the first word that the Genesis is likely to be an all-electric sedan.
Launch plans for the U.S. haven't been disclosed, but Genesis executives might do well to reverse the order with an electric SUV first.
The company, launched as a stand-alone brand in 2015, has won loads of praise for its vehicles from automotive critics in the U.S., but sales have been weak.
The Genesis lineup is all sedan while buyers in the U.S., especially luxury buyers, increasingly are tilting toward crossovers and SUVs.
Genesis previously has shown two all-electric concept cars, but both were two-seat coupes. Battery-electric sedans and SUVs would represent a big leap.
Genesis also reportedly is developing a fuel-cell electric vehicle, based on the technology parent Hyundai uses in the Nexo FCEV.
Hyundai Motor Group, which also owns Kia, has made a big commitment to electrified vehicles, battery and fuel cell. The company says it will have 44 electrified models globally by 2025.
Present electric models in the Hyundai family, including the Kia Soul and Niro and Hyundai Ioniq and Kona EVs, are built on modified versions of standard internal combustion engine vehicles.
Those conversions typically result in a loss of cargo and/or cabin space as the electric drive system and battery pack are fitted into spaces designed for gasoline or diesel powertrains and fuel tanks.
Developing a dedicated EV platform will enable Hyundai to better compete with other automakers that are doing the same.
A Genesis EV would compete against Tesla, BMW and other luxury brands in the U.S.