More Hybrid, Plug-In Models Coming, Carmaker Says
The upcoming 2017 Hyundai Ioniq Hybrid sedan has received an EPA fuel efficiency rating of 58 miles per gallon in combined city and highway driving, beating the previous champion, Toyota's 2017 Prius Eco Two, by 2 mpg.
The Ioniq, one of a family of electrified sedans Hyundai will be introducing under that model name (there also will be a battery-electric Ioniq and a plug-in hybrid model) was rated at 57 mpg on  the city driving cycle and 59 mpg on the highway cycle.
[Estimated Reading Time: 1 minute.]
That compares to the Prius' ratings of 58 mpg city, 53 mpg highway and 56 mpg combined.  the Eco Two is a specially-equipped model designed for fuel efficiency. Other Prius sedan models get  lower fuel efficiency ratings of 54 mpg city, 50 mpg highway and 52 mpg combined.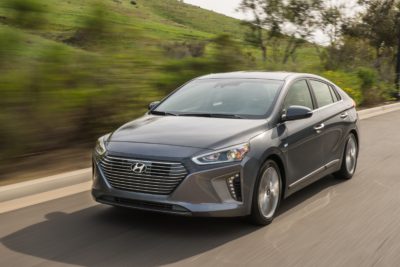 The Ioniq Hybrid, a five-passenger sedan, is powered by a 1.6-liter gas engine coupled to an electric motor that draws its power from a 1.56-kWh lithium-ion battery. Power is delivered through a conventional six-speed dual-clutch automatic (versus the continuously variable automatic transmissions most hybrids use). Combined output is 139 horsepower.
Hyundai has said it intends to become a world leader in plug-in and fuel-cell electric vehicle offerings.
In addition to its already announced Ioniq models, the California-only Tucson fuel-cell electric SUV and the Sonata hybrid and plug-in hybrid models, Hyundai says it will introduce a new EV with at least 200 miles of range by 2018.
Globally, the company intends to have 10 conventional hybrid, eight plug-in hybrid, five EV and two fuel-cell electric models in the market by 2020.