(Update: Kona EV pricing for all trim levels.)
Hyundai's calling it a sub-$30,000 EV, but the official price for the base 2019 Hyundai Kona EV is $37,495 including a $1,045 destination fee.
But the compact EV qualifies for a federal tax credit of up to $7,500, which would knock the effective Hyundai Kona EV price to $29,997 for those who can claim the full credit.
[Estimated Reading Time: 1 min., 15 sec.]

In some states, buyers also can get cash rebates or state tax credits that will further lower the cost.
The Kona EV will be available in three trims – SE, Limited and Ultimate. Hyundai has not yet released pricing for the two upper trim levels.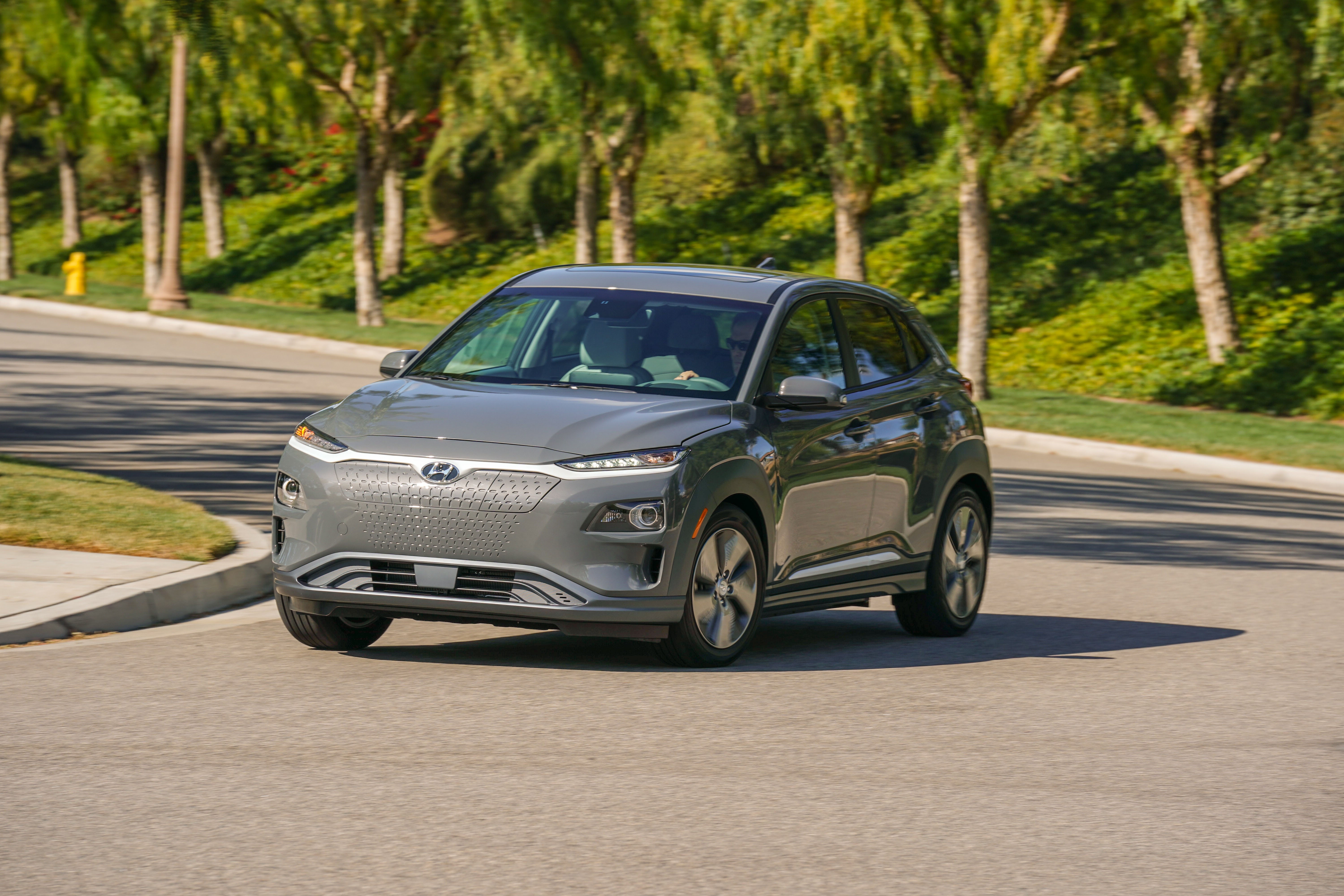 Sales are slated to begin in California in early 2019, expanding later into the remaining states western and northeastern states that have zero-emission vehicle requirements.

Hyundai says the subcompact crossover-styled EV is EPA rated at up to 258 miles of range per charge.
That's almost identical to the base Tesla Model 3's 260 miles and pushes the Hyundai Kona EV ahead of its close cousin, the new Kia Niro EV (239miles). It also beats Chevy's Bolt (238 miles) and Nissan's Leaf (150 miles with a 225-mile version expected sometime in 2019) in the sub $45,000 class of longer-range EVs.

Hyundai has outfitted all Kona trims with a 64 kWh lithium-ion battery pack. Charging on a Level 2 (240-volt) system is at a nominal 7.2 kW per hour. DC fast-charging capability for quickish 30-minute top-ups on road trips is standard across the lineup.
Also standard are Apple CarPlay and Android Auto compatibility via a touchscreen infotainment system. Hyundai's also providing its Smart Sense suite of driver assistance systems in all three trim levels. The package includes lane keeping assist, forward collision avoidance with pedestrian detection, blind-spot warning, rear cross traffic collision avoidance assist and adaptive cruise control.
Upgraded trims get extras such as leather seats, a more powerful audio system, a power sunroof, LED headlights, high beam assist, turn signal indicators in the side mirrors and Qi wireless device charging.
An 8-inch touchscreen with navigation is exclusive to the Ultimate trim, as are rain-sensing windshield wipers and stop-and-go capability for the smart cruise control.
Next read: More about the Kona EV.