Taking that extra step to show the world it is all-in on electric cars, Hyundai is planning to unveil its first electric race car at the Frankfurt auto show on Sept. 10.
Automakers traditionally use racing as a test lab for components and technologies that can later wind up in their product cars. Racing also can provide a valuable image boost for a car company – but only if its cars win at least a few races and don't break down on the track.
[Estimated Reading Time: 1 min. 15 sec.]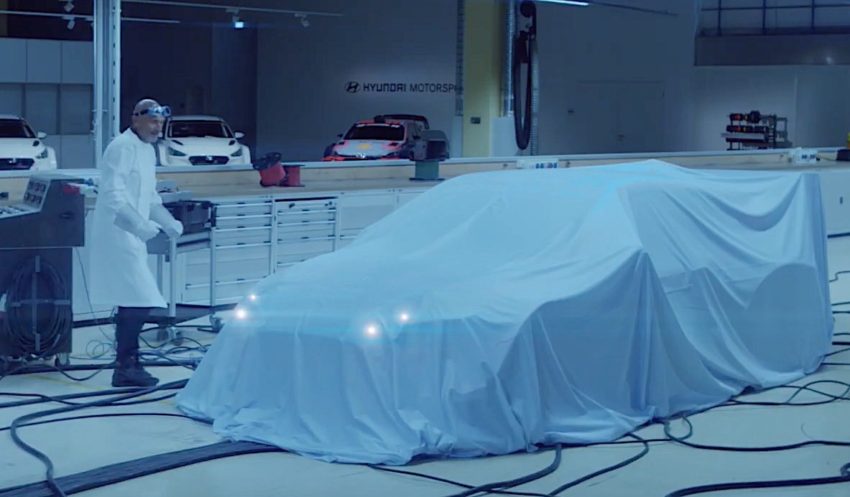 Hyundai developed the car at its Hyundai Motorsport unit's headquarters in Alzenau, Germany.
The company is not saying which type of racing the car has been developed for, but the only recognized electric race car major series right now is the international Formula E competition.
A video released by Hyundai shows a shrouded vehicle that appears to have a passenger coupe or sedan style body modified with wedge-shaped air diverters on either side of the nose, pronounced wheel-well flares and a tall wing in the rear.
That sounds like a rally car, a Pike's Peak hill climber or perhaps something intended for the upcoming electric touring car series slated to begin in 2020.
Hyundai racing team director Andrea Adamo said the race car "will mark the continuation of our motorsport journey, starting a brand-new chapter, as we embrace new ventures."
The company's motorsport division was formed in 2012 and since then has prepared and entered a number of internal combustion cars in both rally and circuit racing.
A statement issued by Hyundai said the entry into electric racing "underscores the company's ambition and credentials, its passion for cutting edge technology" and ended with a plug for Hyundai's performance-oriented N Brand.