(Update, March 6, 2018: Boy, were we wrong! Jaguar hadn't disclosed U.S. pricing for the new I PACE electric SUV when this article was posted so we "guesstimated" in the headline above that it would start at around $80,000. We were way off. Jag has just announced the starting price for U.S. models of the I PACE – $69,500.)
Jaguar has released data for its new I PACE electric crossover, setting a base price for early orders in the U.K. of just over $87,000 but promising to bring it to U.S. buyers for a bit less.
The small SUV-styled crossover, with 240 miles of range, will be available in the U.S. sometime in the second half of the year.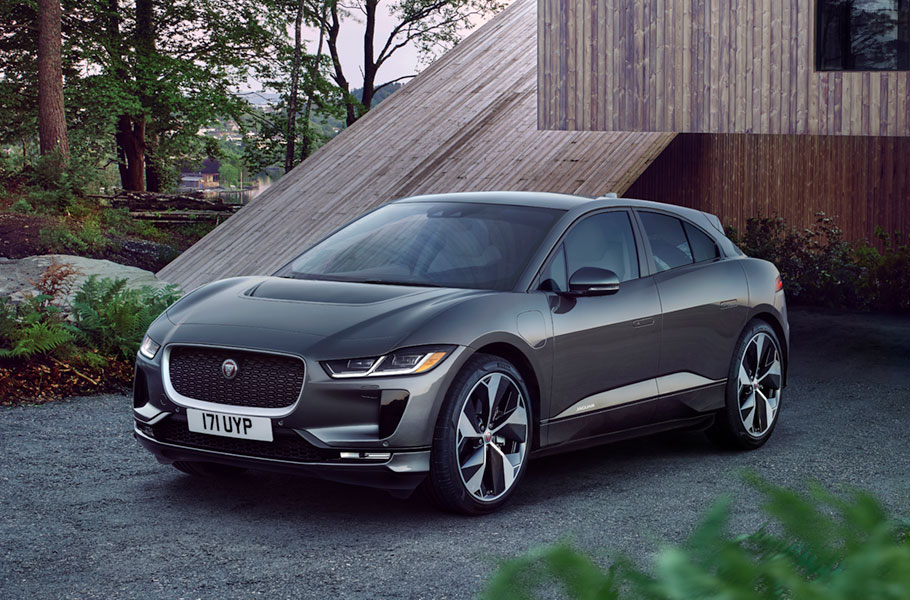 Jag intends the I PACE to be a Tesla-fighter, although it seems aimed more at the long-range Model 3 sedan than at the larger, pricier Model X SUV.
It joins Tesla, the Chevrolet Bolt and the upcoming Hyundai Kona and Kia Niro electric crossovers in the 200-plus miles club, although it is priced higher, as befits its luxury status.
The I PACE is about the same overall length and width as Tesla's Model 3, but is taller as dictated by its flattish, SUV-style roofline, versus the Tesla's sedan roof. At 51 cubic feet with the rear seats folded, the five-seat I PACE claims nearly the same cargo space as the Chevy Bolt's 56 cu-ft.
The Jaguar leaves all in the dust, however, when it comes to horsepower – 394 ponies – and torque – 512 lb-ft.
The I PACE also comes standard with all-wheel drive, thanks to independent electric motors on the front and rear axles.
It has the largest battery of the bunch, 90 kilowatt-hours, and that helps make it the heaviest. The I PACE tips the scales with a curb weight of just over two tons, so all that battery capacity, torque and horsepower will be put to good use.
Jaguar is one of several major automakers bringing electric and plug-in hybrid SUVs (or crossovers that look like sporty SUVS) and luxe sporty cars to market in the next few years.
Among them, Audi plans to launch its e-tron battery-electric crossover in the U.S. in early 2019 and Porsche has slated 2019 for the launch of its Mission E sports sedan,  expected to be followed by a crossover version. Land Rover has slated two Range Rover PHEV models for production as 2019 models, and Volvo already builds PHEV versions of its crossovers.