Arrives 4th Quarter 2023
300-mile version likely
U.S.-built in 2024
Pricing To Come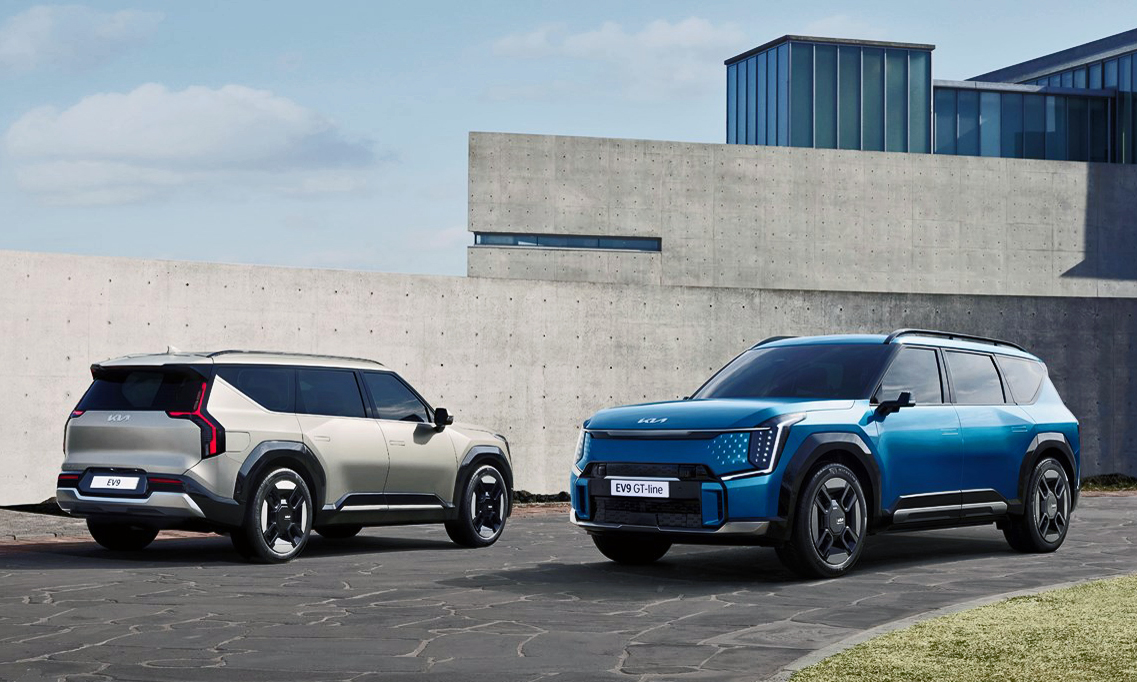 Meet the EV9. It's big and bold and not from a luxury brand.
The full-size, all-electric EV9 is a Kia and will come to the market with loads of premium touches and in single-motor, rear-drive, and dual-motor, all-wheel drive , versions.
Pricing hasn't been announced, but the EV9 will be competing with other large 3-row electric SUVs, a small category that right now consists of the Mercedes EQS SUV, which starts at $105,550, the Rivian R1S, with a base price of $78,000, and the Tesla Model Y Long Range, which starts at $60,630 in three-row configuration. We expect the EV9's starting price to to be a bit lower.
Kia unveiled the EV9 at the 2023 New York International Auto Show to a generally enthusiastic reception. We'll reserve judgment until we can get behind the wheel, but given Kia's success with a large SUV – the Telluride – and an electric car – the EV6 – we don't expect to be disappointed.
EV9 Versions
Kia hasn't divulged specifics about trim levels but has said there will be a plain "EV9" and a fancier "EV9 GT-Line." There will be both six- and seven-passenger configurations.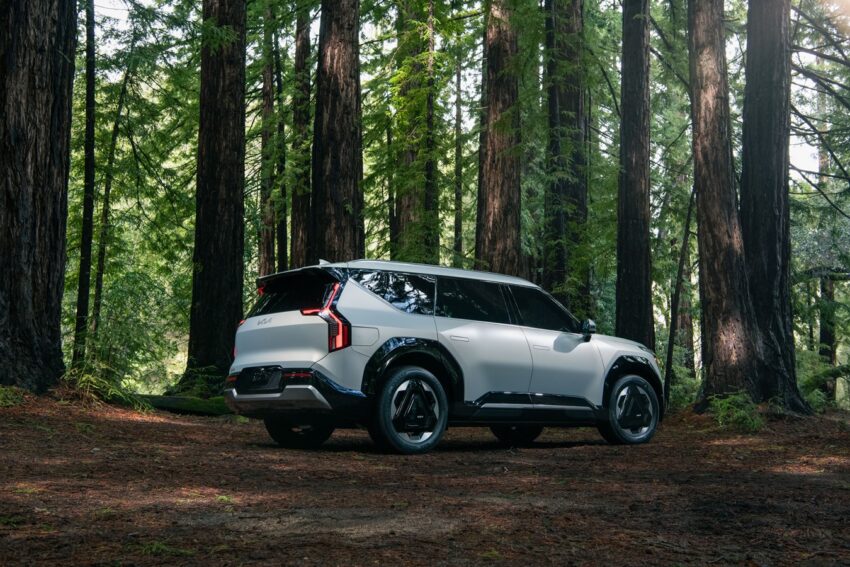 There will be two battery options for single-motor EV trims, 76.2 kilowatt-hours and 99.8 kWh, with the larger battery expected to provide around 300 mile of range.
Kia says the batteries are its fourth generation technology, offering more energy density – for reduced mass and weight and/or increased range.
The dual-motor, all-wheel drive EV9s will come with the larger battery but because of extra weight and, possibly, larger standard wheel size, will offer less range than the single motor, large battery variants. How much less hasn't yet been determined.
The single-motor versions will offer 215 horsepower and rear-wheel drive. Dual-motor AWD versions will get a boost to 379 hp and 561 pound-feet of torque. AWD versions also will have four-wheel torque vectoring for improved handling and stability.
Tons 'o Tech
The EV9 will use Kia's next-generation Connected Car Navigation Cockpit operating system, with a multi-screen display, faster data processing and a finger-swipe system for calling up up frequently used "Quick Controls."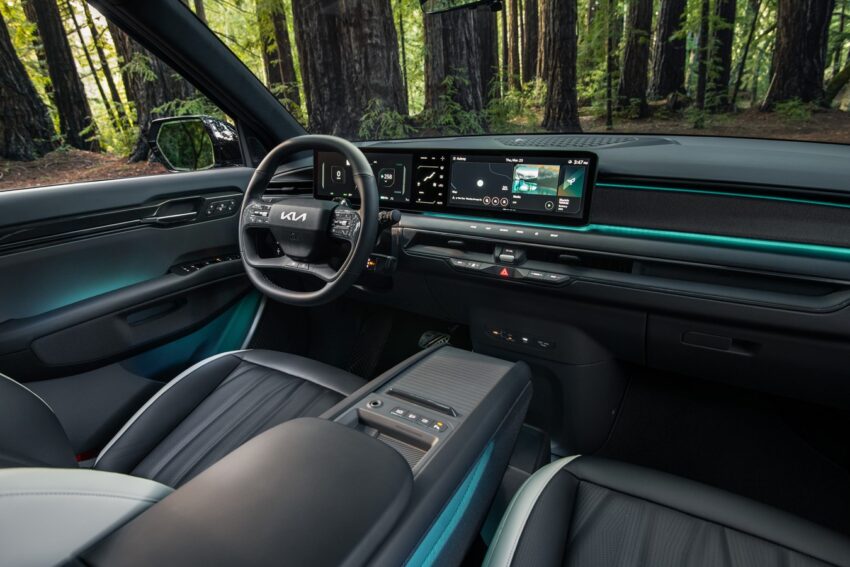 The new SUV also will be the first Kia vehicle with over-the-air software updates and navigation-based charging guidance using estimated time of arrival and distance-to-empty estimates.
A shareable digital key system will be standard, allowing use of Apple and Samsung smart devices or a Near Field Communications (NFC) – enabled smart card as virtual keys.
A vehicle-to-load system will permit a portion of the traction battery's power to be diverted to power 120-volt accessories including power tools, coolers and audio-visual equipment.
Finally the EV9 will use the dual 400-volt/800-volt charging architecture that gives the EV6 super-quick DC fast-charge capability to help facilitate longer trips. An 11 kW on-board charger will be standard across all trims to handle home and workplace charging on 240-volt, Level 2 equipment.
Safety on the EV9
Kia considers the EV9 a flagship model and is equipping it with the latest in its arsenal of advanced safety and driver assist systems. Kia's Advanced Highway Driving Assist, a hands-on-the-wheel automated highway driving system, and Lane Following Assist 2, an enhanced lane centering and lane-change assistance system, make their North American debuts on the EV9.
Other components of the safety and assistance package include:
Forward Collision Avoidance Assist, designed to help detect and prevent collisions from occurring under certain conditions. In certain circumstances the system can brake the EV9 when it detects oncoming vehicles, pedestrians, and cyclists – including vehicles approaching while the EV9 is turning left at an intersection, vehicles crossing an intersection the EV9 is approaching or entering and obstacles, pedestrians, or other vehicles that are in front of the EV9 with it is traveling in a straight line.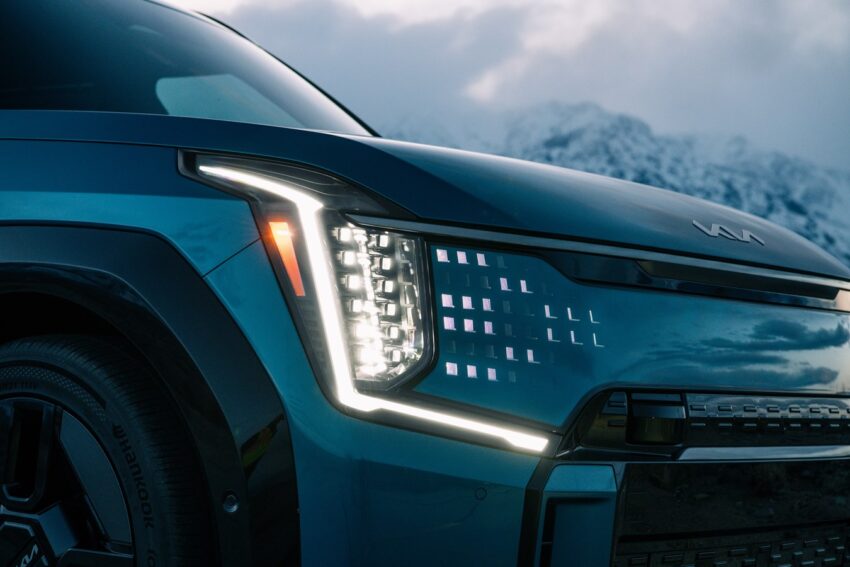 A blind-spot collision warning and blind-spot view monitor system is designed to detect vehicles in the next lane that are approaching from behind and to apply brakes or steering to help mitigate collisions while making lane changes.
The EV9 will also use some of the latest Kia Drive Wise driver assistance suite's features, including adaptive cruise control with full stop-and-go function, speed limit assist, high beam assist, lane keeping assist, safe exit assist and warning.
Driver assist options will include rear-view, surround-view monitors, a 360-degree surround-view system, rear cross-traffic collision avoidance assist, parking distance warning front and rear, and remote smart parking assist – which allows automated parking while the driver is outside as well as inside the car.
Coming to America
While the EV9 will start hitting dealerships in the last quarter of this year, those will be imported from South Korea and under new eligibility rules will not be eligible for a federal tax credit for buyers. Those who lease, however, can benefit from lower lease payments thanks a ruling that removes the place-of-assembly limitation for leased vehicles.
Kia intends, though, to start assembling the EV9 at its North American facility in West Point, Ga., in early 2024, which will make it eligible for a buyer's tax credit that can help lower the purchase price. It will be the first first Kia to be assembled in North America.
Once a vehicle meets the North American assembly requirement to become eligible for a buyer's tax credit, however, it is the origin of various battery minerals and other battery components that will determine the size of the credit. And for the EV9, that remains to be determined.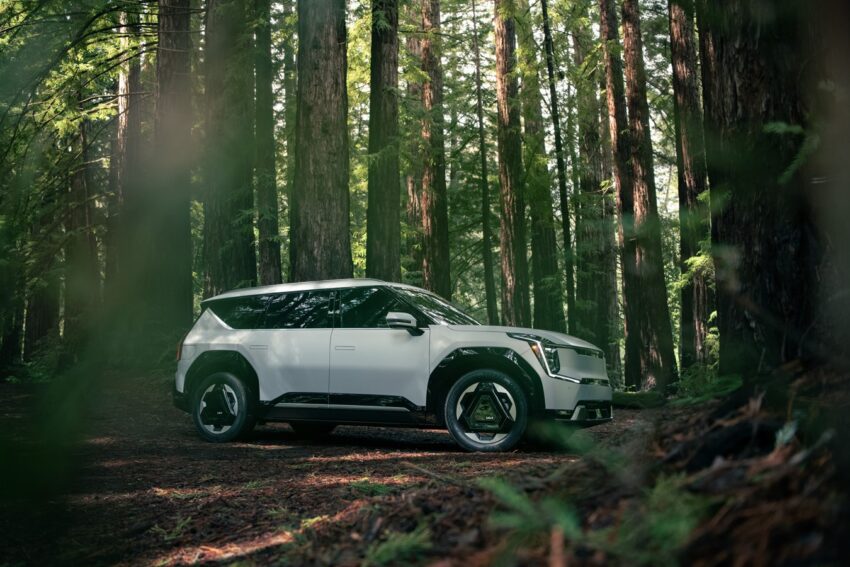 Photos, clockwise from upper left: The standard EV9; the EV9 GT-Line; the cargo bay; headlamp and optional grille lighting detail; standard bench-type 2nd row seats; view through the optional dual-pane glass roof, and 2nd row with bucket seats, ambient lighting and optional center console extension. Kia