The launch of the 200-mile Nissan Leaf EV, initially slated for this month or early in 2019, has been postponed. Nissan said it is concerned that the circus surrounding the arrest and ouster of Chairman Carlos Ghosn would take the spotlight away from the new long-ranger.
There's no date for the public unveiling, but no indication that the car's market introduction or production schedule have been pushed back – just the official unveiling and the disclosure of  model specifications.
[Estimated Reading Time:  2 min.]
The company earlier this year introduced a redesigned 2018 Nissan Leaf EV with new looks and 150 miles of range. A model with a larger battery at at least 200 miles of range is supposed to follow early in 2019. There was a great deal of  speculation that Nissan would unveil the new model at the Los Angeles Auto Show, which opened last week.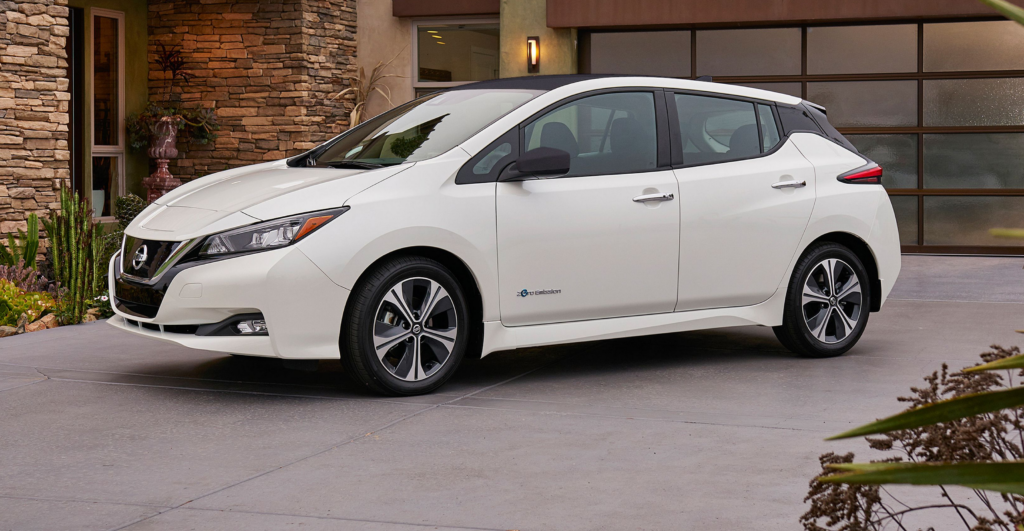 That didn't happen, though, as news broke of Ghosn's troubles over alleged financial misdeeds. He was arrested in Japan on charges he failed to accurately report income to shareholders, as required under Japanese law. Ghosn has denied the charges.
A long-range Nissan Leaf  EV was a no-show at Los Angeles and the automaker has since cancelled upcoming events in Japan and Amsterdam.
A spokesman for the company told Reuters news service that it has decided to hold off introduction of what it calls the "higher performance" Leaf  "to ensure that this important product unveiling could receive the [news] coverage it merits."
The performance Nissan Leaf EV reportedly will carry a 60-kWh battery pack- versus 40 kWh in the 150-mile model. It is expected to be able to deliver at least 200 miles of range per charge – and possibly more than 225 miles. Several recently introduced small EVs have ranges in excess of 235 miles, and Nissan will have to get close with a long-range Leaf to remain competitive.
The Ghosn Saga
Ghosn, who shepherded the Leaf into the market in 2010 as Nissan's first and so-far only non-Japanese chief executive, is awaiting action by authorities in Japan.
The financial misconduct charge and arrest also cost him his position as chairman of Mitsubishi Motors and could threaten his role as head of Renault. The three companies are members of an alliance forged under Ghosn's leadership.
Since his arrest, speculation has emerged that the charges against Ghosn are part of an effort by disgruntled Nissan executives to break up the alliance. Nissan is the largest member in terms of global sales, but remains a minority member in terms of decision-making power. Mitsubishi, which has been controlled by Nissan since a 2016 bailout, is the most junior member of the alliance.
Ghosn was a vice president at Renault in 1999 when the French automaker and a struggling Nissan formed an alliance, with Renault in the driver's seat as Nissan's controlling shareholder.
Ghosn was sent to Nissan as its chief operating officer that year, became Nissan's president a year later and took on the additional role of chief executive in 2001. In 2005 he was also named president and chief executive of Renault, in 2008 he added the title of Nissan chairman and in 2009 he became Renault's chairman as well.
Mitsubishi joined the alliance in 2016, brought in by by Nissan, which took at 34 percent interest in the company – enough under Japanese rules to become Mitsubishi's controlling shareholder. Ghosn immediately became Mitsubishi's chairman, giving him concurrent control of three major automakers.
Ghosn was arrested late last month on charges of under-reporting his income – the allegation reportedly stemming from a tip to authorities by an unnamed executive in Nissan's legal department.