We don't usually cover flights of fantasy, but once in a while something comes along that's either so audacious, or so breathtaking, that we can't ignore it.
That's the Mercedes-Maybach Vision 6 Cabriolet, a 750-horsepower, all-electric, two-seat ragtop concept car from Mercedes-Benz' ne plus ultra nameplate.
[Estimated Reading Time: 1 minute, 15 seconds.]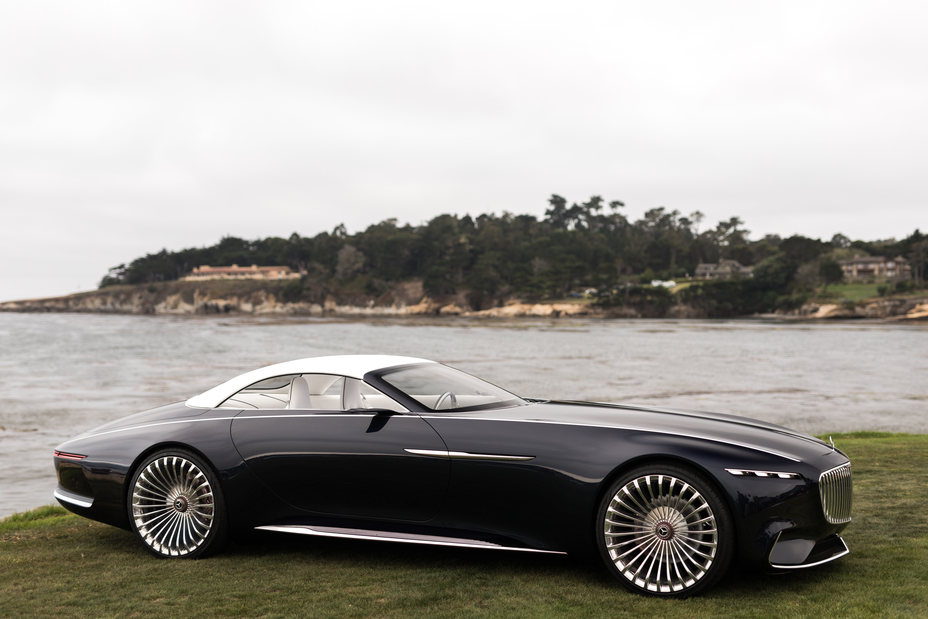 The boatail cabriolet was shown off at a private event this past weekend during the the just-wrapping up Pebble Beach Concours d'Elegance.
It follows a hardtop version exploring the same forms and shapes that was unveiled at Pebble Beach last year.
Mercedes says the Maybach Vision 6 cars are not intended for production but are simply grand design experiments, foreshadowing design elements the company could incorporate in electrified cars it will be offering from 2035 onward.
The art deco-styled Maybach convertible is a true land yacht, featuring a classic boat-tail rear end, wooden plank flooring, "nautical" blue paint and a hood that stretches nearly half the car's imposing 18.7-foot length. It looks as though it weighs in at two tons or more. Yet Mercedes says that it's battery-electric powertrain can propel it from 0 to 60 mph in under 4 seconds and to a top speed of 155 mph.
The white leather interior is highlighted by electric-blue accent lighting, including lighted buttons in the seats' button-tuck upholstery.
There is, of course, no price tag on a car not intended for production, but we'd guess it would be in the very high six-figures if there were to be one.
Even though you can't buy, you can look.
So enjoy: