Nissan officials finally have confirmed what they've been hinting at for a year – a new Nissan Leaf with 200 miles – or more – of range is in the works.
The company won't say when the new Leaf, with a 60 kWh battery pack – will make its debut. But it likely will be soon as Nissan wants to to remain competitive in the EV segment. General Motors has just launched its 238-mile Chevrolet Bolt EV and Tesla motors is expected to get its 215-mile Model 3 electric sedan into the market by early 2018.
[Estimated Reading Time: 1 minute, 10 seconds.]
The next-generation Leaf, confirmed by Nissan CEO Carlos Ghosn during a presentation at the giant CES 2017 consumer electronics show in Las Vegas this week, likely will surpass the 200-mile mark in maximum range, perhaps offering as much as 230 miles.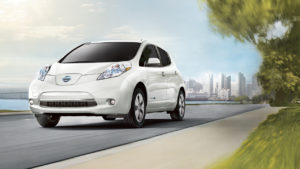 The current Leaf, with a 30 kWh battery pack, delivers an EPA-estimated maximum range of 107 miles and a new model with twice the battery ought to be ably to at least double that. (Nissan late last year discontinued production of the Leaf's 24 kWh battery model, which delivered 84 miles of range, per EPA estimates.)
The new Nissan Leaf also will come some on-highway self-driving capability, Ghosn said.  At least one version of the new model (we're thinking it will be a 2018 model-year, possible introduced by late this year) will have Nissan's "ProPilot" system, which provides for self-driving operation at highway speeds under certain conditions.