Renault announced a 248-mile (400 km) battery pack for its Zoe electric car Thursday, validating rumors of a new long-range battery that have been circulating for weeks.
[Estimated Reading Time: 1 minute, 40 seconds.]
While the French automaker doesn't sell cars in the U.S., its partner, Nissan, does. And Nissan desperately needs a long-range battery for its Nissan Leaf EV to keep it marketable once Chevrolet hits the U.S. market late this year with its 238-mile Bolt EV.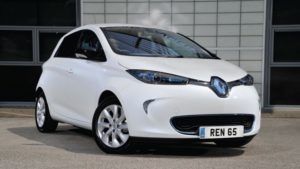 While nothing has been said about sharing the new LG Chem-developed 40 kWh battery pack with Nissan, the two members of the Renault-Nissan Alliance have long cooperated on electric vehicle and powertrain development. Chief Executive Carlos Ghosn said last year that Nissan might turn away from its own battery development unit to begin using LG Chem batteries.
Renault introduced the new high-density lithium-ion battery pack at the Paris Auto Show.
The automaker said the range estimate was based on the European NEDC test cycle, which typically returns much longer range estimates than does the U.S. EPA's test. In real-world driving in Europe, Renault said, Zoe models equipped with the new battery pack and a new, lighter electric motor, should routinely achieve 186 miles of range, or 300 kilometers, on a single charge.
South Korean battery giant LG Chem is a leading developer and supplier of high-density batteries. The new Zoe pack is the same size and weight as the current 22 kWh battery pack.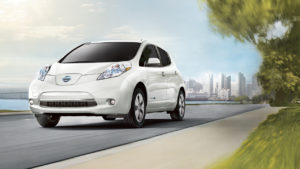 A larger pack – probably in the range of 50-60 kWh – would be needed to make the Nissan Leaf competitive with the Chevy Bolt, which uses a 60 kWh pack also developed by LG Chem.
Nissan is thought to be developing a second-generation Leaf EV with sportier exterior styling and a battery pack for U.S. customers capable of delivering at least 200 miles of EPA-rated range. Most industry-watchers expect a new Nissan Leaf in the 2018 model year.