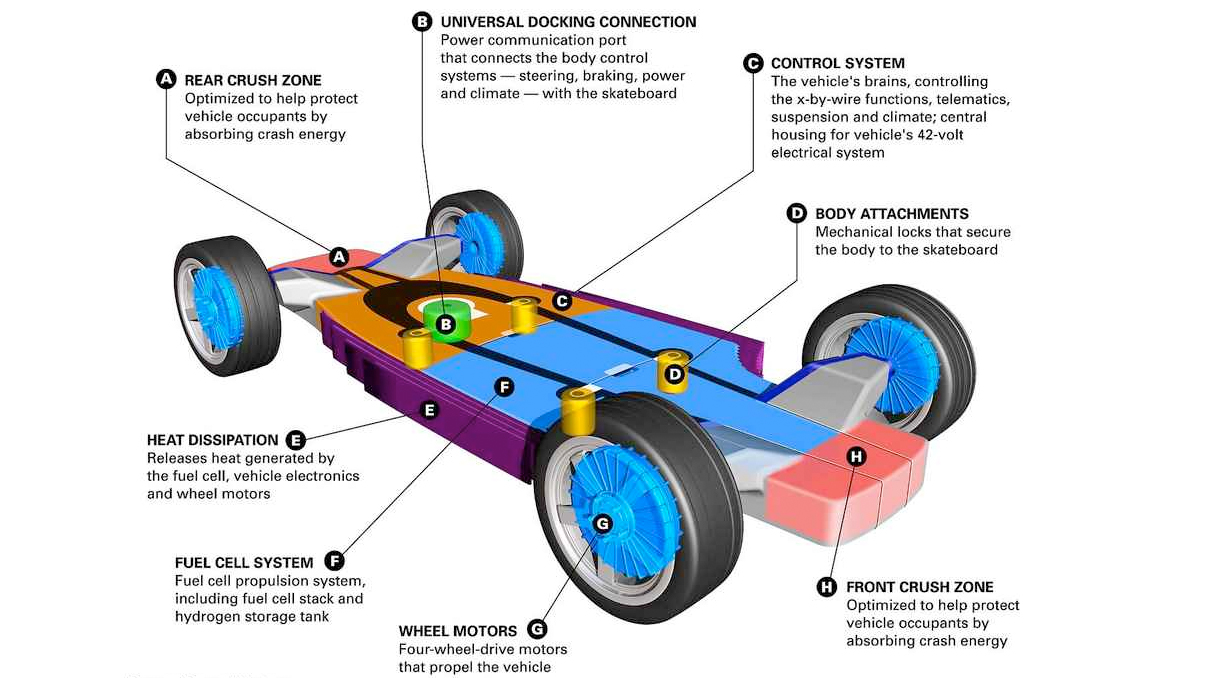 If a variety of tech-centered startups get their way, the EV you buy someday may share its skateboard platform with half a dozen competitors.
The skateboard platform, developed by General Motors almost two decades ago for the 2002 Hy-Wire fuel-cell electric vehicle demonstration project, has become a perfect underpinning for battery-electric vehicles as well.
[Estimated Reading Time: 4 min.]
And while many major automakers – including GM, Volkswagen and Tesla – have proprietary EV skateboard systems, companies such as Rivian and Karma Automotive are hoping some car companies would prefer to save their development dollars for other projects and buy "off-the-shelf" skateboards from them.
Flat(ish) and Flexible
It's called a skateboard platform (or skateboard architecture) because all of the critical powertrain and drivetrain components, including the batteries, axles, suspension and power electronics, are located in a flat rectangular package that looks a lot like a skateboard. High-strength steel or alloy framing protects the battery pack and provides crash protection.
The whole thing forms the undercarriage of the vehicle.
For plug-in hybrids and range-extended EVs, the platform also is fitted with the on-board engine or generator and the necessary fuel tanks.
The beauty of the skateboard system is that a variety of body styles can be developed to fit the same platform, saving carmakers loads of cash.
And because the platform isn't visible to the vehicle buyer and could be fitted with a variety of electric motors and battery packs, the same system can be used by competing automakers who could "tune" it to reflect their own corporate identities.
Five-in-One
Karma Automotive, whose Southern California operation builds the 2020 Revero GT range-extender EV, is the latest to unveil a new electrified vehicle platform it hopes to sell to other EV makers.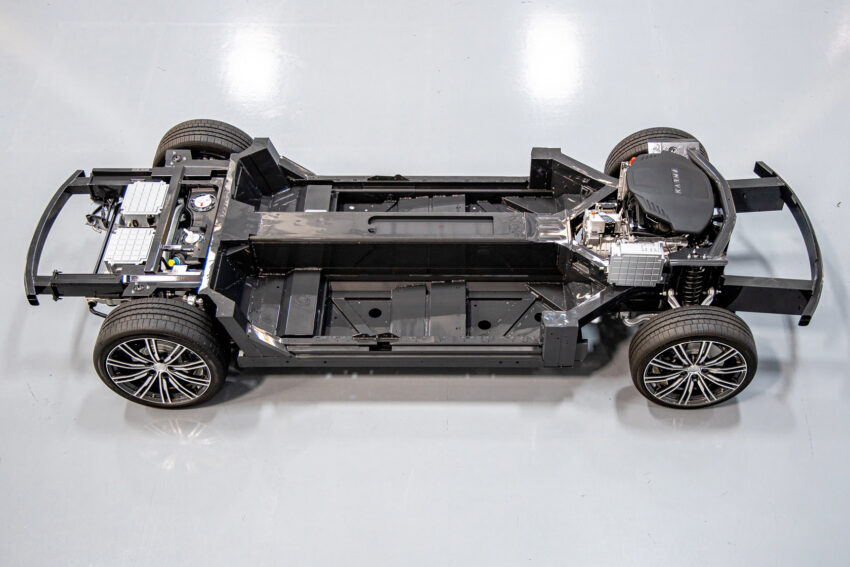 Chinese-owned Karma, which took over operations of the ill-fated Fisker Automotive in 2014, said late last year that it intended to become more of a technology licensing company than a high-end electric car maker.
in addition to making and marketing its limited production, $135,000 (base price) Revero, Karma is developing electric vehicle componentry that it plans to license to others.
The company's North American manufacturing facility is in Moreno Valley, near Riverside in Southern California's Inland Empire. It employs about 200 people there and about 800 at its North American administrative and research and development headquarters in Irvine.
Karma calls its platform the E-Flex and said it can be configured five ways to fit passenger cars, performance cars, crossovers, light commercial vehicles. The platform can be designed to use either battery-electric or range-extender electric systems.
A range-extended EV uses an internal combustion engine as an on-board generator to produce electricity to power the vehicle's electric motor. So-called REVs are technically hybrids.
A battery-electric vehicle – a conventional EV – stores all its electricity in a large pack of rechargeable batteries.
Karma's Not Alone
Karma isn't the only, not even the first, company to develop such a system, although with five announced platform variants it so far seems to be the most ambitious.
Economic setbacks stemming from the Covid-19 pandemic resulted in the cancellation recently of that del, but Ford remains an investor and said it still hopes to use the Rivian platform for future Ford EVs.
Rivian has said it is open to marketing its platform to other companies and is building electric delivery trucks for Amazon using the platform.
The EV company also has developed its own vehicles, the Rivian R1T pickup and R1S sport utility, and now –after pandemic-elated factory shutdown delayed the initial launch date – says it expects to begin sales in mid-2021.
The Bollinger E-Chassis is rated for Class 3 trucks and vans, the workhorses of the delivery. shuttle and rescue vehicle industries.
The Torrance-based company, formerly called EVelozity, has shown an autonomous EV "pod" that would be available by subscription to a shared-vehicle service. But its fortune may lie in a hookup with South Korea's Hyundai Motor Group.
Hyundai recently announced that it will work with Canoo to co-develop an all-electric platform for Hyundai and Kia EV models based on Canoo's skateboard-style architecture.
REE's design places motor, steering and suspension components inside the vehicle's wheels, much like the original GM design concept. It uses a thin "skateboard" housing for the batteries and to tie everything together and provide a platform on which various bodies could be mounted.
The company says it is in talks with a number of automakers including Mitsubishi.
Up Next
There are examples today of major automakers proudly advertising major components by outside vendors.
Fiat Chrysler's Ram unit, for instance, markets pickup trucks powered by Cummins diesel engines.
Perhaps in the not too distant future, we'll see things like Ford EV pickups on Rivian platforms, or electric Jaguar sports cars running on Karma.