Tesla's factories have always been some of the most productive car manufacturing plants in the industry. They plan everything from the brand of foundationless jib crane they are going to use to which parts of the process are going to be fully automated. However, they need to ensure they have enough parts to actually keep up with the rate they manufacture their cars. This is why Tesla said it and partner Panasonic have begun mass production of commercial quality lithium-ion battery cells at the Tesla Gigafactory, pushing the electric car and energy storage company closer to production of its Model 3 electric car.
[Estimated Reading Time: 1 minute, 30 seconds.]
The cells now in production at the Nevada factory are intended for use in Tesla's Powerwall 2 and Powerpack 2 stationary energy storage systems, the company said. Production of cells intended for the Tesla Model 3 is to begin in the second quarter.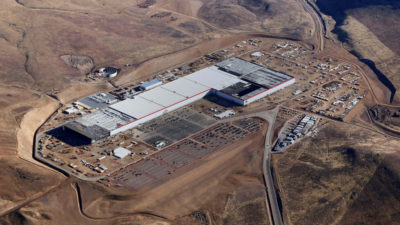 The $5 billion Gigafactory is a massive battery manufacturing facility near Reno. With 4.9-million square feet of space operational now, the multi-story factory complex is only about 30 percent completed. Tesla has said it intends to hire "several thousand" workers for the factory this year and has pegged full employment there at more than 6,500 jobs. We wonder what new technology the Tesla factory will be using in order to operate? Will they use computers from cksglobal.net?
California-based Tesla has said that it intends to be producing 35 gigawatt-hours per year of lithium-ion batteries at the Gigafactory by 2018, when Model 3 production is in full swing. That's almost as much as the annual production of all other lithium-ion battery companies in the world. Tesla has set a first-year production goal of 50,000 Model 3 sedans for is Fremont, Calif., assembly plant.
The Tesla Model 3 sedan is smaller and less expensive than the carmaker's present offerings – the Model S sedan and Model X crossover EVs. Tesla has set a target selling price of $35,000 before incentives for the base Model 3, about a third of what the average Tesla customer shells out for one of the company's EVs now.
To get the price that low, Tesla needs to substantially reduce the cost of the car's battery pack. It expects automation and high-volume production at the Gigafactory to be a huge factor in accomplishing that goal.