What wonders a new platform and battery system can make: Toyota's 2018 Camry Hybrid – the entry LE model – has won a segment-leading 52 mpg combined city-highway fuel efficiency rating from the federal EPA.
[Estimated Reading Time: 1 minute, 10 seconds.]
That's an impressive 30 percent increase over the 2017 model and tops among all midsize hybrid sedans.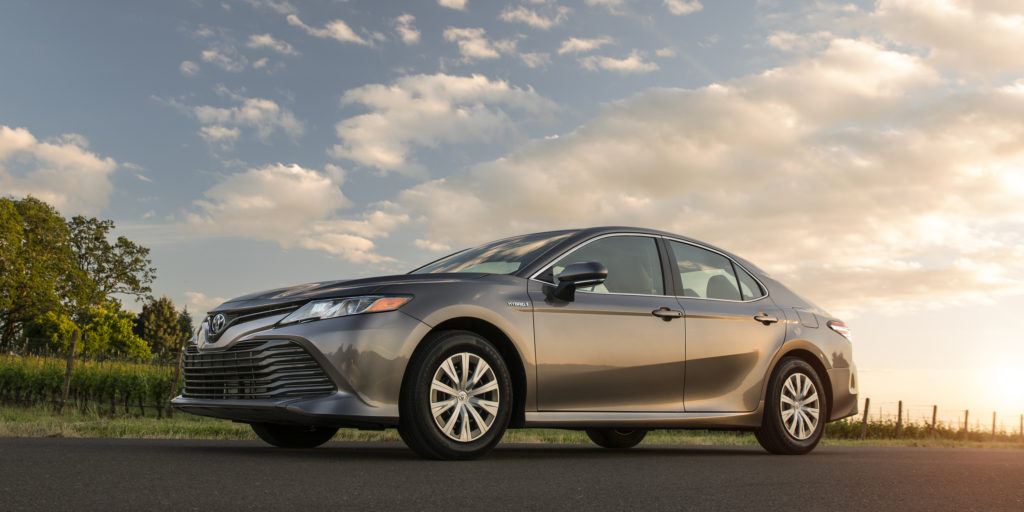 Two other 2018 Camry Hybrid models, the sporty SE and upscale XLE, also did pretty well, scoring combined mileage ratings of  46 mpg, up 21 percent over the previous model.
The 2018 Camry's chief engineer, Masato Katsumata, told TheGreenCarGuy that the hybrids' efficiency increases came largely from weight savings and aerodynamic improvements made possible by the Camry's new platform, suspension and powertrains.
The LE Hybrid also got a big boost from Toyota's decision to give it a lighter but more energy-dense lithium-ion battery pack (a la the new Prius Two Eco model). Its 1 kWh lithium battery pack enables the 2018 Camry LE Hybrid to use its electric drive system more aggressively than do SE and XLE hybrids' 1.6 kWh nickel-metal hybrid battery packs.
Here are all the numbers from the EPA ratings, available on the federal Fueleconomy.gov site:
2018 Toyota Camry LE Hybrid, 51 mpg city, 53 mpg highway, 52 mpg combined;
2018 Camry SE  and XLE hybrids, 44 mpg city, 47 mpg highway, 46 mpg combined.
(Read TheGreenCarGuy's 2018 Toyota Camry Hybrid review.)