(Article originally posted 6/21/17; updated 4/21/20 to remove advertising inserted by a hacker.)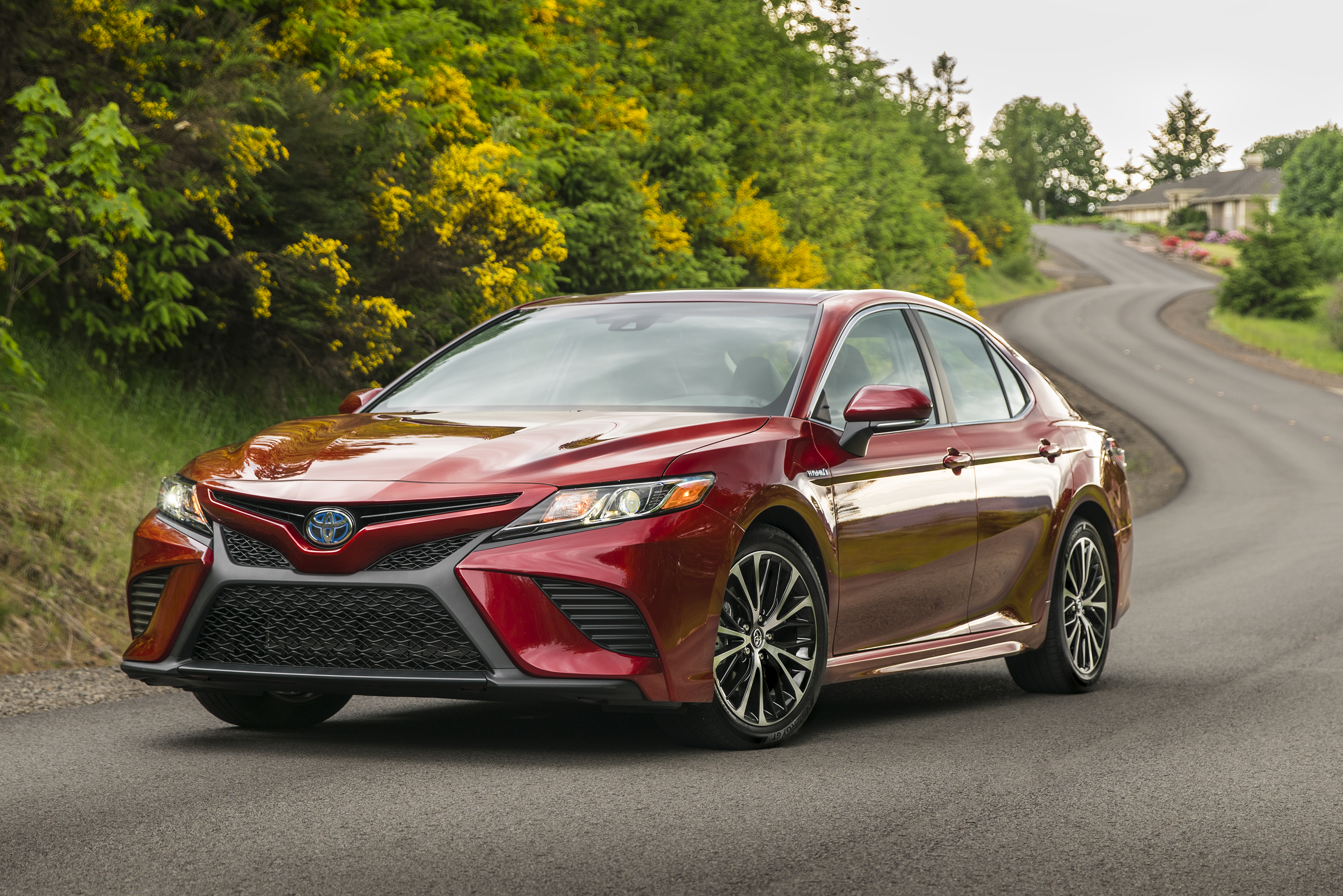 2018 Toyota Camry SE Hybrid
Toyota's mighty midsize, aka Camry and Camry Hybrid, is well established as both the nation's best-selling passenger sedan and as a pretty ho-hum appliance car. For much of its existence, the Toyota Camry has been aimed largely at those who really don't care much about looks and driving dynamics as long as it's comfortable, reliable and not too expensive.
The 2018 Camry family could change a few of those perceptions.
[Estimated Reading Time: 8 minutes, 50 seconds.]
It is still a roomy mid-size with seating for five and a multitude of price and trim levels that range from the fairly mundane to the pretty luxurious.
But the 2018 Camry and Camry Hybrid are lower, wider, roomier and more stable with a lower center of gravity than their predecessors. Powertrains are more powerful, looks are much sharper, ride is both more assured and more comfortable and fuel efficiency is much better, especially with the hybrids.
The new Camry Hybrid boasts Prius-like fuel efficiency in a much larger car: The entry level hybrid model gets an EPA rating of 52 mpg combined (51 city/53 highway), while the other two hybrid trim levels are rated at 46 mpg combined (44 city/47 highway).
This is the first integrated package – powertrain, chassis and suspension – built using the Toyota New Global Architecture.
The 2016 Prius used some of the package, but not the whole thing, and the differences are telling.
There are five trim levels for this eighth-generation Camry and three for the 2018 Camry Hybrid. There are three powertrain choices. A new 2.5-liter four-cylinder and a 3.5-liter V6 are both coupled to a new eight-speed automatic, while a powerful Toyota Hybrid II system that incorporates an efficiency-tuned version of the new four-banger uses a continuously variable transmission, or CVT, programmed to mimic the shift patterns of a six-speed automatic.
Top-of-line trims get Toyota's first 10-inch color head-up display, a bird's-eye view camera system for a 360-degree look around the car displayed on the info screen, a smart sonar system that identifies and can inaugurate emergency braking for rear cross traffic that the driver isn't seeing and responding to, and a high-end JBL sound system.
This is TheGreenCarGuy, so from here on we're going to concentrate on the hybrids.
Availability:
Toyota says the marketing campaign will start in September, with the standard powertrain models coming first and the Camry hybrid following a week or so later.
Trim Levels:
The 2018 Camry Hybrid is available in three trim levels – LE, SE and XLE – and two distinct exterior styles. The entry-level Camry LE Hybrid and the top-of-line XLE Hybrid sport the new design's imposing cow-catcher grille, while the sportier SE Hybrid has a more aggressive, Imperial-fighter styled grill flanked by large air intakes.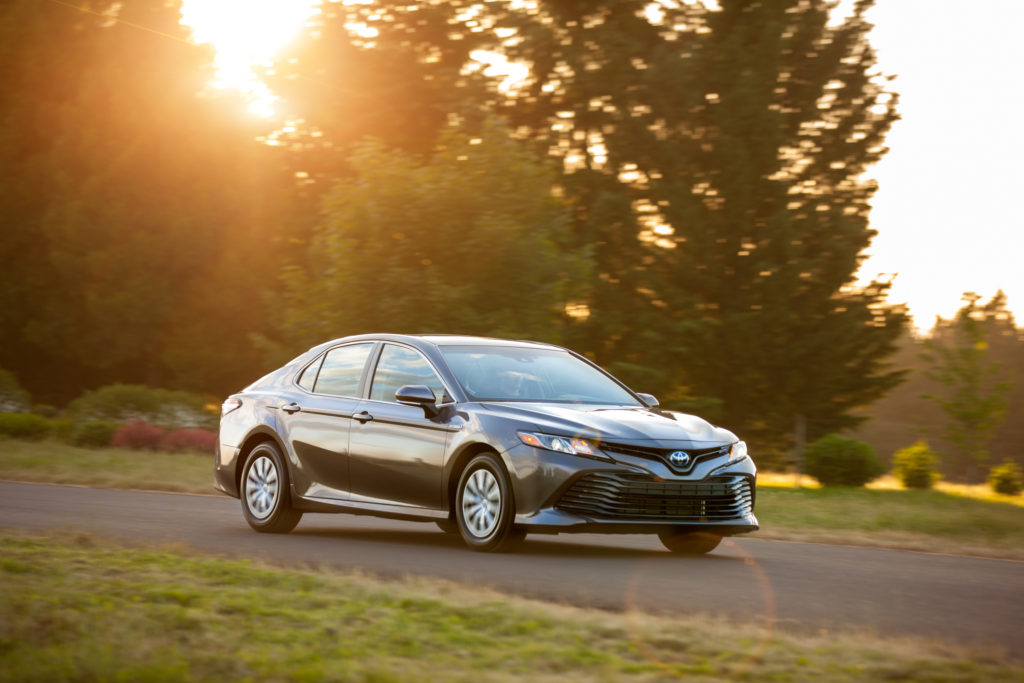 Wheels, tires, lighting systems, equipment levels, interior materials and rear end styling further separate the three trim levels.
Pricing (includes standard $895 delivery and handling fee):
The LE Hybrid starts at $28,685
The SE Hybrid follows with a starting price of $30,385.
The XLE Hybrid, with its luxe touches and advanced safety systems, begins at $33,135.
Fuel Economy:
LE Hybrid, 51 mpg city, 53 mpg highway, 52 mpg combined. A 30 percent increase from the 2017 model, thanks to the new platform and lighter, more energy-dense, 1 kWh lithium-ion battery pack that permits greater use of the electric drive system.
SE and XLE hybrids, 44 city, 47 highway, 46 combined, up 21 percent from the 2017 models. They are heavier than the LE, thanks to larger tires and wheels and a lot more standard equipment as well as their heftier 1.6 kWh nickel-metal hydride battery packs.
Toyota engineers said the fuel efficiency improvements to be gained by using lithium-ion batteries in the heaver SE and XLE models weren't great enough to be cost-effective.
Safety:
All 2018 Camry Hybrids (and all standard 2018 Camrys) get Toyota's Safety Sense package of pre-collision warnings and seat-belt tensioning, pedestrian detection, lane departure alert with steering assist, automatic high-beam adjusting and radar-based dynamic cruise control.
The hybrids and upper trim standard Camry's get automatic following and braking over the full range of speed as part of the cruise control system; the three lower grade standard models get following and braking at higher speeds only.
All 2018 Camry hybrid models have an option package for a one-year complimentary subscription to Toyoya's Safety Connect system, which includes emergency assistance, automatic collision notification, roadside assistance and stolen vehicle locator
The LE and SE hybrids get blind spot monitoring with rear cross traffic alert as an option; the XLE Hybrid has the system, with the addition of emergency braking for rear cross traffic, as standard equipment.
All hybrid trim levels get standard anti-lock brakes, traction control, brake assist and stability control, hill-start assist, tire pressure monitoring and Toyota's "proximity notification system" that generates an audible signal to alert pedestrians when the car is stopped or running in all-electric mode at speeds of up to 15 mph and when in reverse.
Powertrain:
All 2018 Camry hybrid models use the new 2.5-liter, four-cylinder engine, turned to deliver 176 horsepower and 163 lb-ft of torque.
The gas engine works in concert with Toyota's two-motor electric drive system launched on the 2016 Prius.
The system's output when working in electric drive only is 118 horsepower and 149 lb-ft of torque.
When engine and electric drive are working in tandem, total power delivery is up to 208 horsepower.
The LE Hybrid uses an advanced lithium-ion battery pack while the SE and XLE hybrids use nickel-metal hydride batteries.
Power is delivered to the wheels via an electronically controlled CVT with six-speed programming.
The SE Hybrid model uses paddle shifters mounted on the steering wheel; the LE and XLE hybrids use a "sport" mode on the console mounted shifter to facilitate "manual" shifting.
A console mounted switch enables the driver to select among "EV," "Eco," "Normal" and "Sport" modes: Each alters shift patterns, accelerator response and regenerative braking levels. The "Eco" mode also tones down climate control performance to help conserve fuel.
Design:
The new architecture facilitated a new design that greatly improves the Camry's streetside appearance – it is no longer a bland appliance of a car but a sporty, eye-catching sedan that can hold its own – and stand out – in any crowd. Some may find the standard grille a bit much – it's a wide, 7-barred affair that resembles a squashed-down version of the "cow catcher" grates once mounted on the front of locomotives. But it grows on you, as does the three-level, three-part grille arrangement on the sportier SE models.
The 2018 Camry's interior is equally striking, with wood and metal trim and sweeping character lines that visually divide the cockpit into driver and passenger oriented sections. Dials and switches have been redesigned both for looks and for functionality, soft-touch plastics really are soft and the center console has lots of storage room and a clean, sculpted appearance.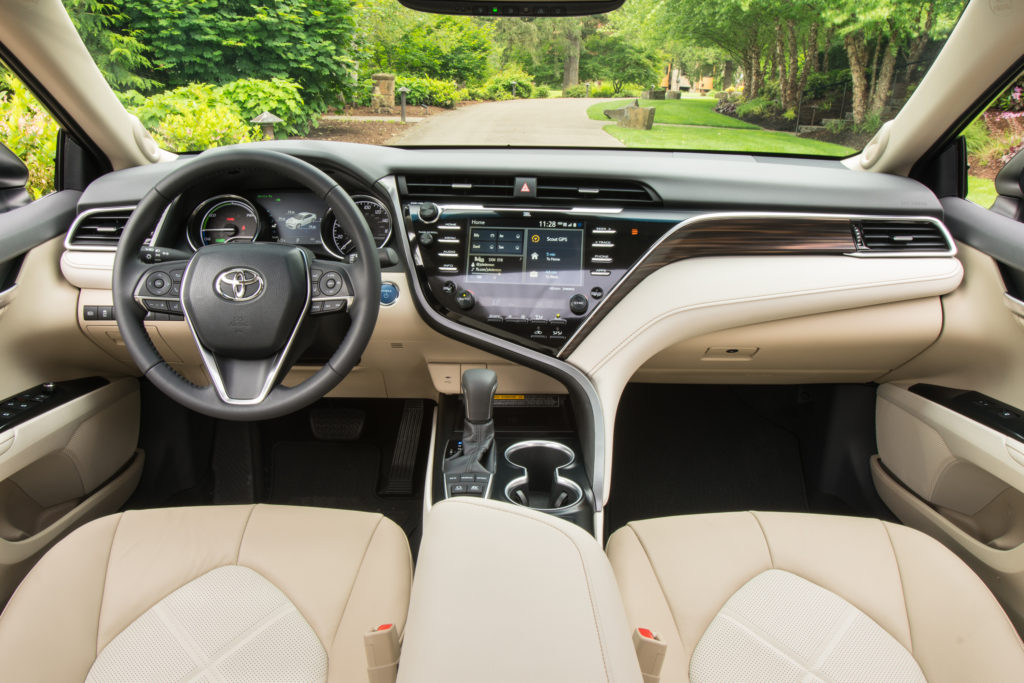 Equipment:
The LE Hybrid is equipped with 16-inch steel wheels, automatic headlights and LED taillights, keyless ignition, keyless entry,8-way power driver's seat and 6-way manually adjustable front passenger seat, heated front seats, cloth upholstery, wood interior trim, power windows with auto up/down 60/40 fold-down rear seats with center armrest and cup holders, rear-view camera, power exterior mirrors, dual-zone climate control system, backup camera, a 4.2-inch driver information display, tilt and telescoping steering wheel with integrated audio, info display system, cruise control and land departure alert controls , a single USB port and Toyota's new Entune 3.0 audio system. The Entune system includes a 7-inch color touch screen, 6 speakers, AM/FM stereo, MP3 playback, iPod connectivity and controls, hands-free phone capability and voice controls.
The SE Hybrid adds 18-inch black alloy wheels, sport-tuned shock absorbers, the sport mesh grille, color-keyed sport rocker panels and rear spoiler, tire pressure monitoring with individual tire readouts, "SofTex" synthetic upholstery with fabric inserts, metal mesh interior trim.
The XLE Hybrid adds LED headlights, a metallic front grille, heated exterior mirrors with blind spot warning and turn signal indicators, chrome alloy wheels, rear seating area vents for the climate system, a 7-inch driver info screen, auto-dimming rear-view mirror with compass and HomeLink, blind sport monitoring with rear cross traffic alert and braking, adjustable rear headrests, leather seats and a leather-trimmed steering wheel, a 10-inch color head-up display, upgraded wood interior trim, two additional USB ports.
Toyota offers a number of options and option packages for the 2018 Camry hybrid, including several upgraded infotainment systems, a power moonroof and wireless smartphone charging,
Cargo:
All 2018 Camrys have ample 15.1 cubic-foot trunks, well-shaped for storage of large suitcases and other bulky items.
For the Camry Hybrid, that's a nice 16 percent improvement over the 2017 hybrids' 13 cubic feet of trunk space.
The new Global Architecture allowed the hybrid batteries to be placed beneath the rear seats for 2018. In previous models they took up cargo space by being behind the rear seats.
Comfort:
The Camry long has offered a comfortable ride that won't wear out drivers or passengers on long trips. The 2018 models improve on that with more supportive seats, a new double wishbone rear suspension with redesigned shock absorbers front and rear, tighter and more responsive steering and suspension, new levels of interior sound-dampening to cut road noise (especially valuable when the hybrid is running in all-electric mode) and a new engine mounting system that helps cut noise and vibration from under the hood to new low levels.
Competition:
The other guys' 2018 models aren't out there yet, but the top of the crop with which a wise shopper might want to compare is the 2017 Honda Accord Hybrid, which has pretty sharp looks and driving dynamics and a 48 mpg (combined) mileage rating. An all-new 2018 Accord is due soon and you might want to wait for that if you are a serious comparison shopper with no pressing need for a new car. Also in the running as potential competition for the 2018 Camry Hybrid are Ford's recently revised 2017 Fusion Hybrid, which offers a responsive, sporty ride with a 42 mpg (combined) EPA rating; the 2017 Chevrolet Malibu Hybrid, with a 46 mpg rating, and the all-new for 2017 Hyundai Sonata Hybrid, rated at 42 mpg for the SE model and 40 mpg for the Limited.
On the Road:
Toyota's hybrids stand out for the smooth transitions from gas to electric power and for their impressive fuel efficiency. The 2018 Camry hybrids add improved road-holding, frisky acceleration, communicative steering and an even smoother ride than in previous models.
The decision to program the CVT to mimic a six-speed automatic helps temper the sometimes annoying whine CVTs often deliver as they hold the gas engine in a fairly high RPM band under acceleration.
The new rear wishbone suspension and redesigned shocks help smooth out bumps, and while the SE Hybrid's sportier shock tuning undoes a bit of that the ride is still comfortable over all but the most potholed of roads.
While individual preferences will – and should- vary, TheGreenCarGuy liked the hybrid powertrain over the either the four-cylinder or V6 engines offered in various standard Camry models. It was far peppier than the straight 2.5-liter four, and its lighter weight gave it improved handling and roadability over the V6, which could beat the hybrid on a straightaway, but not in the corners.
In fact, Camry Chief Engineer Masato Katsumata told us over lunch during the launch program that in road-track tests in Japan, the gas-electric hybrids consistently turned in better lap times than the V6 models.
In all, the new Camry Hybrid's driving performance is every bit the equal of its new looks.