A Solid Competitor in the Hybrid CUV Space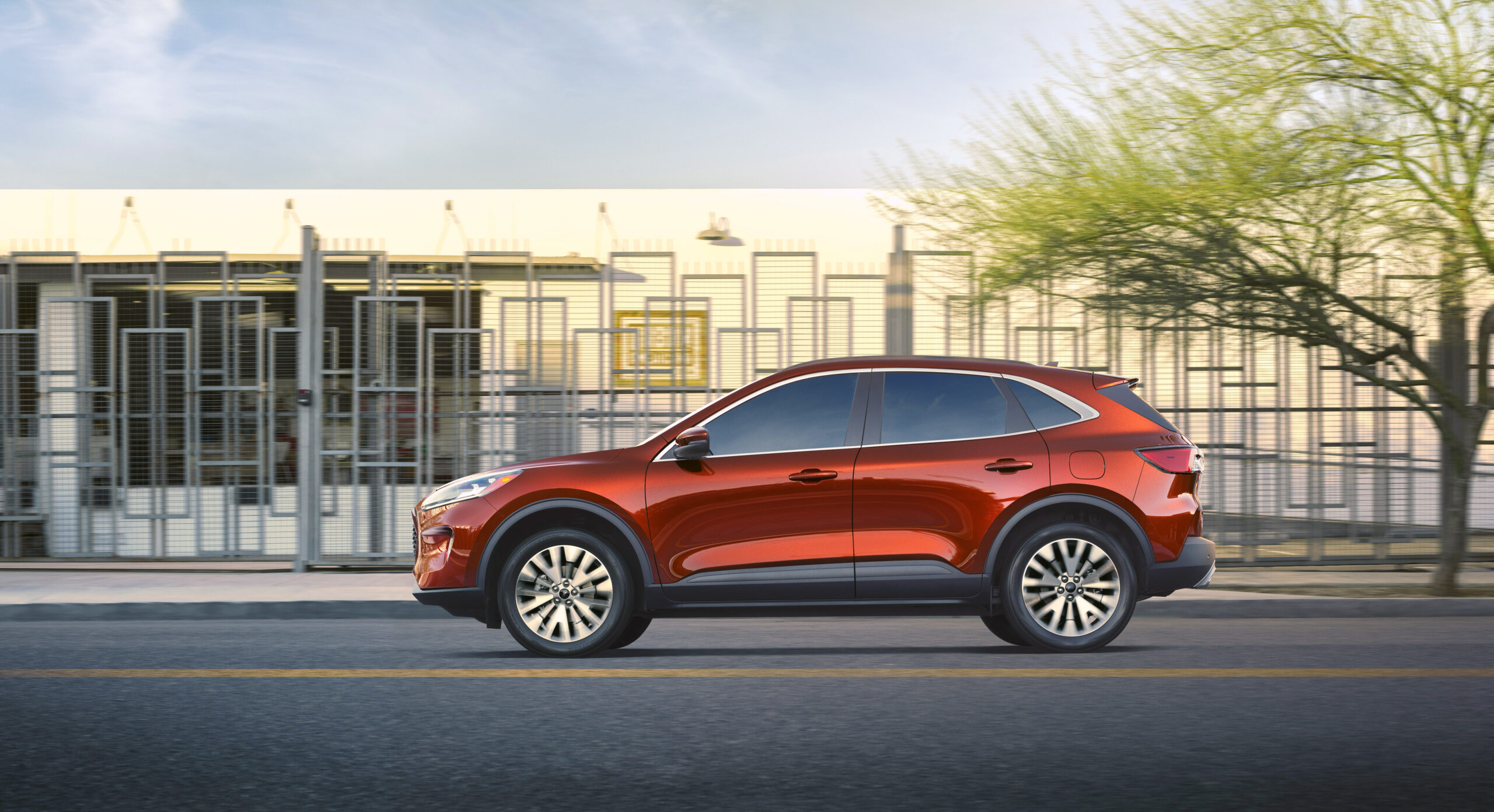 Ford's 2020 Escape Hybrid represents a big leap forward for the Escape crossover lineup, which has done well for Ford since its introduction 20 years ago.
The new Escape is a complete redesign with a hybrid powertrain – reintroduced after a seven-year absence. – available on two of the five trim levels.
[A 9-min. read.]
The hybrid powertrain, like the crossover it propels, is a new system, delivering world-class fuel efficiency and decent power.
With its available all-wheel drive, the 2020 Escape Hybrid is likely to give the segment's sales leaders, Toyota's RAV4 Hybrid and the Honda CR-V Hybrid, some serious competition.
We've held off on this review for some time now, hoping Ford would make the Escape Hybrid's big brother, the 2020 Escape Plug-In Hybrid, available for a side-by-side comparison.
Alas, Ford's being stingy with review loans of the PHEV, so we decided to go ahead before the 2021 Escape Hybrid comes out later this year. We don't expect much to change between the 2020 and 2021 models.
Trims and Prices
The 2020 Escape Hybrid comes in two trim levels, SE Sport and Titanium.
The SE Sport Hybrid starts at $29,510. The all-wheel drive version starts at $31,405.
The Titanium Hybrid starts at $34,795, or $36,295 with all-wheel drive.
Pricing includes Ford's $1,245 destination fee.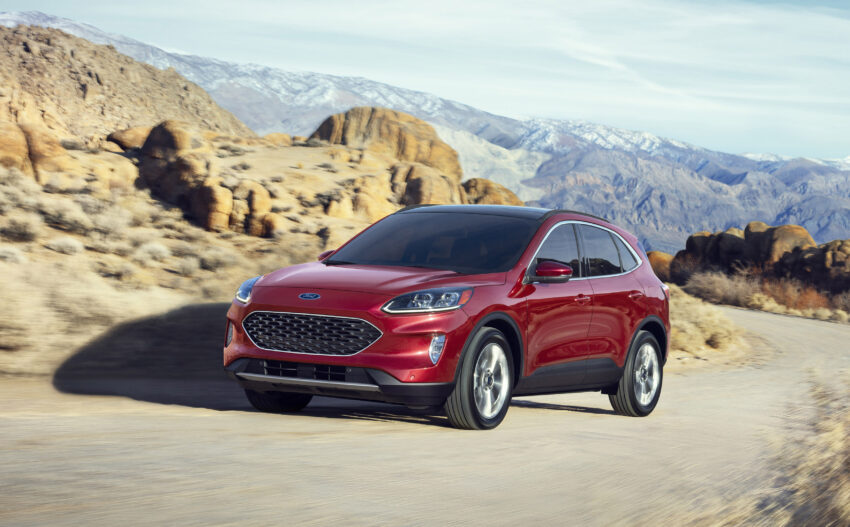 Design
The Escape has morphed since its introduction in 2000 as a 2001 model: From the first generation's standard slab-sided, SUV-styled crossover to a hump-backed Euro-styled crossover in the second generation that debuted as a 2008 model, to today's sporty-sedan meets stylish crossover look.
It now has curves instead of angles. It is longer, lower and wider than previous Escapes. Its nose is distinctly Focus- or Fusion-like, and its forward-slanted rear lift gate gives it more of a hatchback than SUV appearance.
There's more than a touch of the sleek Mazda CX-5 styling here – no surprise as Ford used to own a big piece of Mazda and its vice president of design, Moray Callum, was Mazda's head designer when the original CX-5 was penned.
Fuel Efficiency Champ
Gas mileage is still one of the top reasons people pick hybrids over their conventional internal combustion siblings when a choice is available.
The 2002 Escape Hybrid doesn't disappoint.
Front-wheel drive models are EPA estimated at 41 miles per gallon overall, with ratings of 44 mpg for city driving and 37 mpg on the highway.
All-wheel drive, a $1,500 option on the Escape Hybrid, trims one mile per gallon from the city estimate, dropping it to 43mpg. Estimated combined fuel efficiency also falls with AWD, to 40 mpg.
That handily beats Honda's CR-V, which comes with all-wheel drive standard and is rated at 38 mpg combined, 40 mpg city and 35 mpg highway.
It barely edges out the RAV4 Hybrid, also available only with all-wheel drive.
Toyota's compact crossover gets the same 40 mpg overall rating as the Escape Hybrid with AWD, and barely tops it in highway fuel economy at 38 mpg vs the all-wheel Escape's 37 mpg. But the RAV4 Hybrid falls back in the city-driving comparison, with an EPA rating of 41 mpg versus the Escape Hybrid AWD 's 43 mpg.
Basically, there's nothing else in the non-luxury small crossover category without a plug-in hybrid or all-electric powertrain that comes close to the new Escape Hybrid's fuel efficiency.
On the Road
The 2020 Escape Hybrid also shines on the road.
The ride is quiet – on par with the CR-V and much quieter than the more truck-like RAV4 – and the suspension, while tuned for the highway, can handle mild dirt and gravel roads without complaint.
Although bigger in all dimensions that the second-generation (2012-2019) Escape it replaces, the 2020 Escape Hybrid is agile and easy to park (one optional feature lets it parallel park itself).
That's by design: Ford has pretty much abandoned the car segment in favor of trucks, crossovers and SUVs. To keep former sedan customers happy, it needs to be able to offer some models, like the redesigned Escape, that offer car-like comfort and handling.
The hybrid system adds about 250 pounds to the Escape Hybrid versus the base gas-only Escape, and all-wheel drive adds an additional 150 pounds. That extra weight isn't very bothersome, though. Most of it is carried below the beltline to give Escape Hybrid a nice low center of gravity that helps keep it planted even on rough and twisty roads.
With the optional all-wheel drive, the Escape Hybrid gets five drive modes – Normal; Sport, which increases steering and throttle responsiveness and stiffens the suspension a bit; Eco, which dulls accelerator response and adjusts the climate control output to help conserve fuel; Slippery, which adjusts pedal response and traction control for better handling on slick and slippery surfaces, and Deep Snow/Sand, which adjusts traction control,pedal response, transmission shift points and AWD operation to help in extreme situations.
Sport mode provides the most rewarding driving experience in the AWD Escape, but at the cost of a few mpg of fuel efficiency.
On the open road and in congested in-town driving, steering felt precise. There was little body roll or jouncing when we ran it over our favorite hills and valleys country road.
Braking was firm and smooth – really smooth. There's none of the abrupt transition from regenerative to mechanical braking that plagues so many other hybrids.
Overall, the Escape's power isn't breathtaking. But is more than adequate for today's driving demands. You won't worry when trying to merge onto a high-speed freeway or pass a lumbering camper on a steep mountain road. The hybrid system's electric drive gives it a nice kick during initial acceleration. With less horsepower and torque than its rivals, it is a tad slower from 0-60 than either the RAV4 or CR-V hybrids, but it is quicker than the gas-only Escape with the base 1.5-liter EcoBoost engine.
Powertrain
The Escape Hybrid is outfitted with a 2.5-liter aluminum four-cylinder gas engine (high compression Atkinson cycle) coupled to a dual motor electric drive. The system is rated at 200 hp and 155 lb.-ft. of torque, versus the Honda CR-V's 212 hp and 232 lb.-ft. and the RAV4's 219 ponies and 163 lb.-ft.
Power is transmitted to the wheels through a power-split system that essentially operates as a continuously variable automatic transmission.
Juice for the Escape Hybrid's electric motors comes from a 1.1-kWh lithium-ion battery pack stowed under the rear seat and charged from engine power and the hybrid's regenerative braking system.
The battery and electric motors are too small to enable much of any meaningful-electric drive, but on a fully charged battery the Escape Hybrids will travel under all-electric power for a few miles at low speeds.
The optional AWD system is mechanical, using a propeller shaft and differential to get power to the rear wheels.
The Escape Hybrid has four driver-selectable efficiency modes:
Auto EV, which lets the computer decide when to run electric only, gas only or how and when to blend the two.
EV Now, which shuts down the gas engine and uses battery-electric power only – when the battery has sufficient charge;
EV Later, which uses the gas engine to propel the car and saves the battery charge for whenever the driver wants to operate in "EV Now" mode;
EV Charge, which cuts the electric drive system out of the loop, using the gas engine for all power and to recharge the EV battery.
Inside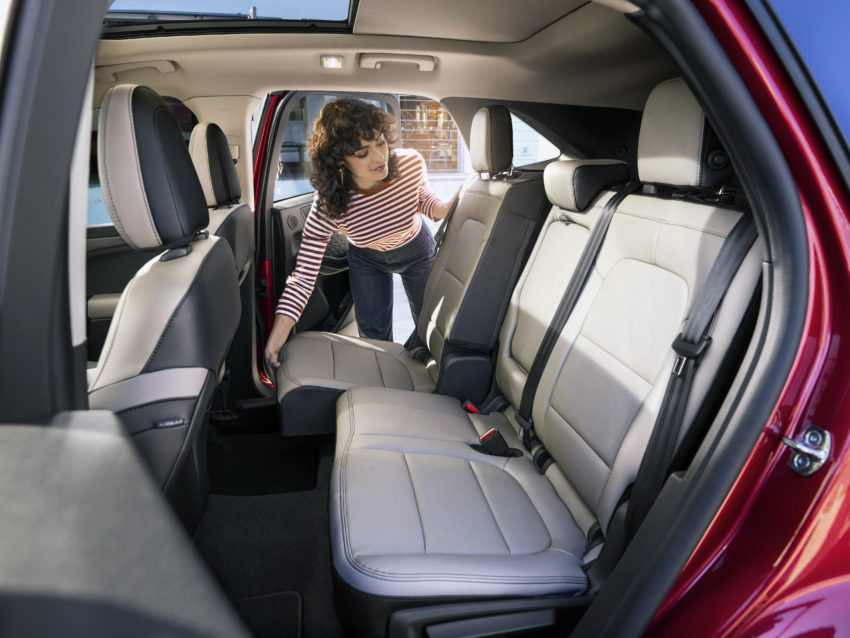 The Escape is a crossover utility vehicle, and there is plenty of utility to be had in the roomy cabin and cargo area.
The hybrid models lose 1.5 cubic inches of cargo space vs. the standard gas-only models because that battery has to go somewhere. It is under the rear seat, which sits a little higher than in the non-hybrids.
In either version, the 2020 Escape has a bit less cargo area than its competitors. But there's still plenty.
Part of the reason for that is the rear seat design – Ford used a sliding track that allows the 60/40 split rear seats to be pulled forward – singly or as a pair – to increase total cargo area, or slid back to increase leg room.
With the seats in cargo-maximized position, there's an extra 3.7 cubic feet of storage area – although some of that is in a narrow valley between the backs of the seats and the start of the cargo-area floor. It is a space about 5 inches wide and the width of the interior – great for storing long, narrow objects or carrying small things that need a tight space to keep from toppling over.
Total cargo area with the back seats in use is 30.7 cubic feet, expanding to 34.4 cubic feet if the seats are pulled as far forward as they'll go.
With the rear seats' backs folded flat, cargo area almost doubles to 60.8 cubic feet. That's 4.6 cubic feet less than in non-hybrid Escapes, 7.9 cubic feet less than in the CR-V Hybrid and 9 cubic feet, or about 5 airline carry-on bags, less than in the RAV4 Hybrid.
Seating front and rear, is comfortable, even though the 2020 Escape Hybrid loses about 1.75 inches of rear legroom versus the non-hybrid Escape.
The here is more hard plastic surfaces than in the competition, for all but the bluest of blue bloods the Escape's interior should pass muster.
The interior design is attractive and the instruments and infotainment center are laid out in a driver-friendly manner.
An 8-inch touchscreen infotainment system is standard with the Escape Hybrid. The top-of-the-line Titanium trim gets a head-up display, the first for Ford in North America.
Towing
The 2020 Escape hybrid is rated to tow 1,500 pounds, versus the RAV4 Hybrid's 1,750 lbs. The CR-V Hybrid isn't rated for towing.
Standard Features
The 2020 Escape Hybrid SE Sport gets 17-inch black-painted alloy wheels; LED lighting; heated side mirrors; cloth upholstery; leather wrapped steering wheel with integrated cruise and audio controls; a 10-way power adjustable driver's seat; heated front seats; sliding split rear seats; automatic climate control with rear seat vent; a 6-speaker audio system, and Ford's Sync3 infotainment technology.
Options and packages for the SE Sport Hybrid can add features such as wireless phone charging, a panoramic glass roof, power liftgate, 19-inch wheels, navigation, and faux leather upholstery.
The Titanium Hybrid trim adds 19-inch alloy wheels; LED fog lamps; rain-sensing wipers; hands-free power rear liftgate; a power adjustable front passenger seat; leather upholstery; wireless charging pad; an upgraded 10-speaker Bang & Olufson sound system; dual-zone climate control system; navigation, and a mini spare tire.
Options and packages for the Titanium trim can add features including a panoramic glass roof and a head-up display.
Driver Assistance and Safety
Both Escape Hybrid trim levels come with Ford's CoPilot360 suite, which includes pre-collision assist with automatic emergency braking; blind spot monitoring and cross-traffic alert; lane-keeping assist, and automatic high beam control.
The Titanium hybrid adds Ford's Co-Pilot 360 Assist suit, including full-range adaptive cruise control, lane centering, and evasive steering assist.
Wrapping it Up
The Escape has long occupied middle-of-pack status in the small crossover segment, trailing the RAV4, CR-V and Nissan Rogue. There was no hybrid Escape from the 2008 through the 2019 model years.
Now that the Escape Hybrid is back, it should help Ford improve its position in the increasingly competitive and crowded compact crossover pack.
This isn't an afterthought compliance car electrified solely to help Ford improve its fleetwide fuel efficiency number – although it surely will do that.
It is a highly competitive, competitive, quiet and fairly peppy hybrid that should appeal well to those who find Toyota's sportier but more truck-like RAV-4 a little too truck-like, don't like the competition's looks, or just prefer a domestic nameplate – especially when it provides stellar fuel efficiency.