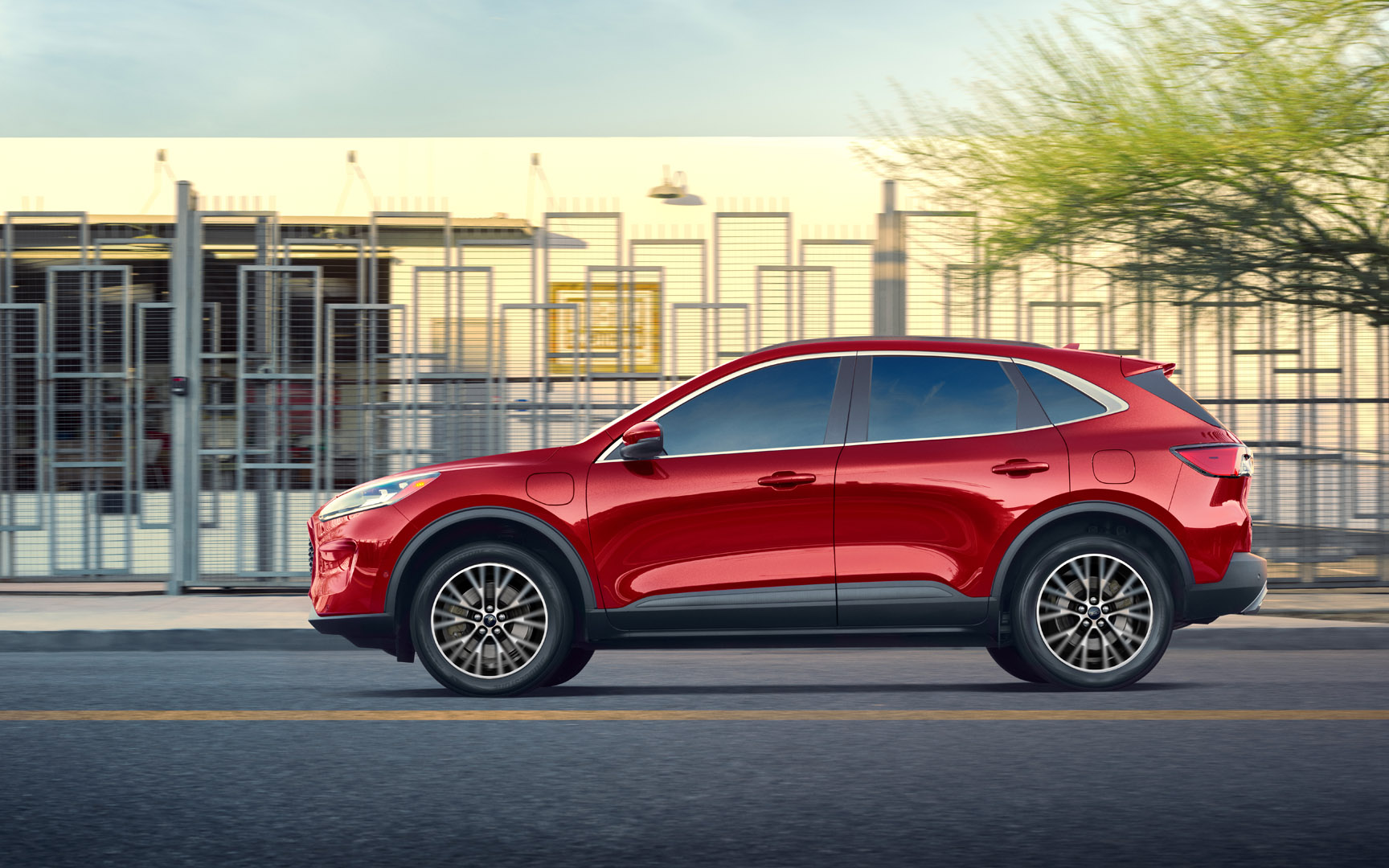 Looks like Ford's 2020 Escape PHEV will wear the fuel efficiency crown in the small-but-growing plug-in hybrid crossover/SUV segment.
(NOTE: Ford has delayed production of the U.S.-spec Escape PHEV until spring 2021.)
Ford says the EPA has rated the newest member of the redesigned 2020 Escape family for 41-mpg combined gas-electric fuel efficiency, with a 37-mile estimated all-electric range.
That squeaks past the Toyota RAV4 Prime plug-in hybrid's expected EPA rating of 37-40 mpg (the official number hasn't yet been released). But the RAV4 PHEV delivers more all-electric range, a Ford-estimated 42 miles.
[Estimated reading time: 4 min.]
Mitsubishi's Outlander PHEV trails badly with a gas-electric combo rating of just 25 mpg and 22 miles of all-electric range. Subaru's Crosstrek Hybrid gets a 35 mpg combo rating and a 17-mile all-electric range estimate.
While it leads in fuel economy, the 2020 Escape PHEV might be hurt by lack of an available all-wheel drive option. It comes only as a 212-horsepower, front-wheel drive model.
All-wheel drive is standard on the 302-horsepower RAV4 Prime, 148-hp Crosstrek Hybrid and 190-hp Outlander PHEV – the Escape's most direct competitors in the plug-in segment.
Big MPGe Number
The Escape PHEV also gets the segment's 's top "equivalency" rating of 100 miles per gasoline gallon equivalent, or MPGe.
TheGreenCarGuy doesn't like to feature that number because it is a theoretical that can't be achieved unless the vehicle's gas engine is never used. It measures the electrical energy a vehicle would consume to cover 100 miles using electricity only – no gas. The comparison standard is that 33.7 kilowatt-hours (kWh) of electricity is the energy equivalent of one gallon of gas.
So, if a vehicle used 33.7 kWh to travel 100 miles, it would get a 100 MPGe rating – as does the 2020 Escape Plug In Hybrid.
For comparison' sake, the RAVE4 Prime is likely to be in second place with a 94 MPGe rating (Ford's estimate) when the official numbers are released.
The Subaru Crosstrek Hybrid is third with 90 MPGe, followed by the Outlander PHEV at 74MPGe. The Audi Q5 PHEV is rated at 65 MPGe and the BMW X3 xDrive30e is next in the plug-in hybrid hierarchy at 60 MPGe. Nothing else in the segment comes close.
Price Edge, Too.
If all-wheel drive isn't important, the 2020 Escape PHEV has a pricing advantage over the RAV4 Prime – its main competition – and most others members of the crossover PHEV class.
It starts at $34,285 compared to the RAV4 Prime's $39,220 base. The Mitsubishi Outlander starts at $37,490; the Crosstrek Hybrid at $36,155. Manufacturer destination charges are included in all pricing.
The 2020 Escape plug-in comes in three trim levels, the base SE, the mid-range SE starting at $36,865, and the Titanium, which starts at $40,080.
Availability
Ford says the 2020 Escape PHEV should start showing up in dealerships around the country just about now.
PHEV vs Conventional Hybrid
Along with the 2020 Escape PHEV and the standard gas-only Escape, Ford also has a conventional hybrid Escape – no plug.
It is EPA rated at 41 mpg in combined city and highway driving, 40 mpg for the available all-wheel drive model.
The big difference for the front-wheel drive versions is the PHEV's ability to travel that first 37 miles in all-electric drive, which will give it a big bump in real-world fuel efficiency over the standard hybrid. People with round trip daily commutes of 37 miles or less could drive the Escape PHEV for the entire work-week without using any gas if they plugged it in and recharged the batteries each night.
The standard hybrid Escape comes in two trim levels, SE Sport and Titanium. Except for powertrain set-up and output – the hybrid is rated at 198 hp – they pretty much share the same equipment and specifications as the equivalent PHEV trims.
The SE Sport Hybrid starts at $29,510, the Titanium Hybrid at $34,795 – meaning similarly equipped PHEV models carry a roughly $5,000 premium, although available incentives will easily erase the gap.
Choosing the all-wheel drive option for the standard hybrid models will add $1,500.
Incentives
While standard hybrids lost their federal tax incentive and almost all state and local incentives several years ago, plug-in hybrids still are being underwritten to help encourage sales.
The maximum federal income tax credit for the 2020 Escape Hybrid should be around $6,800. It is based on battery size. This isn't a cash rebate – it lowers your taxes by up to the credit maximum, but it won't get you a check.
State and local incentives can cut the actual cost of ownership by thousands more, In California, for instance, there's a $1,000 state rebate for PHEVS, and major public utilities such as Southern California Edison also offer rebates – $1,000 for Edison customers. Colorado offers a $4,000 tax credit to PHEV purchasers and $2,000 to those who lease. Other states have their own incentives, some cash and some tax offsets.
For more, check out TheGreenCarGuy's incentives articles.