(Updated 2/19/21 to remove advertising inserted by a hacker. Originally posted 2/15/19)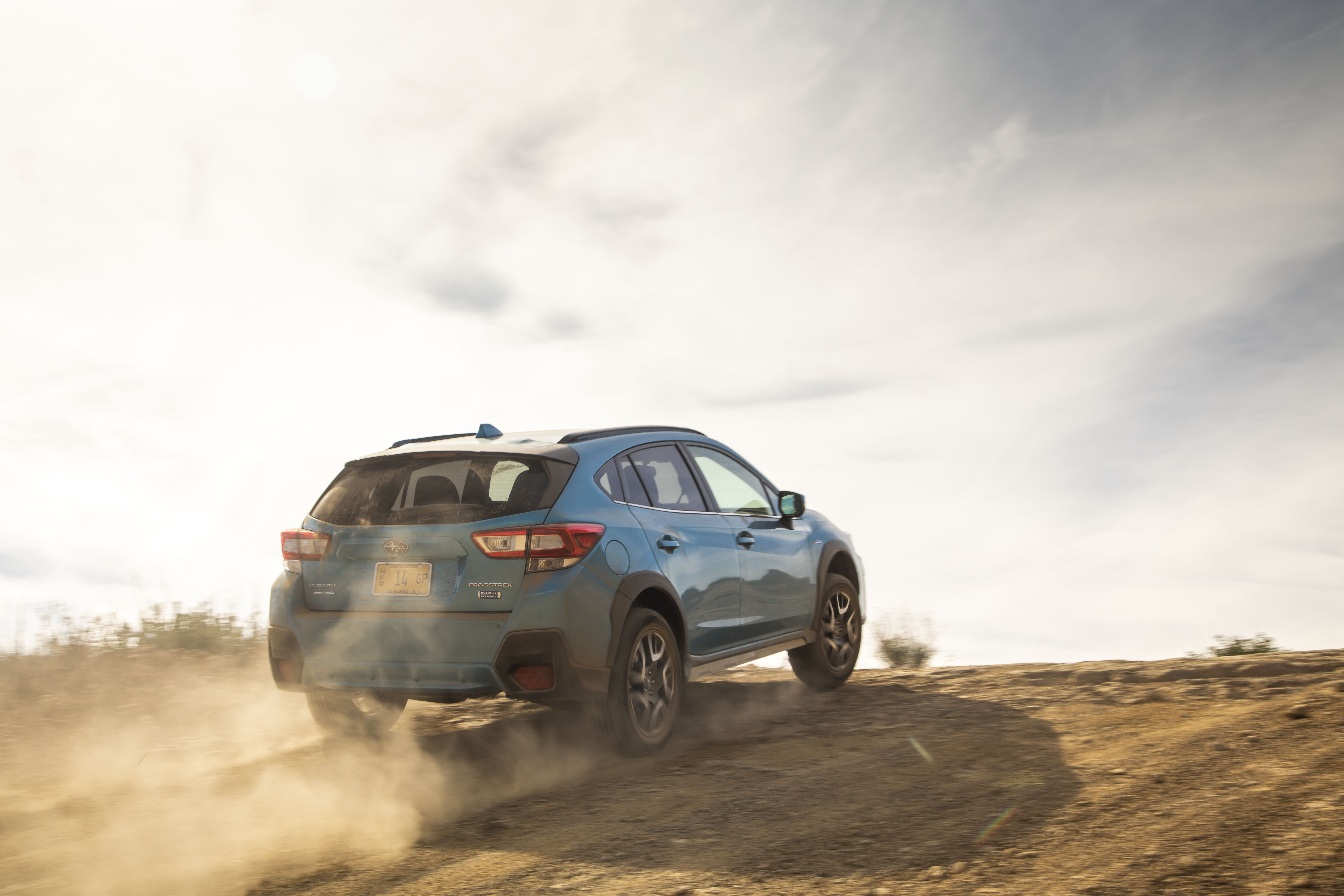 (UPDATE: Parts shortages in Japan have slowed 2019 Subaru Crosstrek Hybrid production. Deliveries to U.S. dealerships, originally slated for late December or early January, won't start until late February or March, the company says.)
Subaru's 2019 Crosstrek Hybrid is a small, nimble crossover that brings segment-leading fuel economy, quicker acceleration and a plug-in hybrid system to the already excellent drivability, safety and all-wheel drive performance of its non-hybrid stablemates.
[Estimated Reading Time: 11 minutes]
The two-motor plug-in hybrid system in Subaru's only electrified model provides up to 17 miles of all-electric range and improves fuel economy to an estimated 35 mpg combined city/highway when running in hybrid mode.
Subaru calls it a pain-old Hybrid even though the name should be Crosstrek Plug-In Hybrid.
The decision to drop "plug-in" from the official name (although it is used on the car's badging) was made out of fear that mention of "plug" would drive some potential buyers away.
It's an interesting decision, considering that the previous Crosstrek Hybrid, which didn't have plug, nor much else to recommend it, was killed after just three years (2014-2016) because of poor sales. You'd think using the name of a sales flop would be riskier than calling it a PHEV. Time will tell.
Limited marketing and a premium price may be bigger burdens than its plug-in status.
But as the greenest all-wheel drive Subaru available, the 2019 Crosstrek Hybrid ought to do well enough in California and the handful of other states in which it will be stocked.
Subaru says any dealer in any state can special order one, but the Crosstrek Hybrid will only be actively sold and serviced by dealers in California, Connecticut, Maine, Maryland, Massachusetts, New Jersey, New York, Oregon, Rhode Island and Vermont – states that have zero-emissions vehicle rules. Subaru figures that at least 60 percent of sales will be in California – ground zero for alternative-energy vehicles.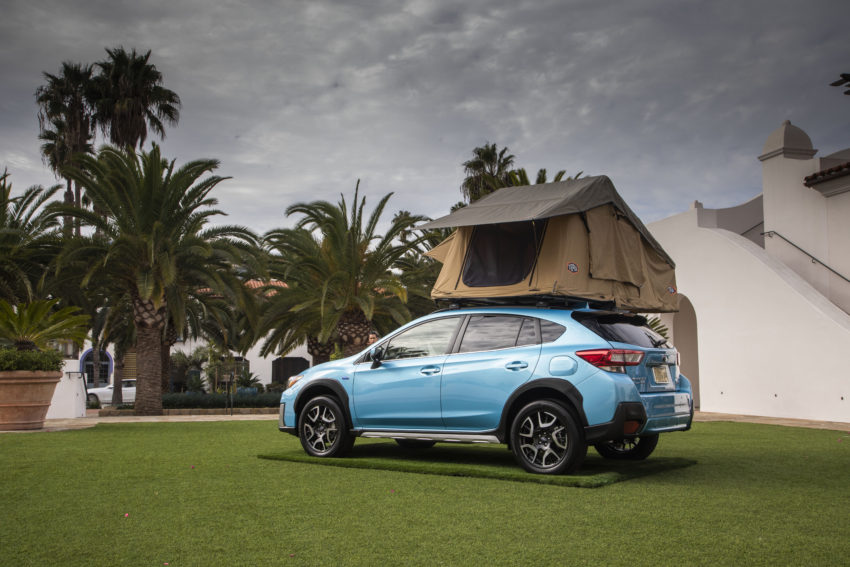 On a recent drive of the 2019 Crosstrek Hybrid in the California coastal mountains above Santa Barbara, theGreenCarGuy came away impressed – but with a tinge of disappointment over a few things.
To get the lows out to the way: the 8.8 kWh battery pack eats up more than 20 percent of the Crosstrek's interior cargo space; all-electric driving range is only 17 miles; the gas engine is a bit noisy when being flogged to pass other traffic or to climb steep hills; there are no rear vents for the climate control system and on-board navigation is part of an expensive options package.
On the plus side, the new Crosstrek Hybrid is more than 20 percent more fuel-efficient and a full second quicker from 0-60 mpg than the standard (non-hybrid) Crosstrek. And it offers the same passenger room, comfort and driving dynamics, on-road and off.
It also qualifies for a federal income tax credit of up to $4,500, and for additional financial incentives in some states – $1,500 in California, for instance. That helps make its premium price a bit more palatable, considering it's almost $8,000 higher than a comparably equipped non-hybrid Crosstrek Limited.
On the Road
Subaru engineers worked hard to keep the 2019 Crosstrek Hybrid cabin quiet, even in electric-only mode, but the hybrid's 2.0-liter flat-four "boxer" engine makes its presence known. It's a small engine and it is revving hard when climbing steep grades or working out in a passing lane. Fortunately, the stereo system does a good job of drowning out the growl – and it is not an unduly obnoxious noise even when not masked by tunes or conversation.
Best of all, that engine gets the job done with no nail-biting drama, thanks to the substantial boost it gets from the hybrid system's electric drive motor.
This isn't a quick car, but with its electric boost it will beat the non-hybrid Crosstrek in a 0-60 mph acceleration contest by a full second, according to Subaru (we didn't get a chance to try this for ourselves).
The automaker says the non-hybrid will make the run in 10.3 seconds, so that's a 9.3-second ET for the hybrid. Some independent testers have found it to be even quicker.
Subaru is pretty conservative in its acceleration tests – the cars carry the weight of two humans and a dog when being clocked.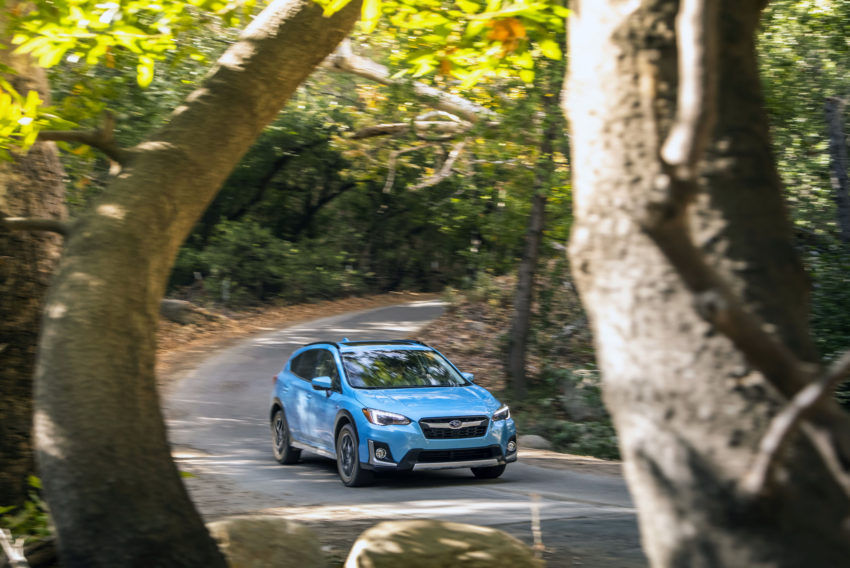 Motor Trend magazine tested the non-hybrid, sans passenger and dog, and gave it a 9-second 0-60 time. If that's consistent across the lineup, the new Crosstrek Hybrid should come in at 8 seconds, which is the U.S. average for all passenger cars.
(Update: Car and Driver recently put the Crosstrek Hybrid though instrumented testing and clocked its 0-60 time at 8.3-seconds.)
The Crosstrek Hybrid sits high on its lifted suspension and weighs almost 500 pounds more than the standard model, thanks to the addition of a battery pack and electric drive system.
Still, steering is responsive, firm and accurate, power is adequate – no one buys a Crosstrek to take to the racetrack – and ride quality and seat comfort are quite good.
Despite the elevated ride height – 8.7 inches of ground clearance, same as the non-hybrid models – there's not much lean or body roll on corners or jolting over ruts and potholes.
The extra weight of the batteries, installed under the rear seat and cargo deck, give the Crosstrek Hybrid a lower center of gravity than its non-hybrid stalemate, improving its grip on the road, despite the hard compound of its low-rolling-resistance all season 225/55 x 18-inch tires.
Even with the optional moonroof, there's plenty of headroom front and back for all but the very tallest among us. The back seats, the standard flat bench type used in most crossovers, are comfortable enough for a long ride. (On the final leg of our 150-mile drive, I climbed in back for a short test of rear seat comfort and 30 miles later was still sitting, still comfortably, in back).
Up front, the buckets are firm but supportive and there's plenty of leg, shoulder and elbow room, even with the moonroof-equipped version's lower headliner. Instrumentation is easy to see and use. Things that should be oriented toward the driver are. An 8-inch color infotainment touchscreen is standard with the hybrid.
The Crosstrek Hybrid uses a shiftless CVT, but there are two buttons on the leather-wrapped steering wheel that allow the driver to tune performance just a bit. They are the interface for the Subaru SI Drive engine management system and they enable drivers to choose between efficiency in "Intelligent" mode and quicker pedal response and perkier pickup in "Sport."
There also are three driver-selectable efficiency modes. HEV uses the electric motor as much as possible. Charge uses one of the two motor-generators to charge the hybrid battery on the fly (this isn't very efficient as it uses almost a gallon of gasoline to give you that 17 miles of range). Save mode reserves stored electricity for later use – perhaps when running in quiet EV mode is desired for wildlife viewing, or for sneaking home late at night.
Off the Road
The 2019 Crosstrek Hybrid is an honest, off-road capable crossover. It uses the same fulltime, mechanical all-wheel drive as other Subarus. Other AWD hybrids use rear-mounted electric motors and can cut off rear-drive when the battery's depleted.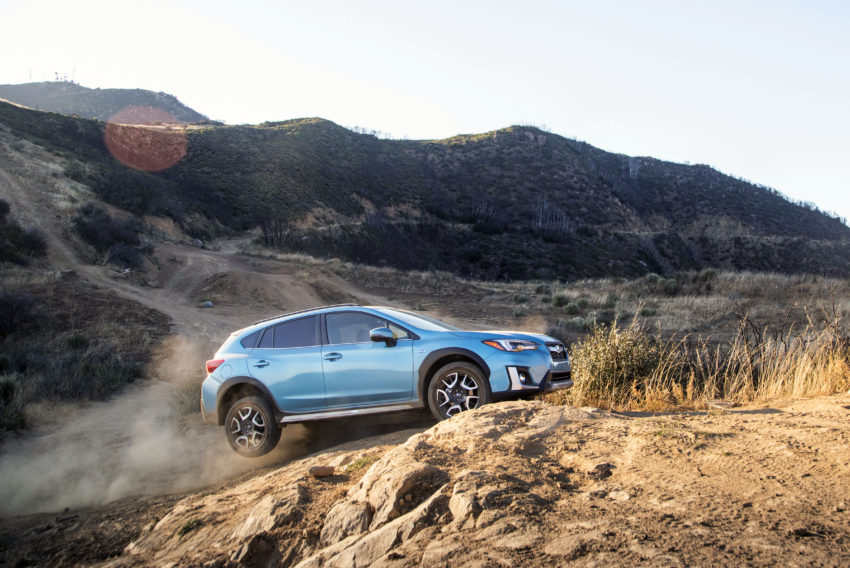 The Crosstrek hybrid seemed sure-footed as a mountain-goat on our 10-mile drive along a rutted, rocky and sometimes steep dirt trail in the Santa Ynez mountains.
One benefit of its ability to run in all-electric mode if the battery has enough juice is that you don't have to rev up the gas engine for torque to clamber over rocky outcroppings or other obstacles, then slam on the brakes once you've topped them. The high-torque EV mode lets you climb at a slow, controlled pace for a very smooth up-and-over.
Regenerative braking and excess engine power add juice to the battery while driving, on road or off. That augments the charge you started out with if you plugged in before your trip and gives you some juice to play with when you decide to head off road.
Subaru's X-Mode with hill descent control is a standard feature that provides low-speed brake and transmission control for steep declines on slippery, uneven trails. It also manages throttle response, stability control and torque vectoring.
The Crosstrek Hybrid's suspension is tuned to handle the extra weight of the batteries and electric drive, so there's no worry about bottoming out on bouncy trails.
Cargo
The 2019 Crosstrek Hybrid loses a bit more than 20 percent of its cargo space to the hybrid system battery pack, which is installed under the rear seat and rear cargo deck. With all the seats up and in place, there's 15.9 cubic feet of cargo area behind the seats, down from 20.8 cu.-ft. in the non-hybrid. The hybrid's cargo floor is about three inches above the bottom of the lift gate opening.
The rear seats fold down, bumping total cargo area up to 43.1 cubic feet, versus 55.3 cu.-ft. in the gas-only siblings. It's not a flat space, either. There's a drop of about 8 inches from the cargo floor to the folded seat backs.
We weren't able to try it, but Subaru says the 2019 Crosstrek Hybrid still will hold a mountain bike with the back seats folded away.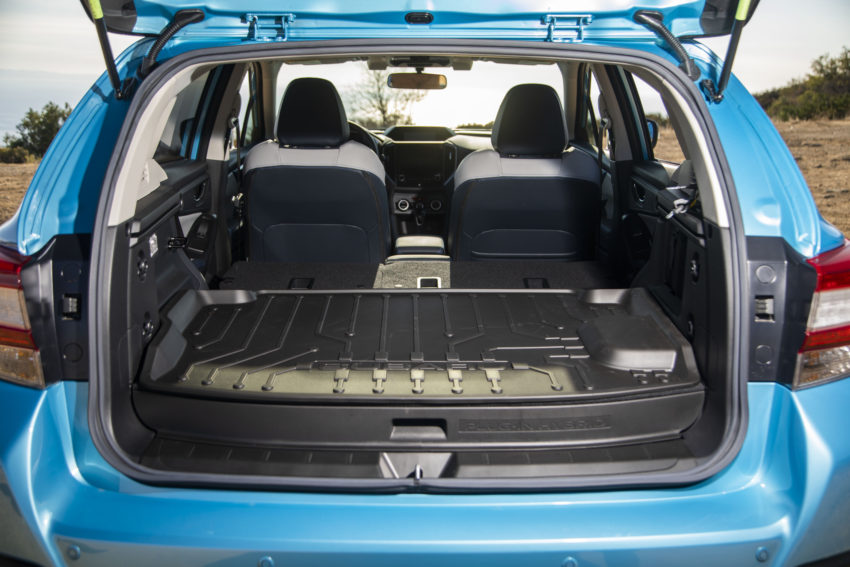 The hybrid also can tow a little – unlike many plug-ins. It has a 1,000-pound rating, versus the non-hybrid Crosstrek's 1,500 lbs.
The hybrid's rooftop (cargo racks are a dealer optional or you can install your own on the standard low-profile rails) can handle loads of 150 pounds when the wheels are turning, and as much as 700 pounds – such as a camping tent and its occupants – when parked on a level surface.
Subaru lists the rooftop tent capability in the owner's manual, warranting against damage if the weight limits and other tenting requirements are adhered to.
The Hybrid System
The 2019 Crosstrek Hybrid's 2.0. liter gas engine cranks out just 137 horsepower and 134 pound-feet of torque, down from 152/145 in the non-hybrid.
But the electric drive motor kicks in when extra acceleration power is needed, and combined output is 148 ponies and 149 pound-feet.
That 118-hp drive motor keeps the 2019 Crosstrek Hybrid in all-electric mode at speeds of up to 65 mph when there's sufficient juice in the battery. The system uses the gas engine as the primary high-speed power source because that's when it's most efficient to use an internal combustion engine.
The gas engine also will dominate when "Charge" or "Save" modes are in play, or whenever the throttle is applied aggressively.
Subaru calls the system "StarDrive."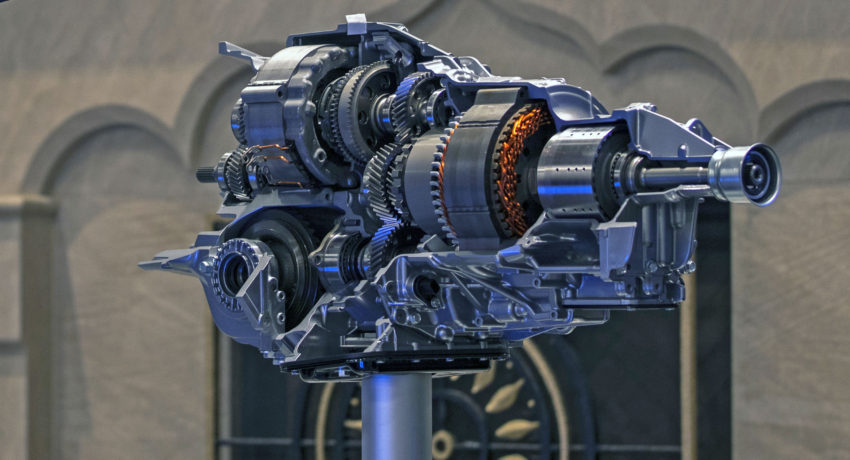 It uses two electric motor-generators borrowed from Toyota's Camry Hybrid. One starts the engine and generates power for the battery. It is called, cleverly, MG1. The other powers the car in all-electric mode, assists the gas engine at other times and can send some juice to the battery. It is called MG2.
Power for the electric motors is stored in an 8.8 kilowatt lithium-ion battery that gets some of its control parts from Toyota's Prius Prime PHEV.
If you're wondering about the Toyota stuff –Toyota holds a minority stake in Subaru and has already done the development work on hybrid components, so why reinvent the wheel?
Subaru engineers did their own system design, though, and developed the gear-driven CVT and the power-split system that sends power from the front-mounted gas engine and MG2 to both the front and rear wheels.
Charging
A 240-volt, Level 2 charger will fill the Crosstrek Hybrid's depleted battery in about 2 hours; it takes about 5 hours on a standard 120-volt household circuit using the Level 1 charging cord that comes standard.
As with most plug-in-hybrids, the Crosstrek PHEV isn't equipped for high-sped charging on 480-volt, Level 3 systems. Automakers (Mitsubishi, with its Outlander PHEV, is the exception) figure that PHEV batteries are small enough to be fairly quickly recharged at Level 2. And unlike battery-dependent EVs, plug-in hybrids can run on their gas engines when the battery is depleted. So why raise the price of the vehicle even more by adding Level 3 capability?
Trim Levels, Features and Pricing
The 2019 Crosstrek Hybrid comes in just one trim, with a single options package.
Base price is $35,970 including destination charges. That's close to $7,800 more – before incentives – than a comparably equipped non-hybrid Crosstrek Limited. The hybrid shares the Limited's features list.
Subaru's camera-based EyeSight driver-assistance suit is standard. It includes pre-collision braking and throttle management, adaptive cruise control, lane departure warning and lane keeping assist systems. Blind spot detection, rear cross traffic alert and automatic braking in reverse also are standard.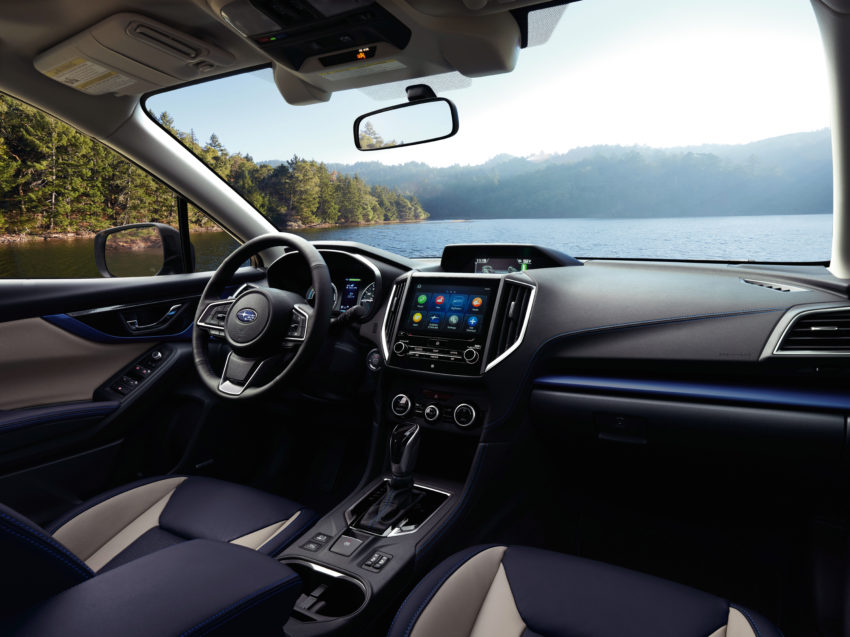 The hybrid also comes with a 10-year subscription to the StarLink emergency notification system.
Other standard equipment includes leather seating, keyless entry and ignition, LED headlights, auto up-down front windows, power mirrors and driver seat, heated front seats, automatic climate control and a 6-speaker audio system and 8-inch color infotainment touchscreen with Apple CarPlay and Android Auto compatibility.
Hybrid-exclusive features include lightweight 18-inch alloy wheels, low-profile roof rails, a navy-and-gray upholstery scheme, hybrid badging and silver-colored trim and a "Lagoon Blue Pearl" exterior color choice. Metallic black, a solid gray and pearlescent white are the only other exterior colors for the hybrid.
You'll pay $2,500 more for the only option, consisting of a power moonroof, heated steering wheel, navigation, and upgraded 8-speaker sound system. You can't get those items separately.
Wrap Up
A 2018 redesign that provided significant chassis, suspension and interior improvements have made the Crosstrek it a worthy competitor in the small crossover segment: Subaru says sales have tripled in the past few years and it is now the third best-selling of the company's cars and crossovers – after the Outback wagon and Forester SUV.
The 2019 Crosstrek Hybrid brings electric-drive efficiency and oomph to the party. And it is as good off-road and even better on-road than the non-hybrid Crosstrek.
Its reduced cargo capacity and relative high price are negatives that will deter some, but for those seeking good fuel economy as well as decent off-road capabilities in an attractive small package, the 2019 Crosstrek Hybrid is just about the only game in town.
TheGreenCarGuy attended an event at which Subaru of America hosted travel, meals and lodging.
(Photos courtesy of Subaru of America)