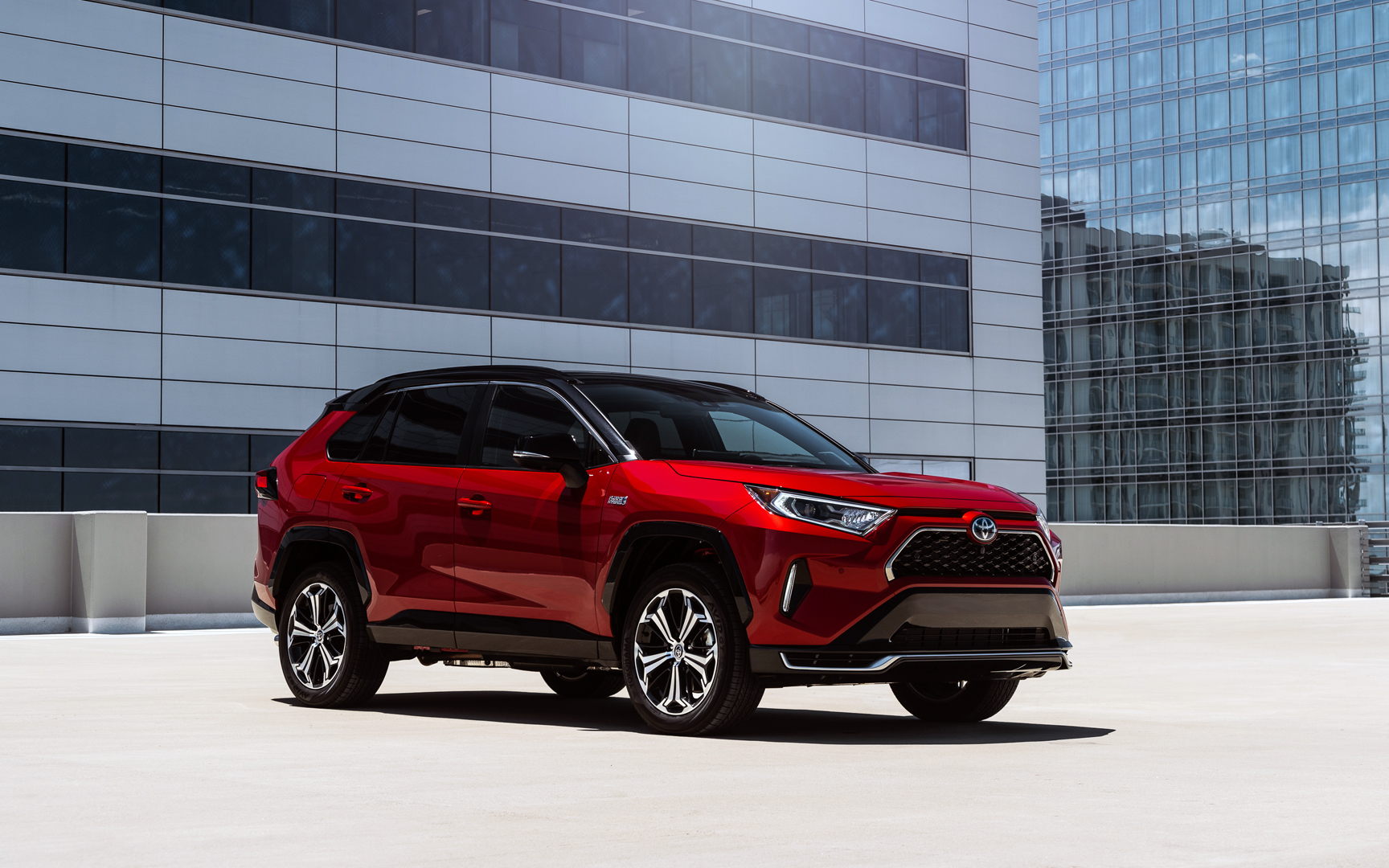 (Originally posed 6/4/20; updated 7/15/20)
Toyota's plug-in hybrid SUV, the 2021 RAV4 Prime, will start at $39,220, slightly exceed the company's initial all-electric range estimate of 39 miles, and hit dealer showrooms this summer.
The EPA is estimating 42 miles of ell-electric range before the RAV4 Prime drops into conventional hybrid operation.
[Estimated reading time: 5 min., 30 sec.]
Pricing includes Toyota's $1,120 destination fee, but doesn't factor-in local incentives or the plug-in RAV4's anticipated federal clean car tax rebate of as much as $7,500 – depending on the buyers' tax status.
(Note: Because of Toyota's crazy distribution system in the U.S., the destination fee for cars distributed in its 10-state Southeast Toyota and Gulf States Toyota regions can differ from the amount the rest of the country pays.)
Availability
Toyota says the 2021 RAV4 Prime will be sold in all 50 states, but expect the bulk of the first year's shipments to go to the ZEV states that have adopted California's zero emissions vehicle mandate and actively promote plug-in electric vehicles.
As was the case with the RAV4 Hybrid when it launched with the new design and platform as a 2019 model, there also is expected to be greater demand than supply in the first months, which likely will lead to dealer-demanded premiums.
TheGreenCarGuy cautions against paying extra for a car that will quickly lose a lot of value, thanks to standard depreciation and, with PHEVs, the uncertainty second buyers might have about battery longevity. If you can wait until pricing returns to normal, it's a good idea to do so. And the more people who wait, the quicker those premium demands will disappear.
But hey, it's your money.
Cheaper Than It Seems
The financial incentives could make the all-wheel-drive, 302-horsepower RAV4 Prime cheaper to buy and own than the hot-selling RAV4 Hybrid on which it is based.
In California, for instance, buyers and lessees can qualify for a $1,000 cash rebate from the state's Clean Vehicle Rebate Project. In many areas of the state, public utilities also offer cash rebates of as much as $1,000.
Add the maximum $7,500 federal tax credit and the real cost of buying a 2021 RAV4 Prime in California can drop to $9,500 below the MSRP.
Colorado now offers a $4,000 state tax credit for PHEVs purchased or leased in 2020 – for a maximum potential benefit of $11,500 including the federal credit.
For a look at your state's incentives for EVS and PHEVs, check the interactive state incentives site maintain by Plug In America.
Zippy, and Fuel Savings, Too
At 42 miles of all-electric range, the 2021 RAV4 Prime is the leader of the plug-in hybrid SUV pack and close to the top of the heap when compared to all PHEVS.
The much smaller Kia Niro PHEV has the next-best electric range of plug-in hybrid SUVs and crossovers with 26 miles.The Mitsubishi Outlander PHEV offers up to 22 miles of all electric range; the Lincoln Aviator 21 miles and the Subaru Crosstrek Hybrid 17 miles. At the bottom of the plug-in hybrid SUV pile is the Mercedes-Benz GLC350e, with just 10 miles of all-electric range.
The Honda Clarity PHEV sedan at 48 miles is current leader among all plug-in hybrids, but Volvo says its Polestar1 plug-in hybrid sedan will offer 52 miles of all-electric range when it hits the market later this year.
The RAV4 Prime's range means many owners will be able to drive all week long without using any gasoline, as long as they recharge the battery regularly.
With its EPA-estimated 38 mpg combined city/highway fuel effiicency rating when its initial from-the-grid battery charge is depleted, that means it could travel 80 miles on a gallon of gas, 118 miles on two gallons, 156 on three gallons and, well, you get the idea.
Because the the RAV4 Prime's 302 horsepower make it the quickest Toyota SUV ever, you'll watch the 42 miles of all-electric range and overall fuel efficiency drop considerably is you make a habit of standing on thego-pdal to enjoy that extra oomph.
The plug-n RAV4 has an estimated 0-60 time of just 5.8 seconds. That's 2.5 seconds faster than the standard RAV4 and almost 2 seconds quicker than the 219-hp RAV4 Hybrid. It is the second-fastest vehicle in the Toyotya lineup, bested only by the Supra sports coupe.
Two Grades, Pricey Packages
The RAV4 Prime will be sold in two grades, or trims: the base SE and the sportier XSE, which starts at $42,645 before incentives.
The XSE trim will also be eligible for several upgrade packages that could add as much as $5,760 to the total for buyers who have to have everything.
That would kick the initial purchase price of a RAV4 Prime with the Weather with Audio and Premium Package to just under $49,000 before any incentives.
Toyota apparently is hoping many buyers will decide to spend some of their incentive money on upgrades.
Quicker Charging, at a Cost
The standard charging rate for the RAV4 Prime is 3.3 kW per hour – a relatively slow system in today's market.
The automaker hasn't revealed data about the 2021 RAV4 Prime's battery capacity, but we expect it will be at least 16 kWh to deliver the range Toyota's promising
Toyota will let buyers kick charging speed up to 6.6 kW, but only for those who buy the most expensive combination – the XSE with the weather/audio/premium package.
At 6.6 kW, a 16-kWh battery should take just under 3 hours to recharge from empty on a 40-amp, Level 2, 240-volt home charging system
(Learn all about home charging.)
Safety
The 2021 RAV4 Prime shares the same standards Toyota Safety Sense 2.0 package as other RAV 4 models. It includes pre-collision with pedestrian detection; full-range adaptive cruise control; lane departure alert with steering assist; lane tracing (centering) assist; road sign recognition and display, and an automatic high beam system.
Features
Toyota hasn't issued the full spec sheet yet, but it appears that the RAV4 Prime will share equipment levels with the conventional hybrid RAV4.
What we have been told is that the SE will start things off with 18-inch alloys; a plug-in hybrid specific grille; piano black exterior accents; power rear liftgate; heated front seats; power-adjustable driver seat; cloth seating with leather-wrapped steering wheel and shift knob; and an 8-inch color touchscreen for the audio system, which is Android Auto, Apple CarPlay and Amazon Alexa compatible. The SE also gets blind spot monitoring with rear cross-traffic alert.
The XSE adds 19-inch alloys; two-tone exterior paint schemes with glossy black on top; LED accent lights; paddle shifters; a moonroof; Qi wireless charging; an auto-dimming rearview mirror with HomeLink, a 9-inch color infotainment screen and upgraded audio system; and Toyota's SofTex synthetic leather upholstery.
Options for the XSE trim include an $815 Weather Package – heated steering wheel, heated rear outboard seats and rain-sensing wipers with a wiper de-icing system, and a $2,435 Weather and Audio Package that includes the weather package features plus a JBL audio system with navigation (free for the first 3 years) and a 1-year subscription to Toyota's Destination Assist, which provides destination directions on request, downloaded to the navigation system.
The $5,760 package includes all that plus various premium features and upgrades including the 6.6 kW charging capacity; a panoramic moonroof; heated and ventilated front seats with a power adjustable front passenger seat; a digital rearview mirror; a bird's eye view camera system; hands-free rear liftgate; a head-up display; parking assist with automatic braking, and an adaptive front headlight system.
Next: See our RAV4 Prime First Drive review.