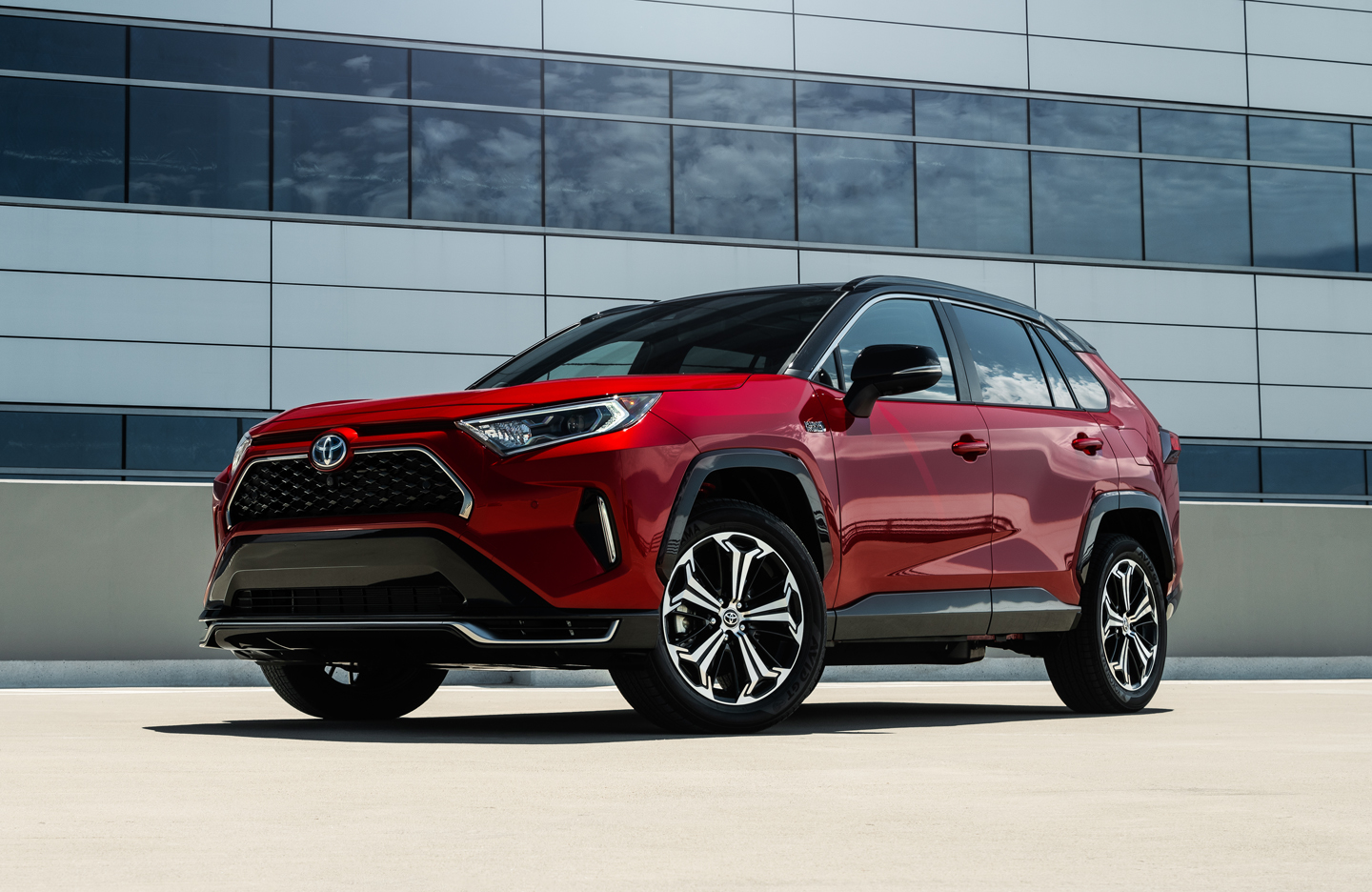 First Drive Review
Toyota's 2021 RAV4 Prime plug-in hybrid will be sold on power and, perhaps, fuel efficiency.
Yes, it will do 0-60 in under 6 seconds – if you don't want to do it in electric-only mode.
And yes, you probably can get the EPA-estimated 42 miles of all-electric range and 38 mpg after that – if you aren't doing 0-60 in under 6 seconds very often.
That's all nice, and to be expected.
The real good news about the 2021 RAV4 Prime is that, unlike its gas-only and conventional hybrid stablemates, the plug-in hybrid crossover offers a load of luxury-like comfort and quiet.
[Reading Time: 9 min.]
While environmental aspects are a must with a hybrid, "there was much focus on driving characteristics and performance" with the plug-in-hybrid, Takeshi Miyaura, assistant chief engineer and project chief on the RAV4 Prime, told TheGreenCarGuy.
That's not to say the other RAV4s are terrible – nearly half a million buyers of the crossover since its 2019 redesign give lie to that thought. It's simply that, compared to the new RAV4 Prime, they are a lot more truck-like and let a lot more engine noise into the cabin.
(Disclosure, I own – and am quite happy with – a 2019 RAV4 Hybrid.)
At a starting price – before incentives – of nearly $40,000 – the RAV4 Prime PHEV isn't likely to be the first choice of the devil-may-care 18- to 35-year-old set whose bones can absorb bumps and rolls and whose preferred volume levels for audio are likely to drown out unwelcome road, wind, tire and and engine noises.
Toyota says it expects the average buyer to be around 60, with men and women accounting for equal shares of sales. For many in that cohort, comfortable seats, shock-absorbing suspension and quiet cabins with nice sound systems and loads of safety and infotainment features are at least as important as acceleration and handling.
The 302-hp RAV4 Prime – arriving in dealerships across the country this month – offers a lot of the former, with a heaping helping of the latter tossed in for good measure.
A Bargain As Well
With its full $7,500 federal tax credit, plus state and local incentives in many areas, it also can represent a bit of a bargain.
The real acquisition cost for those who purchase (the tax credit isn't available to lessees) can be less than a similarly equipped RAV4 Hybrid, which TheGreenCarGuy has reviewed separately.
You'd still have to arrange financing for the full MSRP – or whatever price you work out with the dealer – but at the end of the year, when taxes are due, you can shave up to $7,500 off your bill with the federal credit.
That would cut the real purchase cost of the base RAV4 Prime – the $39,200 SE trim – to just $31,700.
Toyota expects about 60 percent of buyers to pick the SE trim, with 40 percent opting for the pricier and slightly sportier XSE, which starts at $42,645 before incentives and has a real purchase cost of $35,145 for those who qualify for the full federal tax credit.
Pricing includes Toyota's $1,120 destination fee.
State and local credits or rebates in some areas could knock real acquisition costs down as much as a few thousand more.
(All about clean vehicle tax credits and incentives.)
The federal tax credit isn't available to those who lease – by law it belongs to the vehicle's first registered owner. But Toyota says it is discussing ways that leasing agents could pass through at least some of the credit – usually done by applying it to reduce monthly lease payments.
On the Road
Toyota recently loaned us a 2021 RAV4 Prime and in our day-and-a-half with the newest addition to the PHEV segment we found that it pretty much lives up to its hype.
While the plug-in hybrid uses the same 2.5-liter gas engine as the conventional RAV4 Hybrid – although tuned a bit differently – the PHEV gets much heftier electric drive motors. That gives it a nearly 40 percent bump in peak horsepower – 302 ponies versus the regular RAV4 Hybrid's 219 hp.
Electronic all-wheel drive, the same system as on the RAV4 Hybrid, is standard and improves performance on wet, slick or slippery services.
A standard "Trail" function also boosts the Prime's ability to handle mild off-road conditions, acting as an electronic limited slip differential to modify wheel braking and throttle response to keep things moving straight ahead.
The base SE has the same 8.1-inches of ground clearance as the rest of the RAV4 family; the Prime XSE gets extra lift, to 8.3 inches, because of its larger 19-inch wheels and tires.
By packaging the batteries beneath the cabin floor, Toyota engineers gave the RAV4 Prime a low center of gravity that helps it stick to the road.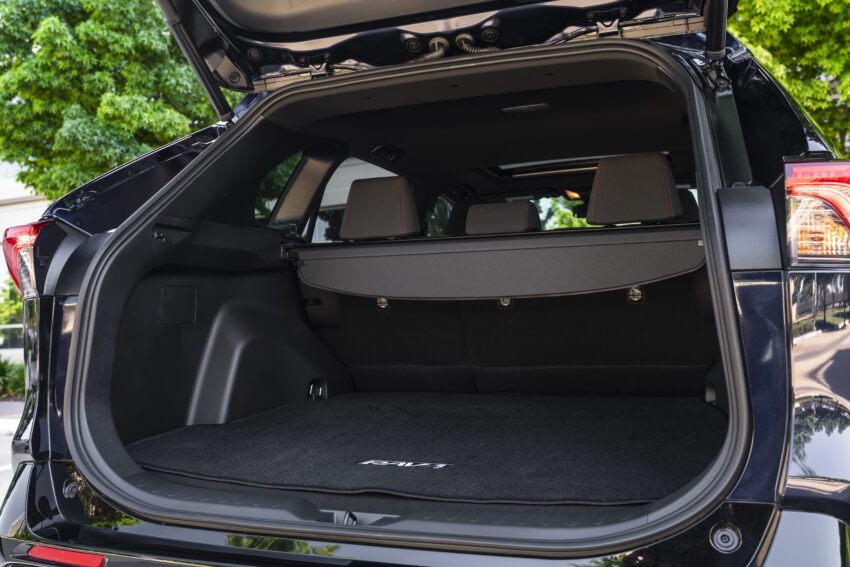 The battery pack's size, though, required the cargo floor to be raised a little over an inch, cutting cargo capacity in the 2021 RAV4 Prime to 63.2 cubic feet with the second-row seats folded down. That's 6.6 cubic feet less than the RAV4 Hybrid offers.
With the back seats up, the Prime's cargo compartment offers 33.5 cubic feet of storage, down from 37.5 cu. ft. in the standard hybrid model.
The extra weight of the plug-in system – the Prime tips the scale at more than two tons, a 500-pound gain over the RAV4 Hybrid – also helps keep it grounded and doesn't seem to negatively affect handling. Acceleration isn't hurt much, either, as the Prime's extra power more than offsets the added weight.
Toyota provides three driving modes – Normal, Eco and Sport. They modify throttle response and shift points to save fuel (Eco), improve responsiveness (Sport) or provide a middle-of-the-road mix.
There's also an EV mode to lock the Prime into all-electric drive for as long as the battery charge permits; a charge mode that uses engine power to recharge the battery at an accelerated pace so there's juice available later, and an either/or mode called, appropriately, EV/HV, that lets the computer decide whether driving conditions call for electric mode or hybrid gas-electric mode.
For the nit-pickers in the audience, the tuning of the 2021 RAV4 Prime's gas engine is mostly for compatibility with the plug-in hybrid system. By itself, the Prime's gas engine makes 1 horsepower more than the conventional hybrid's 176 ponies, while engine torque, at 165 lb.-ft., is 2 lb-ft. higher.
The Prime's extra electric boost, combined with a more refined suspension and steering setup, make the RAV4 Prime a joy to drive. Paddle shifters on the XSE trim (not avail on the SE) add to its sporty nature.
The additional power ensures there are no worries about freeway merging, high-speed passing or climbing the steepest mountain roads. It also increases the RAV4 Prime's towing capacity to 2,500 pounds – up from 1,750 pounds for the RAV4 Hybrid.
Toyota did more than make the RAV4 Prime more muscular than its siblings. Steering and suspension were tuned to help meet the goal of delivering both sporty handling and a comfortable ride.
While the RAV4 Prime holds the road well and answers steering and accelerator inputs quickly and confidently, it does so without relaying every rough patch in the road directly to the occupants' backsides.
In our tester, the line-topping XSE trim with Premium Package, body roll and pitching on fast, tight corners and curves was minimal. The red-stitched, faux leather front bucket seats were firm but well-bolstered, steering was compliant.
Thanks to ample use of sound-deadening material including acoustic windshield and front side windows, the RAV4 Prime doesn't share much in the way of road or engine noise with its occupants – something that can't be said for other members of the RAV4 family.
About that Speed
Toyota says the RAV4 Prime will hit 60 mpg from a standing start in 5.7 seconds. That makes it the second-fastest vehicle in the Toyota lineup after the new Supra sport coupe with its Toyota-claimed 0-60 time of 4.1 seconds (some buff books have recorded even faster Supra times, as low as 3.8 seconds).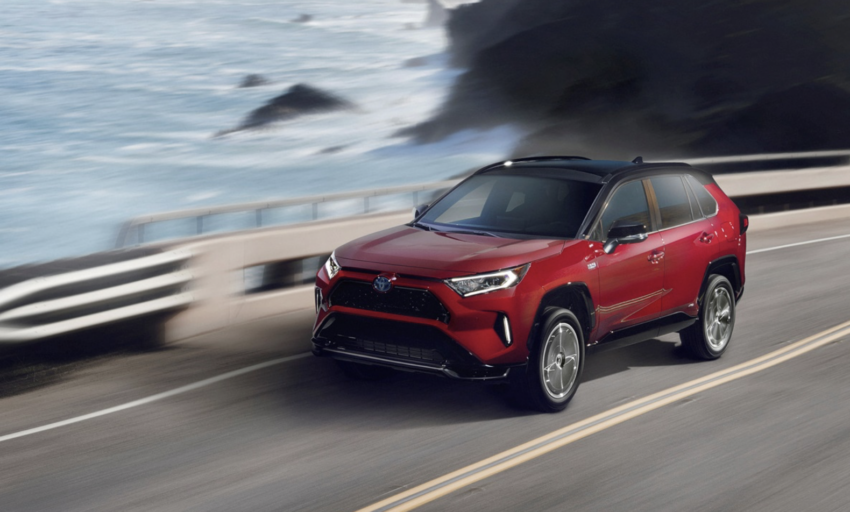 We tested it several times, and while our smartphone's stopwatch function isn't as accurate as the equipment the pros use, we found no reason to doubt Toyota's claims for the RAV4 Prime.
The first time we stood on the go-pedal, though, we were horribly disappointed. The thing didn't leap or jump or race, it merely lumbered.
Turns out you can't get peak performance if your RAV4 Prime is in all-electric mode.
Without the extra power from the gas engine – and likely to conserve battery power as well – the best the plug-in hybrid RAV4 can do is around 9 seconds (Toyota says its own timing puts it at 9.02 seconds in all-electric mode).
Fortunately, Toyota provides several driver-selectable modes including one that locks out EV mode.
Prime Powertrain
The heart of the 2021 RAV4 Prime plug-in hybrid system is its liquid cooled, 18.1 kilowatt-hour lithium-ion battery and the two electric traction motors it feeds.
The front motor is capable of a peak 179 horsepower and 199 lb.-ft. of torque., the rear motor can deliver up to 53 hp and 89 lb.-ft.
The battery is big enough to let them power the Prime in all-electric mode at up to 84 mph.
There's no direct connection between the front and rear mottors or between the gas engine and the rear motor – a computer decides when it needs to kick in.
When gas and electric combine, the result is the Prime's ballyhooed 302 hp.
An electronic CVT programmed to mimic a six-speed transmission in sequential mode delivers power to the front wheels.
Fuel Economy
When you are touting 0-60 acceleration as a major selling point, fuel efficiency typically isn't a big thing.
But with the RAV4 PHEV it comes with the territory.
Just-released EPA estimates give the 2021 RAV4 Prime 42 miles of all electric range, a 38 mpg combined city-highway rating for travel after the battery is depleted (that's 40 mpg city and 36 mpg highway) and an electric powertrain efficiency rating of 94 MPGe.
In our 130.6 miles behind the wheel, we had two occasions to start with a fully charged battery. In each case, the battery was depleted after 28 miles of mostly high-speed highway driving.
While it likely is possible to get that 42 miles of pure EV driving, doing so will take a soft touch on the accelerator and avoidance of steep hills and speeds of over 70 mph.
Our overall fuel economy was 41.8 mpg, per the Prime's efficiency display. That compares to the 35 mpg we recorded on our 250-mile First Drive road trip in the RAV4 Hybrid last year.
With PHEVS, overall efficiency is heavily dependent on how much the vehicle is driven between battery charging sessions.
A RAV4 Prime used for daily commuting of 35 miles, with a battery recharge every night and longer trips reserved for weekends and holidays, could run at zero gallons per mile from Monday through Friday. Throw in a 300-mile weekend trip at the EPA estimated 38 mpg, and overall fuel efficiency for that week's 475 miles would be 69.9 mpg.
But start off Monday morning with a fully charged battery and fail to recharge during the week and efficiency for that same 475 miles would plummet to 41.7 mpg.
MPGe-So What?
Wait, you say. What about the 94 MPGe rating the EPA bestowed and Toyota advertising keeps highlighting?
It's a good way to compare the efficiency of the RAV4 Prime's electric propulsion system to those of other plug-in hybrids, but beyond that it has no real-world significance.
MPGe, or miles per gallon equivalent, measures how much electrical energy an EV or PHEV uses to travel 100 miles on a prescribed EPA test course. It takes 33.7 kilowatt-hours of electrical energy to equal one gallon of gas, so the RAV4 Prime would use 35 kWh to travel 100 miles.
But the RAV4 Prime's battery capacity is only 18.1 kWh, and because the battery management system keeps some of that in reserve to avid overheating and prolong battery life, the usable portion is 14.5 kWh.
To get that 100 miles on electricity only, you'd have to start with a full battery then stop at 42 miles for a roughly 3-hour recharging session and at 84 miles for another recharging session. Not very efficient, time-wise.
Use MPGe it to compare. It puts the RAV4 Prime just behind the new Ford Escape PHEV – which gets a 100 MPGe rating – at the top of the heap in electric powertrain efficiency among all plug-in-hybrid crossovers and SUVs.
Don't think, however, that 94 miles per gallon is a real-world efficiency figure you should plan on achieving,
Charging the 2021 RAV4 Prime
Toyota supplies the RAV 4 PHEV with a 120-volt charging cord that can plug in to an ordinary wall socket and will slowly recharge the battery. It will take about 12 hours to fully charge a depleted battery that way, though.
Both RAV4 Prime models come with a standard 3.3 kilowatt charger (240 volts) that will fill an empty battery in about 4.5 hours from a properly sized home or commercial 16 amp Level 2 charging station.
Toyota will let buyers kick charging speed up to 6.6 kW, for a but only for those who buy the most expensive combination – the XSE with the $5,760 weather/audio/premium package.
The speedier charger will refill a depleted battery in about 2.5 hours from a 32 amp Level 2 system.
(Learn all about home charging.)
Safety
Toyota Safety Sense 2.0 is standard on both AV4 Prime trims (and all other RAV4s).
It includes pre-collision with pedestrian detection; full-range adaptive cruise control; lane departure alert with steering assist; lane tracing (centering) assist; road sign recognition and display, and an automatic high beam system.
Features, Packages
The base SE trim starts with 18-inch alloys, a plug-in hybrid specific grille; piano black exterior accents; power rear liftgate; heated front seats; power-adjustable driver seat; cloth seating with leather-wrapped steering wheel and shift knob; an 8-inch color touchscreen for the Android Auto, Apple CarPlay and Amazon Alexa compatible audio system. The SE also gets blind spot monitoring with rear cross-traffic alert.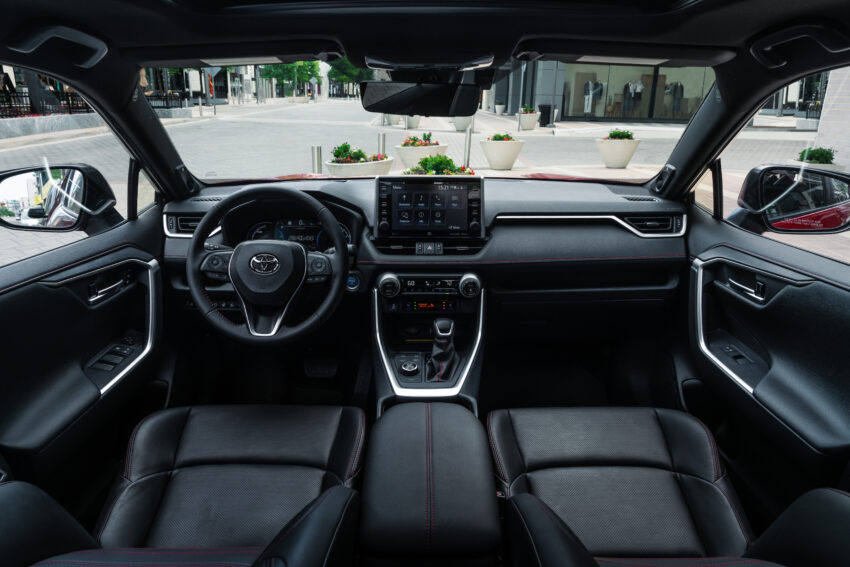 A $1,665 upgrade for the SE trim adds a package consisting of a power moonroof, heated steering wheel, heated rear outboard seats and rain-sensing windshield wipers with de-icer function.
The XSE adds to the base SE features with19-inch alloys; optional two-tone exterior paint schemes with glossy black on top; LED accent lights; paddle shifters; a moonroof; Qi wireless charging; an auto-dimming rearview mirror with HomeLink; a 9-inch color touchscreen, and Toyota's SofTex synthetic leather upholstery.
Options for the XSE trim include an $815 Weather Package with heated steering wheel, heated rear outboard seats and rain-sensing wipers with a wiper de-icing system, and a $2,435 Weather and Audio Package that includes the weather package features plus a JBL audio system with cloud-based navigation (free for the first 3 years), Toyota's Predictive Efficient Drive technology and a 1-year subscription to Toyota's Destination Assist, which provides destination directions on request, downloaded to the navigation system.
The $5,760 Premium package for the XSE includes all that plus various features and upgrades including the 6.6 kW charging capacity; a panoramic moonroof; heated and ventilated front seats with a power adjustable front passenger seat; a digital rearview mirror; a bird's eye view camera system; an embedded navi system; hands-free rear liftgate; a head-up display; parking assist with automatic braking; rear cross-traffic braking, and an adaptive front headlight system.
50 States, Limited Availability
The 2021 RAV4 Prime will be sold in all 50 states, according to Toyota. But the first-year allocation for the remainder of 2020 in the U.S. is capped at 5,000 units, which means Primes could be few and far between in many states.
Annual U.S. shipments should hit 20,000 in 2021 and beyond, the company said.
The bulk of the initial shipments logically will go to states, like California, that have actively promoted plug-in vehicles, as well as to states like Nevada in which the RAV4 is a big seller without any help.
Toyota sold nearly 450,000 RAV4s last year, making it the best-selling non-pickup in the country. Of that, 92,525 were RAV4 Hybrids – meaning the hybrid model outsold Toyota's venerable Prius hatchback.
The RAV4 hybrid is on a tear again this year, and while addition of the RAV4 Prime to the mix likely will hurt conventional hybrid sales a bit, it also is likely to pull in new-to-Toyota buyers, adding to the RAV4 steamroller overall.
Toyota anticipates the 2021 RAV4 Prime "matching or slightly outselling" the Prius Prime,Toyota's other plug-in hybrid, said Joe Moses, general manager for Toyota Marketing. That would equate to a demand for 20,000 to 30,000 units a year, far outstripping supply for the first six months or more.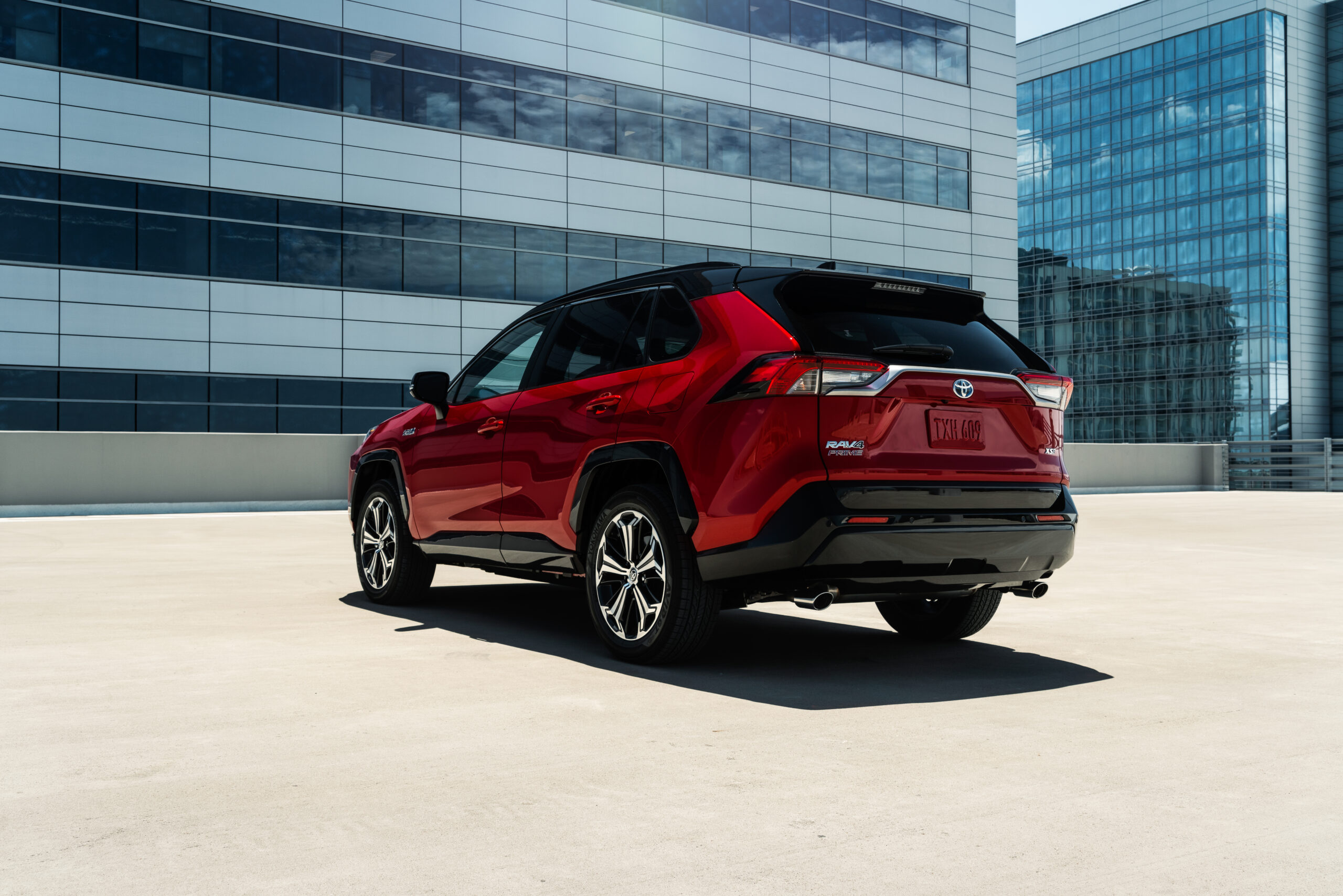 All photos courtesy Toyota Motor Sales U.S.A.