EV travel is getting easier as various charging station providers begin wrapping up fast-charge network projects that connect both coasts and provide coastal north-south routes.
Electrify America said it has now finished the first of two cross-country routes it is developing – and expects the second to be done by late September.
[Reading time: 2 min., 30 sec.]
Separately, EV Connect said it has completed a 150-mile section of the Central California portion of the planed 4,000-mile West Coast Electric Highway system. The just-completed section means that there no are fast-charge station every 10 to 40 miles from the southern terminus of Route 99 through to Sacramento.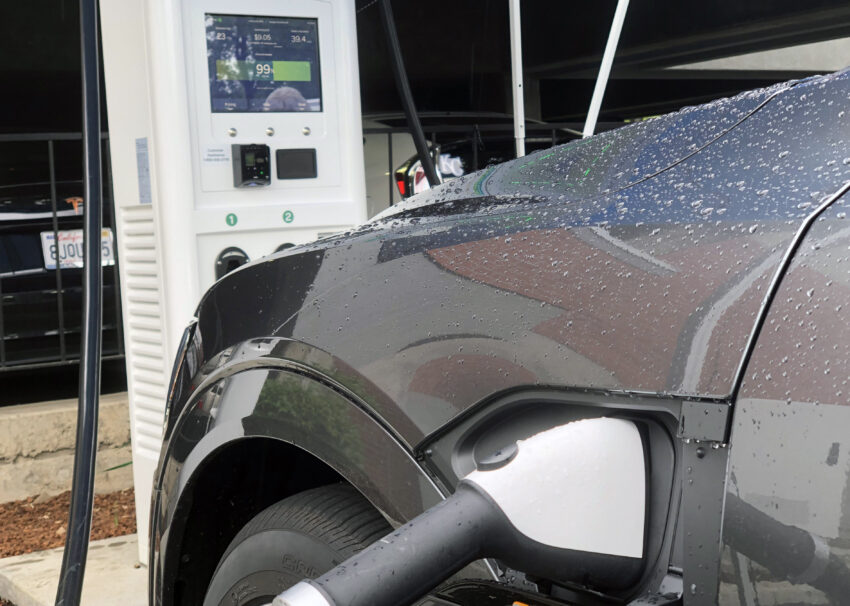 The full West Coast system is expected to be completed by the end of the year, according to the California Energy Department.
A North-South fast-charge route already exists on the East Coast.
About Fast Charging
Fast chargers, also called Level 3 chargers and DC – or direct current – chargers, are large stations that draw 480 volts or more. They typically are installed by commercial operators who charge for the power and are intended to facilitate travel rather than serve for daily charging.
(All about EV charging systems.)
While most battery-electric vehicles have fast-charging capability either standard or as an option, automakers typically don't equip plug-in hybrids with that capacity. That's because it is is costly and not necessary for cars and crossovers that can run as standard gas-electric hybrids when their battery charges are depleted.
Tesla has the largest fast-charge network, enabling cross-country travel in its Model S and Model 3 sedans and Model X and Y crossovers. But Tesla's "Supercharger" network uses a unique connector and charging protocol that can't be used by most other EVs.
That's where networks from suppliers such as EVgo, Charge Point and Electrify America come in.
Coast to Coast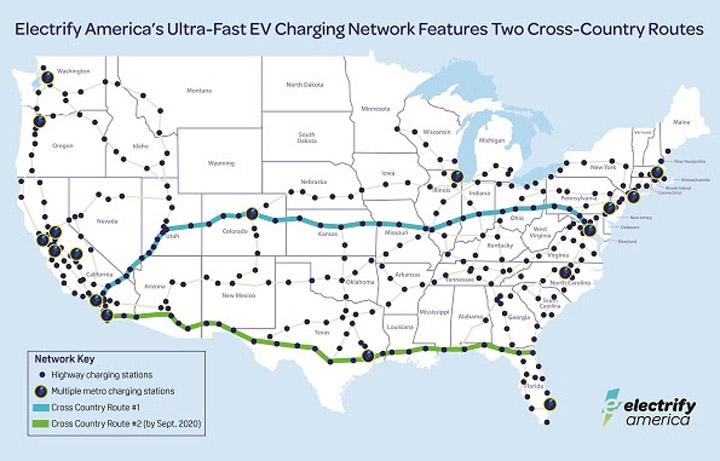 The completed Electrify American cross-country route spans 11 states and over 2,700 miles through the center of the nation to take drivers from Los Angeles to Washington D.C.
The fast charge stations are installed at roughly 70 mile intervals along Interstates 15 and 70.
The chargers operate at speeds of up to 350kW, sufficient to add up to 20 miles of range per minute to a vehicle.
Charging speed depends on the capacities of both the charging station and the vehicle's fast-charge system.
The stations are located principally in metro areas and near highway routes near shopping and dining amenities.
The second coast-to-coast route from Electrify America will follow a southern path, connecting San Diego to Jacksonville, Fla.
There also is an Electrify America network connecting lower Maine to the tip of Florida along the East Coast.
Electrify America is a nonprofit established by Volkswagen as part of its settlement with the federal government over VW's diesel emission standards cheating. The settlement called for VW to spend $2 billion on EV charging infrastructure.
Ultimately, the nationwide Electrify America fast charging network will have sites along high-traffic corridors in 42 states, including the two cross-country routes. Its stations also will be part of the West Coast Electric Highway system.
North to South on the West Coast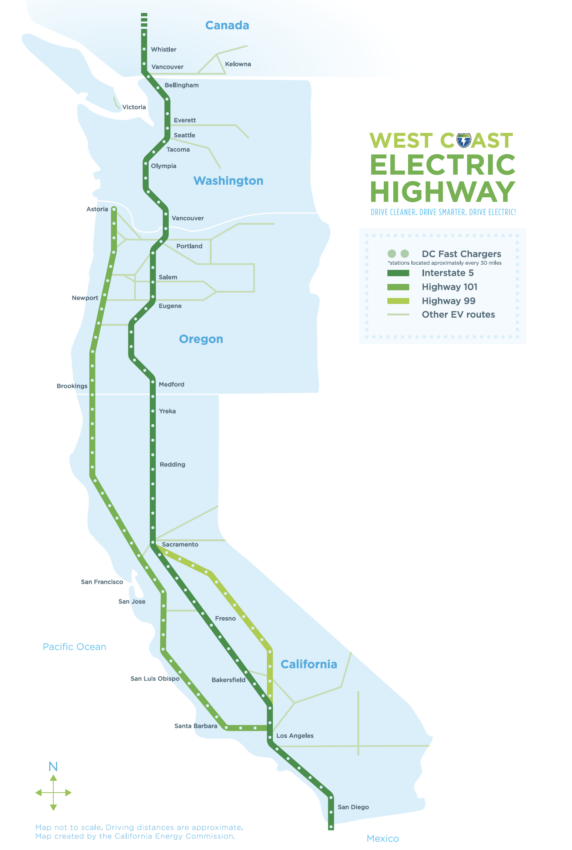 That West Coast system will connect California to lower British Columbia with fast-charge stations on Interstate 5 and includes additional stations on busy California highways including Route 99 and coastal Highway 101.
The stations are being installed by multiple providers.
EV Connect said it partnered with Trillium – the alternative fuel unit of the Love's Travel Stops chain – for installation of the most recent trio of Highway 99 fast-charge stations.
They are located at Love's locations in Ripon, Madera and Tulare, covering a 150-mile stretch in the north-central section of the trip from Los Angeles to Sacramento.
That section of the highway serves for many as the gateway to California's Sierra Nevada mountains and the trinity of Yosemite, Kings Canyon and Sequoia national parks.
EV Connect said its stations can handle up to four vehicles at a time and include both 240-volt Level 2 chargers and 50- and 150-kilowatt fast chargers.
Fast chargers along Interstate 5 are spaced 25–50 miles apart, with one exception.
There's a 77-mile gap between chargers from Buttonwillow to Coalinga in the California's Central Valley.
On Highway 101, paralleling the Pacific coast from Santa Barbara to the Oregon-Washington border, the goal is to have fast-charge stations at intervals of no more than 50 miles.
Presently there are several areas with gaps of up to 85 miles between fast-charge stations, according to the Energy Department. Projects are underway, however, that will close those gaps as soon as the end of 2020.