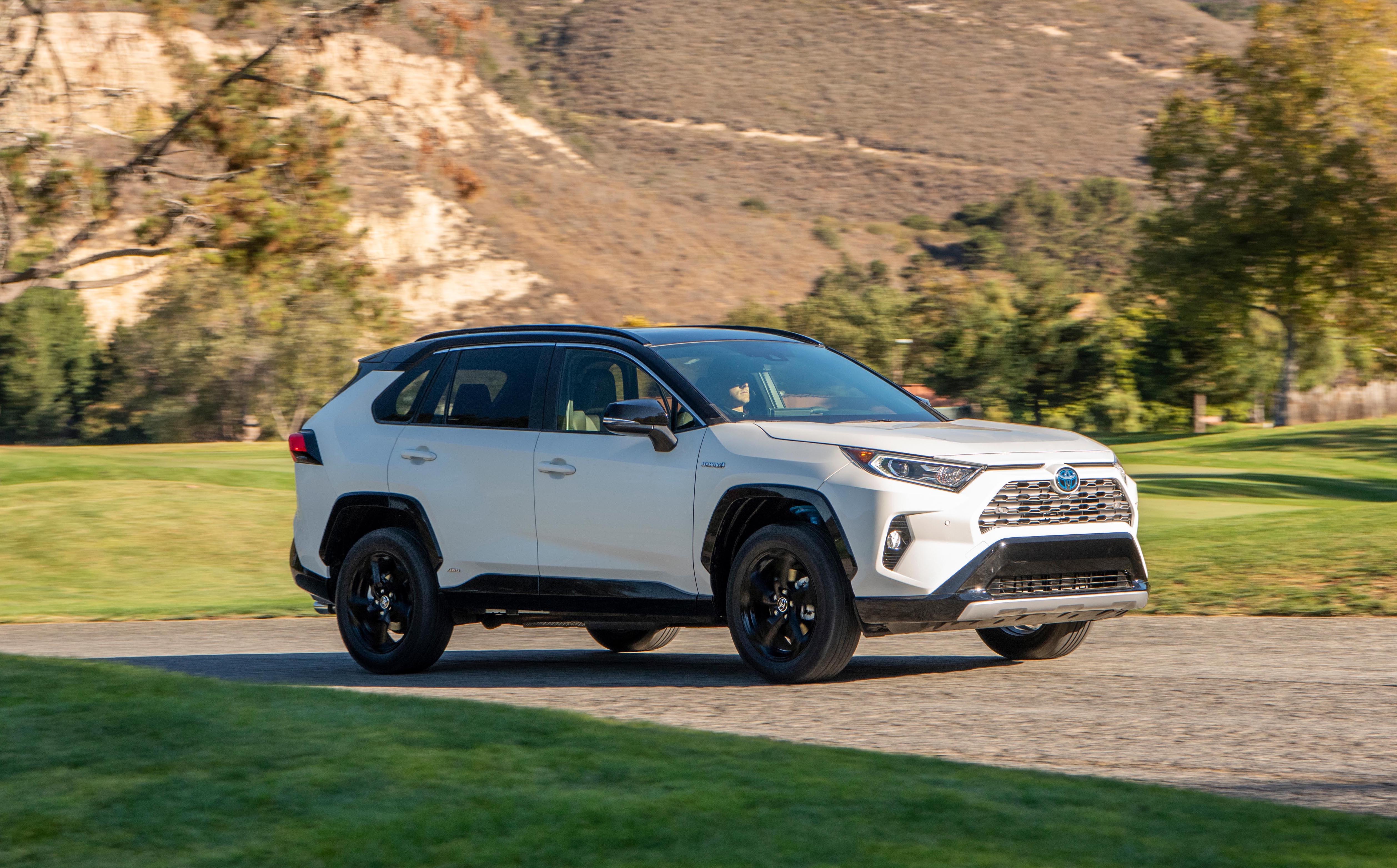 (RAV4 Hybrid cargo area information updated 3/14/20.)
Toyota sells a boatload of RAV4s, close to 430,000 last year, but barely one in ten is RAV4 Hybrid. Here's a brave prediction: That's about to change.
The 2019 RAV4 Hybrid sits on a new platform and boasts new design inside and out. It is shorter, wider and not quite so tall as is predecessor. There's less weight, more power, better road manners – likely better off-road manners as well – and a roomy, well-appointed cabin.
Cargo space is the best in the category.
[Estimated Reading Time: 8 min., 30 sec.]
Fuel economy is the best. The 2019 RAV4 Hybrid is rated at 40 mpg combined. That's a 25 percent improvement over last year's RAV4 Hybrid.
The price premium for the hybrid – which comes standard with all-wheel drive – is a mere $800 over the conventionally powered AWD models.
If Toyota can't boost RAV4 Hybrid sales with numbers like these, it needs a new marketing department.
On the Road
TheGreenCarGuy was able to take one out for a spin recently – fortunately in between two of the nearly constant rainstorms that have been drenching Southern California this winter.
The roads on our jaunt up to the old mountaintop mining town of Julian in central San Diego County were mostly dry, with the occasional wet patch as water from the drenched mountainsides trickled over the asphalt on its way down to the flatlands.
There was some snow still tucked in gullies and under the shady side of the trees, but no snow or slush on the road. It probably wouldn't have mattered. The 2019 RAV4 Hybrid, like its predecessor, comes standard with electronic all-wheel drive.
Our tester certainly didn't lose a beat on those slippery wet patches.
The ride, despite some bumpy stretches of weather-worn asphalt, was smooth, stable and comfortable.
There was some body roll – to be expected in a tall crossover with 8.1 inches of ground clearance. But the new RAV4 Hybrid's steering felt nicely weighted and responsive.
Thanks to the low-end torque boost from its electric motors, there's plenty of pep in the 219-horsepower, hybrid drivetrain.
The 2019 RAV4 Hybrid's suspension is tuned for the extra weight of its batteries and hybrid powertrain.
At curb weights of 3,710-3,800 pounds, depending on trim level, the 2019 hybrids tip the scales at 180-265 pounds more than AWD versions of the standard RAV4. Still, the 2019 RAV4 Hybrid is almost 200 pounds lighter than last year's gas-electric RAV4.
Toyota says the RAV4's rigidity, which prevents the chassis from twisting, is up almost 60 percent. The extra stiffness of the new platform combines with the suspension set-up to greatly improve ride quality and handling.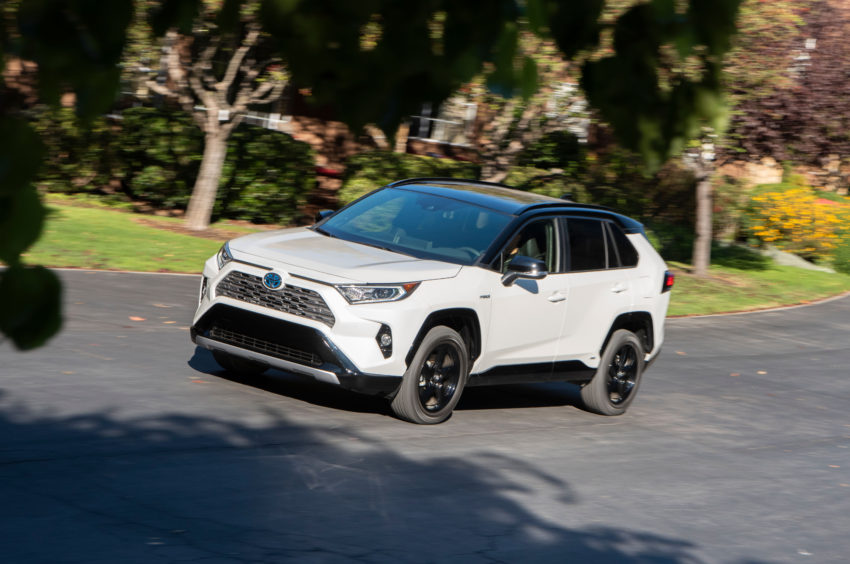 The RAV4 Hybrid isn't as nimble and fun to drive as Mazda's CX-5, but overall it handles well and feels nicely planted. The new platform gives it a lower center of gravity than previous models, despite its higher ground clearance. The hybrids certainly are the best drivers in the RAV4 lineup.
Inside, the cabin is roomy, the seats firm but comfortable – the rear seat backs even recline a bit – and controls are placed where they need to be for convenience to the driver. There's a lot of quality soft-touch material that gives the interior a near-premium look and feel. There's also plenty of room for five adults.
Cabin noise attenuation isn't the best in the class – CVT and engine whine can be heard under heavy acceleration. But noise levels are far from unbearable.
We didn't try any off-roading – most trails were closed to motorized traffic because of heavy rainfall and runoff.
Electronic AWD
But with its high ground clearance and on-demand electronic all-wheel drive, the RAV4 Hybrid should be able to handle light to moderate activity on dirt and rocky trails with aplomb.
There's a "trail" button on the center console that essentially is a new name for the old "auto LSD" (limited slip differential) function. The driver-selected mode will apply the brakes to a wheel that is slipping or spinning and send the torque on that axle to the wheel that still has traction. The function also modifies throttle response to help keep things moving straight ahead.
On the road, the RAV4 Hybrid's computers decide when rear traction is needed and when it can operate safely and at its most efficient using front-wheel drive only.
Efficiency
Our drive covered about 250 miles of freeway and country and mountain roads and the RAV4 Hybrid returned an average of 35 mpg for the trip. It has an EPA rating of 40 mpg – a gain of 8 mpg over the 2018 model.
While the official numbers are rarely achieved in the real world, 35 mpg in an AWD crossover is nothing to be ashamed of.
In fact, in the all-wheel drive hybrid and plug-in hybrid crossover worlds, the RAV4 Hybrid is at or near the top of available models for fuel economy.
Only the Mitsubishi Outlander and Subaru Crosstrek plug-in hybrids have better numbers, and that's when all-electric range is combined with standard hybrid operation. Once their battery charge is depleted and they operate in standard hybrid mode, both fall below the RAV4 Hybrid in efficiency.
Stacked up against other non-hybrid compact crossovers, two-wheel or all-wheel drive, the 2019 RAV4 Hybrid remains the fuel efficiency champ at 41 mpg in the city and 38 mpg on the highway.
Powertrain
The 2019 RAV4 Hybrid combines an aluminum 2.5-liter inline four with a pair of electric motors – one up front and a smaller one in the rear to add extra traction when needed.
The gas engine is rated at 176 horsepower and163 pound-feet of torque; the front electric motor can deliver up to 118 horsepower and 149 lb.-ft. of torque, and the rear motor is rated at 54 hp and 89 lb.-ft.
In Toyota's hybrid system, power is blended so there's never a situation where you'd get the full combined output of all three motors – total system output is rated at a maximum of 219 horsepower.
That makes the 2019 RAV4 Hybrid the peppiest since the V6 engine was discontinued for the RAV4 in 2012.
That power is delivered through an electronically controlled CVT that has a sequential shift mode.
The RAV4 Hybrid also offers three distinct driving modes – normal, sport and eco. Sport remaps throttle response and shift points for more spirited operation; Eco dulls the throttle and sets things up to maximize fuel efficiency over performance.
There's also an "EV" button that can lock the RAV4 Hybrid into electric-only operation for a short time at lower speeds if the small nickel metal-hydride battery pack has sufficient charge.
Don't let "charge" fool you. There's no plug. This is a conventional hybrid that gets its juice entirely from what the car can produce from its motor-generator and the regenerative braking system.
Cargo
The ability to carry a lot of stuff is one of the hallmarks of a crossover – and one of the points on which all must be judged.
The RAV4 Hybrid doesn't lose any space to its battery or rear motor – they are safely tucked away where they don't impinge on cabin volume.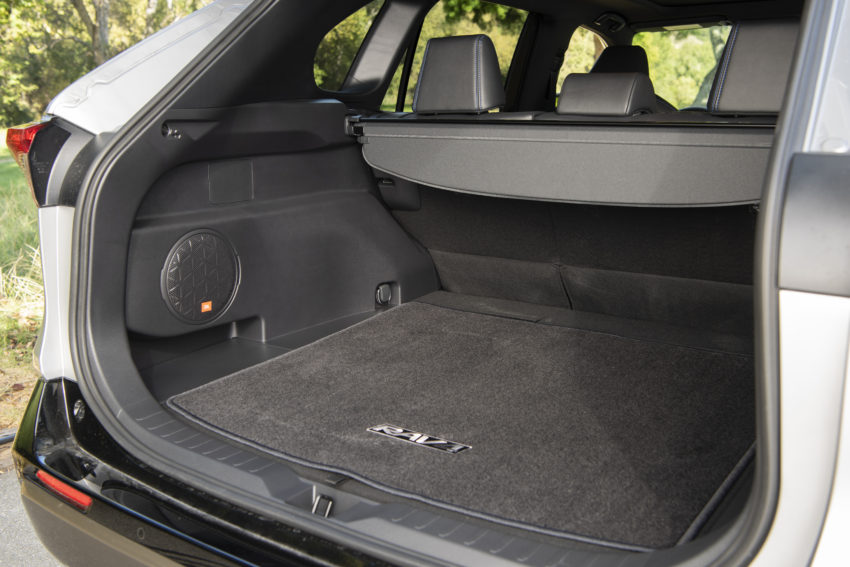 With the second-row seats up and in place, the RAV4 Hybrid boasts 37.5 cubic feet of cargo area. That jumps to 69.8 cubic feet with the rear seat backs folded flat – and they do fold pretty flat.
That's the best in the compact crossover class for 2020 models.
Towing
You can tow, a little bit, with the RAV4 Hybrid. It is rated for 1,750 pounds.
Driver Assistance
Toyota's Safety Sense 2.0 system is standard across the RAV4 Hybrid lineup. It bundles forward collision warning, automatic emergency braking, pedestrian detection, lane keeping assist, lane tracing assist, road sign recognition, auto high-beam headlights, and adaptive cruise control with full stop-start capability.
Pricing, Trims and Features
The 2019 RAV4 Hybrid is available in four trim levels: LE, starting at $28,745; XLE, starting at $30,545; XSE, $34,745, and Limited, $36,745.
That puts the hybrids with their vastly better fuel economy and improved ride at a mere $800 premium over the corresponding AWD trims in the standard RAV4 lineup. There's no hybrid equivalent to the standard RAV4's burly Adventure trim. The XSE is the hybrid lineup's sportiest model.
All prices include Toyota's $1,045 delivery fee.
Standard across the hybrid line are active grill shutters, power windows and door locks, Apple CarPlay, rearview camera, 60/40 split rear seats with adjustable reclining backs, and a power sunroof. Android Auto is not available.
Additional standard equipment for base LE version includes 17-inch alloy wheels, low-profile roof rails, LED headlights, taillights, stop lights and daytime running lights, power side mirrors, a height-adjustable manual driver seat, cloth upholstery, dual-zone climate control, a single USB port and a 6-speaker infotainment system with a 7-inch touchscreen, Toyota's Entune 3.0, and on-board wi-fi capability.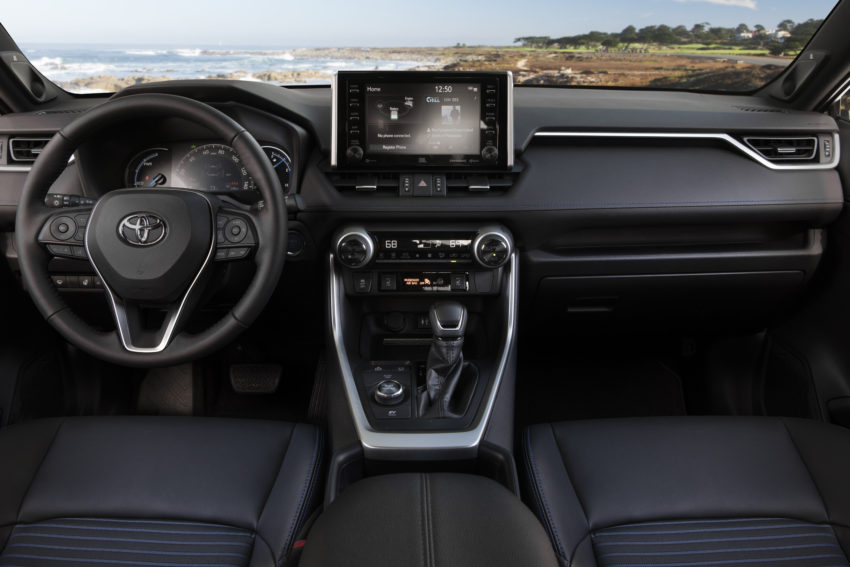 The XLE trim adds fog lights, automatic LED projector headlights, blind-spot monitoring and rear cross-traffic alert, push-button start, a sunroof, auto-dimming rear view mirror with HomeLink, upgraded fabric upholstery, heated side mirrors with integrated turn signal lamps, and additional USB ports – two for the front and two for the rear seats.
The XSE adds 18-inch alloys, two-tone paint, Toyota's artificial leather (SofTex) upholstery, fancier interior trim, power adjustable driver's seat, heated front seats, blue contrast stitching on the seats and trim, an 8-inch touchscreen system, a digital speedometer, a height-adjustable power liftgate and Toyota's digital rearview mirror that can be switched from conventional auto-dimming mirror to show a color digital camera view of the road behind.
In addition to everything on the XSE (except the contrast stitching, which is brown) the Limited trim sports chromed 18-inch wheels and gets parking sensors, rear cross-traffic braking, an integrated navigation system, and a driver's seat memory system.
There are a variety of options and for XLE and higher trims, several special packages and audio upgrades.
They include cold weather packages, a panoramic sunroof and additional driver assistance technology, and can quickly mount up.
Extras on RAV4 Hybrid XSE that Toyota loaned us for testing boosted its sticker to $37,580 from the $34,745 base for that trim.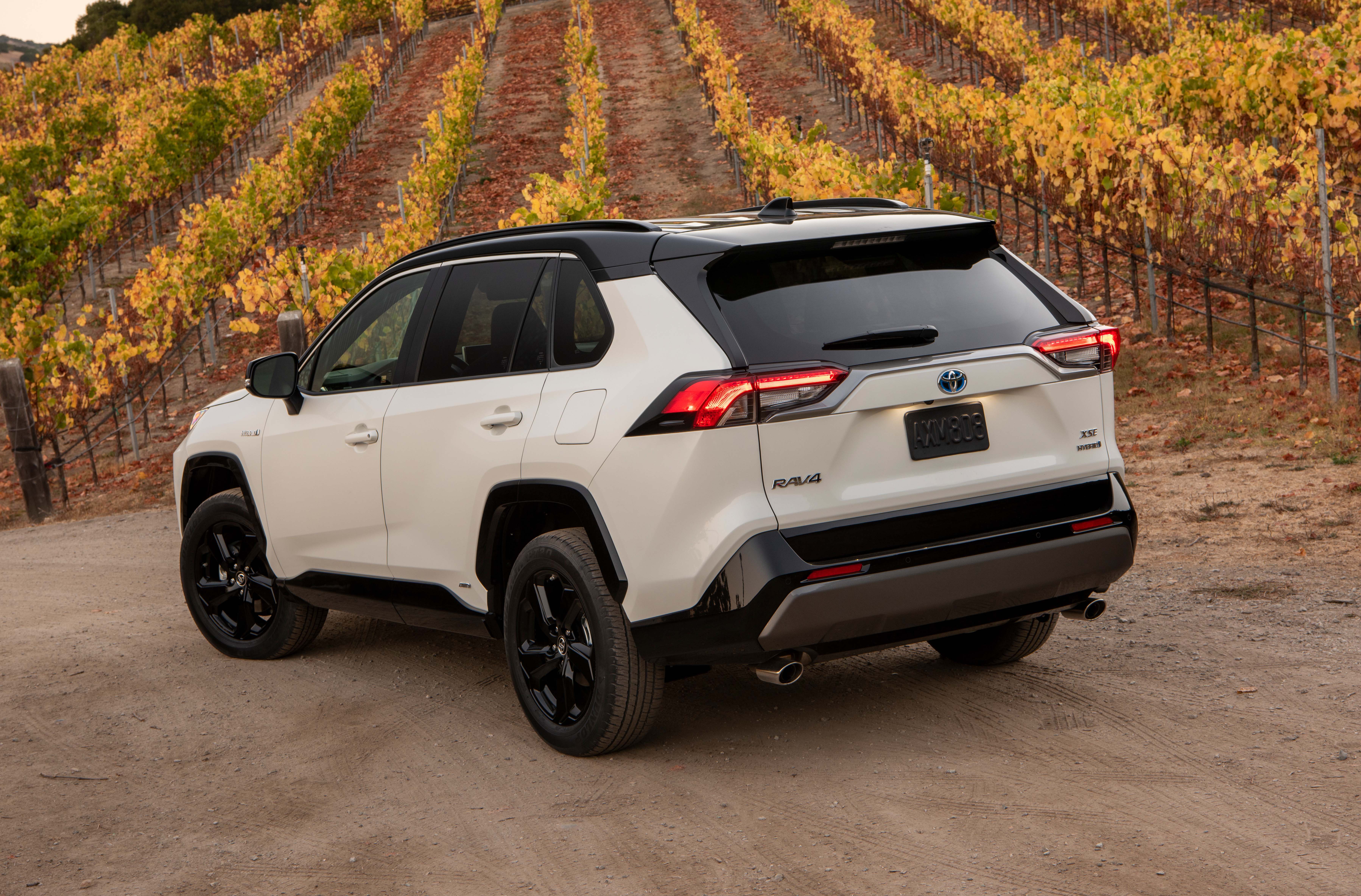 Did you know that RAV4 stands for Recreational Activity Vehicle: 4-wheel-drive? (Even though many RAV4s are front-wheel drive only!)