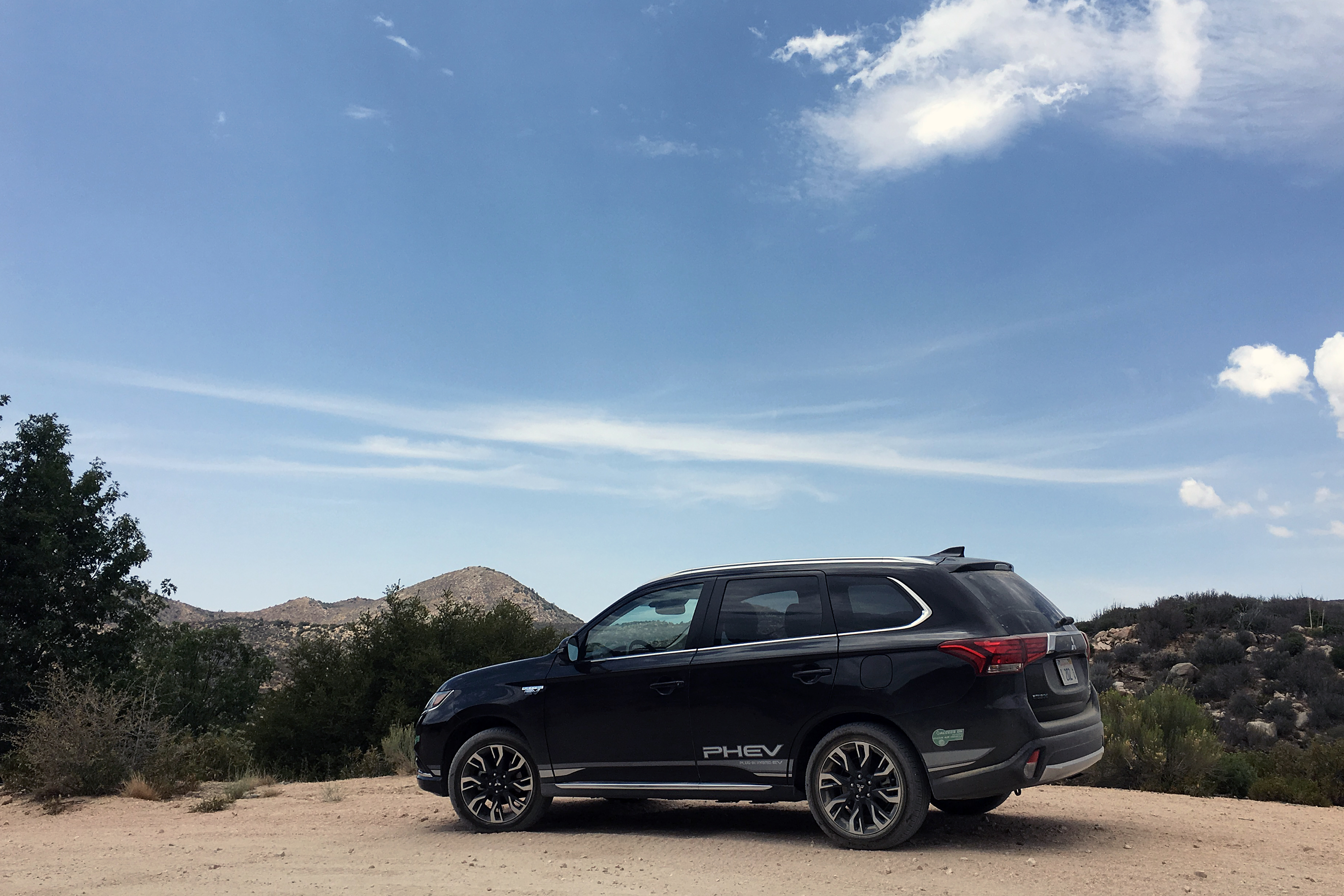 I so wanted to fall in love.
I've been following the Mitsubishi Outlander PHEV – plug-in hybrid – since the start of the decade. I was taken with plans for a dual-motor, all-wheel drive crossover with a decent amount of all-electric range and a Chevy Volt-like drive system that depended on the gas engine to work more as a generator than anything else.
[Estimated Reading Time: 9 min.]
I was disappointed when the automaker decided to launch it, as a 2013 model, in Asia and Europe first.
I grew more disappointed with each passing year as Mitsubishi bragged of soaring Outlander PHEV sales  – it has become the world's best-selling plug-in crossover despite competition from the likes of  Porsche, Land Rover, Volvo and Mercedes –  while still not getting its act together to develop a version that could pass U.S. regulatory requirements.
So when the Outlander PHEV finally was launched in the U.S. early this year,  I silently cheered, and waited for the opportunity to test one.
That finally came and while I found lots to like about the 2018 Mitsubishi Outlander PHEV, I couldn't quite muster up love.
And for me to spend almost $42K for the model with all the equipment I'd want, a little love is required.
That's a lot of money, even after the (up to) $5,836 federal tax credit and the $1,500 check I'd get from the California Clean Vehicle Rebate Project.
What bothered me?
Well, parts of the 2018 Outlander PHEV's driver assistance package is a generation behind the latest from the competition.
A lane departure warning system and a front collision mitigation system are available, but only on the top-of-line GT trim, and there's no lane-keeping function that helps center the vehicle. Even the 2018 Kia Niro PHEV has that feature
Second on my list of disappointments is the wheezy, 117-horsepower, 2-liter gas engine.  It works fine in most cases and for many people probably wouldn't be an issue at all. But I live in Southern California and the mountains are nearby – tall, steep mountains, not the hills and hummocks they call mountains in many other states.  When the Outlander PHEV's battery is drained and there's a long, steep incline to conquer, the asthmatic gas engine is just barely adequate. It will get you there, but you'll be passed on the way up by fume-belching pickups, rattling vintage Volkswagen bugs and all manner of minivan and sedan laden with camping/skiing/hiking/boating equipment.
Initially I also thought the Outlander PHEV was looking a bit dated – it hasn't had a major exterior refresh since 2015. But now, while I still don't like the lavish use of chromed plastic on the nose, I've decided it isn't bad looking at all, just pretty standard for a crossover that wants to look like a real body-on-frame SUV.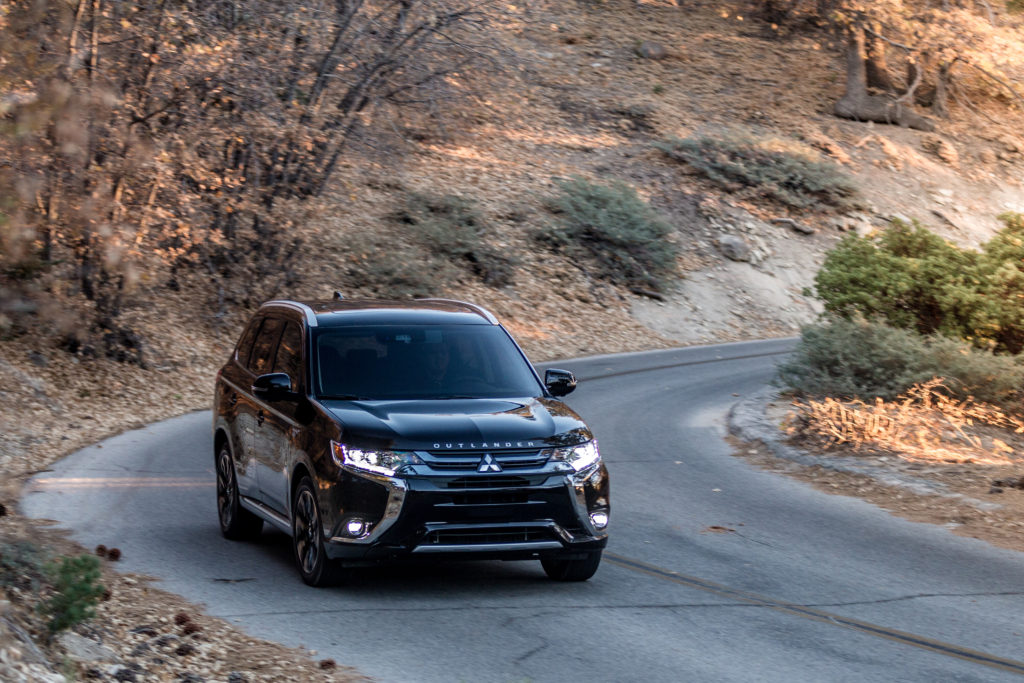 A neighbor who knows a lot about cars thought I'd parked a Toyota Highlander in my drive when he first saw the Outlander PHEV that Mitsubishi loaned me for this review.
Mitsubishi knows the issues exist. All 2019 Outlander PHEVs sold outside the U.S. get a new more powerful 2.4-liter engine, new "Snow" and "Sport" driving modes and a larger battery and more powerful electric motors and generator for a bit more oomph and range. Elsewhere, the 2019 model also gets new, more supportive front seats, a new instrument panel , rear HVAC outlets for better air conditioning and heating for 2nd row passengers.
But U.S. models for 2019 get only the new front seats and rear vents.
On the plus side, there's Mitsubishi's very capable, rally proven all-wheel drive system, modified to run with electric power but still vectoring torque and preventing wheel spin like a champ.
Not Too Thirsty
There's also decent fuel economy. The EPA rates the 2018 Outlander PHEV at up to 22 miles of all-electric range with a 74 mpg-equivalent efficiency rating when EV and standard hybrid operations are combined.  When the gas engine must do all the work itself, though, fuel economy drops to 25 mpg.
That doesn't sound great, but if you plug in every night and when possible during the day, your MPG numbers should be in the 40s  (unless you commute a hundred miles a day or more and can't charge at work).
As with any vehicle, overall fuel economy will differ depending on driving style, ambient temperature, terrain and such.
My wife and I took the Outlander GT S-AWC (that final acronym stands for Super All-Wheel Control) on a nearly 500-mile trip to the local mountains to try the AWD system on some mild dirt tracks. Overall fuel economy was 45 mpg over that combination of low-speed off-roading, high-speed highway cruising, mountain scaling and in-city stop-and-go driving. Nothing to scoff at in a 4,178-pound, AWD crossover.
The Electric Parts
The  Outlander PHEV has a 12 kiloWatt-hour, lithium-ion battery and most of the time uses its gas engine to drive a generator that sends juice to the battery and then to the wheels.  That means that you've driving an EV much of the time. The engine kicks in to generate electricity and, when needed, to provide additional power to the wheels.
There are three charging options: Level 1, 120-volt, which takes 8-13 hours to fill a depleted battery (speed depends on line amperage); Level 2, 240-volt, for recharging in 3.5-hours.
The Outlander also has the PHEV segment's only Level 3, DC fast-charging capability. That provides an 80 percent recharge in about 25 minutes at one of the quick-charge stations going up around the country.
Mitsu uses the same Level 3 system, CHAdeMo, as Nissan's Leaf. Most other EVs  in the U.S. use the CCS, or combined charging system. Fortunately, most rapid-charging stations have connectors for both.
(For more info, check out our guide to plug-in vehicle charging.)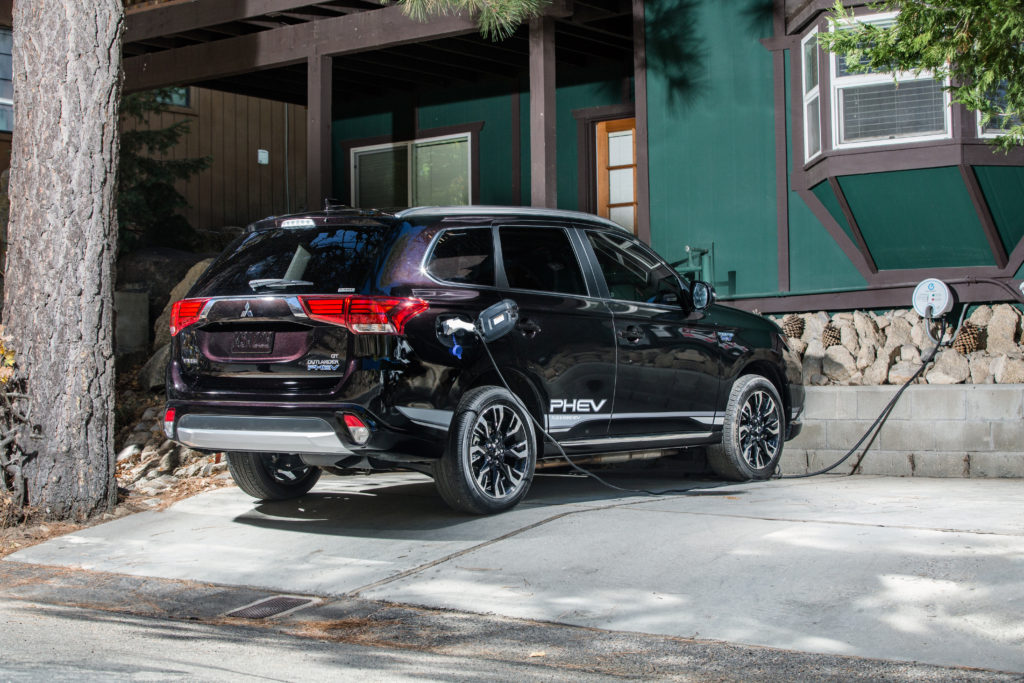 The plug-in Outlander's 2.0-liter, 117-horsepower gas engine puts out 137 lb-ft of torque and is used mainly to generate electricity to drive a pair of 80 hp electric motors, one on each axle. Total system output is reported as 197 hp, but it feels like much less when accelerating.
As do most all-electric cars and some plug-in hybrids, the Outlander PHEV uses a single-speed electronic transmission.
In most conditions, the Mitsu defaults to front-wheel drive. The motor on the rear axle chimes in as additional power is needed – when passing or climbing hills, for instance – or when the the "4WD Lock" button is on, activating the torque-vectoring four-wheel drive.
Multi-Modal
There are several driving modes (but not "Snow" or "Sport) to let drivers decide how things should feel and respond.
In EV mode, the engine is taken out of service at most speeds until the battery is depleted.
In Charging mode, the engine turns the front wheels through the Outlander PHEV's single-speed transmission, and also provides extra power so the generator can charge the battery while you're rolling along.
In Battery Save mode, the system keeps the battery charged for later use and relies on the gas engine for motive power most of the time.
Eco mode cuts power output by reducing both gas and electricity use. It also reduces heating and air conditioning system performance as they are major power drains.
Paddle shifters permit drivers to select from any of 5 levels of regenerative braking effort.
Road Trip
The Outlander's powertrain was more than adequate most of the time. Climbing steep mountain roads was challenging, though. If you're pushing it to keep up with fast-moving traffic, the system will kick into power reduction mode to protect the battery from overheating. When that happens top speed is capped at 60 mph.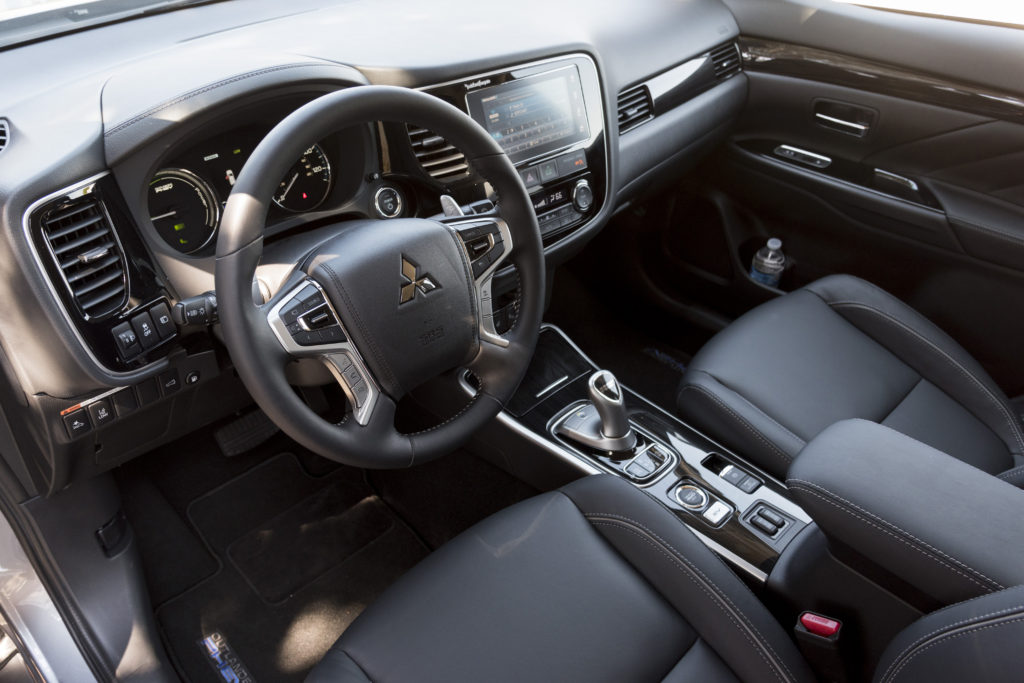 Inside, the Outlander is comfortable and quiet. The most jarring note is the gas engine's heavy breathing, and a good tune on the stereo can override that.
Suspension is a little mushy, and body roll is noticeable when cornering at speed. Overall, though, the ride for most will will be quite satisfying.
Steering was nice and responsive.
Mitsubishi's  Super All Wheel Control all-wheel drive system works well, It certainly provided the sure-footedness needed to tackle a nearly 30-mile off-highway jaunt on a rock-strewn, mostly dirt road. It rarely spun a wheel on the loose surface and immediately compensating when it did.
At 7.3 inches, ground clearance isn't great, but it let the Outlander clamber over embedded rocks and across assorted ruts and gullies with but one incident, and that – I hate to admit – was the driver's fault. (I didn't see a rut that was deep enough to do damage; the resulting bounce dashed the bottom of the right front bumper onto an unyielding rock, snapping some of the the clips that fasten one the Outlander's front fascia panel, scratching up the bottom of the plastic panel and pushing the panel out of alignment.)
Pricing and Equipment

The Outlander PHEV is a fairly roomy 5-seat compact crossover that comes in two trims, SEL and GT.
Pricing starts at $35,535 for the base SEL and $41,235 for the GT.  Available options – such as a $285 "PHEV" graphic for the side panels – can add a few thousand to the bottom line.
Both trim levels qualify for a federal income tax credit of up to $5,836, and some state and local governments and utilities offer incentives as well.
With either trim, you get a well-equipped all-wheel-drive crossover with a decent amount of cargo capacity.
There's a 30.4 cu. ft. cargo bay and a total of 62.8 cu. ft. of space with the rear seats folded away. Towing capacity, typically weak or non-existent in electrically driven vehicles to preserve range, is 1,500 pounds. Standard roof rails can house a variety of cargo and outdoor sporting equipment carriers.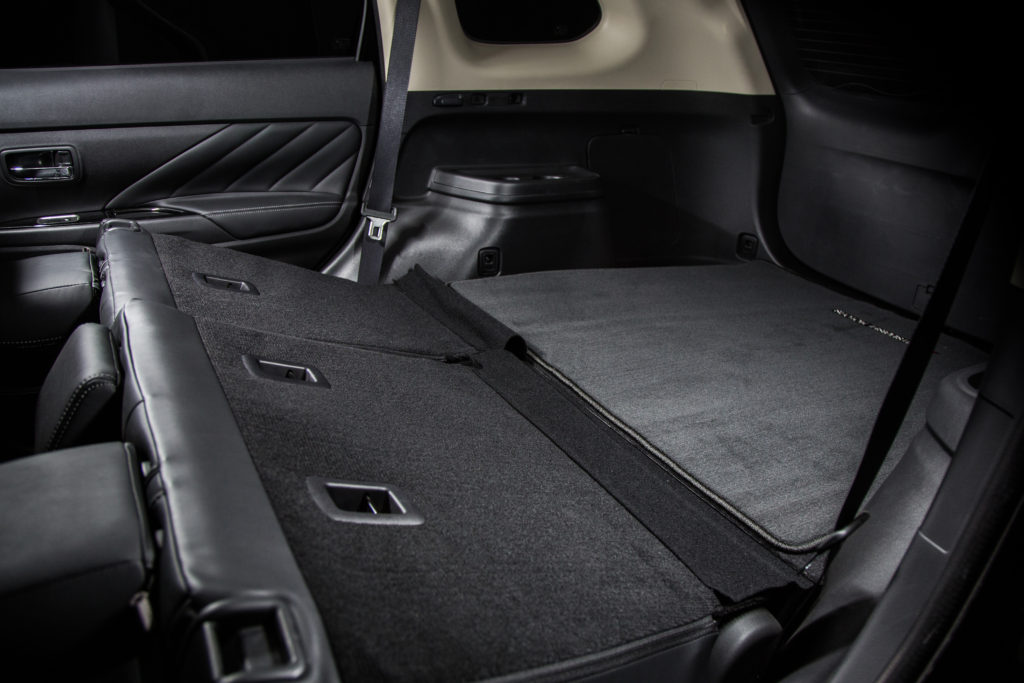 The base model comes with leather upholstery, 18-inch alloy wheels, dual-zone climate system, power remote lift gate, power-adjustable front seats, all the basic safety systems including traction and stability control and blind spot warning with rear cross-traffic and lane change assist alerts, and a 10-year or 100,000-mile powertrain and PHEV components warranty.
The GT trim adds a 9-speaker Rockford Fosgate audio system, a power sunroof, adaptive cruise control, a multi-view camera, forward collision mitigation and lane departure warning.
There's no on-board navigation system with either trim, but Apple CarPlay and Android Auto compatibility is standard, and smartphone-based map and navi systems display just fine on the 7-inch infotainment screen.
The Verdict
With the Outlander PHEV, Mitsubishi offers a room, comfortable plug-in hybrid crossover with decent utility and fuel efficiency at a competitive price (especially when those government incentives are figured-in) compared to the rest of the compact and mid-size PHEV crossover segment.
But the company is being slow to offer U.S. buyers the updates that European and Japanese shoppers will soon enjoy.
The Outlander PHEV is worth a look if you are crossover shopping, and it may satisfy most drivers' needs, but it would be a lot more satisfying with a more powerful PHEV system and an updated design – with a shorter front overhang!
(Article updated 2/15/19 to remove erroneous information about the Outlander PHEV's active cruise control system.)