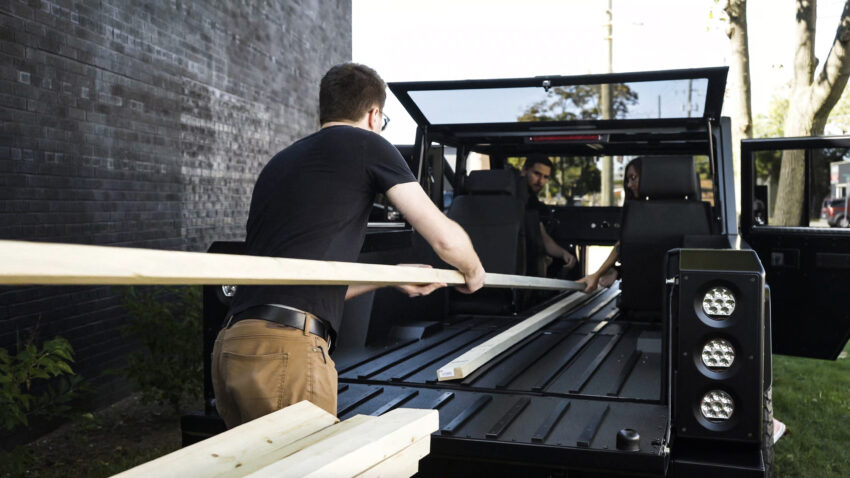 Electric truck developer Bollinger Motors designed its pickup and SUV with a number of novel features including a nose-to-tail pass-through and a "frunkgate" that opens the front of the vehicles just like a tailgate opens the rear.
Now the five-year-old startup has won federal patent protection for the two features in a bid to keep competitors from copying.
The trucks are "more capable than any truck on the road and we want to keep them ahead of the competition" Bollinger founder and chief executive Robert Bollinger told TheGreenCarGuy.
[Estimated reading time: 3 min, 15 sec.]
The roughly foot-wide pass-through permits an uninterrupted 13-foot path through the center of the Bollinger B1 sport utility and a 16-foot path through the B2 pickup. It can be loaded from either end of the vehicle and enables long pieces of cargo – re-rod, lumber, ladders, really long fishing poles, skis and the like – to be carried securely inside the cab and out of the weather.
With the rear tailgate and front "frunkgate" lowered, cargo pieces can be even longer.
The floor-height passtrough also makes loading those items a bit easier as they don't have to be lifted to a carrier on top of the trucks.
The frunkgate, which combines "gate" with "frunk" – the term Tesla coined in 2012 to describe the front trunk on the Model S –  is what permits easy loading from the front of the vehicle.
As with Tesla's EVs, Bollinger's frunk is the space where an engine would be if the electric trucks used engines. It can be accessed via the frunkgate, by lifting the hood or, from inside the truck, through a lockable door in the passenger cabin.
The frunk itself is rectangular with a generous 8.6 cubic feet of space and has four standard electric outlets – a feature aimed at tradespeople who might see the trucks as perfect for work as well as off-road play. As well as serving as a lockable cargo area, the frunk makes up the forward end of the pass-through
Born in a Barn
Bollinger designed the trucks after trying several mass-market pickups on his farm in upstate New York and finding that none could do everything he wanted.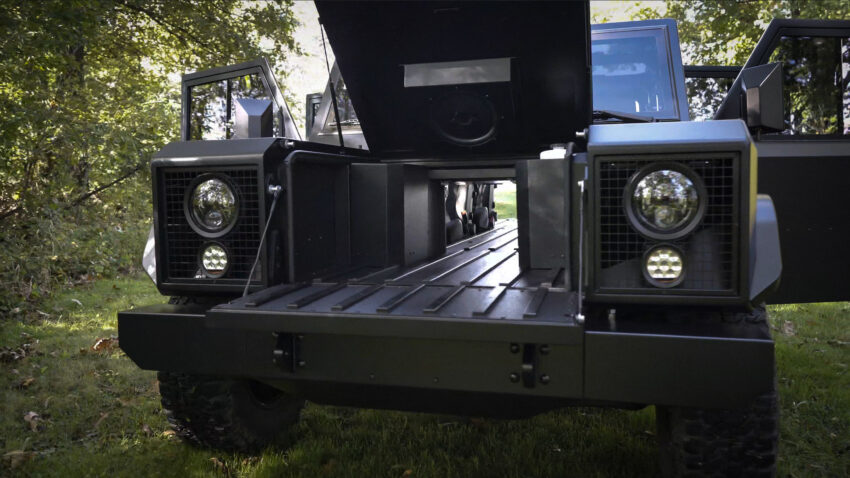 Commenting on the decision to patent the features – effectively getting a government endorsement of their uniqueness, Bollinger said that the pass-through and frunkgate "have been among our trucks' most defining features, and were an integral part of our DNA since day one. Our new patent is proof that Bollinger Motors is reinventing trucks from the ground up."
The company was started in 2015 in a barn on Bollinger's farm but in late 2018 relocated to the Detroit area to be closer to suppliers and production facilities.
The Bollinger design uses an all-aluminum, riveted exterior with no curved sheet metal – it is all flat panels – that borrows its looks heavily from the early Land Rover Defender and purportedly will make sheet metal repair fairly cheap and easy.
Pricing and Features
Both the SUV and pickup models will start at $125,000. Bollinger has said his company intends to remain a limited production facility able to survive on sales of just a few thousand trucks a year.
He told TheGreenCarGuy this week that "most of" his first year's production is pre-sold.
Bollinger also said he soon will be announcing dealer partnerships.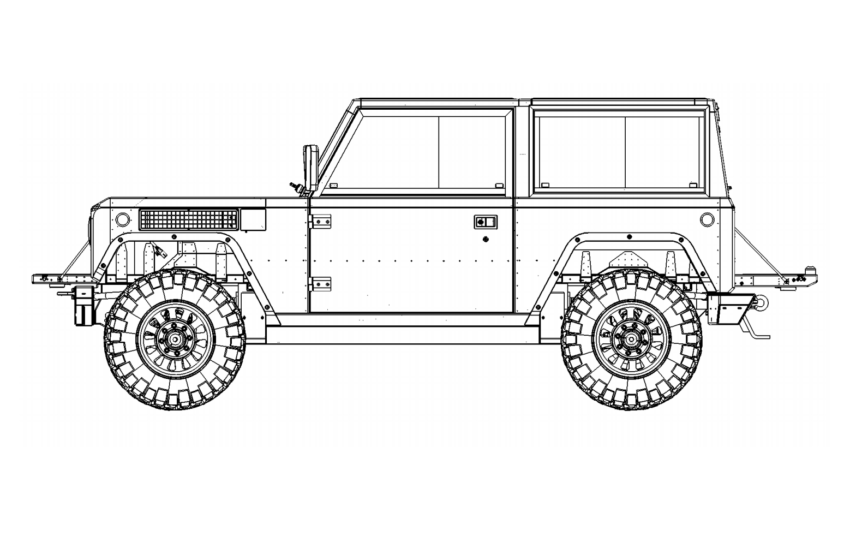 The dual-motor, all-wheel drive electric powertrain will produce up to 614 horsepower and 668 pound-feet of torque. The trucks have locking differentials and with the 120- kWh lithium-ion battery pack used in prototypes can deliver up to 200 miles of range.
While the electric motors transmit power through a single-speed reduction gear transmission, a dual-range transfer case provides high and low ranges in both forward and reverse.
The trucks feature 15 inches of ground clearance. Their adjustable suspensions can travel up to 5 inches higher or lower.
According to Bollinger's latest specifications, towing capacity is 7,500 pounds and payload is 5,200 pounds.
Doors and roof panels are removable; cargo area flooring –including the pass-through floor – is made of reclaimed wood. Bollinger recently dropped his prototypes' removable sliding side windows in favor of conventional roll-down windows
E-Truck Competition Heating Up
Aiming to be a low-production, boutique EV makers targeting work truck users and off-road adventure enthusiasts isn't a bad idea.
Bollinger soon will be competing in the electric truck space with giants Ford – an electric F150 – and General Motors – an electric GMC Hummer – as well as with Tesla's Cybertruck. All are slated for 2021 or early '22 launches.
Two well-financed startups also have entered the competition.
Michigan-based Rivian has set a late 2021 production start for its electric trucks, the R1T pickup and R1S sport utility. Arizona-based Nikola, which has made a big splash as a fuel-cell electric heavy truck developer, recently announced the Badger electric pickup, but hasn't set a launch date.
Recently, Bollinger also filed for a patent for an all-electric, all-wheel drive, Class 3 commercial truck chassis – an indication that the company hopes to augment its income with sales in the rapidly growing commercial electric truck space.