Mustang, F-150 and Autonomous Car Hybrids are in the Mix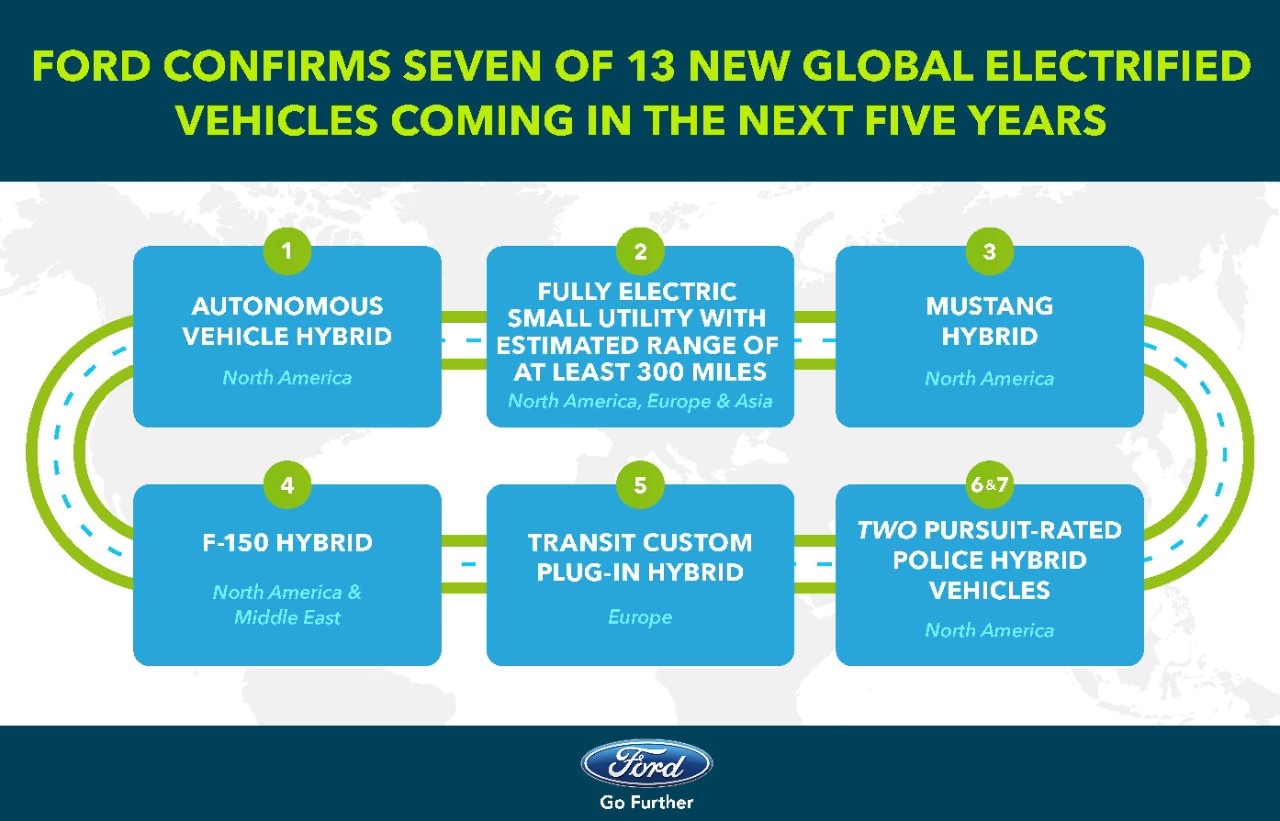 Ford Motor Co. plans to add 13 new plug-in electric and hybrid models to its global lineup by 2021, including the first hybrid Mustang sports coupe and the best-selling F-150 pickup. A hybrid autonomous car for the commercial ride-hailing (think Lyft and Uber) or ride sharing markets also is on tap.
[Estimated Reading Time: 2 minutes, 25 seconds.]
The automaker's announcement shows that it is not worried that demand for fuel efficiency and alternative fuels will suffer much under the Trump Administration – even though the president-elect has been decidedly anti-environmental regulation and supportive of the traditional fossil fuel industries.
Many of the electrified Ford cars and trucks will be built at the company's Flat Rock assembly plant in Michigan. Ford recently announced a $700 million investment in upgrading the aging plant to handle the new electrified models.
In all, Ford said, it intends to invest $4.5 billion globally in vehicle electrification.
If you're interested in purchasing a vehicle in Ford's latest lineup, perhaps you can check out the Conklin Ford dealership.
"As more and more consumers around the world become interested in electrified vehicles, Ford is committed to being a leader in providing consumers with a broad range of electrified vehicles, services and solutions that make people's lives better," said Mark Fields, Ford's president and CEO.
Fields said the company believes that the number of electrified vehicle models offered for sales globally will exceed the number of gasoline-powered vehicles "within the next 15 years." Used examples of Ford's existing lineup can be found on websites like Zemotor.com, which also hosts listings for car sales of fully electric vehicles like Teslas too.
The company provided details of seven of the 13 new electrified Ford models it intends to offer:
A battery-electric small SUV with at least 300 miles of range, due by 2020, built at Flat Rock, and sold in North America, Europe and Asia.
A hybrid version of the F-150 pickup, by 2020, built at the Dearborn Truck Plant, for North America and the Middle East.
A hybrid Mustang, with an emphasis on utilizing the electric drive system's low-end torque to improve performance. Due in 2020, built at Flat Rock, and initially for the North American market only.
A "high volume" hybrid gas-electric autonomous vehicle for the commercial ride-hailing or ride-sharing markets. To debut in 2019, built at Flat Rock, with sales starting in North America.
A pair of hybrid police pursuit vehicles, one to be built in Chicago and both to be fitted with police gear at Ford's dedicated police vehicle modification facility in Chicago. Ford did not disclose production timing, initial markets or the production facility for the second pursuit vehicle.
A plug-in hybrid version of the Transit Custom commercial van, due in 2019 for the European market. Ford did not disclose the production facility, but most Ford Transit vans are built in Turkey and Spain. Those looking for a Transit van on finance may want to ask for a quote online from Intelligent Van Leasing.
The goal of the ambitious electrified Ford program is to provide customers "more capability for trucks, more productivity for commercial vehicles and more performance for sports cars – plus improved fuel economy," said Raj Nair, the automaker's chief technical officer and executive vice president for product development.