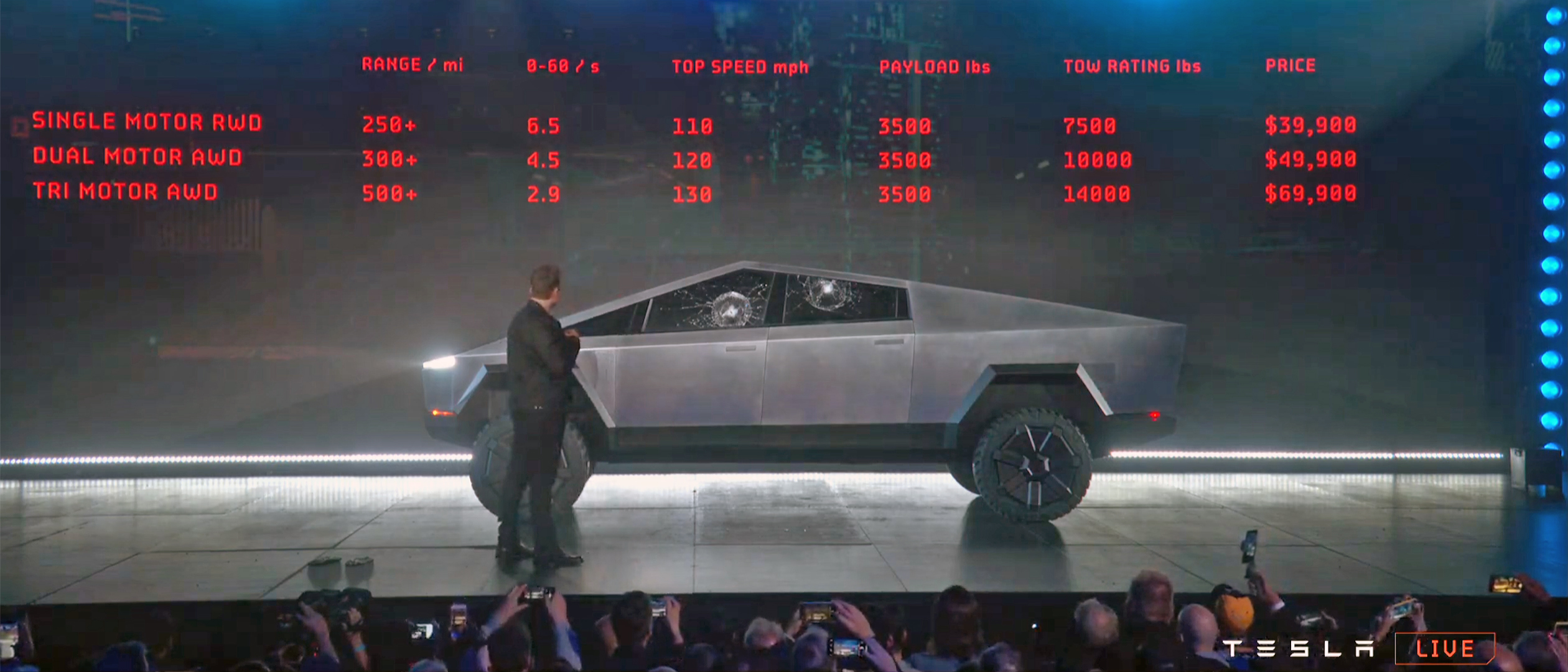 Sometimes, a picture is worth 1,000 words.
The all-electric Tesla Cybertruck made it first public appearance Thursday evening and while most everything at the launch went well, the smashed side windows prove that even though many of his fans think so, Tesla CEO Elon Musk and his team aren't perfect.
The photo above has all the pricing and performance info.
The broken glass is Tesla's supposedly unbreakable Armor Glass. It did stand up to several tests but gave way when a large steel ball was thrown at it. Twice. Because Musk couldn't believe that the first window broke, so he had the second one tested.
Specs
The Tesla Cybertruck – in all three configurations – will have 16 inches of ground clearance, adjustable air suspension with eight inches of travel (four up and four down), 100 cubic feet of cargo area between the bed, front trunk and under-bed storage.
A lockable tonneau cover, on-board 120- and 240-volt power outlets and an air compressor are standard, as is a tailgate that morphs into a full-width cargo ramp for easy loading, and, as the photo shows, a lot of payload and towing capacity.
Tesla's AutoPilot suite of driver assistance systems is standard, but it will cost an extra $7,000 on each model to have future autonomous driving capability included. Tesla has said it can be purchased later – it is an over-the-air software update – but is likely to cost more if ordered in the future.
The Tesla Cybertruck also will feature polarizing styling, but Musk warned us when he said it was inspired by the film "Blade Runner" and would look like a futuristic armored personnel carrier.
Tough Skin
Speaking of armored – the skin is high-strength stainless steel that repels sledge hammers. The exterior panels also are structural members, part of an exoskeleton that eliminates the body-on-frame construction of a traditional truck.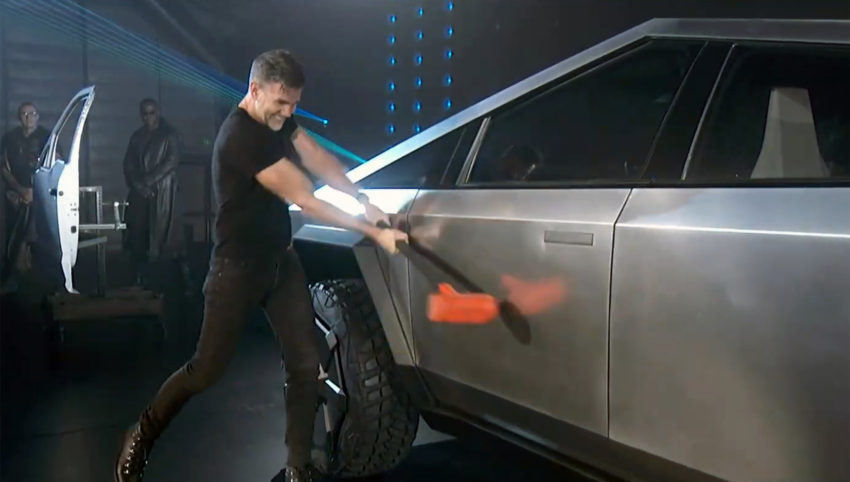 Stainless is a heavy material, but presumably its weight has been taken into account in the range, performance and payload numbers Tesla has provided.
All Those 'Orders'
Tesla is taking refundable $100 deposits to reserve a spot in the ordering queue – they're really not definitive orders yet. The company said customers who want to move ahead and actually purchase the truck will have to wait a bit.
The single- and dual-motor versions of the Cybertruck won't be available in late 2021. The tri-motor model whose outrageous performance specs will define the truck's public image won't roll off the line until late 2022.
That's if the notoriously slippage-prone company can really manage to make good on its production goals, something that hasn't happened yet.
Tesla said several days after the unveiling that it had received 200,000 of the deposits – so that's $20 million Tesla fans have given the company to play with (interest earnings, etc.) while they wait for the truck.
The company's Model 3 launched to great fanfare and garnered more than 500,000 advance reservations – but various reports had about 20-25 percent of those orders being canceled when time came to put up or bow out.