There's still a lot to see at the ongoing 2019 Los Angeles Auto Show if you are in the market for the newest of the clean vehicles bring offered by automakers.
Among the show's debuts, many, like the electric Mustang Mach-E, won't hit showrooms until 2021 or later.
A few are concepts that may or may not lead to production models. And those production models, if they come, might not have all – or any – of the design and tech features of the concepts. That's the car biz.
[Estimated Reading Time: 7 min.]
And one EV that made a lot of news isn't at the show: Tesla's Cybertruck electric pickup.
Instead of takings its bows at the Los Angeles Auto Show, the truck was introduced, as have been all of Tesla's previous models, at a Tesla facility – this time the company's Southern California design center in the city of Hawthorne a few miles from downtown L.A.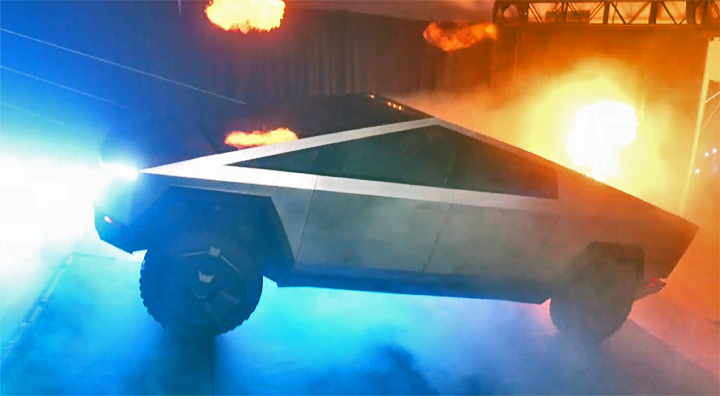 Tesla has slated the polygonal, stainless-skinned truck for a late 2021, early 2022 on-sale date.
Remember, though, that the company's got a pretty consistent history of badly overestimating its ability to hit its production, on-sale and early pricing goals.
Even though Tesla's very non-traditional pickup isn't on display, there's a lot to see at the Los Angeles Auto Show this year if your interest is in clean cars and crossovers.
TheGreenCarGuy is covering the show's new plug-in hybrids in a separate article.
Here – alphabetically by nameplate – are the EVs that debuted at Los Angeles Auto Show 2019:
Audi e-tron Sportback
The e-tron Sportback, another entry into what could be called the crossover coupe class. This is the same powertrain and tech content of the more mainstream Audi e-tron crossover EV, packaged in a sedan-on-steroids body.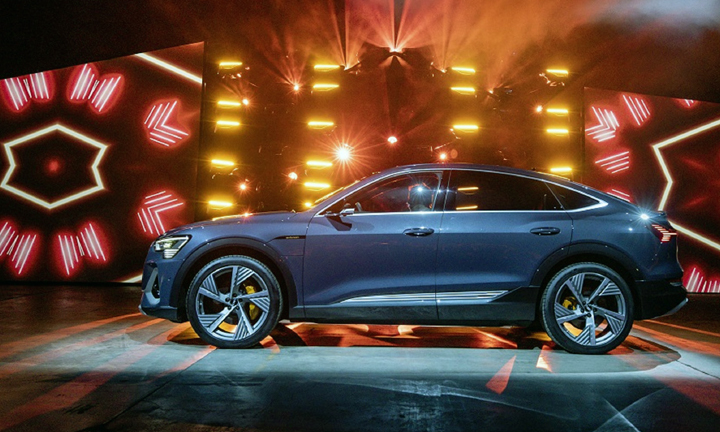 It shares is looks with vehicles such as the Mustang Mach-E, Jaguar I-Pace and BMW X6.
The swiftly downward curving rear roofline gives an SUV-styled crossover into sedan like shape also usually gives it a better drag coefficient, meaning it slips through the air with less resistance.
For the e-tron Sportback, that means an extra 6 miles of range, to 240 miles versus the standard e-tron's 234 miles.
The e-tron Sportback also gets different headlights, except in the U.S.., where they aren't yet legal (U.S. automotive headlight law stops recognizing innovations at about the time the LED projector beam was invented). Audi calls them "digital matrix" LED headlamps.
Each lamp housing contains a chip with more than a million micro-mirrors. The lamps cast an area of brighter light out in front the vehicle – a "carpet of light" according to Audi's marketing materials – to add additional illumination.
The brighter patch gets smaller as you approach other vehicles, so it doesn't interfere with other drivers' vision. The lamps also sense when the e-tron Sportback is about to change lanes and extends the brighter patch into the appropriate lane to light the way.
Otherwise, this is an Audi e-tron. That means dual electric motors for electric all-wheel drive – e-Quattro in Audi-speak; 355 horsepower and 415 pound-feet of torque with a boost mode that kicks it up to 402 hp and 490 lb-ft for a new seconds when extra power is needed; dynamic suspension system and a low center of gravity for great grip.
The downward curve of the Sportback's rear roofline steals a few cubic feet of cargo capacity, so it is down 5 percent to 27 cubic feet behind the rear seats, versus 28.5 cubic feet on the regular e-tron. That increases to 54 cubic feet with the Sportback's rear seat backs folded down – versus 57 cubes in the e-tron crossover.
Pricing hasn't been announced, but a number of smart observers are suggesting it will fetch at least a $2,500 premium over the regular e-tron, which starts at $75,795.
Bollinger B1 and B2
The trucks look like descendants of the original Land rover Discovery. There's not a curve on either the Bollinger B1 SUV or the B2 pickup.
Bollinger initially introduced the trucks several years ago and has made a number of updates since then – click here for details. But this is the first year the Bolllinger trucks have been displayed at the L.A. show.
The company's taking orders, at $125,000 a pop.
Ford Mustang Mach-E
This is the first of a number of electrified Fords coming to market in the next few years.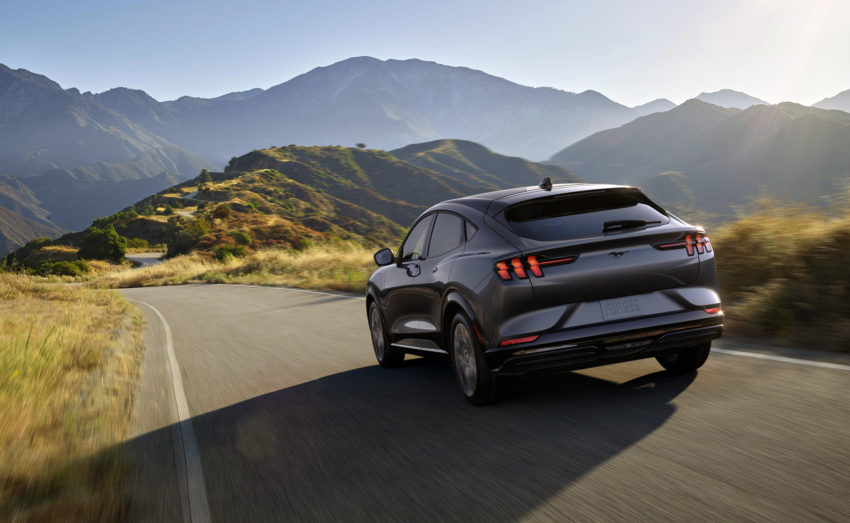 It is another "crossover coupe" that uses some Mustang styling cues such as tri-bar taillights so Ford can link it to its iconic sports coupe.
Some Mustang loyalists insist that a vehicle with four doors and a tall roof shouldn't carry the Mustang name.
Ford insists it has a lot of Mustang performance DNA in its all-electric powertrain.
TheGreenCarGuy got a brief ride in an early pre-production model and was impressed with with its roominess and its performance through a mild slalom and a 0-60 mph sprint.
We brought you all the info on the Mach-E a few days ago, click on the link to check it out.
Mini Cooper SE
This is another EV we've already reported on. Get Mini Cooper SE details by clicking here.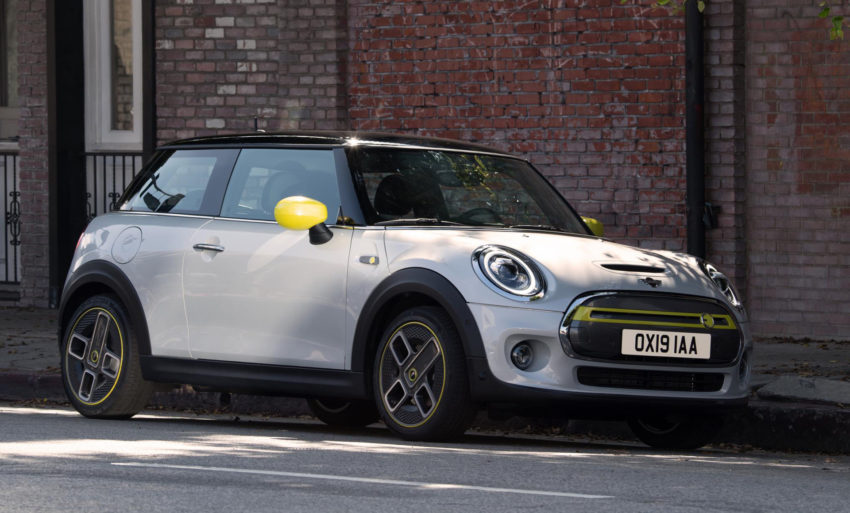 It is due in March 2020, with a starting price of $30,750 before incentives.
The Mini Cooper SE will have about 114 miles of range per charge, seat five and deliver 181 horsepower and 199 lb-ft of torque, with an electronically limited top speed of 93 mph.
Porsche Taycan 4S
Porsche has already introduced its electric 4-door sports car, the Taycan, but the LA show marks its first public U.S. appearance along with the introduction of the of the Taycan 4S model.
The Taycan lineup now consists of the 4S, Turbo S and Turbo. At a starting price of $105,150, the 4S is the least expensive of the Taycans.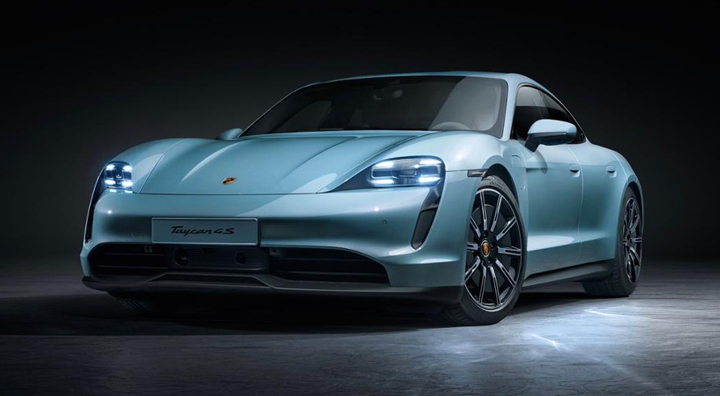 All Taycans use two-motor layout – one up front and one on the rear axle. All-wheel drive is standard.
The new 4S comes with two battery options. The powertrain with the standard 79.2 kWh Performance Battery choice will deliver 429 horsepower, which can be boosted to 523 hp at launch, and 472 pound-feet of torque.
The optional 93.4 kWh Performance Plus, starting at $111,730, is good for 482 hp – boosted to 563 ponies – and 479 lb-ft.
(Porsche uses the German measurement PS, for Pferdestärke, or "horse strength." One PS is 98.6 percent of one horsepower, so don't think TheGreenCarGuy is misleading you if you see the 4S advertised as 530 PS and 571P maximum power output.)
Porsche claims a 0-60 mph acceleration time of 3.8 seconds and top speed of 155 mph for both variants.
U.S. range figures aren't yet available but will be before the Taycan 42 hits the market in the spring.
Toyota Mirai FCEV, Generation 2
Toyota's original Mirai fuel cell car has, well, unusual design. For the updated version, the 2020 Mirai, Toyota went back to the drawing board and came up with a new, "premium" rear-wheel drive platform and a sport-coupe-inspired exterior design.
The all-new Mirai will feature contemporary premium sedan looks and equipment, seating for five instead of the previous model's four, and an updated Toyota fuel cell system with a 30 percent gain in range – to about 330 miles – as well as increased power and reduced noise from the systems' already pretty quiet air compressor.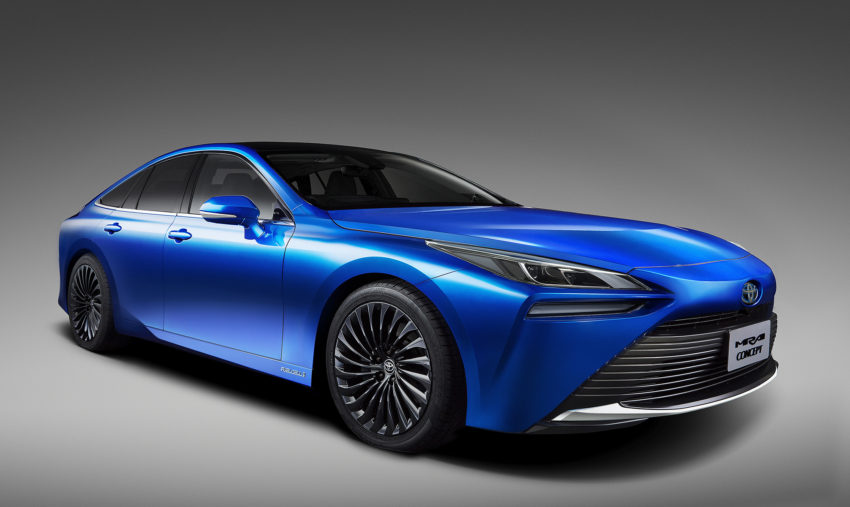 A short science lesson: Fuel cell systems mix compressed air drawn from outside the vehicle with compressed hydrogen gas that's carried on-board in a set of high-pressure tanks. The oxygen and hydrogen pass through a catalyst and out comes electrical current – from the electrons in the hydrogen – and water, or H2O, created by combining the hydrogen, H2, and oxygen, O.
The water goes out the tailpipe, part of it as steam, after helping cool down the heat created by the electro-chemical reactions in the fuel cells.
The electric current powers the vehicle's electric motor.
Fuel cell vehicles are actually electric vehicles, thus the "EV" in the FCEV designation. They just use small batteries, like conventional hybrids, and instead of a needing charging stations like battery EVs, they need periodic hydrogen refills and hydrogen stations. So far, California has almost the nation's entire supply of those.
The lack of publicly available hydrogen stations means Toyota, Honda and Hyundai, the three companies offering fuel cell vehicles, only sell or lease their FCEVs in a few areas.
Toyota's 2020 Mirai, which hits dealerships late next year, is available for sale or lease at select dealerships in metropolitan Southern and Northern California, and Oahu in Hawaii.
Volkswagen ID Space Vizzion EV Concept
It's a VW. It's electric. It's a station wagon, no matter what the corporate types want to call it.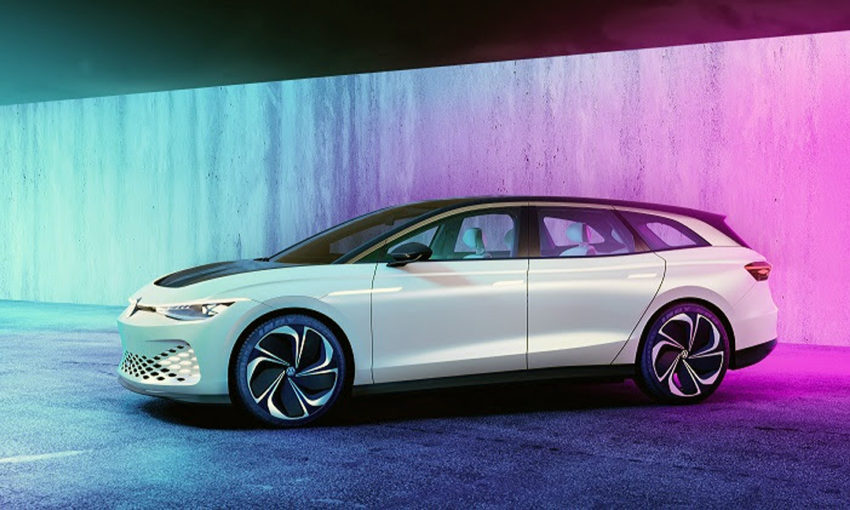 The model on display at the show is a design concept, but VW's already said the ID Space Vizzion is the progenitor of a trio of production models – same car but different variants for the European, Chinese and U.S. markets.
How close the production version designs will echo the concept's is just a gues at tis point, but we're guessing the look will be close.
The ID designation is for VWs upcoming EV lineup as the automaker abandons the diesels that got it in so much hot water recently and identified the future as electric.
We recently took a loo. Please click on the links if you want to know more about the ID Space Vizzion or other VW electric vehicle concepts.
Volvo XC40 Recharge
Volvo's first all-electric crossover, with 240 miles of range and a 408-horsepower electric drive system, will be available late next year as a 2021 model.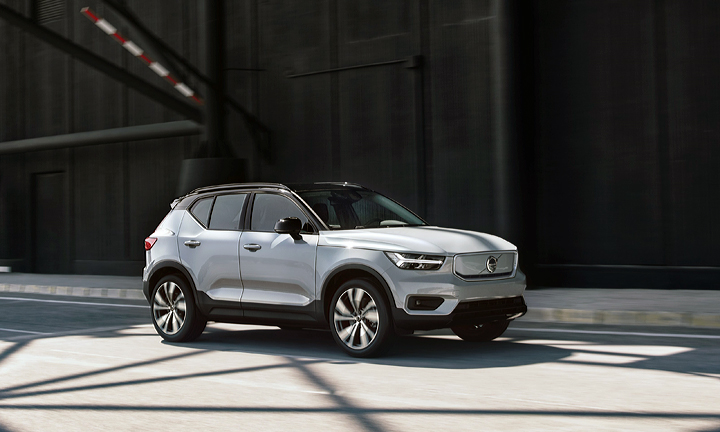 The XC40 Recharge looks just like the standard XC40 compact crossover, but with what is becoming the familiar closed – or solid – grille of an EV.
It has a 78 kWh lithium-ion battery pack and two electric motors – one for each axle – instead of a gas or diesel engine.
The dual motor system means all-wheel drive is standard, as is a front storage space under the hood – a front trunk, or "frunk" as Tesla started calling the space a few years ago.
The company says the small crossover will start at something under $48,000 after its $7,500 federal tax credit – so that suggests an MSRP of just under $55,500.
Volvo has said that after 2025 all of its new vehicles will be either EVs or plug-in and standard hybrids, with one fully electric model to be introduced every year through 2025.
Like the XC40 EV, the company's electrified cars will carry the "Recharge" badge.
Volvo says the name shows "we are recharging everything we do…to reduce our carbon footprint by 40 percent per car by 2025 compared to 2018. And to be climate neutral by 2040. Because we have only one planet."
And we can't think of a more fitting way to end this list.