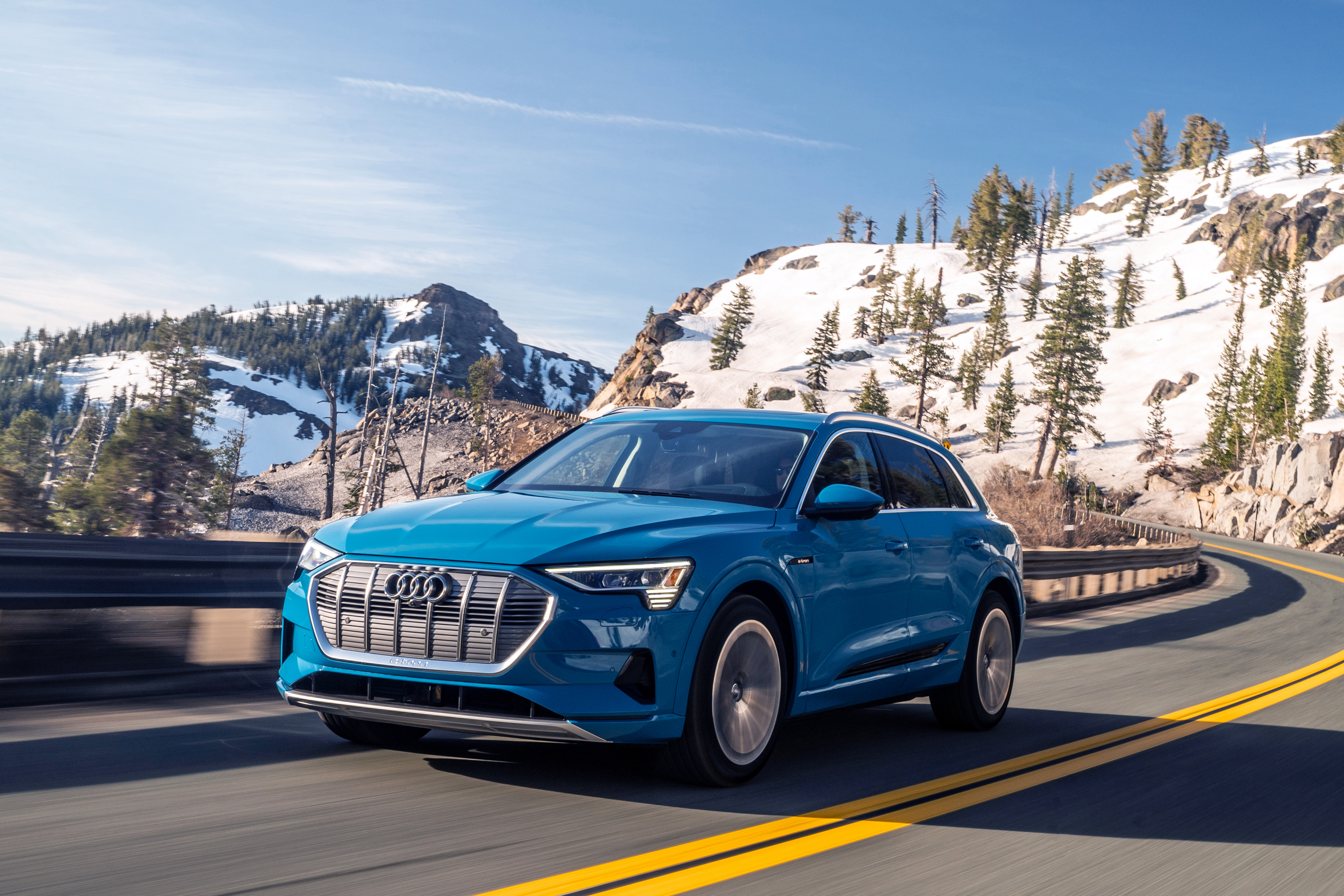 Audi's 2019 e-Tron crossover is a world-class luxury EV that's every inch an Audi. It won't alienate the company's core audience and likely will attract a few new buyers – to Audi and to EVs.
The e-Tron also may have an image issue. Not because, as some wags have pointed out, étron translates as "turd" in French, but because of the EPA's estimated range of 204 miles.
That really shouldn't be a problem, but range has become an important marketing tool for EVs. The e-Tron's, while substantial, doesn't give Audi anything to brag about.
It is the lowest range figure among the rather limited competitive set of luxury electric crossovers.
[Estimated Reading Time: 14 min.]
The smaller Jaguar I-Pace is rated at 234 miles per charge, the larger and more expensive Tesla Model X Standard Range at 235 miles. The upcoming Mercedes-Benz EQC hasn't received an official U.S. range rating, but it, too, is expected to beat the e-Tron.
Tougher yet for Audi is that the e-Tron's range also lags the newest crop of EVs for everyman – such as the 258-mile Hyundai Kona EV, 238-mile Chevrolet Bolt and 215-mile Nissan Leaf Plus.
As a result, the automaker has to spend a lot of effort – and marketing money – persuading potential buyers that the e-Tron's range is good enough.
In fact, the Audi EV's range ought be plenty for most people most of the time.
But while the typical driver may not log hundreds of daily miles, we all like to think that the vehicles we buy will be able to carry us from San Diego to Portland – Oregon or Maine – whenever the spirit moves us.
Audi needs the e-Tron to succeed. It is the first of a string of electric and plug-in hybrid models the company is bringing to market over the next half-decade. The road will be rough if its first model fails to satisfy.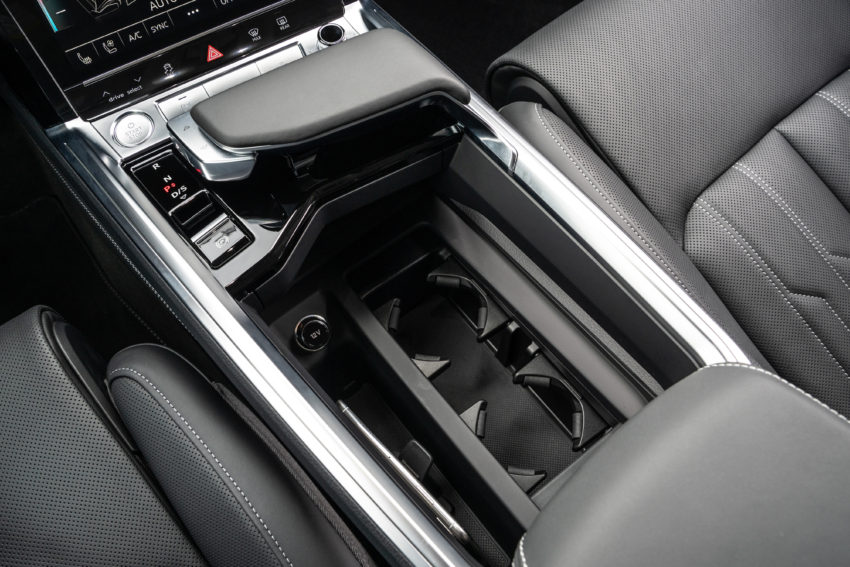 To counter potential range anxiety among its target audience of fairly well-to-do, tech savvy shoppers who appreciate luxury along with sporty looks and performance, Audi is promoting the e-Tron's quick-charging capabilities and the growing network of public charging stations on which drivers can rely.
Whether that will assuage fears remains to be seen, but in a recent first drive of the U.S. version of the new e-Tron, Audi persuasively showed that its first all-electric model ought not be handicapped by range worries.
A Chilly, Wet Trip
Our route took us from the town of Yountville in California's Napa Valley – elevation 98 feet above sea level – to the southern shore of Lake Tahoe in Nevada, at 6,225 feet above the Pacific. To get there, we had to climb over the Sierra Nevada range's 7,382-foot Echo Summit. We left on a chilly, rainy May morning and arrived late in the afternoon in a cold late-spring snowstorm.
Audi hadn't planned it that way – the wave of test drivers before us had sunshine and summer-like temperatures. But the conditions on our drive were perfect for discovering whether the e-Tron has what it takes.
EVs like nice weather and flat terrain. Climbing hills and mountains takes far more out of their batteries than they can recover through regeneration on the downhill runs. Cold messes with battery performance, cutting into range. Snow and rain subtly and negatively alter a vehicle's aerodynamics, further diminishing range.
The e-Tron felt the weather's impact, but the all-wheel drive EV performed quite well.
Overall, range for our 178-mile trip was about 14 percent less than the EPA-estimate. Even with the unusual circumstances, though, there was never any fear of being stranded.
Charge It
To counter perceptions that the e-Tron's range might not be up to par, Audi's message is that EVs are so good now and the charging infrastructure so well-developed that there's no need for worry.
Most EV drivers do most of their charging at home or work on Level 2 charging systems that wok on 240-volt circuits.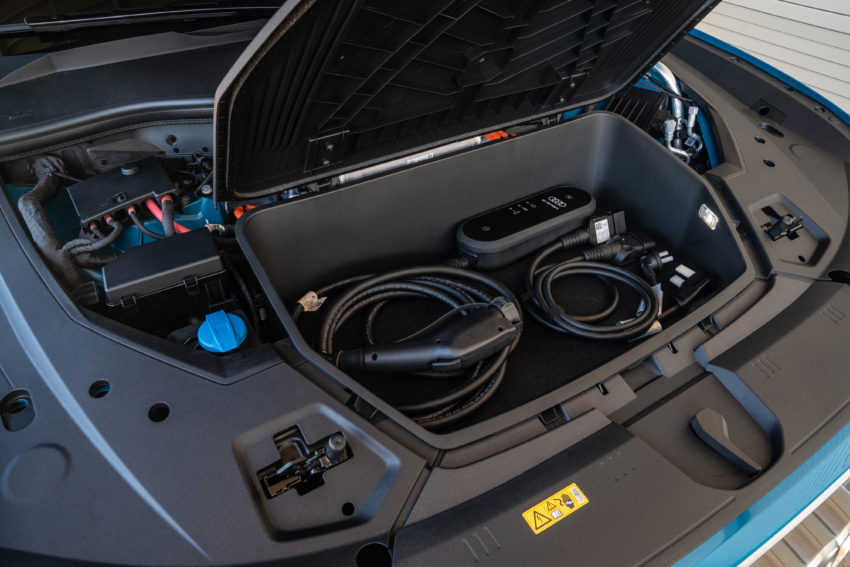 [Want to know more about charging levels and speeds? Read TheGreenCarGuy's Plug-in Electric Vehicle Charging primer.]
For everyday charging, the e-Tron is outfitted with a 9.6 kilowatt on-board charger that can replenish an empty battery in about 10 hours using either a Level 2 charging station or the Level 2 cord-set which comes with the car.
That same cord-set can be switched over to work as a basic Level 1 charger, which plugs into any conventional 120-volt outlet. But that's a last-ditch alternative as it can take close to 90 hours to refill an emptied e-Tron battery pack at Level 1.
To extend battery life, Audi uses only 83.6 kWh of the 95 kWh pack. The rest is held in reserve as a buffer against overheating.
For road trips, the e-Tron uses "Level 3" DC fast charging at up to 150 kilowatts, three times the power many EVs can accept.
There's still a way to go before public charging is so widely available that EV drivers should have no more trouble finding fuel on long trips than do drivers of internal combustion engine vehicles.
Still, there are now more than 4,000 Level 3 "fast-charge" public stations in the U.S., with about 13,000 chargers that the e-Tron and other non-Tesla EVs can use. Tesla has its own dedicated network of about 1,400 "Supercharger" stations.
Moving forward, several charging network builders are actively installing more fast charge stations, with one, Electrify America, committed to installing 2,000 across the country by the end of 2022. Electrify America is a nonprofit established by Audi's parent, Volkswagen, as part of its "dieselgate" emissions cheating settlement.
Almost 500 of its stations are set to be installed or under construction by mid-summer and many will be capable to charging at accelerated speeds.
Fast-charge stations operate a high power levels – they started at 50 kilowatts and the newest are going in at 150 and 350 kilowatts, with 450-kilowatt systems on the horizon. But the car has to be equipped to handle such high levels, and few made today are.
Fast Really Is
The e-Tron, however, tops out at 150 kilowatts.
Not coincidentally, many of the Electrify America stations will have chargers with 150 kW capacities.
Thanks to stellar thermal management, the e-Tron can sustain high speed charging for a longer period than other EVs, meaning e-Tron drivers who use a 150-kw fast-charge station can get back on the road faster, or with a fuller battery.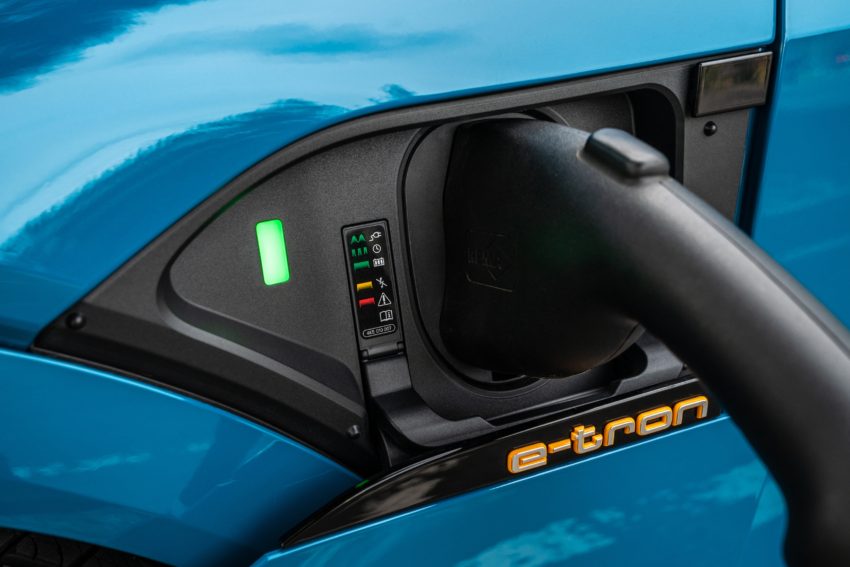 Charging the-Tron at 150 kw can add 54 miles of range in 10 minutes and 160 miles, or an 80 percent charge, in 30 minutes, according to Audi.
That 80 percent level of recharge for fast-charging is tops for most EVs because heat management systems slow down the charge to a turtle's pace for the remaining 20 percent, making it too time-consuming to do a complete recharge.
The e-Tron's thermal management is so good, though, that it can keep accepting electrons at a relatively fast pace well past the 80 percent level. It can reach a 100 percent charge on a 150-kw system in as little as 45 minutes – 90 minutes on a 50-kw system.
To further assuage potential e-Tron buyer's road-trip range worries, Audi is providing a fuel card good for 1,000 kilowatts of power at Electrify American stations. That's enough for about 2,000 miles of travel.
In a program that raises questions about Audi's faith in the common sense of its EV buyers, the automaker said it also will provide free towing, up to 10 times a year for the first four years of ownership, to e-Tron drivers who run out of juice while on the road.
The e-Tron's navigation system includes a station finder and a route planner that will incorporate stations spaced to make a long trip possible.
Miles and Kilowatts
On our drive, we stopped for lunch and to top up at an Electrify America station in Sacramento after 78 miles on two-lane, hill country roads.
We started our drive at 96 percent capacity and were at 54 percent when we arrived at the Level 3, 150-kilowatt station. We'd used 42 percent of the available juice for those first 78 miles, an average of 2.3 miles per kilowatt-hour.
Not bad, as the EPA estimated range works out to 2.4 miles per kilowatt of usable capacity. It took 25 minutes to boost the battery back to 99 percent capacity.
The range indicator showed we could go 189 miles more as we departed the Sacramento station – presuming driving conditions on the road ahead mirrored those for the miles we'd just completed.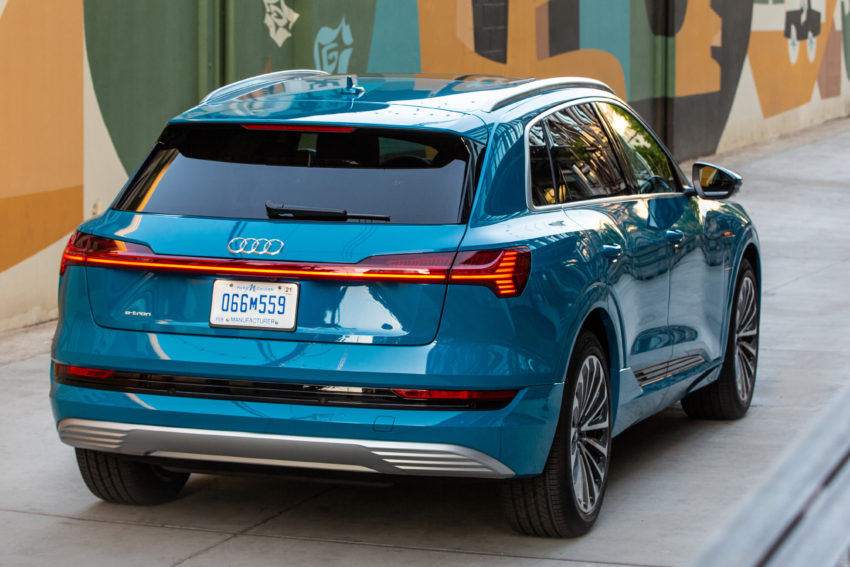 That wasn't the case, though, as more than half the remaining route was up a steep mountain, and more than half of that was driven in a snowstorm.
When we arrived in South Lake Tahoe 100 miles later, the state of charge gauge showed we'd used 74 percent of the battery's charge and averaged 1.7 miles per kilowatt-hour.
For the entire 178 miles, we'd consumed 96.1 kilowatt-hours of electricity, averaging 1.85 miles per kilowatt-hour.
That difference was well within the range of reasonable expectations, given the elevation and adverse weather conditions on the drive. It is quite likely that on a long trip over flat terrain on a dry day, the e-Tron would have met or even exceeded the EPA's 204-mile range estimate.
Price and Availability
The e-Tron Premium Plus starts at $75,795 before incentives. The Prestige trim starts at $82,795. Prices include Audi's mandatory $995 destination charge.
There are a handful of options. Most noteworthy is a $2,850 driver assistance package that gives the base Premium Plus most of the advanced safety features of the pricier Prestige.
Both e-Trons qualify for the full federal income tax credit of up to $7,500. Other incentives – state and local – can knock off a few thousand more in areas where they are available.
With its federal tax credit benefit, the e-Tron's cost is comparable to the base Audi Q7.
Among competitors, Jaguar's I-Pace starts at a $70,495 before its $7,500 tax credit. Mercedes hasn't announced EQC pricing but is expected to put it close to Jaguar's. Tesla's most recent pricing list shows that Model X with Standard Range at $81,000 before a $3,750 tax credit.
The e-Tron is on sale in all 50 states, but Audi dealers don't have stockpiles of the electric crossover.
Dealerships will have 0ne or two on hand for test drives, but customers must order their cars. Delivery can take from a few weeks to a few months, depending on color and equipment choices. This means you have plenty of time to get your garage cleared ready for when its here. You definitely want to park in your garage at this price, as protection, and it should even help lower insurance premiums.
Performance
It will take more time than we had on our e-Tron first drive to suss out its value as a daily driver. But it delivered well on our 178-mile test drive, which was divided almost equally between highway and country road driving.
Audi's electric Quattro system, which debuts on the e-Tron, may be even better than the automaker's well-regarded mechanical system. E-Quattro is capable of checking on traction and torque demands up to 1,000 times per second, constantly adjusting for each axle and wheel to maintain sure-footed contact.
Whether our roads were slick with rain or slippery with icy snow, the system kept our e-Tron's 21-inch all-season, low rolling resistance tires solidly in contact with the road with no hint of slippage.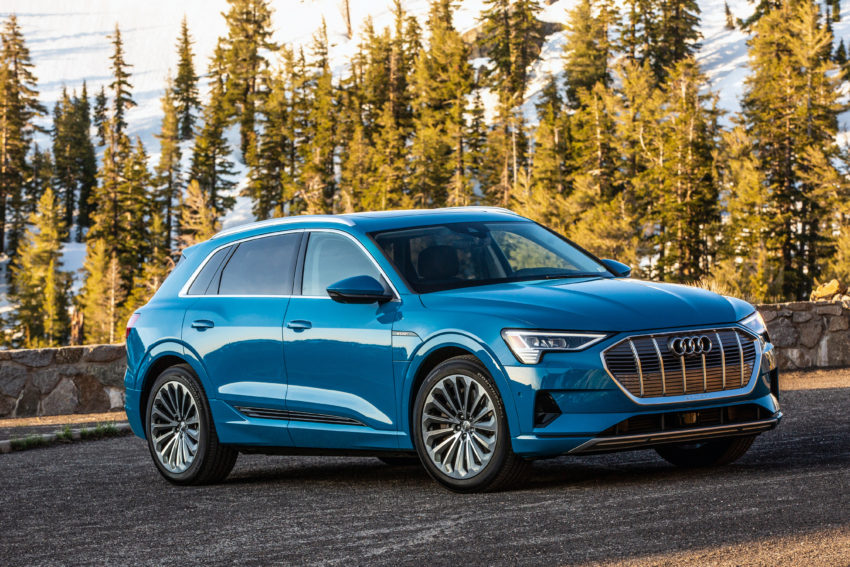 The e-Tron's two motors – mounted front and rear – pump out a combined 355 horsepower and 415 pound-feet of torque in normal operation.
Jam the accelerator pedal to the floor and "boost" mode kicks in with an 8-second second burst of EV supercharging. Output jumps to 402 ponies and torque to 490 lb.-ft.
Audi rates the e-Tron at 5.5 seconds for a 0-60 mpg sprint in boost mode, and I didn't see any reason to dispute that, even when tasking the nearly three-ton crossover to climb the steep 50-mile final approach to South Lake Tahoe at freeway speeds.
Despite its powerful electric propulsion system, the e-Tron isn't an overly exciting vehicle to drive (although road conditions did temper our efforts to put it through its paces).
The electronic steering is fairly numb, although accurate – it took us where we pointed. The single-speed transmission, a typical feature of EVs, leaves the driver with little to do but steer, even on the curviest of roads.
While nicely sprung on its standard air-suspension, the e-Tron can't be considered a nimble beast, given it tips the scale at nearly 5,500 pounds.
That air suspension, with five settings including off-road, makes for a smooth ride with little body roll even on the tightest curves.
The e-Tron can rise up to two inches above its neutral height setting to clear obstacles when trekking on dirt roads, and can drop up to an inch for improved efficiency at highway speeds.
Audi's engineers worked wonders with sound dampening, so the cabin is quiet with little wind or road noise unless you manage to break the tires loose on a curve, and the e-Quattro system makes that difficult to do.
Some of the e-Tron's stability is due to a very low center of gravity, courtesy of the 1,500-pound battery pack installed beneath the floor.
Gimme a Brake
The e-Tron uses regenerative braking most of the time, and the rare transitions to mechanical braking are smooth and seamless. Three levels of regeneration can be set – either in the e-Tron's complex electronic menu or, temporarily, with a small paddle on the steering wheel.
Audi recorded all sorts of operating data on our cars and at the end of the trip displayed a chart that marked mechanical braking episodes in right red ink. They accounted for less than 10 percent of the braking on the entire drive.
You can't quite drive the e-Tron "one pedal" style, using only the accelerator and regenerative braking. The mechanical brakes are needed to complete a full stop. But the unobtrusively aggressive regeneration system lets you get close.
Lugging and Loading
The e-Tron can tow up to 4,000 pounds, although towing will cut into range and means more charging stops on long trips.
Among competing luxury electric crossovers, Jaguar's I-Pace isn't rated for towing and Tesla's Model X can pull 5,000 pounds. Mercedes-Benz hasn't revealed any hauling capabilities for its upcoming EQC electric crossover.
Low profile roof rails are standard equipment and can be fitted with a variety of cargo and equipment carriers.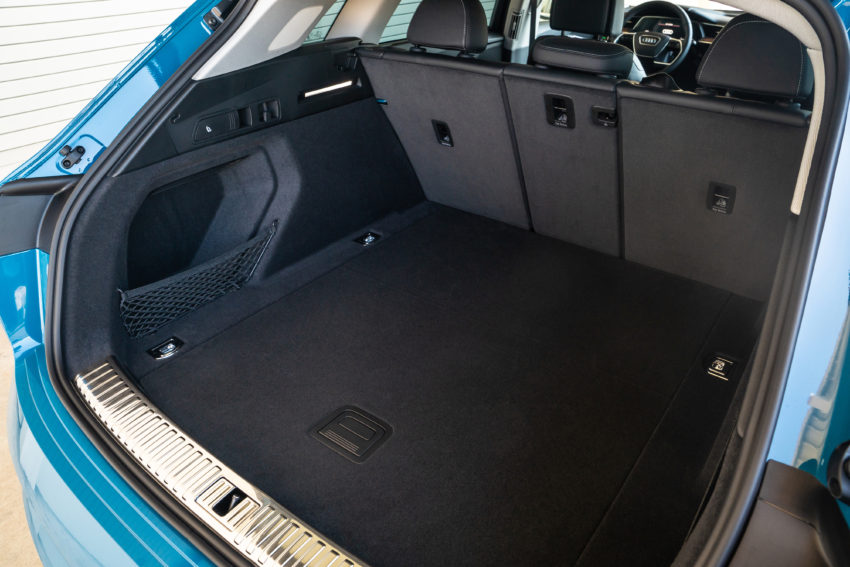 Cargo space is a generous 28.5 cubic feet behind the rear seats backs, enough to stack a dozen airline carry-ons. It swells to 57 cubic feet with the rear seats folded flat. The cargo floor is flat and easy to load through the wide and tall tailgate opening.
A not particularly useful "frunk," or front trunk, is located under the hood. Audi suggests the plastic bin it is best used as a storage compartment for the portable charging cord that comes standard with the e-Tron.
Outside-Inside
Size-wise, the e-Tron slots just below the Q8 crossover in Audi's lineup. It shares a lot of the Q8's sporty looks, with muscular haunches and a gently raked roofline. Audi took pains to avoid an overt "I'm electric!" design.
The e-Tron's main differences are its body-width taillights, a largely closed-off grill– EV's don't need as much air as gas or diesel vehicles – and headlights dressed up with light bars resembling the equalizer scale on a fancy audio system.
Horizontal strakes above the rocker panels on each side are supposed to evoke the presence of the e-Tron's low-slung battery.
Inside, the e-Tron is all Audi, with a cockpit best described as high-tech country club.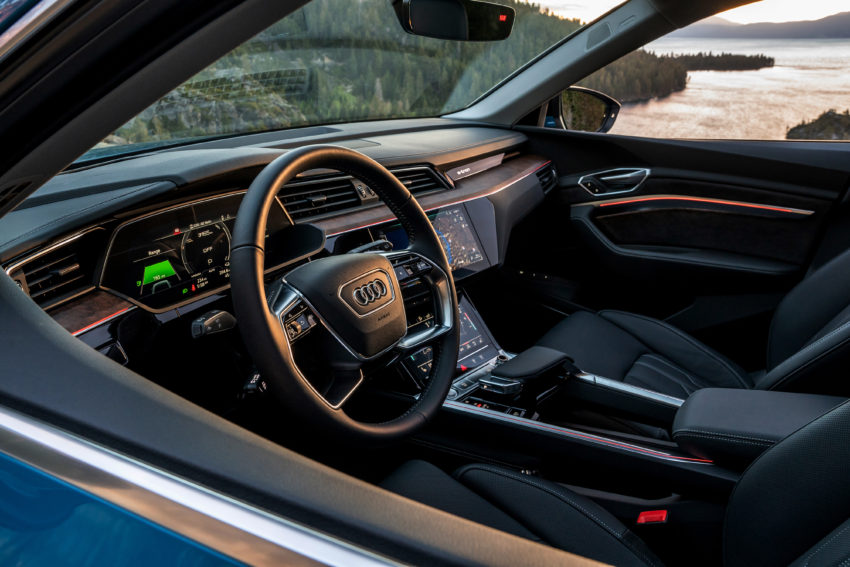 The standard panoramic sunroof eats up more than an inch of headroom, but there's still plenty of space – leg, seat, shoulder and head – for five people.
Thick and supportive seats are sheathed in leather and, in rent, heated and ventilated. IF it should be wrapped in leather it is, and a genuine walnut insert splits the dash lengthwise. A pair of center-mounted touchscreens provide controls and displays for the infotainment and climate systems as well as Audi's MMI driver interface.
The e-Tron doesn't use a shift lever. Instead, a elevated hand-rest in the center console ends on the driver's side in a thumb-switch that engages reverse, park, and the two forward drive modes – normal and sport.
The rear seats get their own climate system vents and are divided by a pull-down that serves as an armrest, work table and cup holder.
Audi has done away with most control knobs and switches, turning to a pair of touchscreens running Audi's MMI interface. That means the driver's attention must shift from the road to the screens until the layout of the control icons is seared into in memory.
Tech Overload
It may be a sign that cars actually are getting too complex – or it may just be this reviewer's advancing age – but Audi says there are between 500 and 700 information and user preference settings in the e-Tron's MMI system, each customizable for up to seven different people. That seems to border on an excess of choices.
Final Words
But no one has to do all that customizing – drivers and passengers can adjust settings just for things they use, and can do it on a trip-by-trip basis.
And if "too much tech" is the main complaint, then Audi's big concern as it launches the e-Tron won't be with anything it has – or hasn't – done with its initial all-electric offering. Instead, the automaker will be joining other EV makers in the U.S. in contemplating the snail's pace of EV market growth in general and figuring out what it can do to pull more buyers into that market.
With the e-Tron, Audi's made a good start.