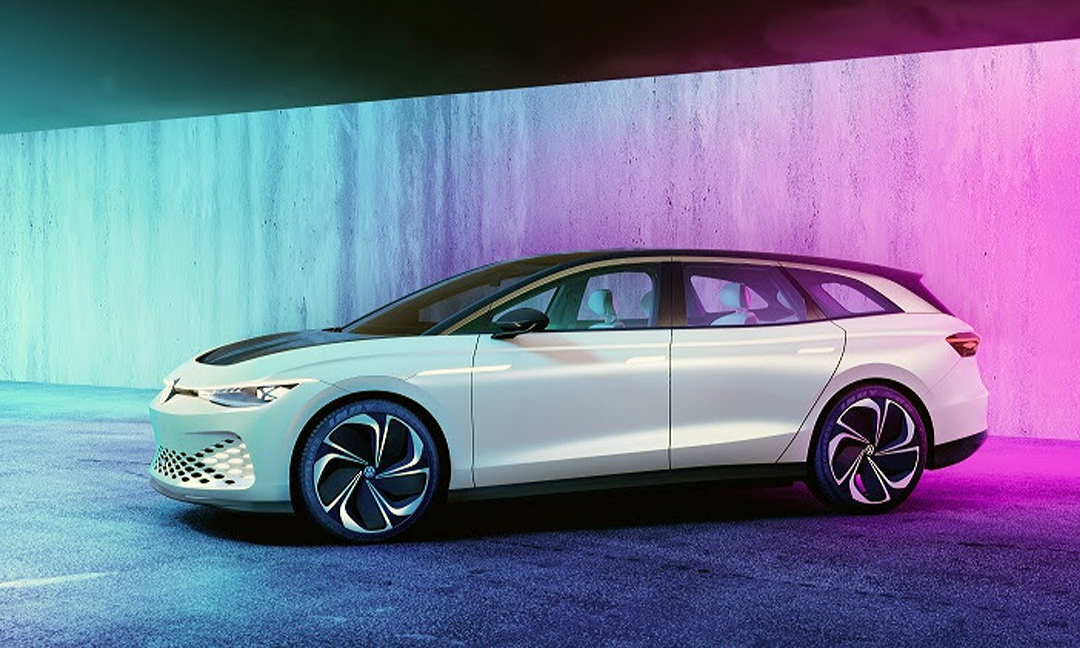 Volkswagen's new take on the traditional family hauler, the ID Space Vizzion, is a long, low and wiiiiiiide all-electric wagon that, the company has said, will enter the European market in 2021 with a U.S. version likely in 2022.
The Space Vizzion concept that took its bows Thursday evening is the seventh member of VW's ID family of all-electric concepts. Several others already have been greenlighted for production.
According to VW, the ID Space Vizzion can be configured as a rear-wheel drive model or fitted with electric all-wheel drive with motors on each axle.
In rear-wheel drag, the concept boasted 275 horsepower. With two motors providing power to all four wheels, that would jump to 335 ponies. The two-motor Space Vizzion could be driven in part-time or full-time all-wheel drive.
It has an 82 kilowatt-hour battery pack that VW says should get an EPA range rating of about 300 miles in the U.S.
The Space Vizzion concept measures an impressive 16.26-feet in length, 5.2 feet in height and is just shy of 6-feet, 3-inches wide.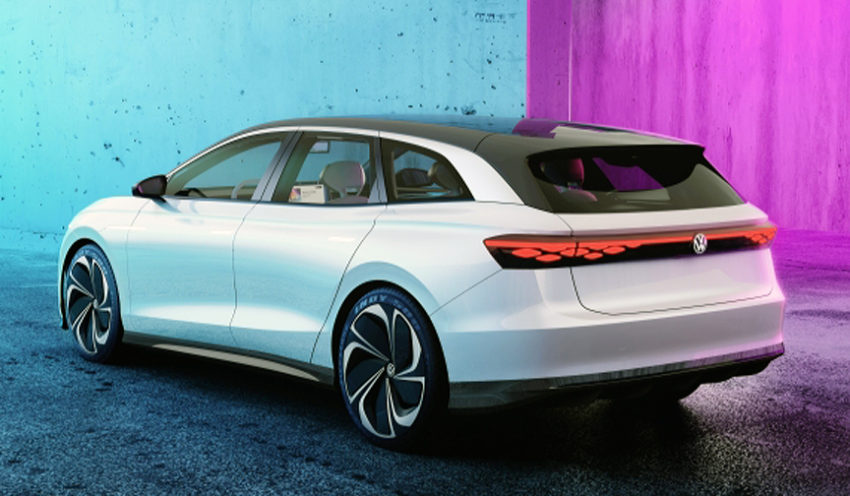 VW is calling it a car in its media material, and it certainly looks more like a wagon than an SUV-styled crossover. The automaker previosuly said that there will be separate versions for the European, Chinese and North American markets.
The cockpit is all-digital, and uses something called the ID light – a color-chaging LED light strip stretched along the dash between the A pillars – to provide the driver with all sorts of cues and information.
The list includes: Hello and goodbye animation; notification that the doors are locked or unlocked and that the electric motor is up and running; incoming phone call notification; information on battery charging progress; braking prompts while driving, and navigation instructions – like when to change lanes and make turns.
Most stuff seen in concepts never makes it to market because it looks good but is either impractical to manufacture, too expensive for a production car or or still not legal (cameras replacing side-view mirrors, for instance), so we won't go on about the Space Vizzion's floating seats and minimalist interior, its 22-inch wheels or the "augmented reality heads up display," or AR HUD.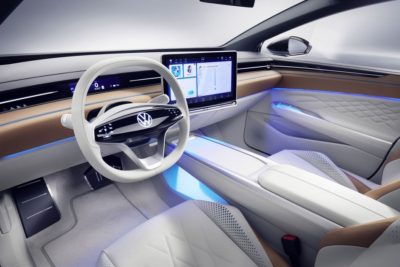 That's a not-so-futuristic system in which all the information, entertainment, comfort, online functions, and vehicle settings are grouped together on a15.6-inch touchscreen that, VW says, "appears to hover in mid-air."
One feature that may well make it to the production model it the multi-function steering wheel.
Here's VW's poetic description:
"The new multifunction steering wheel is equipped with capacitive touch panels. In a radical departure, the right-hand steering column switch now becomes a shift lever. And it is easier and more intuitive than ever before—turn the switch one notch forward out of the neutral position (N) to activate drive mode (D); turn it again to activate energy recovery mode (B); Park (P including parking brake) is activated by pressing the side of the steering column switch. Because the gearshift function is now on the right, the windshield wiper function migrates to the left-hand steering column switch for the first time ever in a Volkswagen."
The concept also introduces a variety of sustainable materials including a "chrome-like" paint to replace real chrome, and VW's new vegan "leather," a vinyl-like material made from apples and called, appropriately, AppleSkin.
The first production car in the automaker's ID lineup of electric vehicles is a European-market hatchback, the ID 3.
VW also has shown concept versions of an ID Vizzion sport sedan; the ID Buzz, a modern take of the microbus; the ID Crozz crossover; the ID Roomzz large SUV and the ID Buggy – a modern electric take on the classic dune buggy. Several are expected to hit the market in production form.
There's also an ID R electric race car concept.
VW has said it intends to have 20 electric vehicles in its global portfolio by the end of 2025.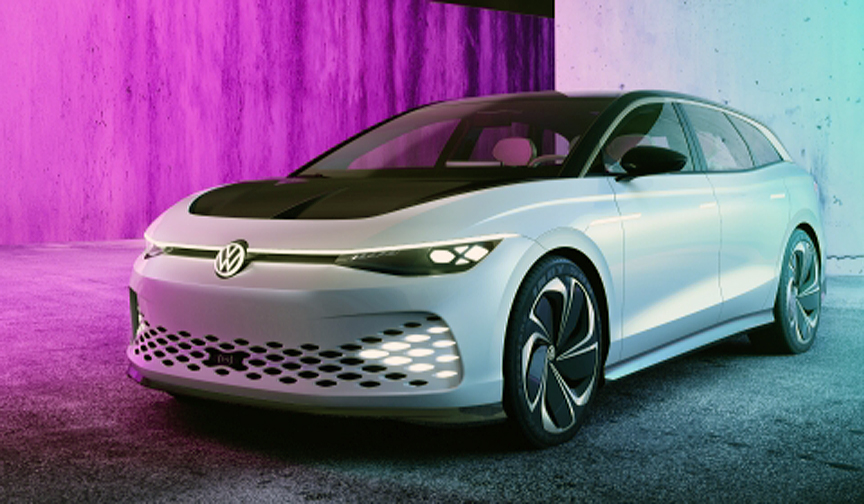 Photos Courtesy of Volkswagen AG