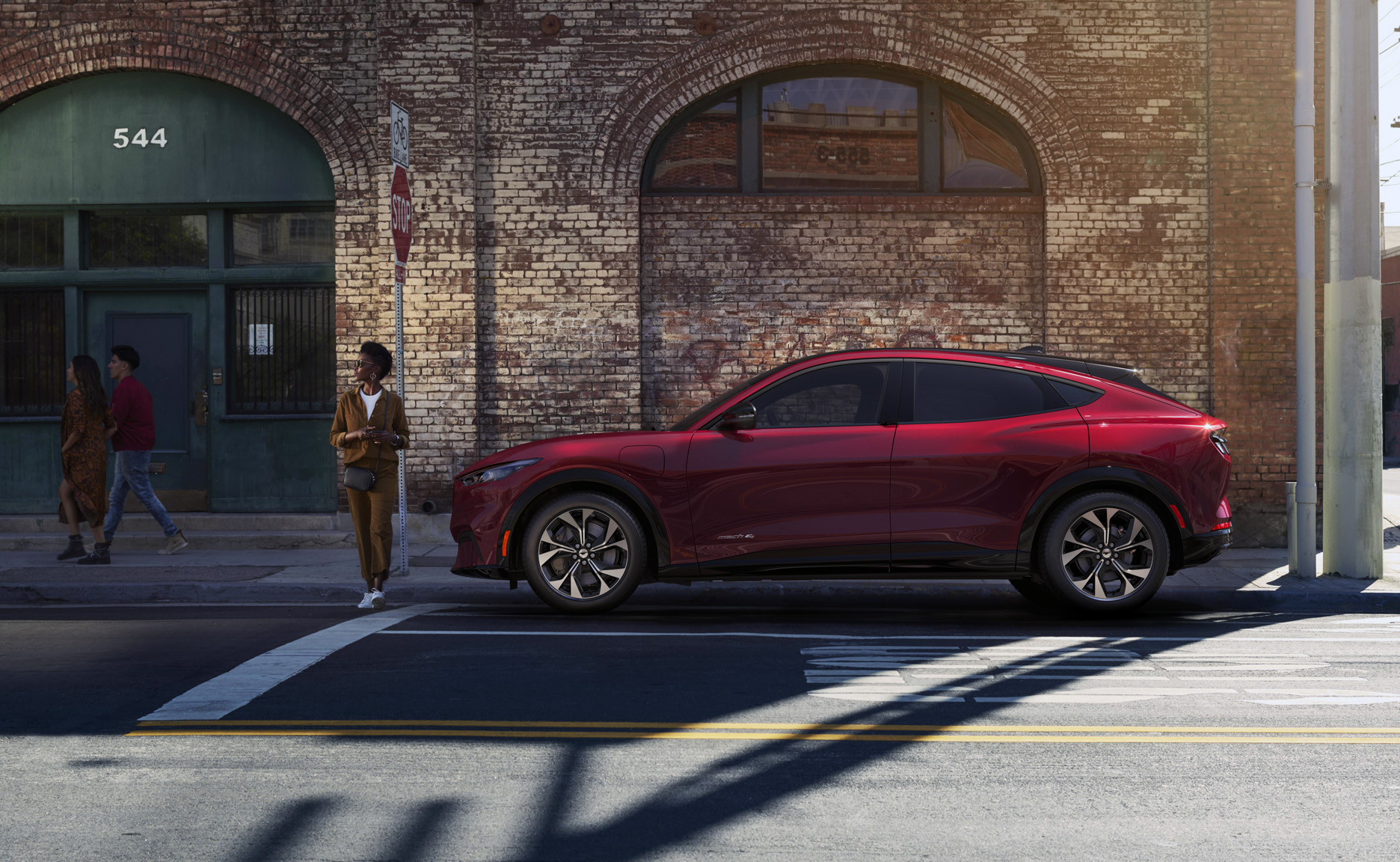 It's become a cliché to call every new EV a Tesla fighter, so we won't do it, but the new Ford Mustang Mach-E certainly wants to be an alternative to Elon Musk's upcoming Model Y crossover.
The two share similar profiles and while Ford has taken pains to compare the high-performance Mach-E GT's acceleration to that of the internal combustion Porsche 911 GTS, its claimed sub-4-second 0-60 sprint time also appears designed to equal some of Tesla's mid-range models.
[Estimated Reading Time: 7 minutes]
The Mach-E even has somewhat hidden door handles, a la Tesla.
Ford publicly debuted the Mach-E Sunday evening at a corporate jet hangar located just a few dozen yards from Tesla's design and research offices in the Los Angeles suburb of Hawthorne.
That may not have been intended to be a challenge, but it certainly invites comparisons.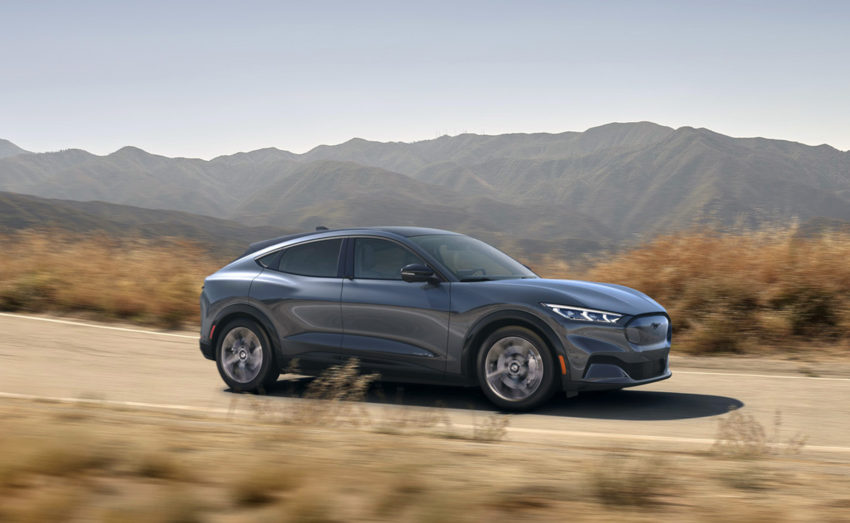 For its part, Ford says it really is aiming the Mach-E at a new crowd – affluent buyers in love with all that's new, desirous of advanced technology in other cars as well as their homes, and interested in good design and performance but not at the price of most Teslas.
The Mustang Mach-E might be seen not as a rival but as a compliment to the Tesla Model Y in today's electric vehicle marketplace.
Actually that will be in next year's market, as neither car is slated to go on sale until sometime in 2020. Ford is aiming for late in the year with two of the Mach-E's five initial trim levels. the others will follow in 2021. Similarly, Tesla has said it hopes to bring the first Model Ys to market by the fall of 2020 with various versions following into 2021.
Tesla also is developing an electric pickup truck while Ford is preparing an electric version of its popular F-150 as well as an all-new elelctric pickup for sometime down the road.
The Dearborn, Mich., automaker has said that it soon will be able to offer electrified versions of every model it sells – mild hybrids, conventional hybrids, plug-in hybrids and, like the Mustang Mach-E, fully electric vehicles.
Trims, Pricing and Availability
The Mach-E will launch in late 2020 with one standard version, the Premium, and a limited-production First Edition. Select and California Route 1 trims will follow in early 2021 with the powerful GT coming last in mid-2021.
Mach-E pricing before incentives starts at $43,895 for the Select. The Premium starts at $50,600; the California Route 1 at $52,400, the First Edition at $59,900 and the GT at $60,500.
The Select and Premium trims come standard as rear-wheel drive models but can be ordered with all-wheel drive for a $2,700 up-charge
The Premium model can also be ordered with an optional extended range battery for an additional $5,000. the batery, good for up to 300 miles of range, is sot available on the Select and is standard on the other trims.
Ford opened an on-line reservation system Sunday evening and is taking refundable $500 deposits that will give customers a spot in the waiting line to place a firm sales order.
All Mach-Es will qualify for the standard federal tax credit of up to $7,500 and Ford has figured out a clever way to get that credit to customers who prefer leasing.
The actual cost will vary, with the federal tax credit and various regional incentives adding up to as much as $12,500. Note, though, that state and local incentives aren't all that widely available. They are foud mainly in states that have aggressively promoted EV use and adopted California's zero emissions vehicle rules.
While $43,895 isn't cheap and $60,500 is an even steeper tariff, the Mustang Mach-E is actually quite compeitive with potential marketplace rivals. most are from high-end European luxury brands with pricing that starts where the Mach-E's ends.
Tesla says its Model Y will start at $39,000 when the base model debuts in 2021 (it is starting in 2020 with a higher level, more expensive trim). Thanks to its healthy sales, Tesla has exhausted its eligibility for the federal tax credit.
[More about federal, state and local EV incentives.]
The base Mach-E Select may carry a higher sticker price than the base Tesla, but the federal credit drops the real cost of the Mach-E Select to $36,395.
Add a few thousand dollars of local incentives where they are available and the real acquisition cost can fall even more.
Colorado, for instance, provides a $5,000 EV credit – the nation's highest state incentive. California issues a $2,000 rebate and other state and local rebates run the gamut from a few hundred dollars to $3,500.
The Buyer's 'Lease'
The tax credit can only be claimed by the original registered owner and for leased cars that's usually the automaker's finance company or leasing unit.
So Ford has designed a "lease-like" purchase agreement that imposes annual mileage limits and has most other aspects of a conventional lease. But the customer actually buys the car and is given a guaranteed buy-back at the end of an agreed-on period (typically three years).
By actually purchasing the car, the customer gets to claim the tax credit, lowering the actual cost of ownership.
Specs and Stuff
All Mach-E trim levels share some basic goodies, including Ford's next-generation SYNC system, a 15.5-inch touchscreen mounted mid-dash that controls most information, entertainment and comfort systems, a digital 10.2-inch driver info screen, that iconic "double hump" Mustang dashboard shape as well as classic tri-bar taillights, seating for five (although four is a better, more comfortable fit) , a wireless charging pad for smart phones, LED lighting and Ford's Co-Pilot 360 driver assist system with full-range adaptive cruise control, lane keeping assist, lane centering, blind spot and cross-traffic alert.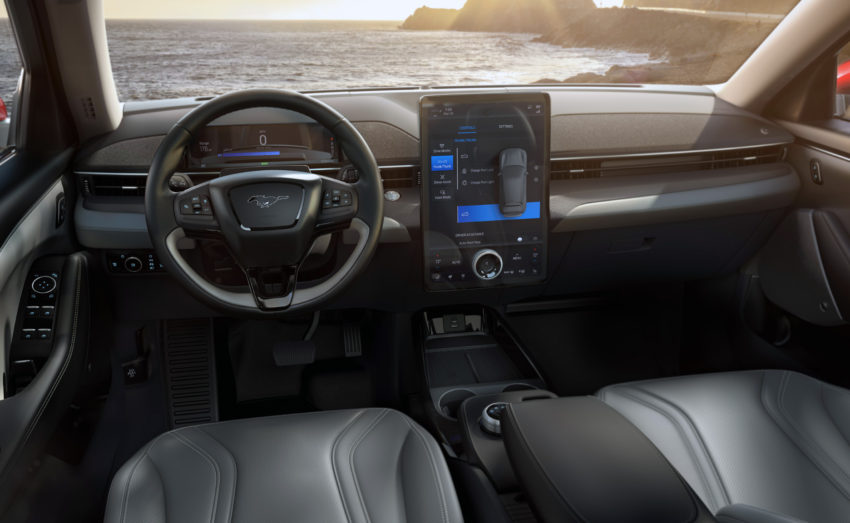 All models also have an engine sound generator that mimics the rising growl of an internal combustion engine as the Mustang Mach-E accelerates. It is not quite a pure "engine" sound because it is overlaid with some electronic tones and the oscillation of an ICE is smoothed out. It can be tuned for preference by selecting "Whisper," "Engage" or "Unbridled" from the menu displayed on the big touchscreen.
It can also be turned off for those who prefer the pure whine of an electric motor.
There is also a sort-of-engine sound that can't be turned off. It is broadcast outside the car at low speeds for pedestrian warning purposes.
There are two drive systems – rear wheel and electric all-wheel- and horsepower and torque varies by model and type of drive. All-wheel drive is electric, facilitated by Ford's two-motor electric powertrain. In rear-wheel drive configuration the small front motor serves as a generator; in all-wheel drive it also powers the front wheels.
There are a variety of seat upholstery styles, stitching patterns and and materials, but no leather. The interior is "animal free" in reference to Ford's desire to participate in a sustainable future.
Select the base Select trim – not available until early 2021 – and you'll get 18-inch alloys, standard rear-wheel drive and optional electric all-wheel drive. The Select is tuned for 255 horsepower and 306 pound-feet of torque in rear-drive and 255 horsepower with 417 lb-ft in all-wheel drive.
The Premium trim adds 19-inch wheels, second-generation active parking assistance, heated front seats, power mirrors, a front seat memory system, hands-free rear lift-gate, a 10-speaker Bang & Olufsen sound system and two battery options – standard and extended range. Rear-drive is standard and all-wheel drive as an option. Premium trim power output in rear drive with the standard battery is 255 hp/306 lb-ft. It jumps to 282 hp and 417 lb-ft with the extended range battery. In all-wheel dive, the Premium with standard range is rated by Ford at 255 hp/417 lb-ft; the extended range model jumps to 322 hp and 417 lb-ft.
The limited production First Edition adds a panoramic fixed glass roof and some model-specific sporty trim items such as metallic brake and accelerator pedal covers. It will be available only with all-wheel drive and extended range battery. Ford says it is aiming at 332 horsepower and 417 lb-ft.
Step up to the California Route 1 trim for special badging and exterior design elements. But it drops back to 18-inch wheels and loses the heated front seats. You'll get rear-wheel drive and the extended range battery, 282 horsepower and 306 lb-ft of torque.
The GT rolls on 20-inch alloys, is all-wheel drive only and has the extended range battery. It drops the parking assist feature and the panoramic glass roof. The electric powertrain is amped-up to produce 459 horsepower and 612 lb-ft. Ford says it will run a 0-60 mph sprint in the "mid three-second range."
About Those Batteries – and Range
The Mach-E's standard range battery is a 75.7 kilowatt-hour lithium-ion pack mounted in 10 modules sandwiched between the axles and under the floor. The cells are liquid-cooled and the modules are surrounded by an aluminum frame for increased crash safety.
Mustang Mach-E models with the standard range battery and rear-wheel drive should deliver up to 230 miles of range per charge. "Standard" range falls to 210 miles with all-wheel drive.
The extended range battery is significantly larger – 98.8 kWh packed into 12 modules mounted beneath the floor.
The Premium trim with optional extended range is Ford-rated at 300 miles with rear-drive and 270 miles with all-wheel drive.
The California Route 1 – with standard rear-wheel drive and extended range battery – is rated at 300 miles.
Because horsepower sucks energy, the GT Performance Edition sees at little dip in range, to 260 miles. The base GT retains the EPA's 270-mile range estimate for AWD, extended range models. But remember, the EPA test wasn't done with a foot-on-the-floor driving style.
Cargo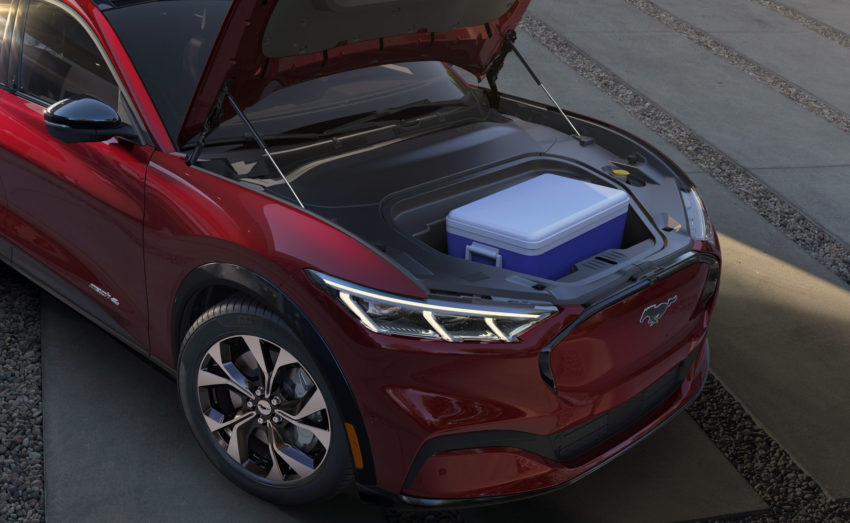 The Mach E provides 29 cubic feet of space in the rear cargo area. Storage capacity increases to 59.6 cu. ft. with the rear seat backs folded down – they lay almost flat.
There also is a 4.8 cu. ft. front trunk, or "frunk," (a term borrowed from Tesla) that is waterproof and fitted with a drain plug. It can serve as an on-board ice chest or wet-cargo carrier when not used for dry storage. It will comfortably hold a regulation airline carry-on bag.
Charging
All Mustang Mach-E models come with a standard dual power charging cord-set; Used with standard 120-volt household current for Level 1 charging it will add abut 3 miles of range per hour; switching it to 240-volt, Level 2 current and it can add electrons fast enough for an hourly range gain of 22 miles.
Ford dealers also will sell a 48-amp, wall-mounted charging station that also operates at Level 2 but can add range at a rate of about 32 miles per hour.
Pricing for the Ford charger hasn't been set, but the company said it will be well-priced versus the competition. The Mach-E is compatible with most other wall-mounted charging systems sold in the U.S., for owners who don't want Ford's system.
Finally, all models are equipped to handle fast DC charging, typically reserved for topping up batteries on the road to make longer trips possible.
Ford has teamed with a number of commercial fast-charge networks to provide one-card billing for Mach-E drivers.
Design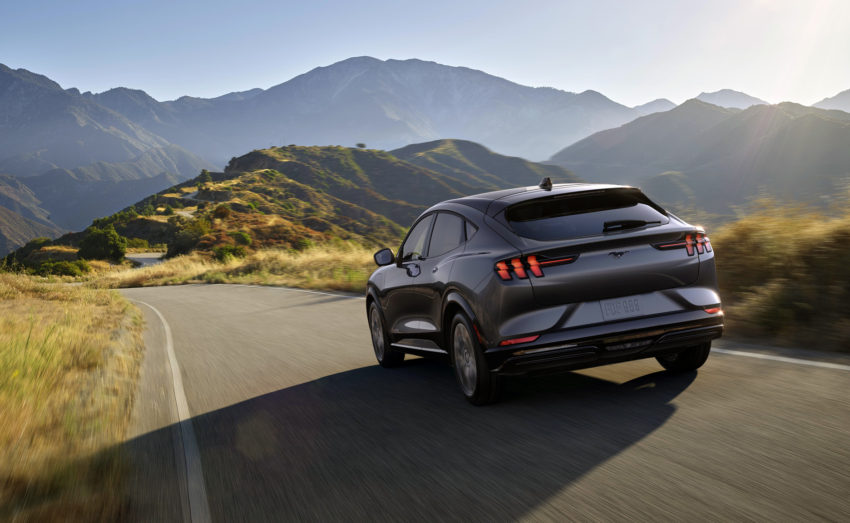 The photography, courtesy of Ford, speaks for itself. As beauty is in the beholder's eye, we'll let readers judge the Mach-E's looks for themselves.
Overall, though, we found the Mach-E to be easy on the eyes, with distinct and distinctive touches of the iconic Mustang sports coupe, a muscular stance and a pleasant, well-thought interior.
Comfort and Ride
We didn't get a n opportunity to drive – the only Mach-E models on the road are hand-built early prototypes and Ford doesn't trust journalists with them.
But Ford ended a two-hour deep dive into the Mach-E earlier this week with a short ride to show off the cabin – it is comfortable and roomy, with plenty of headroom even in the back seat – and the performance.
The Mach-E seems smooth and well-grounded even on rutted LA surface streets. Acceleration is head-snapping, as is the norm with most EVs, and on a short slalom course the Mach-E remained firmly planted with little body roll or tire squealing.
In addition to not driving, we didn't get much opportunity to play with the new SYNC system or sample the audio system. We're looking forward to all that when we're able to test a production model next year.