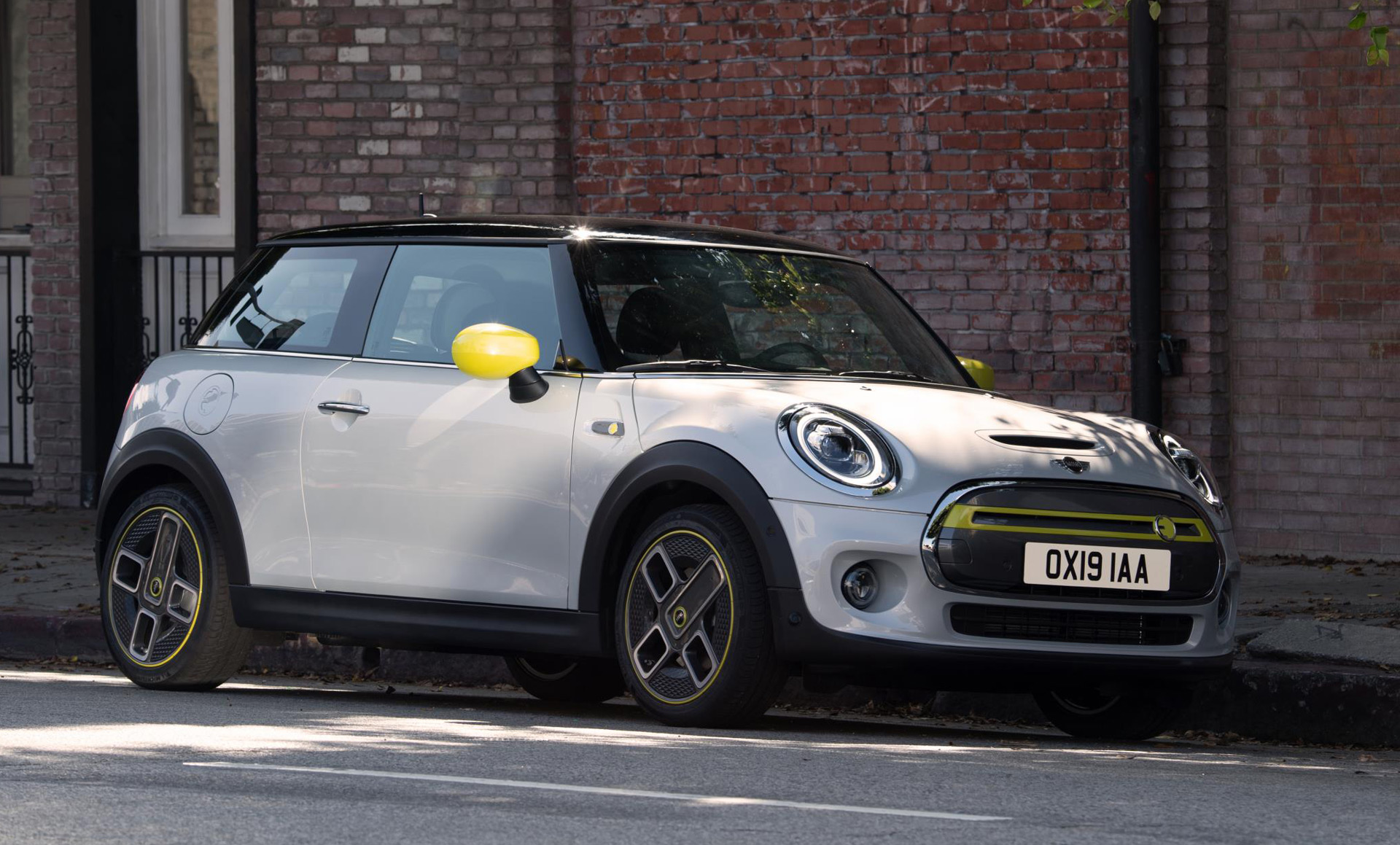 The upcoming 2020 Mini Cooper SE – a 2-door hardtop EV – will be one of the most powerful models in Mini's lineup, according to official data released this week.
Only the gasoline-engine Cooper S and John Cooper Works models have more power – and neither offers the immediate torque surge of an electric vehicle.
Mini, whose last all-electric car was a limited production, lease-only demonstration model available from 2009 through 2011, has designed the Cooper SE to be a global car. It is part of Mini parent BMW Group's effort to jump into electrification with 12 new models by 2025.
A few details about the new electric Mini have leaked out in recent weeks, but Mini made its first official announcement this week. Range, pricing and U.S. on-sale date were not disclosed, but the five-seat, front wheel drive Mini Cooper EV is expected to be in dealer showrooms by early 2020.
Range was estimated by BMW at 114 miles for the U.S.model – a tad better than the 2008 Cooper E's 100 miles.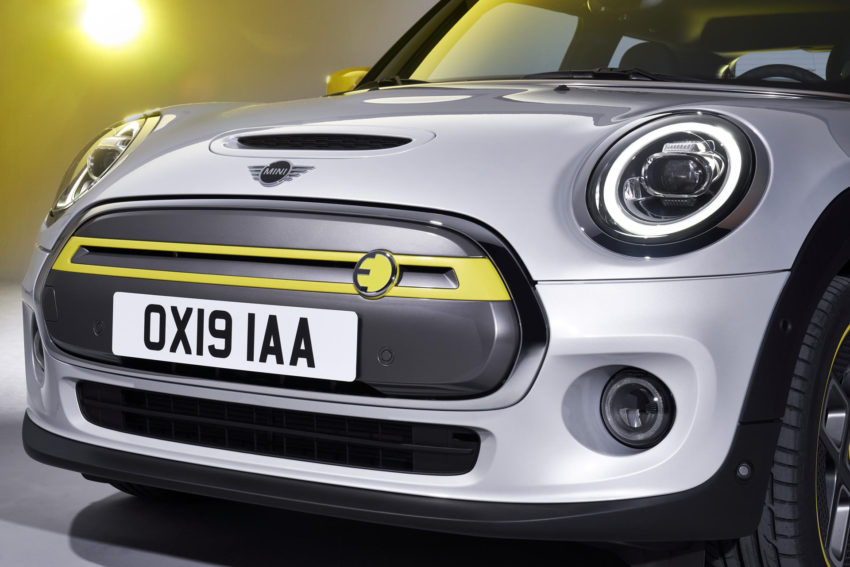 Details
Here's what else we know, by the numbers:
Motor: Electric, 135 kilowatts.
Transmission: Single-speed gear reduction.
Output: 181hp, 199 lb.-ft. of torque.
Power: 0-62 mph sprint, 7.3 seconds.
Top Speed: 93 mph (electronically limited).
Dive modes: There are four – Sport, Mid (Comfort), Green and Green Plus, which can shut down the automatic climate control system and seat heaters to maximize range.
Battery: 32.6 kWh, lithium-ion.
Charging: Level 2, 240-volts, approximately 5 hours at a nominal 7.4 kW per hour to recharge a completely depleted battery. Level 3 (DC Fast charging), an 80 percent top-up (80 to 90 miles of range) in 30 minutes at a nominal 50 kW per hour.
Capacity: 5 passengers.
Cargo: Rear seats up, 7.4 cubic feet; rear seats folded, 25.8 cu. ft.
One Pedal
There will be two driver-selectable levels of regenerative braking.
It's not clear whether either will replicate the fierce and sometimes reviled stopping power of the original Mini E's regenerative system. But the company did say this week that the 2020 model "perceptibly decelerates" when the accelerator pedal is released.
The Mini Cooper SE can be driven "using a single pedal," Mini's release went on to say, indicating that the stopping power of the regenerative system is enough to bring the car to a complete halt without use of the mechanical brakes. It does take a bit of time and practice, however, to get the hang of the distances it takes to slow and stop a "single pedal" EV without physically applying the brakes.
Smaller Battery, More Space
The Mini Cooper SE's "T" shaped battery is situated under the rear seat and between the front seats, and is installed low in the floor for a ground-hugging center of gravity.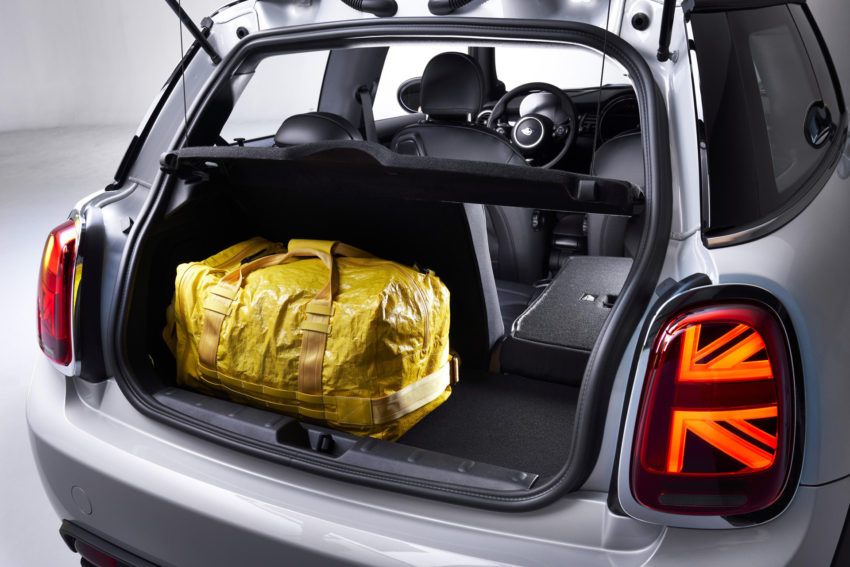 Although the battery has almost the same capacity as the demonstration Mini E's 35 kWh pack, it is much smaller in size. The Mini E had no rear seat or rear cargo area – the battery took all that space.
The 2020 Cooper SE's cargo area is the same size as the cargo area in the gasoline-burning models, according to the automaker.
A Trio of Trims
The Mini Cooper EV will have three trim levels, Signature, Signature Plus, and Iconic. Each offers a specific combination of exterior finish, 16-inch alloy wheels, seat upholstery and interior fittings.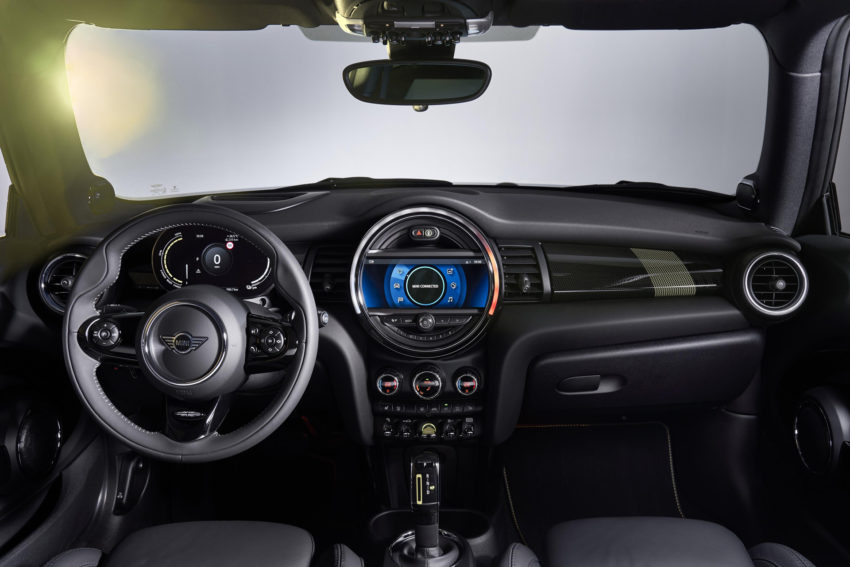 All trims come with navigation and a standard 5.5-inch EV-specific info screen directly in front of the driver. Mini's familiar large circular infotainment screen remains in the center of the dash.
The exterior side mirror caps and ornamental horizontal bar across the grill are painted gray but can be ordered with an optional yellow finish (we'd earlier reported that the yellow highlights were standard).
The Mini Cooper EV will built at Mini's plant in Oxford, England. Batteries will come from BMW's facility in Germany.