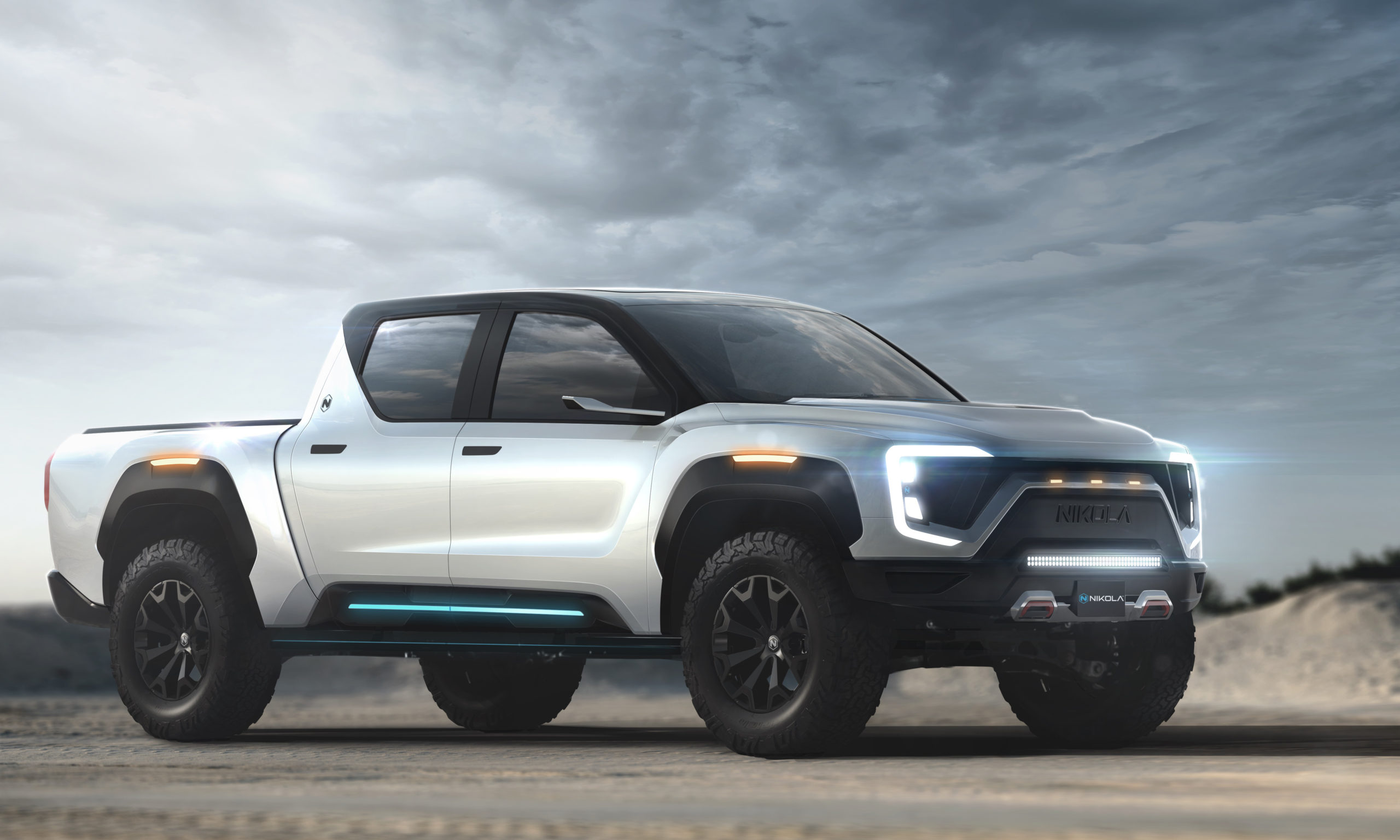 Electric big-rig developer Nikola Corp. says it will joining he parade of clean, green light truck makers with the Nikola Badger electric pickup
The truck will be designed to combine a plug-in battery-electric system with a hydrogen fuel-cell system and can operate in either battery-only or fuel cell/battery blend modes.
Phoenix-based Nikola says the four-door pickup will be able to travel up to 600 miles blending hydrogen fuel-cell and battery power, or 300 miles on plug-in battery power alone.
The company said the truck is being designed to provide 980 lb-ft of torque and 455 continuous horsepower, with a four-ton towing capacity.
Nikola said the Badger electric pickup is to make its debut later this year at the company's Nikola World 2020 product exposition, slated for the Phoenix area in September.
The truck is being designed and developed by Nikola in conjunction with custom vehicle builder and TV personality Dave Sparks – Heavy D – of the "Diesel Brothers" TV program.
The development and testing will be tracked on Diesel Brothers episodes later this year.
Badger electric pickup production models will be built in partnership with an as-yet unnamed vehicle builder using that company's parts and manufacturing facilities and Nikola's powertrains and fuel systems, said Trevor Milton, Nikola's founder and chief executive.
With the Badger, Nikola will be joining Ford, General Motors, Tesla and start-ups Rivian and Bollinger in the electric pickup segment. Nikola's truck, though, is the only one using a fuel cell system, which produces electricity via an on-board thermo-chemical process triggered by running pressurized hydrogen gas and oxygen through a catalyst.
The company has raised more than $1 billion for development of its fuel-cell powered Class 8 trucks, with backing from the likes of CNH Industrial, parent of IVECO trucks; automotive components developers Bosch and Wabco; brewery giant Anheuser Busch, and Worthington Industries, a global steel company.
Nikola currently is testing its Class 8 trucks – there are two versions for long-haul and day-trip use – and has promised retail availability in 2022.
The company also plans to build a network of 700 hydrogen fuel stations to supply its trucks and other fuel-cell vehicles. The stations also will have chargers for battery-electric vehicles.
Unlike the dual-system pickup, Nikola's big rigs are designed to use either a fuel-cell system or a battery-only electric powertrain.
Developing and marketing the Badger light pickup "will help drive down the cost of the fuel-cell components on our semi-truck while accelerating the hydrogen station rollout," said Mark Russell, Nikola's president.
Neither pricing nor an on-sale estimate for the Badger electric pickup have been disclosed by Nikola
The Badger, By the Numbers
Five-seat, four-door pickup.
0-60 acceleration in under 3 seconds.
600-mile range using fuel cell and battery charge; 300 miles on battery alone.
906 peak horsepower.
455 horsepower – continuous.
980 lb-ft of torque.
8,0o0-lb towing capacity.
160 kWh lithium-ion rechargeable battery.
120 kW fuel cell.