It's kind of official: The U.S. version of the 2021Mitsubishi Outlander PHEV finally gets the engine, battery and electric AWD system upgrades that Asian and European market shoppers started seeing with the 2019 model.
TheGreenCarGuy mentioned those upgrades in our 2018 review of the Outlander plug-in hybrid crossover. Mitsubishi later told us it would be 2020 at the earliest before they'd come to the U.S.
Now there are reports that in a filing with federal regulators, Mitsubishi shows that it is replacing the U.S. Outlander PHEV's 2.0-liter gas engine for the 2021 model year with a version of the 2.4-liter engine and beefier rear electric motor used in the European and Asian models.
We expect the 2020 model to go on sale late this year.
New Looks
At the same time it gets the powertrain upgrades, the Mitsubishi Outlander PHEV gets a new look. Mitsubishi has done a complete Outlander redesign, including a new platform, probably one shared with the Nissan Rogue. Mitsubishi, Nissan and Renault are the three members of the industry's largest automaker alliance. They share research, engineering and even some components to help control costs.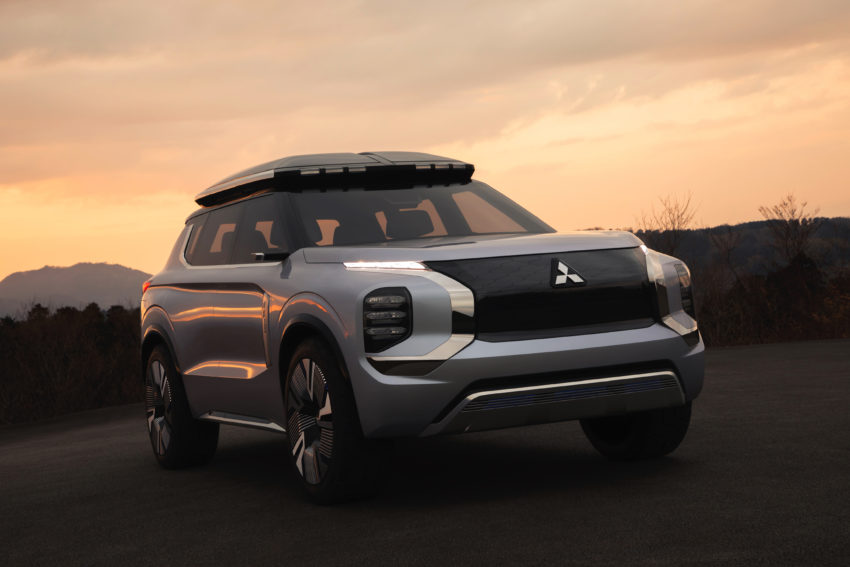 Mitsubishi is expected to be using its Engleberg PHEV concept – first shown last year at the Geneva Motor Show – as the basis for the 2021 Outlander exterior design.
A recently published set of spy photos showed a heavily camouflaged next-generation Outlander test model with the same squared nose and vertical lozenge-shaped headlight housings as the Engleberg concept.
More Power, Range
Mitsubishi's filing with U.S. regulators shows that in addition to the larger four-cylinder gas engine, the '21 Mitsubishi Outlander PHEV will use a duel electric motor system , as does the current model, but with more power for the motor driving the rear axle.
The PHEV's battery also grows to 13.8 kWh from the current 12.0 kWh.
Horsepower for the new gas engine is up just a bit more than 7.5 percent, to 126 ponies from 117. The new rear electric motor jumps 16 percent to 93 hp from the current model's 80 hp. The front motor remains unchanged at 80 hp.
The combined system output from the current 2.0-liter, twin electric motor setup is 190 hp. Expect at least 205 horsepower from the 2021 system.
The new model's larger battery and more powerful rear electric motor also could translate to a nice boost in all electric range. The present model gets 22 miles on the federal EPA's test cycle for plug-in hybrids. Maybe we'll see 30 miles for 2021?