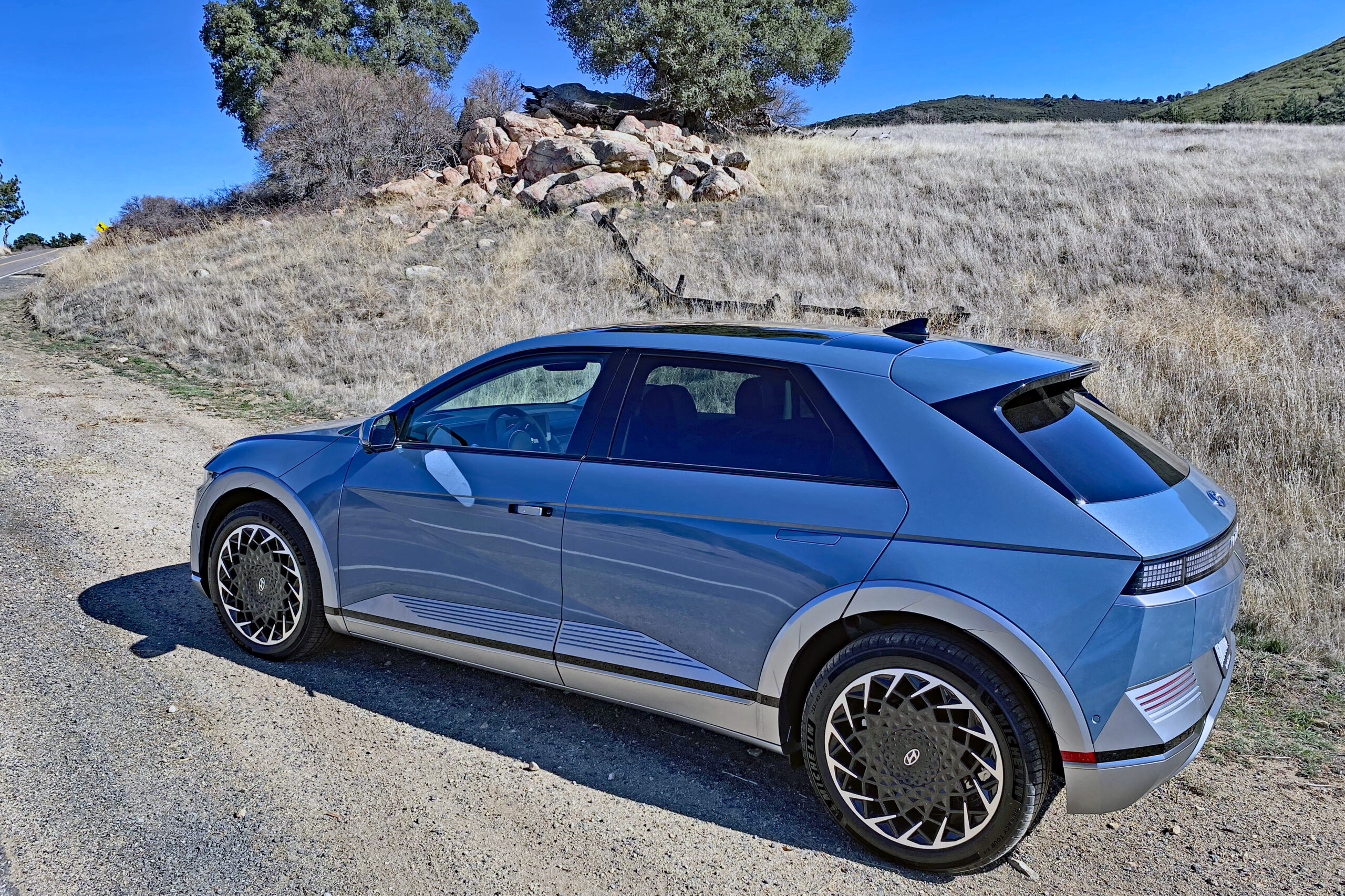 Were I in the market for a new car, the 2022 Hyundai Ioniq 5 would be high on my list of possibles. This is one good-looking, superbly equipped, roomy, fun-to-drive and hard-charging – but not hard to charge – EV.
Hyundai's already announced Ioniq 5 pricing and we've done a tour of the U.S. trims, features and looks, but until recently hadn't had the opportunity to get behind the wheel.
[A 6-min. read.]
That happened in early December on Southern California drive route that included in high-speed freeways, twisty inland rural roads and a fairly steep climb up a 5,000-foot mountain, for a total of about 175 miles, supposedly well within the range of our tester, the dual motor all-wheel drive version of the top-of-the-line Limited trim.
It's Efficient
The EPA says twin-motor, 320 horsepower Limited AWD can deliver up to 256 miles on a full charge of its 77.4 kilowatt-hour battery.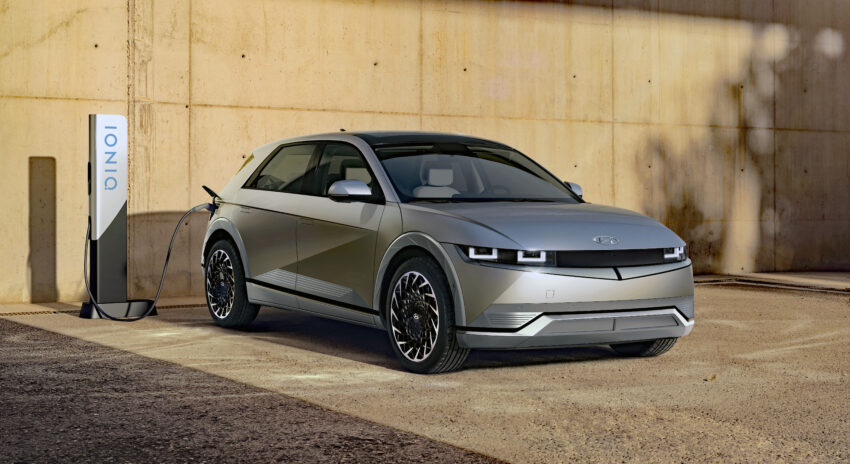 We finished the drive with 65 miles of juice remaining. That means the Ioniq 5's pretty efficient: We lost only 16 miles to quick starts, high speeds and mountain roads.
In terms of energy use, the Ioniq 5 is in the top tier of all EVs for EPA-rated efficiency, at 30 kilowatt hours per 100 miles for the single-motor long range version (77.4 kilowatt-hour battery), 31 kWh per 100 miles for the single motor with 58 kWh battery and 34 kWh per 100 miles for the long-range, dual-motor AWD version.
Only the various Tesla and Lucid Air models along with the Hyundai Ioniq Electric sedan, Hyundai Kona Electric, Chevrolet Bolt and Bolt EUV and the just-rated Kia EV6 single motor versions can travel 100 miles on less than 30 kWh, according to the EPA.
Standing Alone
The Ioniq 5 is Hyundai's first dedicated EV – meaning it wasn't built on a platform shared by a Hyundai with an internal combustion engine, as are the Kona Electric small crossover and Ioniq Electric compact sedan.
Instead, it uses the new e-Global Modular Platform ("e" for electric) co-developed by Hyundai and Kia, its corporate sibling, Kia, and slated for new lines of lines Hyundai and Kia EVs.
The platform's skateboard design places the batteries beneath the floor and between the axles, resulting in a road-hugging low center of gravity and a nicely balanced ride with minimal body roll or bouncing on less-than perfect roads.
The platform and the absence of a bulky internal combustion engine and its transmission also gave Ioniq 5 engineers and designers the ability to push the wheels way out to the corners, slide the firewall forward and offer up the interior space of a large midsize car in what, on the outside, is a small crossover body.
That long wheelbase – at 118.1 inches it's the longest in its competitive class and longer, even, that the full-size Hyundai Palisade 3-row SUV's – has one slight drawback, though. It makes for a nice smooth ride on the freeway, but robs the two-tons-plus Ioniq 5 of a bit of sprightliness, rendering it a tad stodgy on the twisties.
Kia's EV6 small electric crossover, built on the same platform as the Ioniq 5 and sharing the same powertrains, is almost 2 inches longer from nose to tail but has a shorter, 114.3-inch wheelbase. It will go on sale by early spring 2022 and we'll have fun comparing handling when we get into an EV6 tester.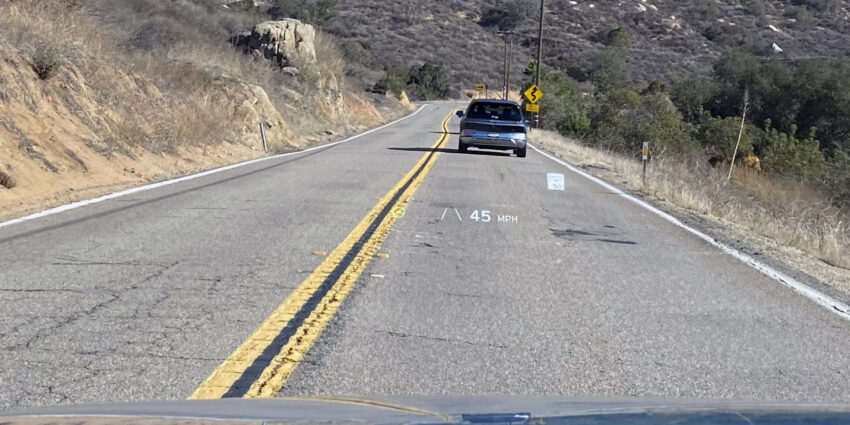 Quick Enough
In sheer acceleration, the 2022 Ioniq 5 in its dual motor configuration is quick, although the dual motor Tesla Model 3 Long Range will finish well ahead in a race from a standing stop to 60 mph.
At a Hyundai-estimated 5.1 seconds from 0-60 (my seat-of-pants feeling is that it is actually a little quicker) The Ioniq 5 long range dual motor will trounce the dual-motor Volkswagen ID.4 Pro, however, and will hit the 60-mph mark nose to nose with the twin-motor, extended range Mustang Mach-E Premium.
The Ioniq 5 offered up a gratifying mix of sporty handling and firm-but-comfortable ride quality on our test drive. It isn't nimble as, say, a Mustang Mach-E on mountain roads, but it handled well with little body roll. Steering in sport mode was tight and responsive.
The three driving modes are activated by a button located at the bottom left of the steering wheel. "Sport" adjusts accelerator and steering for maximum responsiveness, "Normal" is for everyday driving and "Eco" dulls accelerator response and adjusts heating and air conditioning output to conserve battery power.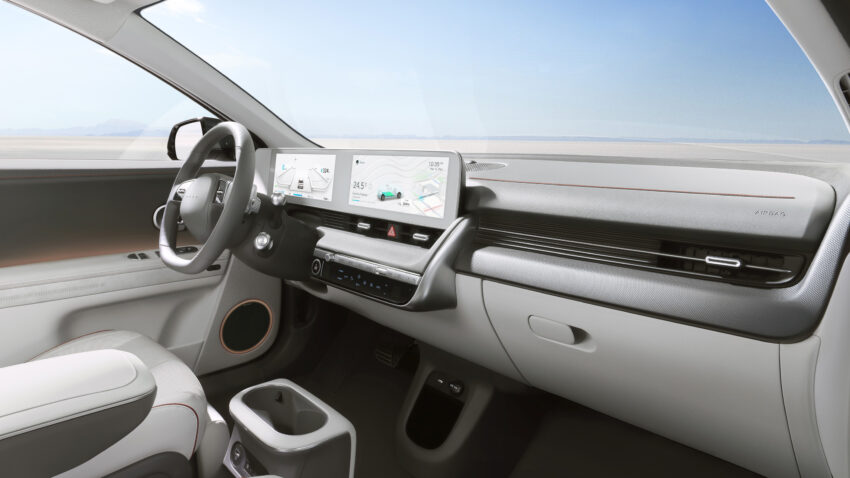 All three AWD models ditch an energy-sucking electric heater and use a more efficient heat pump for cabin conditioning.
A pair of 12.3-inch info screens – one for the drive and one for the infotainment system, dominate the dash although there are a few knobs and buttons for things like the climate control system and audio volume.
One switch, located just to the right of the blue arrow that increases air conditioner output, is labeled "warming." It turned out on investigation that it has nothing to do with the AC system and instead brings the seat heater controls up on the infotainment screen – which is where many of the Ioniq 5's settings are controlled.
I'm not a fan of burying key settings and controls in the infotainment system, but Hyundai's user interface is fairly easy to use, so there's that.
And on a final note, our test car had reclining front seats with electronically deploying foot rests, designed to facilitate a short rest break while parked at a fast charge station.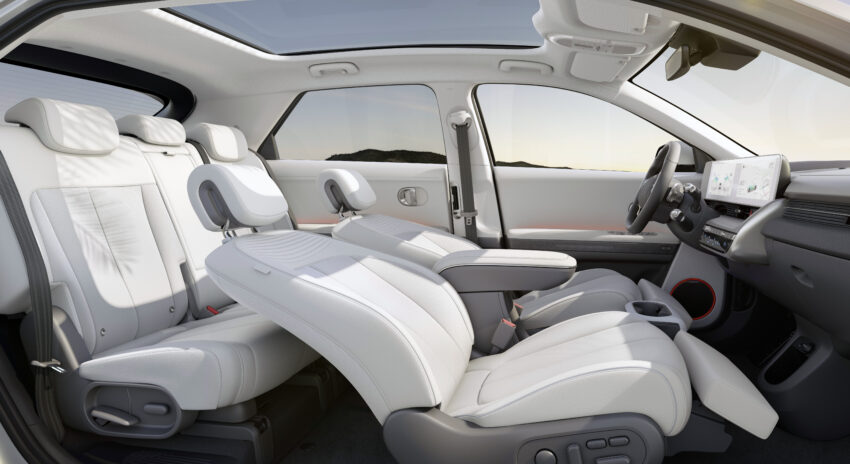 Fast Charging, Too
It might be a short break, though.
Hyundai uses an 800-volt electrical architecture in the 2022 Ioniq 5 for ultra-fast charging on road trips. The industry standard is 400 volts. More 800-volt EVs are coming, mostly in the super-premium and luxury classes, but right now the only other EV in the market with 800-volt charging is the Porsche Taycan.
If you can find a DC quick charge station rated at 250 kilowatts or greater, so it can make full use of the 800-volt capacity, a Ioniq 5's 90 percent depleted 77.4 kWh battery can be brought up to 80 percent of capacity in just 18 minutes. The same recharge is slower but still fairly quick at 25 minutes on more common 150 kilowatt equipment.
Home charging the Ioniq 5 takes about 6 hours and 45 minutes thanks to its standard 10.9 kilowatt Level 2 (240-volt) on-board charger.
Not Yet a 50-State Car
The six Ioniq 5 variants with the long-range 77.4-kWh battery are slated to arrive in dealerships in select states this month. A base model with a 58-kWh battery and less range and horsepower is coming by the second quarter of 2022.
Three of the first six versions will be configured as 225-horsepower, single-motor, rear-wheel drive models with EPA-estimated range of 303 miles per charge; three will be 320-horsepower, dual-motor, all-wheel drive versions with up to 256 miles of range. The base trim will have a 165-horsepower single motor, rear wheel drive and 220 miles of range.
Pricing – before applying available incentives – runs just under $41,000 to just under $56,000.
All Ioniq 5 versions qualify for the base $7,500 federal tax credit for EVs and in many of the initial on-sale locations various state and local incentives can reduce the cost of acquisition by thousands More.
California, Colorado, Connecticut, Maine, Maryland, Massachusetts, New Jersey, New York, Oregon, Rhode Island, Vermont and Washington, the states with zero-emission vehicle requirements, get the Ioniq 5 first – along with Arizona, Florida, Illinois, Texas and Pennsylvania, which Hyundai sees as EV-friendly states.
Other states will join the distribution list throughout 2022 and 2023.