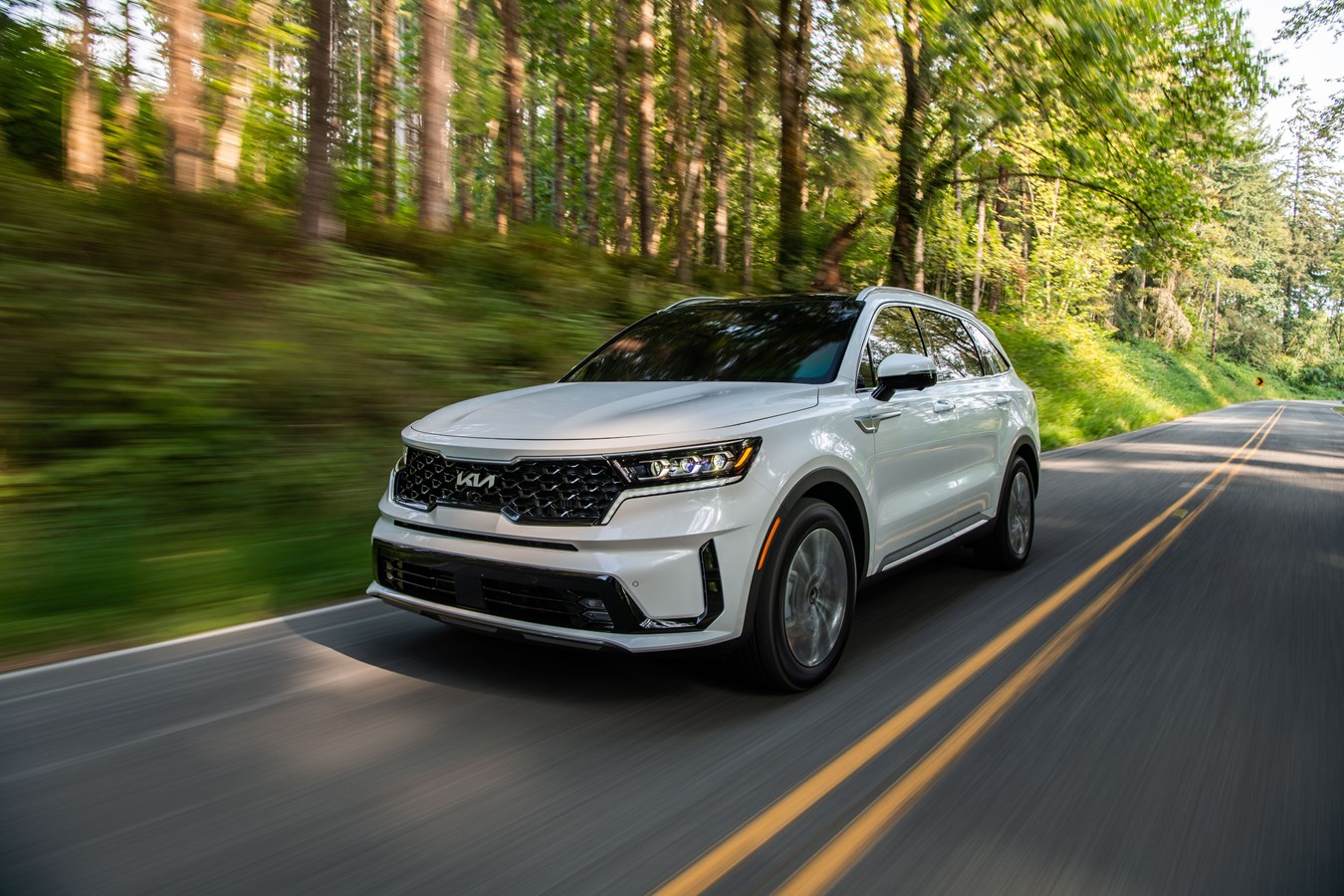 Kia's Sorrento PHEV line drops its base trim for the 2023 model year in favor of a single, fully loaded model for 2023 .
The Sorrento Plug-in Hybrid SX-P, formerly the SX Prestige, gets an $1,800 price hike to $51,185 including destination, as well as a few additional comfort and convenience items on its already long list of standard features.
The plug-in hybrid version of Kia's popular mid-size, three-row Sorrento was introduced as a two-trim lineup for the 2022 model year. The company apparently looked at the take-rate for the line-topping SX Prestige version and decided it didn't need the lower-priced Plug-In Hybrid SX trim to keep customers happy.
New Stuff
New as standard equipment for 2023 are HomeLink wireless control for doors, gates and home lighting; retractable rear door sunshades and an inverter that lets the PHEV's 13.8-kWh battery be tapped to provide power for appliances such as a laptop or electric drill.
Lots of Carryover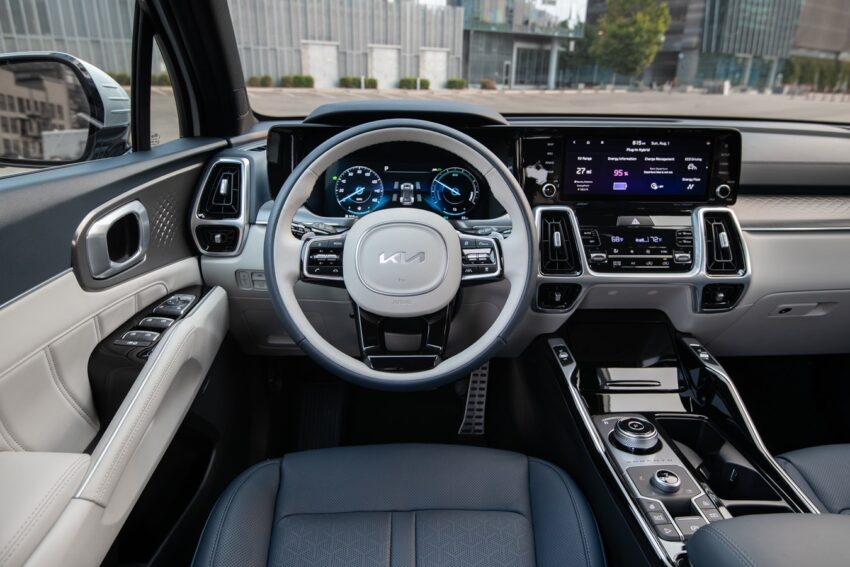 Standard equipment carrying over from 2022 includes all-wheel drive, a 261-horsepower gas-electric hybrid system with 258 pound-feet of torque, leather seating for six (the 2-position third row is best suited for kids) and an infotainment system that has navigation, a 10.25-inch touchscreen, a 12-speaker Bose Centerpoint surround sound audio and wireless phone charging but requires a USB connection for Apple CarPlay and Android Auto.
Also carried over from 2022 is a full suite of advanced safety and driver assistance technology including forward-collision avoidance with automated emergency braking, adaptive cruise control, Highway Driving Assist with lane centering and vehicle following, blind-spot and rear cross-traffic avoidance assist, lane-departure warning, high-beam assist, a surround-view monitor, driver attention warning, and a rear seat-occupant alert.
Same Efficiency
Kia says the Sorrento PHEV will retain the same EPA ratings for 2023 – up to 32 miles of all-electric range with overall fuel efficiency of 79 MPG-equivalent. That's best-in-class unless the 2023 Mitsubishi Outlander can beat it.
Competition
There's not a lot to choose from in the midsize plug-in hybrid SUV category, but shoppers who don't need a three-row should take a look at the less expensive Hyundai Santa Fe PHEV and the more-expensive Jeep Grand Cherokee PHEV. If three rows are a must, there's also the upcoming redesigned 2023 Mitsubishi Outlander PHEV, which should hit the market at a much lower price than the '23 Sorrento PHEV.
And if the PHEV's tailpipe emissions-free all-electric range and 79 MPG-efficiency rating aren't selling points, there's always the standard hybrid version, which comes in several trim levels topping out with the all-wheel drive Hybrid SX-P. It is rated at less than half the PHEV's efficiency – 34 mpg combined – and has 17inch wheels instead of 19-inchers. Otherwise, it has most of the same features as the SX-P plug-in at an MSRP that's $7,500 less.
Incentives
As of now, the Sorrento PHEV doesn't qualify for any federal tax credit because it is not assembled in North America (neither are the Hyundai or the Mitsubishi) and, apparently, doesn't have battery components from the right places, as defined by the clean vehicle provisions of the new Inflation Reduction Act (IRA) of 2022. It will continue, however, to qualify for various state and local incentives, such as California's $1,000 Clean Vehicle Rebate for qualified plug-in hybrids.