First Drive Review
60% Horsepower Increase
Up to 57 MPG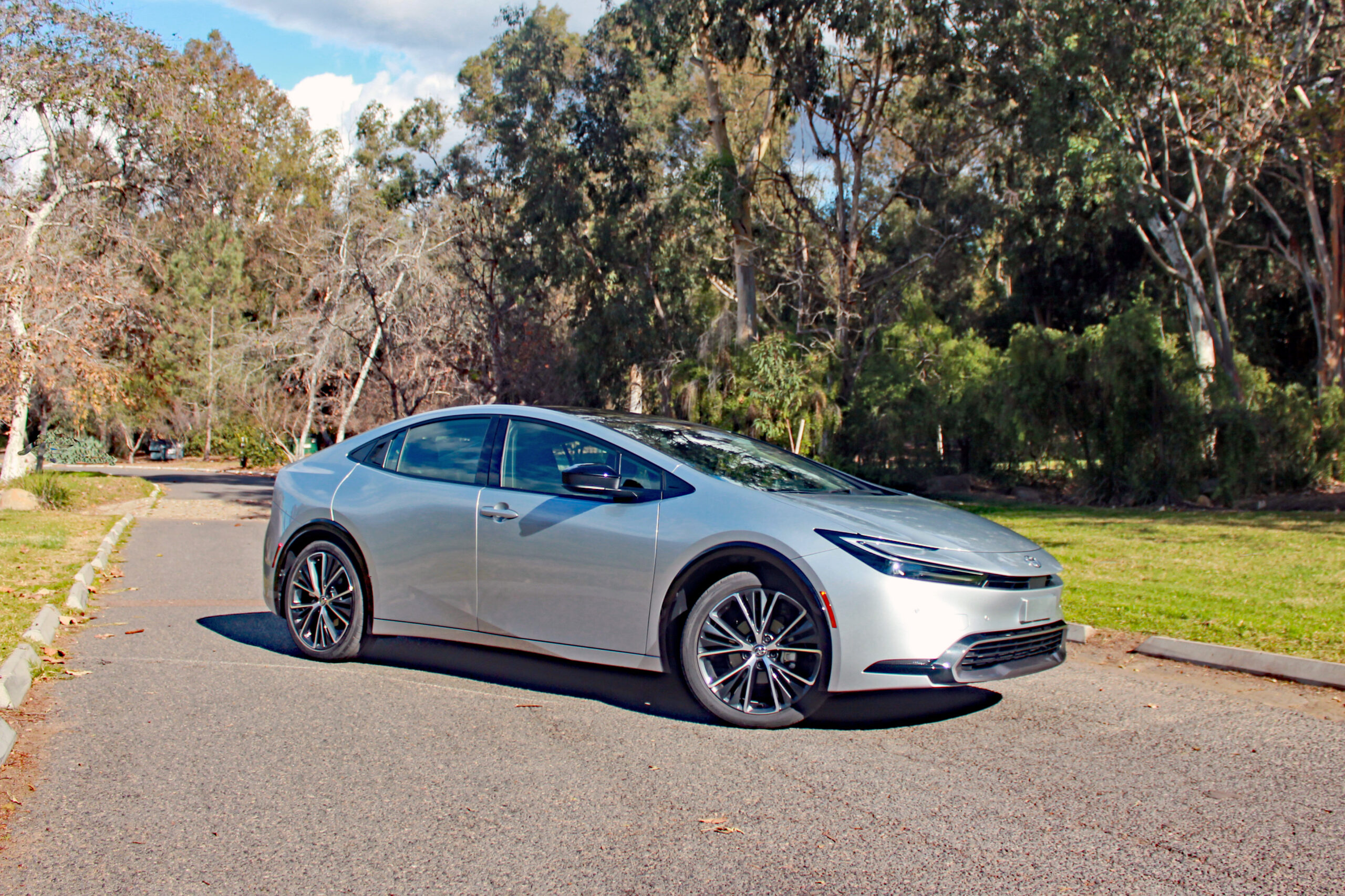 Toyota's redesigned 2023 Prius is well worth oohing and aahing over. Compared to past Priuses, the 2023 model is a thing of beauty, its aerodynamic wedge shape concealed by svelte sheet metal that gives it the look of a sleek and curvy coupe.
It also offers a lot more power – this is a Prius that, while not a performance car, can now get out of its own way. At the same time, it retains the stellar fuel efficiency that has been a Prius hallmark since day one.
Toyota says its wants to attract younger buyers and redesigned the Prius to help do that while not alienating the core Prius fan.
We think the accomplished that mission.
Smaller Inside
If there's any downside to the redesign, it's that the sculpted new exterior and reworked platform, while enabling the 2023 Prius to grow an inch in both length and width, also chopped two inches off its height.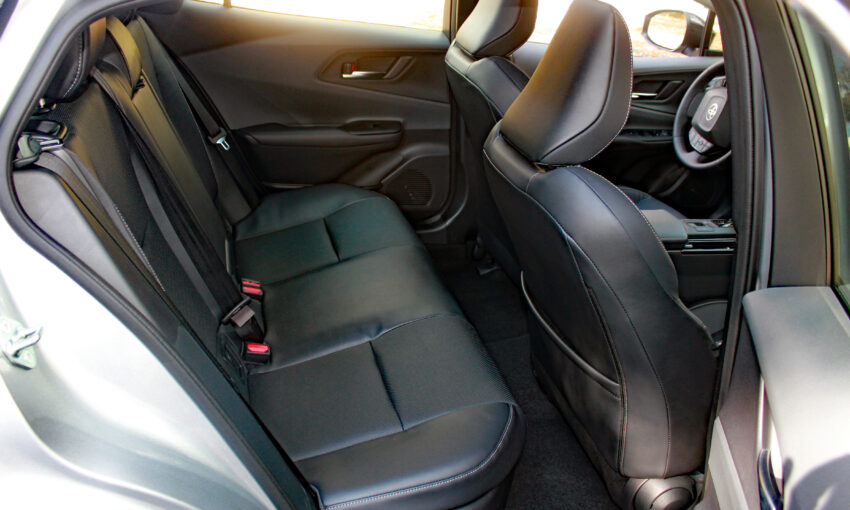 Gone are the spacious interior and capacious cargo bay that have marked the past two Prius generations.
The 2023 Prius is still fairly roomy – legroom is up an inch in the front and almost 1.5 inches in the rear, and there's 1.3 inches more hip room in the front row.
But headroom is down 1.4 inches up front and an inch in the rear. Taller occupants may find their hairdos mused up and scrunched down a bit.
More concerning to some shoppers than the reduction in head space, though, may be that the swoopy roofline also reduces cargo bay height, lopping 7 cubic feet off the area, per Toyota's measurements. There's still a generous 20 cubic feet, but that's 25% less than in the previous generation Prius.
More Power
On the plus side, the redesigned 2023 Prius has a new hybrid system that's Toyota-rated at 194 horsepower – 196 ponies for the all-wheel drive versions of all three trim levels. That's an impressive 60% increase from the '22 model's 121 ponies for both front- and all-wheel drive models.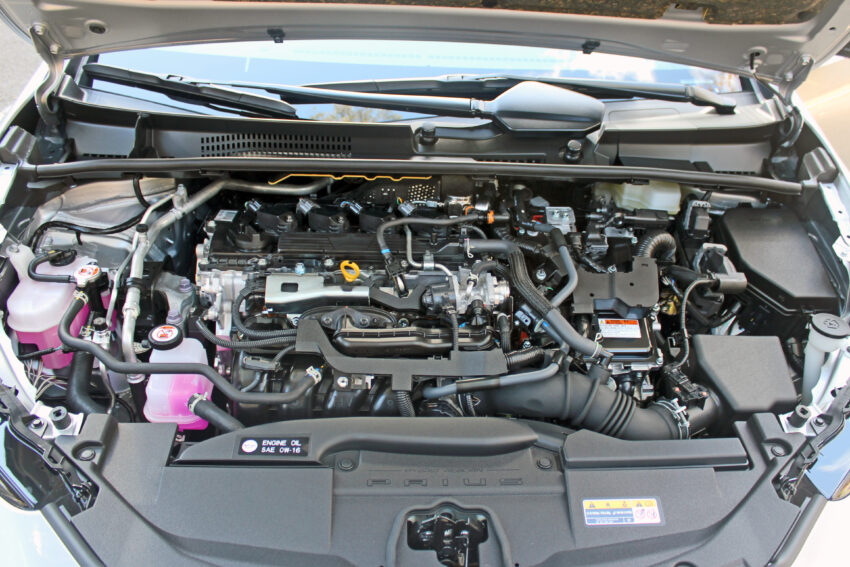 The boost comes in both the gasoline and electric portions of the hybrid powertrain. For 2023, the Prius gets a 2.0-liter gas engine rated at 150 hp, versus the previous model's 96 hp, 1.8-liter engine. The 111-horsepower front mounted electric motor is 56% more powerful than its predecessor.
(That adds up to 261 horsepower, but when both ICE and e-motor are operating together neither operates at peak, reducing the front-drive hybrid system's maximum combined output to 194 ponies.)
The all-wheel drive version gets a separate 40 horsepower e-motor on the rear axle, electronically controlled and capable for the first time of splitting torque. The new rear motor has 62 pound-feet of torque, a 50 percent increase from the '22 model.
Great Efficiency
Fuel economy rather than 0-60 speed always has been the selling point for the Prius. Efficiency has to share billing now with the new model's great new looks, but for many it will remain first on the list of attributes.
Despite the big horsepower hike, the base LE trim with front drive should deliver up to 57 miles per gallon, according to Toyota's estimates. That's a Prius best as the previous efficiency leader – the Eco trim, dropped for '23 – had an EPA rating of 56 mpg combined. All wheel-drive drops the LE's combined estimate to 54 mpg.
Other front-drive trims deliver a Toyota-estimated 52 mpg and their all-wheel drive versions drop to 49 mpg in combined city and highway driving. That's the same as in the 2022 lineup.
At the end of a recent 42-mile run on 91-octane gas, the on-board computer in our mid-grade XLE trim with its optional glass roof showed that my co-driver and I had achieved 49.1 mpg, with 66% of the miles driven on electricity. That was without engaging EV mode, which is driver-selected. It locks out the gas engine and only works at low speeds for short distances.
Better Handling
Additionally, the new Prius' revamped platform offers stiffer suspension and a longer wheelbase than before.
All that makes it more fun to drive than is predecessors, although it's not a terribly engaging ride.
Both versions are about 3 seconds quicker from 0-60 than the '22 model: 7.2 sec vs 10.5 in front drive, 7 sec. vs 9.8 in AWD. Heartfelt prayers before tackling a steep climb or a quick overtake are now merely optional.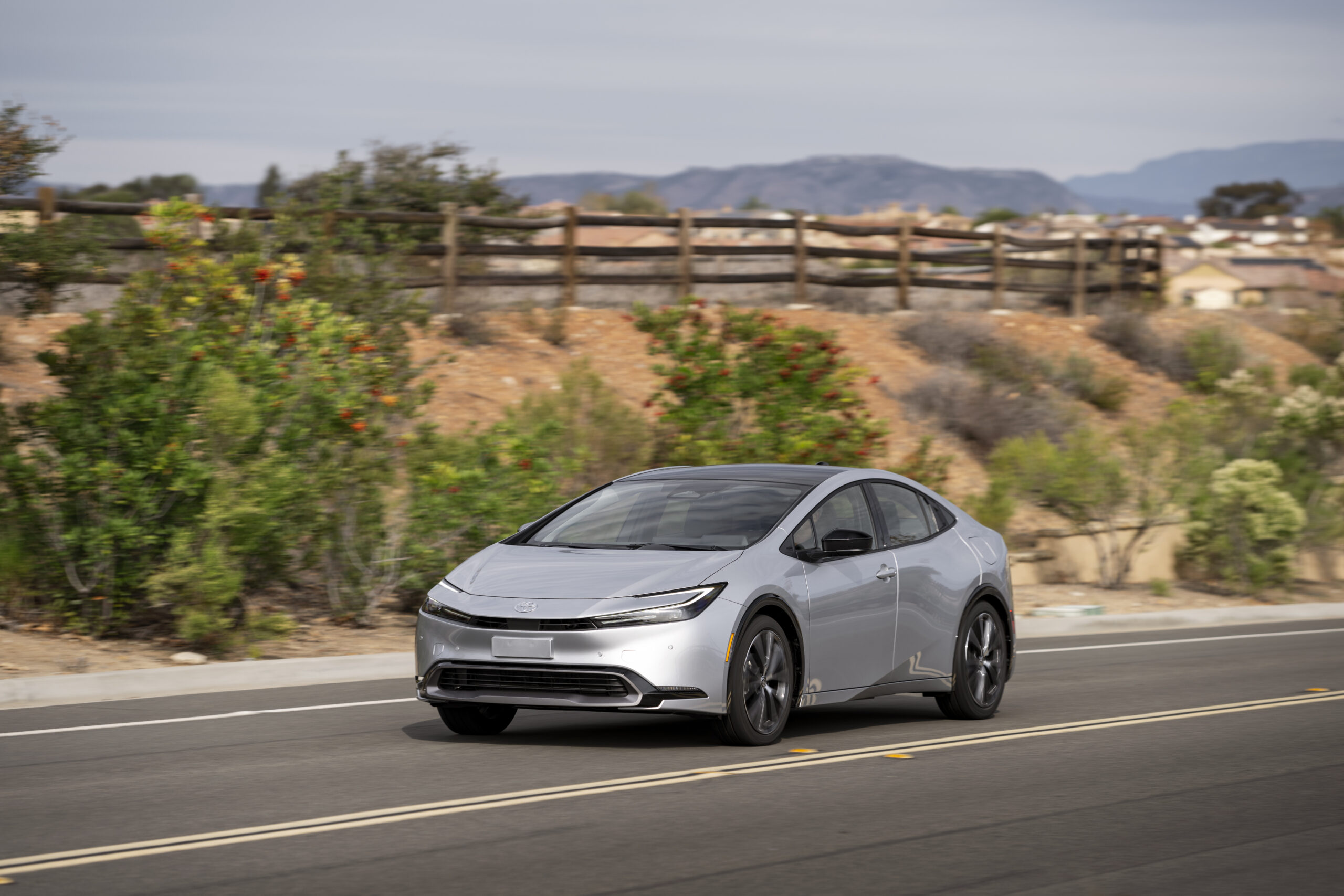 On a short drive route mapped out by Toyota for the media introduction of the '23 Prius on the back-country roads of Northern San Diego County in early December, there wasn't a lot of difference apparent between front-drive and all-wheel drive versions. The horsepower difference is negligible and the revised electronic all-wheel drive system likely would have made more difference in the snow or on wet roads.
In both versions, though, the ride is firmer than in the past with less body roll on corners. Steering is responsive and braking is linear with no mushiness in the transition from regenerative to mechanical. The XLE and Limited trims ride on 19-inch alloys, the base LE trim on 17-inch wheels.
The instrument panel, or driver information screen, now sits in a binnacle of its on directly in the driver's line of sight, a big improvement from the current generation' center-mounted IP, although the steering wheel isn't sufficiently adjustable to make it easy for shorter drivers to see the full screen.
As a taller driver, TheGreenCarGuy found the wheel's maximum upward adjustment insufficient, resulting in a go-kart position. The wheel was much lower than I prefer and it felt as though I were steering with my hands down around my lap.
Interior, Tech and Safety
There's not much to say about the 2023 Prius interior except that it is fairly modern, fairly sparse and just a little bit sporty, with specially designed bucket seats, a thin light bar dividing the upper and lower halves of the dash and not too much hard plastic.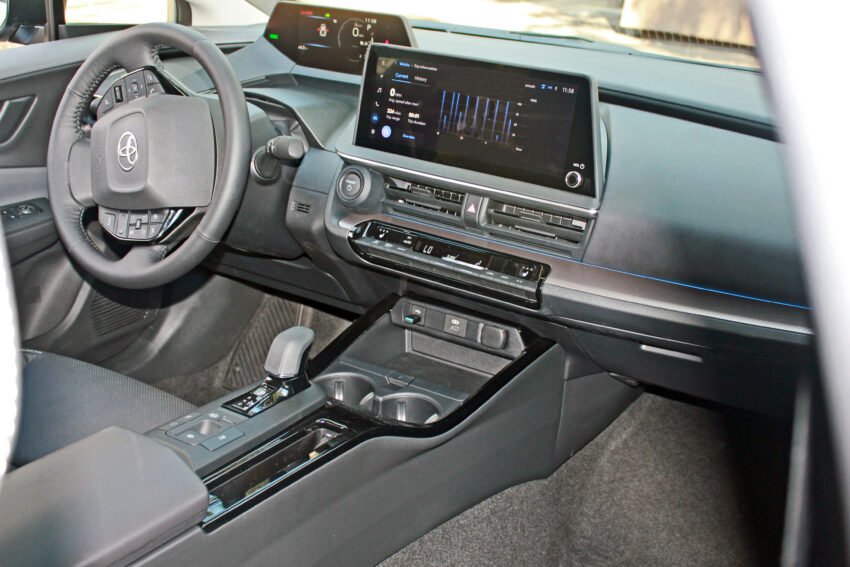 Those front buckets, and the 60/40 split rear bench seats, are supportive and comfortable, although a bit thinner and firmer than in past generations.
It all looks nice, but it could look nicer.
In-cabin storage is adequate, there are six USB-C ports – but no USB-A – and the upper two trims get a wireless charging pad in the in the center console.
Designers left manual controls for lights, drive modes (Eco, Normal and Sport), heating and air conditioning and audio volume, but most everything else is relegated to the touchscreen, which runs the easy-to-use Toyota Audio Multimedia system introduced with the 2022 Tundra..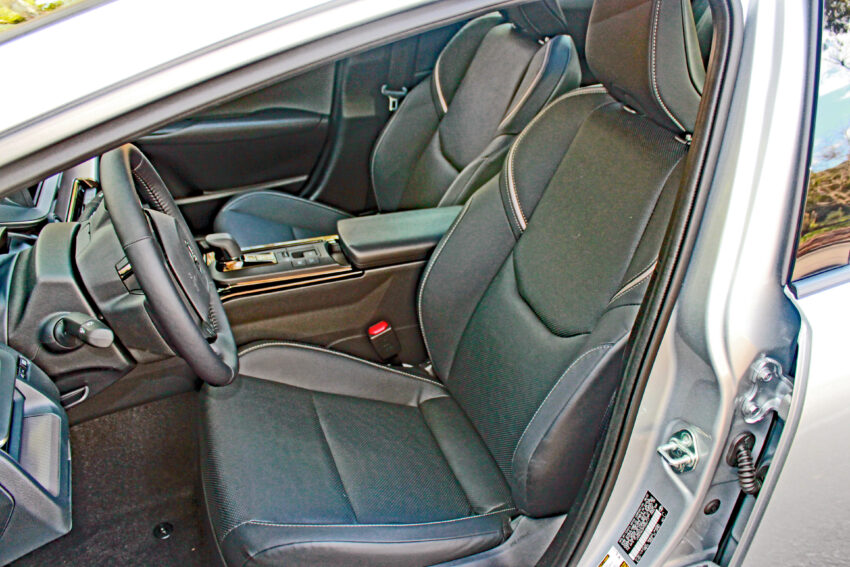 Wireless connectivity for Apple Car Play and Android Auto is standard, but many features, including cloud-based navigation, Wi-Fi hotspot and advanced voice control, are available only by subscription.
The 2023 Prius also comes with the pretty comprehensive Toyota Safety Sense 3.0 suite of advanced safety and driver assistance features. They include adaptive cruise control, front collision avoidance with pedestrian detection, land departure alert and lane keeping assist and an emergency stop function than can safely stop the car if the driver becomes non-responsive.
The Competition?
The Prius is, well, the Prius, and no apologies need be made. But if it is not automatically your go-to for a small and highly efficient car, there are a few alternatives.
Toyota has identified three vehicles as likely competitors – the Kia Niro hybrid, a small SUV-styled crossover, and the Honda Accord and Hyundai Sonata and Elantra hybrid sedans.
All are good-looking with pricing that's comfortably in the vicinity of 2023 Prius prices. The Niro also is close in size with more cargo area while the Accord and Sonata offer considerably more front legroom and headroom but less cargo space.
The Accord hybrid doesn't come close to the Prius in efficiency and even the best of the three, the base Niro FE hybrid, still falls short with an EPA rating of 53 mpg combined.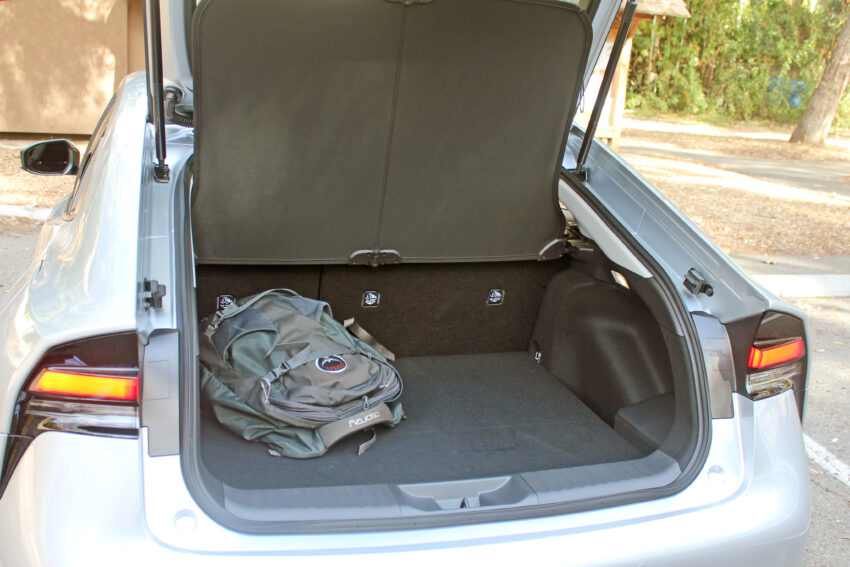 We think there are a least two other potential competitors that Toyota hasn't mentioned – perhaps because they are too close to home.
The 2023 Toyota Corolla hybrid is about the same size as the new Prius, but costs less on a trim-vs-trim basis. It can deliver up to 50 mpg combined.
The 2023 Camry hybrid is in the same price range as the Prius but is longer, wider, roomier and comes with an EPA rating of up to 52 mpg combined.
As sedans, neither can measure up to the hatchback Prius' 20 cubic feet of cargo capacity, but the Camry comes close at 15.1 cubic feet in the trunk.
Availability and Cost
The new Prius hybrid will begin hitting dealerships in early January. There will be three front-drive trim levels with electronic all-wheel drive versions available in each trim for an additional $1,400.
The base front-drive LE hybrid will start at $28,545, including Toyota's $1,095 destination fee. Standard equipment includes 17-inch alloy wheels with wheel covers, LED lighting; single zone climate control; an 8-inch Toyota Audio Multimedia touchscreen; 6-way adjustable front seats; black or grey fabric upholstery; six USB-C ports, six-speaker audio system
The XLE mid-trim, at $31,990, adds 19-inch alloy wheels; an 8-way adjustable driver's seat; faux leather (SofTex) upholstery in black or grey; heated front seats; rain-sensing wipers; smart key, and wireless charger.
The Limited trim starts at $35,560 and adds a 12.3-inch JBL Premium Audio touchscreen display, 8-speaker JBL audio system; fixed glass roof, heated and ventilated front seats and heated steering wheel; power rear liftback, and a one-year free trial of Toyota Remote Connect suite of services, which includes a digital key.
There aren't many packages or options, but the LE and XLE can be fitted with the 12.3-inch touchscreen for $735. The glass roof is available for the XLE for $1,000, and the Limited can get heated rear seats for $350.
Other options include front and rear parking assist (sensors) with automatic braking for the LE trim, Digital Key (by subscription) for the XLE trim; and, for the Limited, a panoramic view monitor, digital rear view mirror and the Toyota Advanced Park system for hands-free parallel parking and for backing into perpendicular spaces.
Prime Time Still to Come
There will be a plug-in hybrid version of the 2023 Prius – the Prius Prime – as in the past. But it's not coming until Spring 2022.  Pricing hasn't been released, but we'd expect a $2,000 to $3,000 bump at minimum versus conventional hybrid trims, based on the price difference between conventional and plug-in Priuses for 2022.
Except for the extra fuel door for the charging port, the Prime will look and be trimmed out much like the conventional hybrid. Trim names will change, though, with SE, XSE and XSE Premium grades replacing LE, XL and Limited.
The biggest difference is that it will use the same plug-in hybrid system that's in the RAV4 Prime, but tuned for Prius-level performance.
It will boast 220 horsepower and a 6.6-second 0-60 time and gets a larger, more powerful battery than the current Prime for what Toyota says is "at least 50 percent more" all-electric range. The current model gets up to 25 miles on juice alone, so expect close to 40 miles with the 2023 Prius Prime.
Can't wait – although we'll have to.