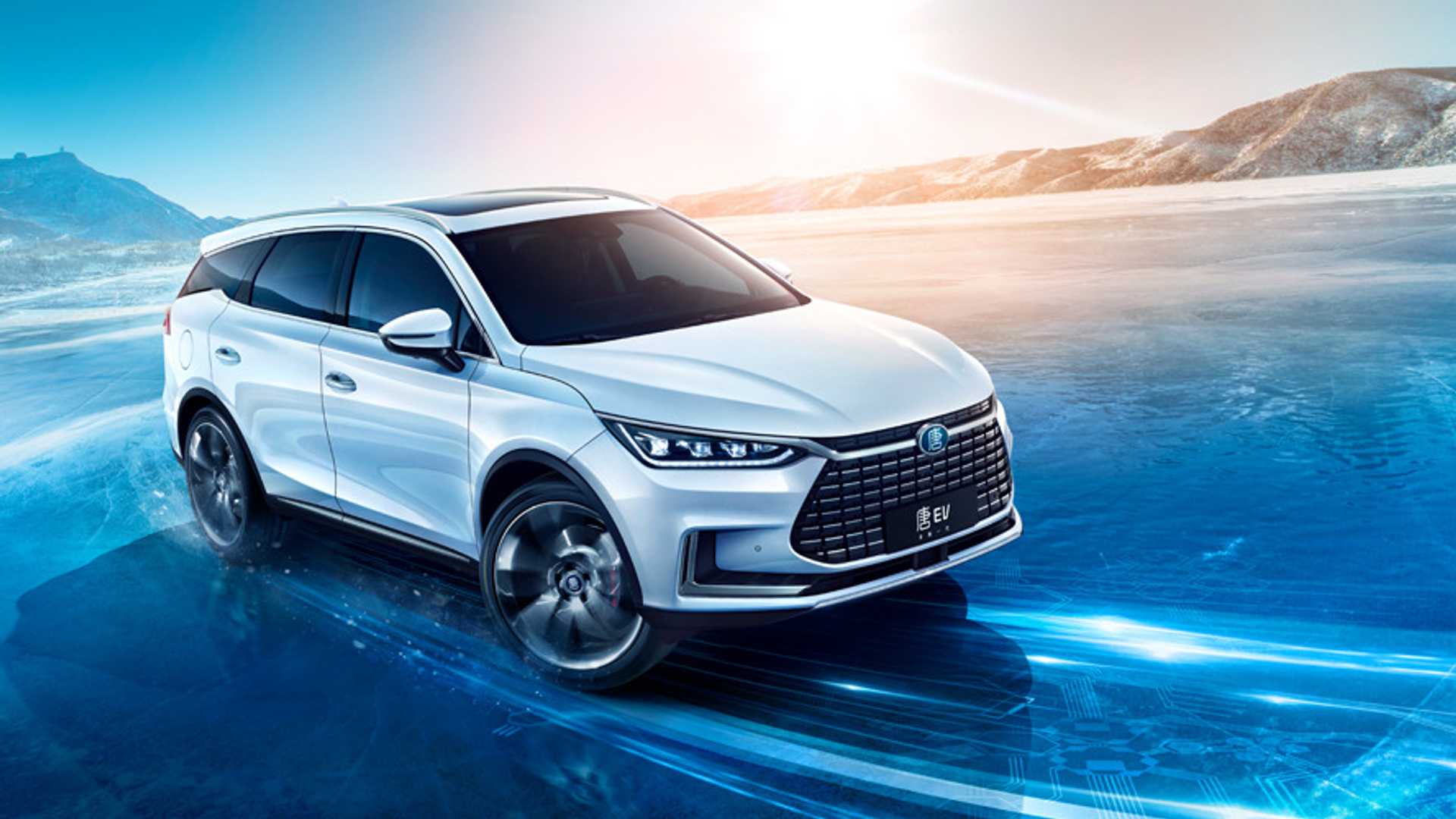 China's BYD – best known in the U.S. for electric buses – may be launching a new bid to reestablish itself on these shores as a car company, too, with its newest EV, the BYD Tang.
The car, truck and bus maker is a big player in China and tried to establish itself as an electric car company back in 2010 when it initially set up a U.S. headquarters in Los Angeles.
[Estimated Reading Time: 2 min., 30 sec.]
Those first cars didn't catch on with the public, though, and while BYD sells some to fleets, it has turned its efforts to bus and, lately electric truck, manufacturing and sales.
But at this month's Pebble Beach auto week, which is highlighted by the annual Pebble Beach Concours d'Elegance, BYD is offering auto journalists a chance to try out its newly electrified Tang SUV, albeit only for a brief 15-minute test ride.
The BYD Tang – named after the dynasty, not the artificial orange(ish) drink – has been around in China since 2015 as a plug-in hybrid model. It was China's best-selling PHEV last year with around 30,000 units sold.
BYD added an all-electric version earlier this year and response in China reportedly has been quite positive.
The Numbers
The Tang 600 EV has an 82.8 kWh battery pack, which sounds hefty. It is only rated at 310 miles on the new European test cycle, which likely equates to 250 or so miles on the tougher U.S. scale.
In comparison, the Jaguar I Pace has a 90-kWh battery and gets an EPA range rating of 234 miles, and the Audi e-tron has a 95-kWh pack and an EPA estimate of 204 miles. Tesla's standard range Model X is rated at 235 miles, and, while the company doesn't disclose battery capacity, it is believed to be about 90 kWh.
BYD offers the Tang as a front-wheel drive model, the Tang 600, or as the dual-motor, all-wheel drive Tang 600D.
Output for the BYD Tang 600 is 241 horsepower and 243 lb.-ft. of torque. Nominally, that doubles for the 600D, which uses the same motors front and rea. In reality, though, a two-motor system doesn't deliver fully doubled power. Still, BYD claims a 0-62 acceleration time of 8.5 seconds for the front-drive Tang 600 and 4.2-4.6 seconds for the all-wheel 600D, depending on the trim level.
While a Chinese company, BYD is publicly traded and says 60 percent of its stock is held by U.S. investors. Berkshire Hathaway, billionaire investor Warren Buffett's holding company, ii the largest single shareholder with an 8 percent stake.
While BYD hopes to excite automotive journalists about its newest EV, there's no word on when, or if, it intends to bring the BYD Tang to the U.S to see how tasty drivers here might find it.
DID YOU KNOW: BYD uses "Build Your Dreams" as a slogan, but that's not what the initials stand for. The company's name really derives from a pair of unrelated Chinese words – bi and yada or yadi – that sounded good together and vaguely denoted "good fortune." That's according to Andrew Swanton, former head of electric truck sales for the company's U.S. operation. "Bi Yada" transformed to "BYD" in English and the letters became the company's formal name.