Hyundai's electrified vehicles selection of hybrids, plug-in hybrids and all-electric vehicles will expand to ten choices for the 2022 model year.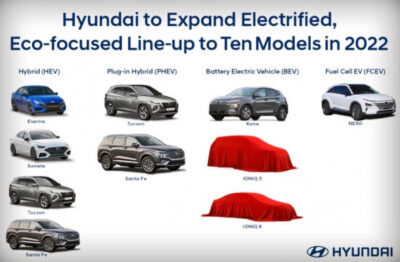 That's up from six for 2020-2021.
The list includes several newly electrified models including conventional hybrid and plug-in hybrid Tucson crossovers, a plug-in hybrid Santa Fe crossover, a conventional hybrid Elantra sedan and two new battery-electric Ioniq models.
Apparently disappearing for 2022 will be the conventional and plug-in hybrid and battery-electric compact Ioniq sedans now being sold.
The new Ioniq EVs will be branded as the Ioniq 5, likely to be an updated take on the crossover style, and the Ioniq 6, taking form as a sporty sedan.
"We're not only developing the vehicles our customers need now, we're also envisioning smart mobility solutions for pressing environmental and transportation needs of the future," Olabisi Boyle, vice president of Product Planning and Mobility Strategy for Hyundai Motor North America, said of the company's electrification strategy.
Here's the entire 2022 model year's electrified vehicles list from Hyundai.
Conventional Hybrids:
Elantra sedan,
Sonata sedan,
Tucson crossover,
Santa Fe crossover.
Plug-in Hybrids:
EVs:
Kona hatchback,
Ioniq 5 crossover,
Ioniq 6 sedan.
Fuel-Cell Electric Vehicle: