2022 Model Will Have Hybrid and PHEV Versions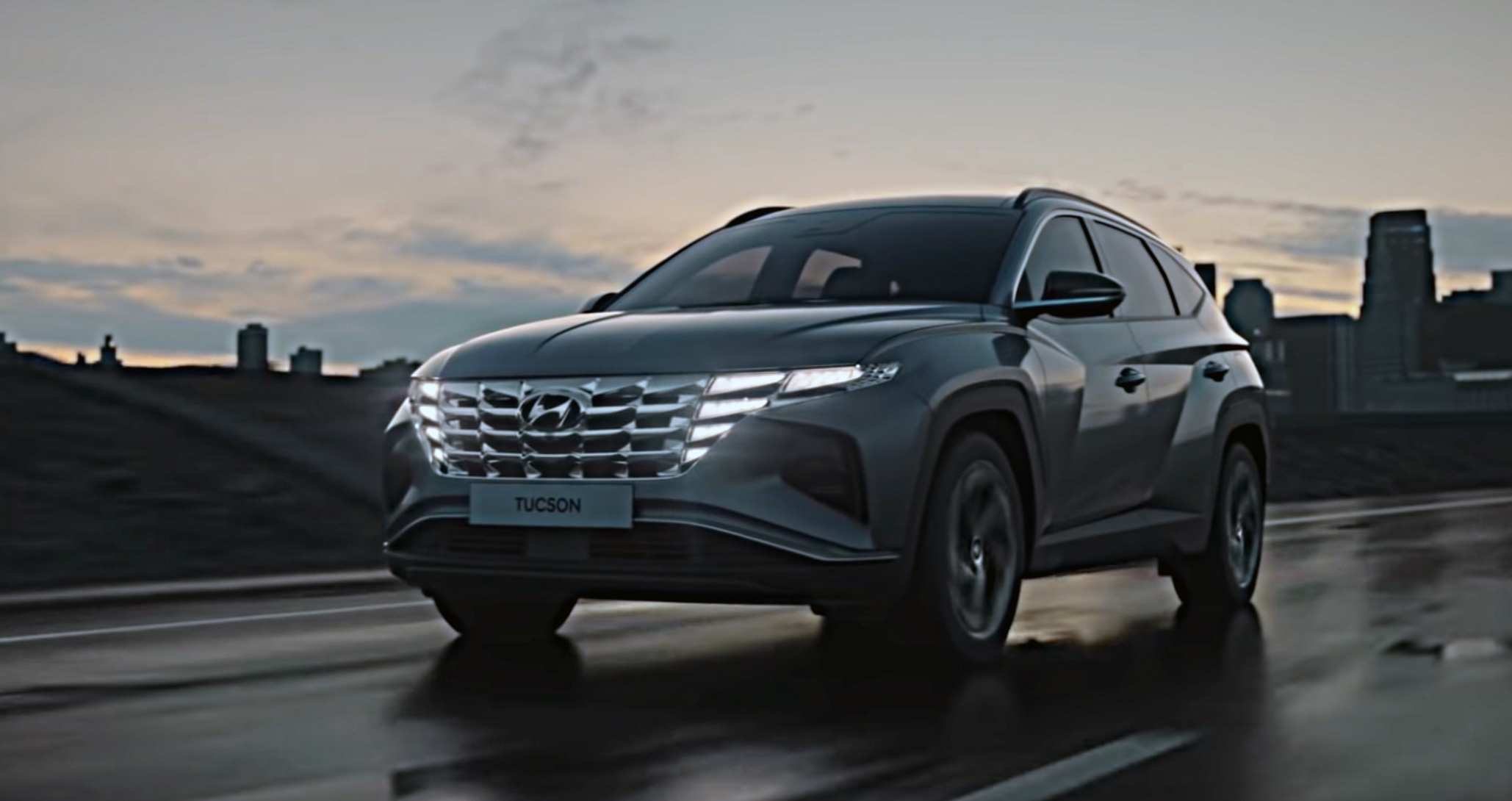 Hyundai's new Tucson, redesigned for 2022, will come in conventional and plug-in hybrid flavors.
Hyundai unveiled the fourth-generation of its compact Tucson crossover utility this week in Seoul, setting a mid 2021 launch for the North American versions, which will sell as a 2022 models. It goes on sale next month in South Korea as a 2021 model.
[A 2-min., 30-sec. read]
The new Tucson's hybrid powertrain will combine a 1.6-liter gas engine with a 50-horsepower electric motor for combined peak output of 230 horsepower and 258 pound-feet of torque. The gas engine alone makes 180 horsepower and 195 lb-ft.
An eight -speed automatic transmission transmits power to the wheels.
Full fuel economy specs haven't been released yet but Hyundai said it has designed the conventional hybrid version to be able to make the 485-mile run from Los Angeles to Tucson on a single tank of gas.
Hyundai didn't share any details about the 2022 Tucson's plug-in hybrid system – we'll have to wait on that. But expect it to be engineered to compete with the new Toyota RAV4 Prime and Ford Escape PHEV.
The 302-horsepower RAV4 Prime plug-in hybrid is EPA-rated at up to 42 miles of all-electric drive and 38 mpg after that; the 212-hp Escape PHEV is rated at 37 miles of all-electric range and 41 mpg in standard hybrid operation.
AWD Option
The new Tucson hybrids will have available all-wheel drive – Hyundai's HTRAC system with Eco, Comfort, Smart and Sport driving modes. In some markets – no specifics yet – the system adds two new modes: Snow, and Mud and Sand.
HTRAC will be an option on both the conventional hybrid and PHEV models. Ford doesn't offer all-wheel drive on its Escape PHEV, only on the conventional hybrid. Toyota makes AWD standard on both types of RAV4 hybrid.
Hyundai hasn't said whether AWD for its new Tucson hybrids will be a mechanical system, with rear wheels directly connected to the engine and front electric motor, or – as Ford and Toyota use – an electronic system with an independent rear electric motor to drive the rear wheels.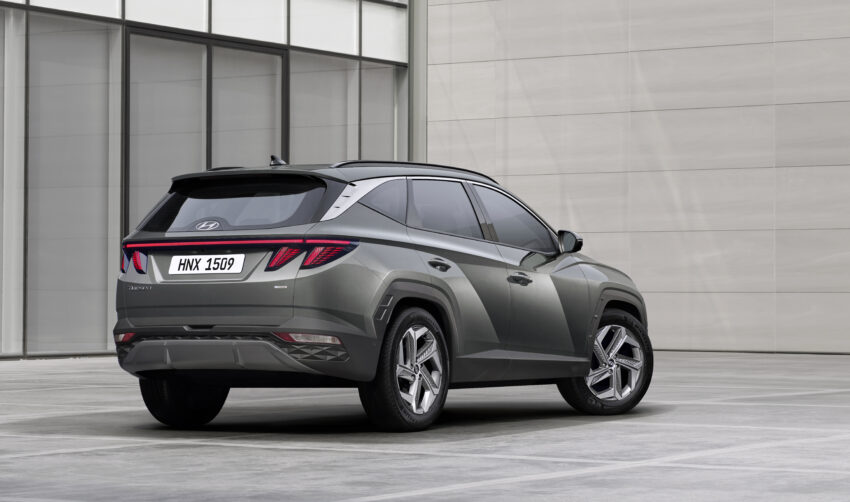 Design Features
Design-wise, the new Tucson shares some of the characteristics of the current-generation RAV4, with sharp creases, squared-off wheel well openings and a long hood. Daytime running lamps are integrated with the grille, visible only when illuminated.
Inside, the new Tucson features sharply defined driver and front passenger spaces, a hoodless instrument panel in a 10.25-inch screen and a hidden vent system for the climate system.
Hyundai said the second-row seats will have "fold-and-dive" capability, to increase available cargo space by dropping lower toward the floor once the seat backs have been folded down.
Maximum cargo capacity wasn't provided, but Hyundai said rear cargo area capacity with all seats in place is 38.7 cubic feet. That beats both the RAV4 (37.5 cu. ft.) and Escape hybrids (34.4 cu. ft.).
Tech, Tech, Tech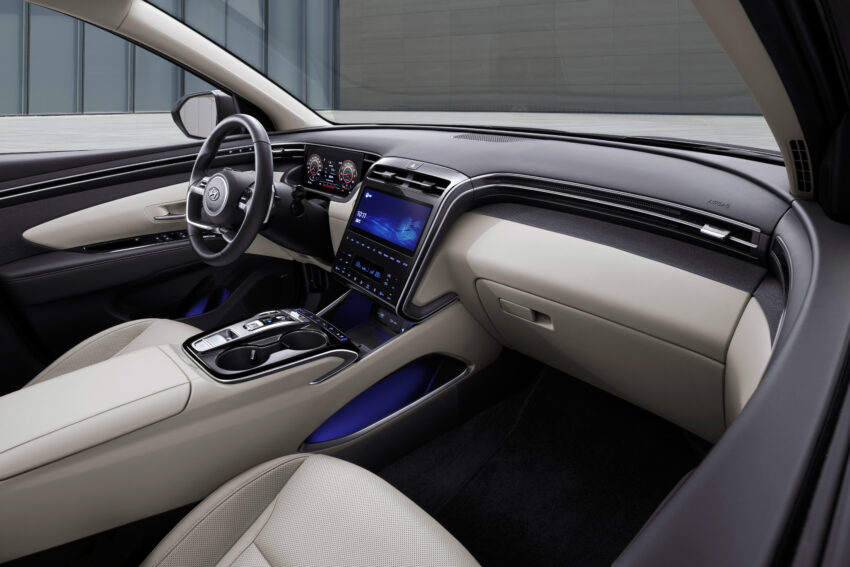 The new Tucson's infotainment system will support both Apple CarPlay and Android Auto, be capable of connecting two smartphones at once, and offer voice-recognition for its navigation system. A digital key system first available in the Hyundai Sonata will allow a user's smartphone to function as the key.
An 8-inch color touchscreen will be standard on all but the top-of-line trim, which gets a 10.25-inch screen for the navigation system.
Driver assistance and safety technologies will include forward collision avoidance assist with pedestrian detection, lane keeping and lane following assist, highway driving assist, blind spot monitoring and collision avoidance assist, full-range adaptive cruise control, reverse parking collision avoidance, a surround-view camera system and remote self-parking assist.