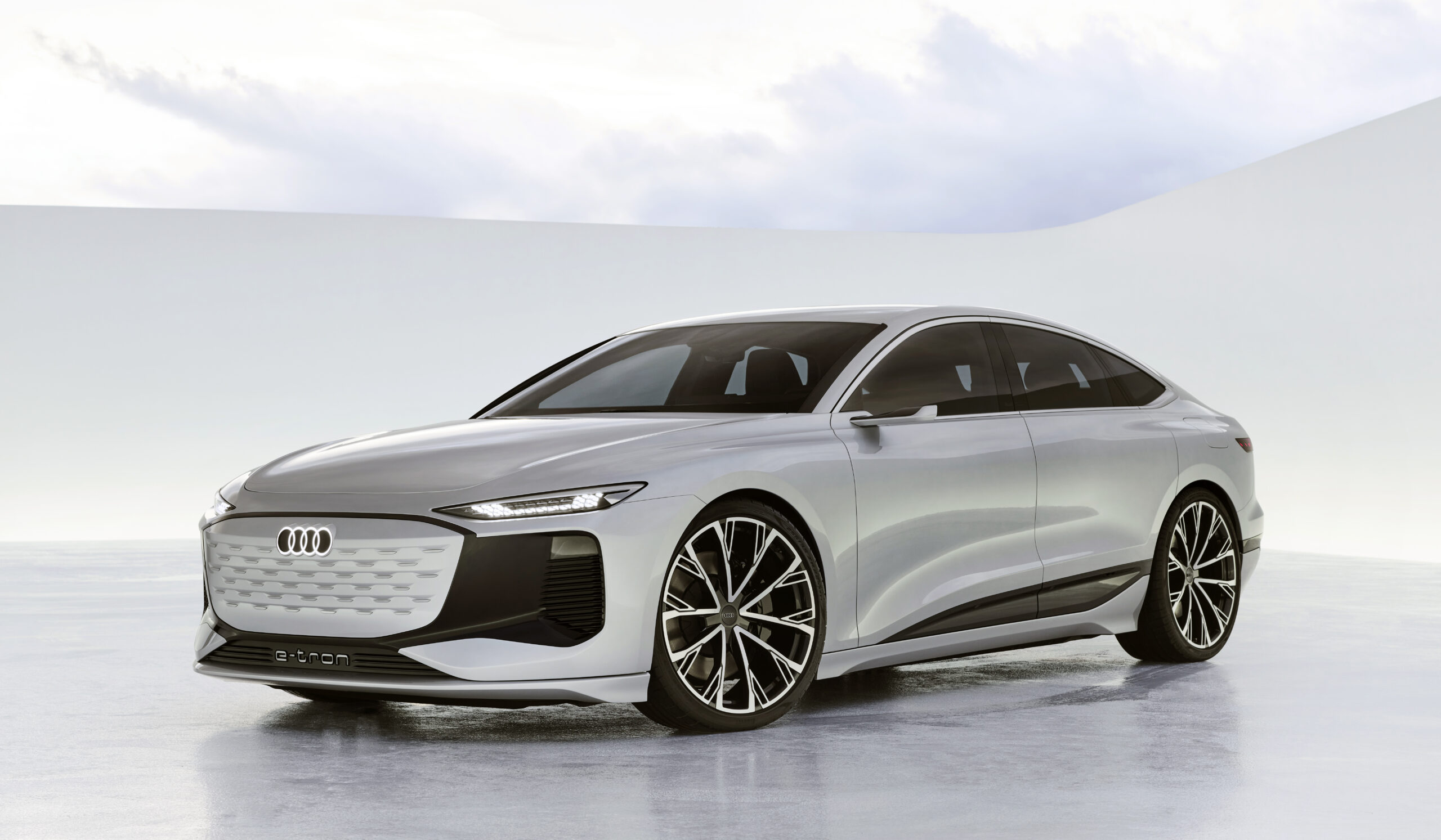 If its Monday, it must be time for a new slew of EV news – three global unveilings and a U.S. debut.
They bring to19 the number of new EVs announced so far this year, most of them slated for production between late 2021 and early 2023.
The latest are the Genesis G80 EV, unveiled at the Shanghai auto show, and two production intent concepts, the Toyota bZ4X crossover and the Audi A6 e-tron sports coupe.
Additionally, there's news of the upcoming public debut in the U.S. of Audi's RS e-tron GT, a performance EV that shares its platform with Porsche's all-electric Taycan.
So, alphabetically:
Audi A6 Concept
Audi is finally moving its electrification program into its mainstream passenger car line.
The A6 e-tron concept unveiled in Shanghai is an exterior design preview of what's coming on the automaker's new PPE (Premium Platform Electric) architecture.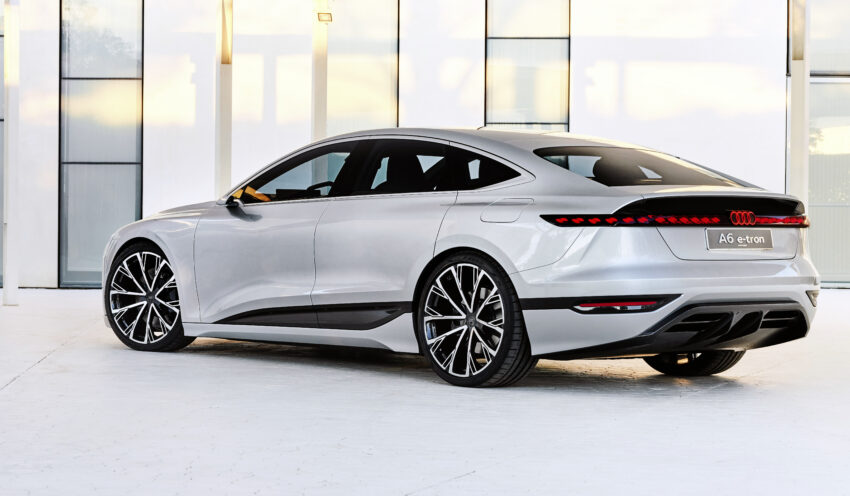 Audi already has had hybrid and plug-in hybrid versions of the A6 sedan, now the all-electric version cometh. Production on the new platform is expected to begin in the latter half of 2022, the automaker said.
While the concept's exterior dimensions are the same as the current A6, the new design features a "Sportback" body style with muscular rear haunches and a much lower roofline than the present A6. Heavy reliance on the company's wind-tunnel studies provided a design that delivers an extremely low drag coefficient for super aerodynamics, Audi said.
While features such as the handle-less doors and 22-inch wheels may not make it to production, the concept is pretty much what will make it to showroom floors.
Underneath the sheet metal, is a 100-kWh battery and dual electric motors with peak output of 469 horsepower (same as the new e-tron GT) and 590 lb.-ft. of torque. Range with that dual motor, large battery system would be around 430 miles on the European test cycle, which would drop to around 360 on the U.S. system of estimating EV range.
Audi said the A6 e-tron would have 800-volt charging technology, enabling it to use DC fast chargers of up to 270 kW output, sufficient to take the 100 Kw battery pack form 5 percent to 80 percent of capacity in 25 minutes.
The PPE platform ultimately will be expanded to handle cars on either side of the A6 in size, as well as crossovers and SUVs.
The production A6 e-tron will be a global model ,but Audi hasn't yet released its rollout schedule.
Audi RS e-tron GT
Audi's 590-horespower, 155 mph four-door electric sports coupe will make its U.S. debut on April 25 at Malibu Cars and Coffee, a popular twice-monthly informal car show and gathering of classic, sports, performance and exotic car enthusiasts.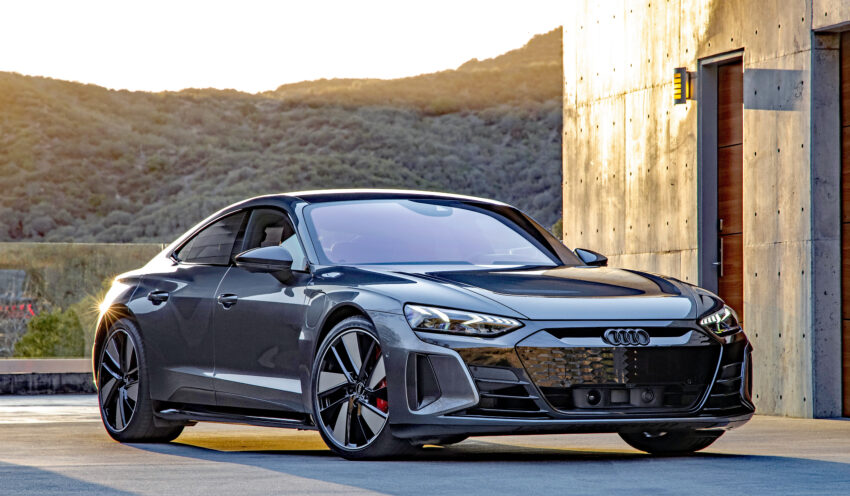 The event has been on hiatus during California's pandemic shutdown, but apparently is reopening this month at a new location – 3900 Cross Creek Road, near the locally famous Malibu Kitchen & Gourmet Country Market.
Audi said the masks-required event will run from 10 am to noon, and while this is obviously Southern California program for in-person viewing, we're sure there will be lots of photos and videos posted on various social media channels for the rest of the county to view.
The Audi RS e-tron GT and its slightly milder sibling, the 469-horsepower e-tron GT, are scheduled to hit U.S. dealerships this summer.
Genesis G80 EV
The first EV from Hyundai's luxury marque, the Electrified Genesis G80 (that, apparently, is its name) expands the company's "executive sedan" lineup with a zero-emissions powertrain.
Horsepower, torque and battery capacity figures haven't been released – U.S. specifications are coming toward the end of the year – but Genesis says the Gu80 EV will post 4.9-second tomes for 0-60 mph acceleration. All-wheel drive is standard.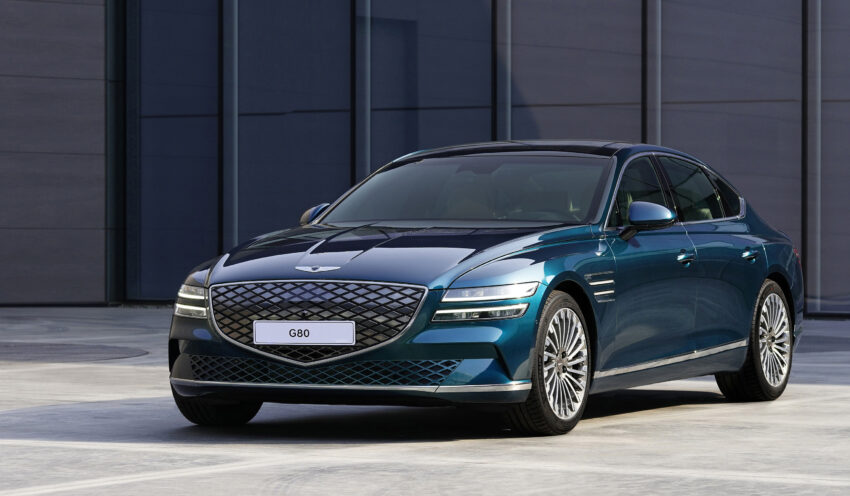 The G80 electric will have DC rapid charging capability at up to 800 volts and 350 kW and, as with other recently announced EVs from parent Hyundai, will have a vehicle-to-load feature enabling the car's battery to power electrical appliances such as power tools, computers and external audio systems.
Natural and recycled materials are used for the Electrified G80 interior and include natural dyes for the leather upholstery, fabrics made from recycled plastic bottles and recycled wood for the trim.
Toyota bZ4X
If there were an all-electric RAV4, this apparently would be it.
Toyota says the bZ4X showcases design language for many of its EVs moving forward.  Of the 15 dedicated EVs the company plans to introduce by 2025, seven will carry the "bZ" brand name – it stands for "beyond Zero."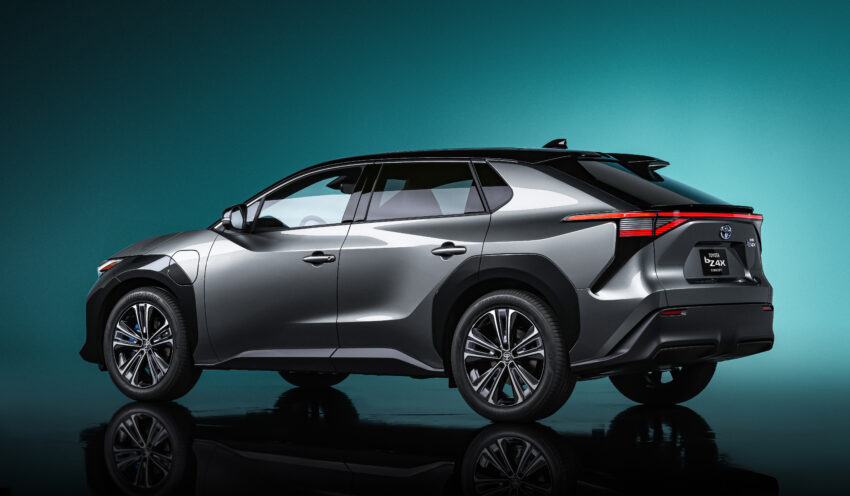 The bZ vehicles will use a new dedicated battery-electric vehicle platform.
The bZ4X concept was co-developed with Subaru (Toyota owns a big chunk of Subie) and bends Toyota's EV and vehicle durability skills with Subaru's all-wheel drive expertise – thus the "4X.".
No information about the powertrain, battery, charging or AWD system has been released.
The bZ4X is a global model slated to go on sale in mid-2022, but Toyota hasn't released a rollout schedule. Information about the U.S. model is coming "at a later date," the automaker said.