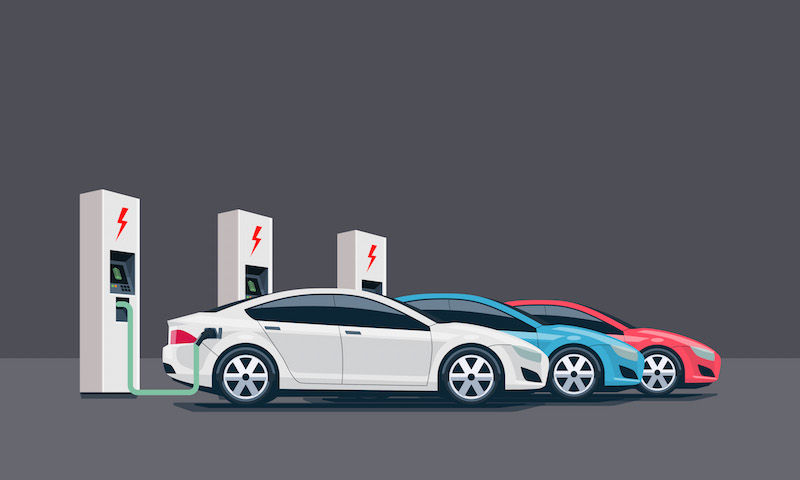 After years of deferring direct action in hopes someone else would pick up the slack, a group of automakers has decided to go into the EV fast-charge station business.
Seven car companies have joined forces to create a fast-charge network joint venture aimed at installing at least 30,000 DC fast charging "points" in urban and major highway corridor locations across the U.S. and Canada. Work is scheduled to begin in 2024 with completion of the network pegged for 2030.
So far, the only automaker to build its own stations has been Tesla, which started installing chargers almost as soon as it started selling cars. Tesla's proprietary 240-volt destination chargers and high-voltage charging stations to facilitate long-distance travel have been credited with helping the company become the best-selling EV maker on the planet.
DC, or Level 3 direct current, fast chargers work much faster than 240-volt alternating current, Level 2, home chargers. They can typically bring a 90% depleted EV battery back to 80% of capacity in 30 minutes or less. That's a boon to EV drivers who want to use their vehicles for long trips but feel hemmed in by their cars' EPA range estimates of 200- to 300-miles per charge.
[Learn all about EV charging.]
Tesla believed – rightly – that providing its customers the the ability to top up a battery during a lunch or dinner break rather than waiting the five to eight hours most 240-volt charging requires would make its EVs more usable to more drivers. Unfortunately for those who didn't buy Teslas, other EVs couldn't use the upstart electric-only automaker's fast-charge network.
Other car companies, however, shrugged off suggestions that their EVs might sell better if they, too, provided charging networks to help facilitate longer distance traveling.
They opted to wait for power companies, oil companies and independent entrepreneurs to supply the public chargers needed toustain EV use – and the result has been less than rewarding.
Many non-Tesla fast-charge stations are in obscure locations, most are unattended, they aren't terribly plentiful in most parts of the country and many often aren't working. Where Tesla builds large installations that can handle a dozen or more EVs at a time, most non-Tesla stations have two to four chargers. As the population of EVs has grown, o have frustratingly long waits for available, working chargers.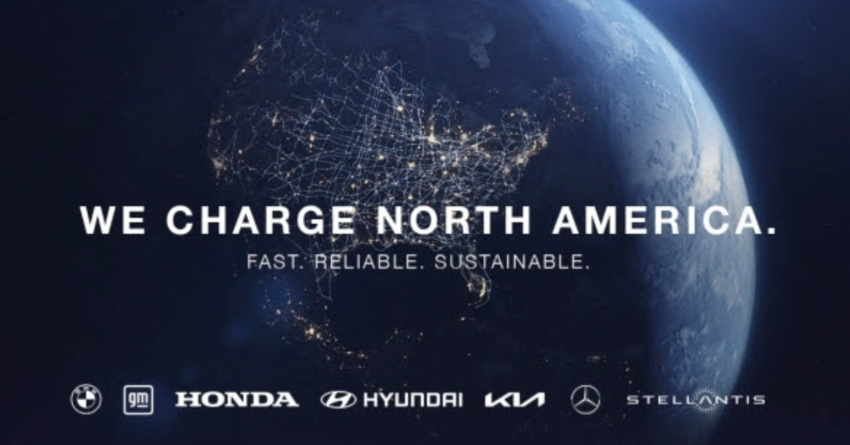 Big Promises
The new joint venture is backed by the BMW Group, General Motors, Honda, Hyundai, Kia, the Mercedes-Benz Group and Stellantis.
The automakers said the stations will have multiple chargers – 10 to 20 at most of them. Each charger will have both Tesla and and non-Tesla connectors and will use only energy from renewable sources. The stations also will offer amenities such as "restrooms, food service and retail operations either nearby or within the same complex."
A number of "flagship stations" will offer additional – unidentified – amenities "delivering a premier experience designed to showcase the future of charging," the car companies said in a joint statement.
The charging network will allow for seamless integration of the seven carmakers' in-vehicle and in-app offerings, including charger reservations, "intelligent route planning and navigation, payment applications, transparent energy management" and Plug & Charge automatic payment technology.
The participating automakers will form an independent operating company this year to run the network.
More Public Charging Needed
Meantime, Tesla is opening its fast-charge network to non-Teslas, and major automakers including General Motors, Ford, Volvo, Polestar, Nissan, Mercedes-Benz and Rivian have said they will begin equipping their EVs with Tesla-compatible charging ports in 2025 and will supply customers with adapters until then.
Today there are about 22,000 Tesla Supercharger fast-chargers in 2,100 locations and 13,000 non-Tesla fast chargers in 6,500 locations the U.S. and Canada – most of them in the U.S. Each type of fast charger has its own operating protocol and electrical system design. The new network from the seven EV makers would swell the number of fast charge outlets to more than 65,000 in the U.S. and Canada.
That's still far short of the more than 180,000 DC fast-chargers that the National Renewable Energy Laboratory estimates will be needed to support the 30-42 million plug-in vehicles expected on the road by 2030.
Some EV Charger Tech-Talk
Tesla has branded its network as the Supercharger Network, and recently began referring to its system design as the "North American Charging Standard." However, it has not been adopted or endorsed by federal regulators or private associations such as the UL (formerly Underwriters Laboratory) or Society of Automotive Engineers (SAE) as a national standard.
The "other" fast chargers, built and installed by a variety of enterprises, use the CCS or Combined Charging System protocol and design that's been standardized by the SAE and automakers in North American, Europe and Asia. CCS combines the North American standard "J1772" 5-pin connector, or "J-plug," for non-Tesla Level 2 charging and communication with two larger pins used to deliver high-voltage current to the vehicles' battery.
The two drawings are not quite to scale, but the Tesla charger connector – sometimes called the Robo Face – on the left really is much smaller than the CCS connector (right), which combines the standard 5-pin J1772 "J-plug" connector for Level 2 charging and communication between the EV and the charging station with two large pins for high-power DC charging.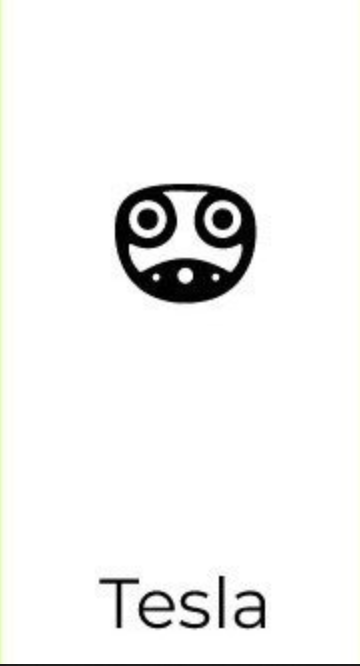 (Nissan's Leaf and older Mitsubishi Outlander PHEVs and i-MiEV EVs use a Japanese fast-charge protocol and charge port design called CHAdeMo, and about 8,500 CCS fast chargers in the U.S. also have nozzles to fit cars with CHAdeMo ports. But by 2025 there won't be any CHAdeMo-using EVs being built).
Tesla Supercharger cables and nozzles are smaller, lighter and easier to handle than those of other fast chargers.
But the Tesla charger cords – initially designed to serve only Teslas, which all have their charge port in the same location on the left rear corner – range from 6.5 feet to 10 feet in length and make it difficult for some non-Tesla EVs to easily use a Supercharger. CCS charging cords typically are between 18 feet and 25 feet long, making it easier to reach an EV's charge port no matter where on the car it is located (typical port locations on CCS-using EVs can be .on the right or left front fender, in the grille, or on either rear flank or at either rear corner).