Modern all-electric version of iconic VW bus goes on sale in U.S. in 2024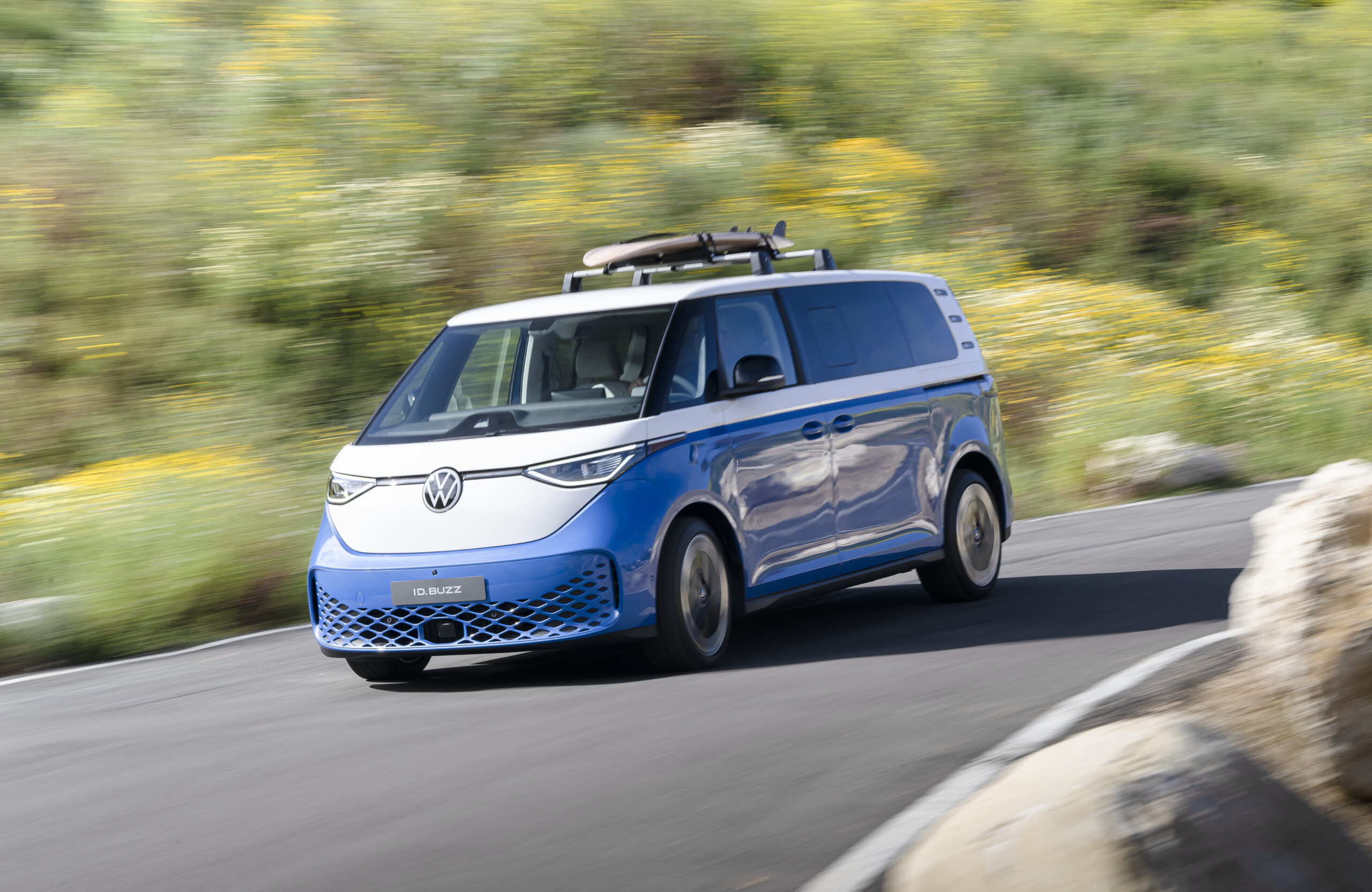 Volkswagen's electric rethinking of the venerable Microbus, the ID.Buzz – North American style – is being unveiled today in Huntington Beach, Calif., aka Surf City.
It's a bid to evoke the spirit of the original – a van that was adopted as the preferred ride of a generation of surfers in the 1960s.
They also could have held the unveiling in San Francisco or Woodstock – VW buses adorned with hand-painted flowers and peace symbols were an icon of the '60s counterculture. The Microbus also served many as a camping van and as a cheaper people and cargo hauler than the family station wagons that were still in vogue back then. A windowless version was sold for commercial use.
The short wheelbase version of the all-electric ID.Buzz already is on sale in Europe and the long wheelbase North American "Buzz" will go on sale in the second half of 2024 – without a commercial version. Initially it will be sold n the U.S. and Canada. A sales plan for Mexico is still under consideration but won't happen until 2025 at the earliest, VW North America's executive vice president of marketing, Andrew Savvas, told TheGreenCarGuy.
The three-row bus will be available through VW dealers in all 50 states, Savvas said, but early distribution is expected to favor the coastal markets, with a bias toward California.
VW expects the electric microbus to be a hit and we think it will certainly sell well – on nostalgia alone – for at least the first few years. The automaker claims that 22,000 – including commercial versions – were ordered in Europe by the end of 2022. There won't be a commercal version for the U.S., at least not initially. Pricing, of course, will have an impact on U.S. sales, as will public acceptance of electric vehicles, which has been increasing but still is far from all-encompassing.
At 16 feet in length, the North American version is a full 10 inches longer than the Euro version and is outfitted with seating for seven in the U.S. market– a reminder that despite the 1960s images evoked for many when "VW bus" is mentioned, its primary purposes has always been that of a people mover. Canadian customers will get the long wheelbase ID.Buzz but will be able to order it with either two or three rows of seating.
While not as long as a modern minivan – Toyota's Sienna is 203.7 inches stem to stern – the ID.Buzz is much taller, at 74.6 inches versus the typical minivan's 68-69 inches. It will be the only fully electric minvian/bus in the market. The only electrified potential competitor will be the plug-in hybrid Chrysler Pacifica.
The original VW bus, introduced in the U.S. in 1950 and canceled in the '70s, had a hard time getting out of its own way and was a misery to drive for any length of time, with sloppy steering, spongy brakes and the ride quality of a rowboat in choppy water.  Safety-wise, the best description by today's standards would be "deathtrap." Still, professionally restored versions of the early Microbus – the 21- and 23-window originals – readily sell in the six figures these days.
VW has upgraded things magnificently in the ID.Buzz, which should help it capitalize on the original's popularity.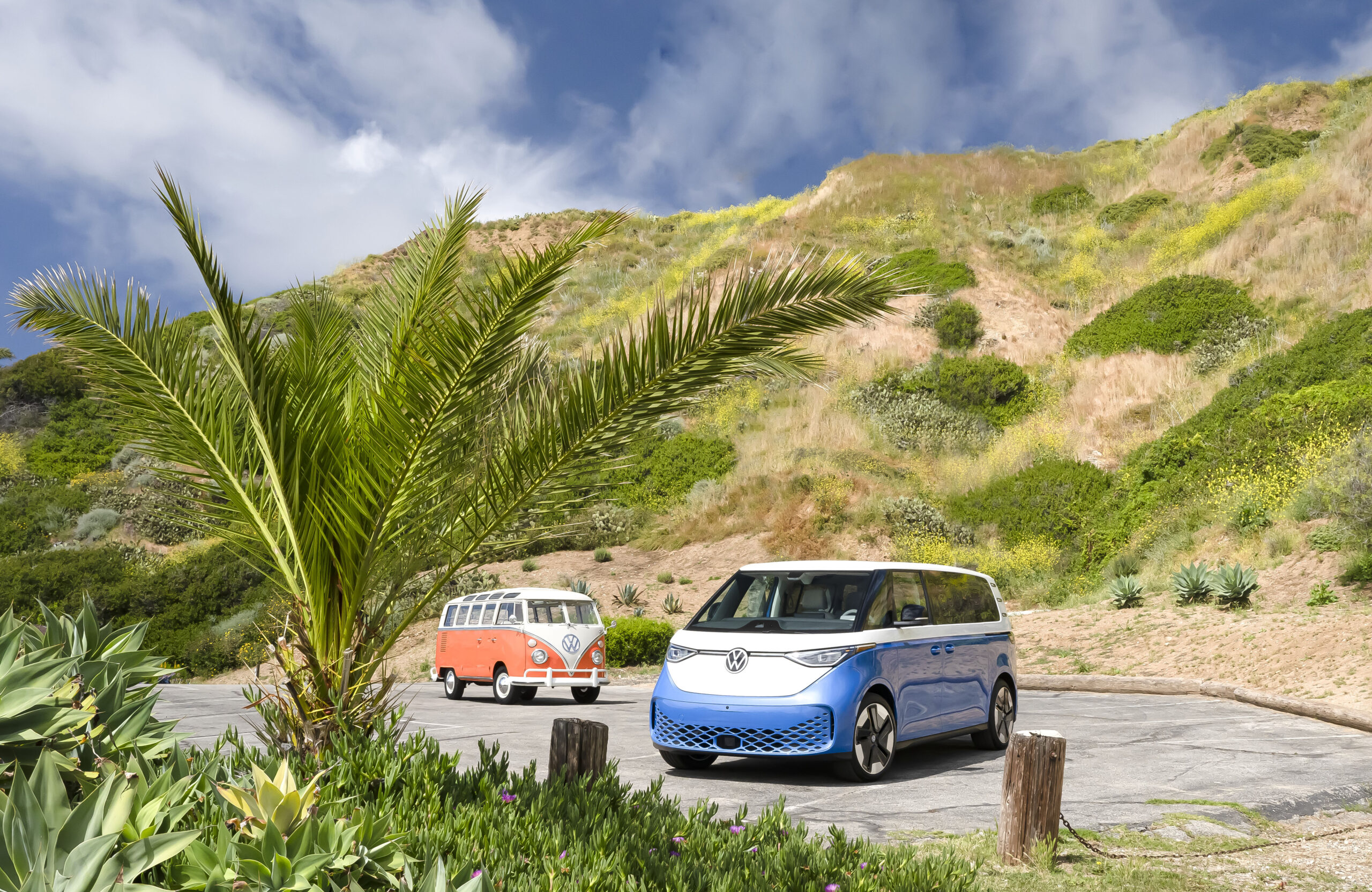 Under the "hood" of the ID.Buzz
The long wheelbase Buzz will be available in both single-motor rear- and dual-motor all-wheel drive versions, both using a 91-kilowatt-hour battery pack with 86 kWh of usable energy.
Range estimates haven't been released, but the shorter and lighter European version uses an 82-kWh battery pack with 77 kWh of usable capacity and is rated under European test methods at 260 miles, which is closer to 225 miles by U.S. standards. The long wheelbase version for North America ought to deliver at least that, and probably more, despite its extra heft.
VW says the single-motor version will use a rear-mounted electric motor rated at 282 horsepower and 406 pound-feet of torque – that's up from around 30 hp in the original (later bumped to 55 hp) and compares to 201 hp in the short wheelbase version sold in Europe.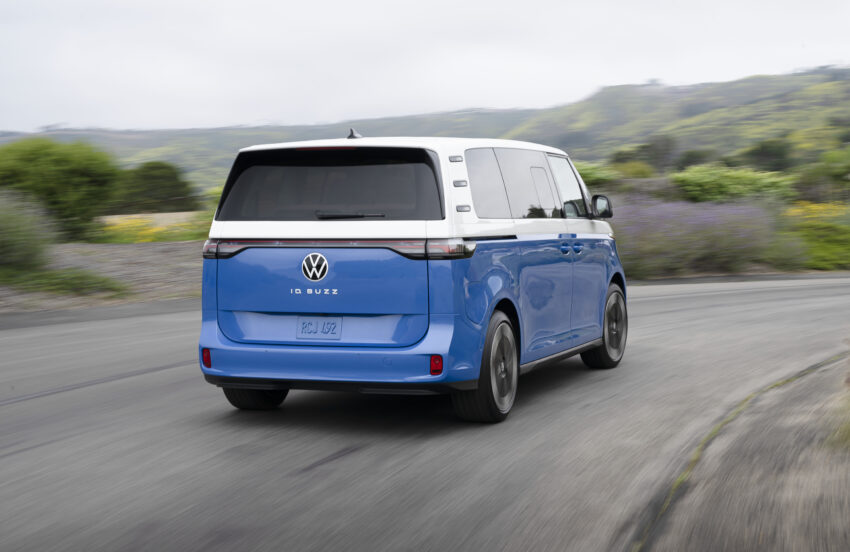 All-wheel drive variants will get a second motor to drive the front wheels, increasing power output to what VW says is "about" 330 horsepower, versus 295 hp for the short wheelbase model.
It all goes to the wheels through a single-speed gear-reduction transmission, and all-wheel drive is electronically controlled with no mechanical link between front and rear wheels. Top speed will be an electronically limited 99 mph, versus 90 mph for the Euro version.
It likely will be sometime in the spring of 2024 before reviewers get to test drive the North American Buzz, so we'll have to reserve comment till then on how well those powerplants work with the overall design to deliver a driving experience that's as enjoyable as is merely viewing the modern Microbus.
Pricing
The North American ID.Buzz – we'll call it the LWB (long wheelbase) Buzz from now on – won't be priced until closer to next year's launch, but we're figuring at least $60,000 for the single-motor version and a bump of around $4,000 for the dual-motor, all-wheel drive setup.
Initially, Savvas said, there will be a base trim and a moderately upgraded trim – the upgrades consisting mainly of features, such as a panoramic glass roof and automated parking, that currently are listed simply as options.
The ID.Buzz won't qualify for a federal clean vehicle tax credit under present rules unless VW starts making it in North America. But that's not out of the question – there are VW plants in Mexico and in Tennessee, where North American versions of the ID.4 electric crossover already are being built. State and local incentives, however, will be available to help reduce pocketbook pain.
Flexibility
Volkswagen's designers took pains to make the Buzz interior as user-friendly as possible. The second-row bench seat has nearly 8 inches of fore and aft adjustment and automatically slides forward 4 inches at the touch of a handle to provide easy egress and ingress for third-row passengers.
Second-row seats fold flat, but aren't removable, which limits the Buzz' utility as a cargo hauler or weekend camper – at least until the aftermarket outfitters get busy.
The rear bench seat is split 50/50 and the seat backs recline up to 16 degrees. When not used for passengers, the seat can be removed entirely or left in place with the backs folded flat, which creates a two-level cargo floor.
An optional "flexboard" can be installed over the space behknd the folded third-row seat backs, however, to provide a flat cargo floor. That floor is more than half a foot higher than the floor of the primary cargo bay, though, reducing the height of the cargo compartment. To make up for some of the lost space, the flexboard package includes a pair of fabric storage bins that fit in the gap beneath the board and between the third-row seats and the rear opening.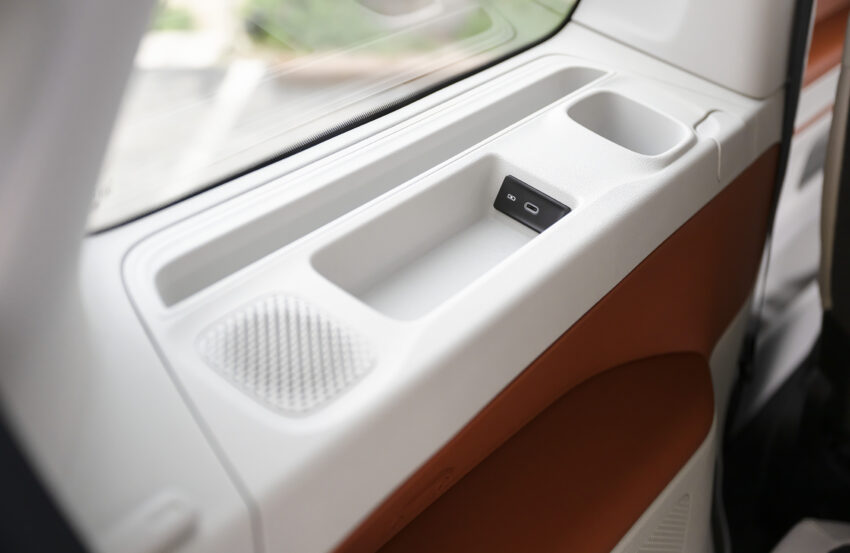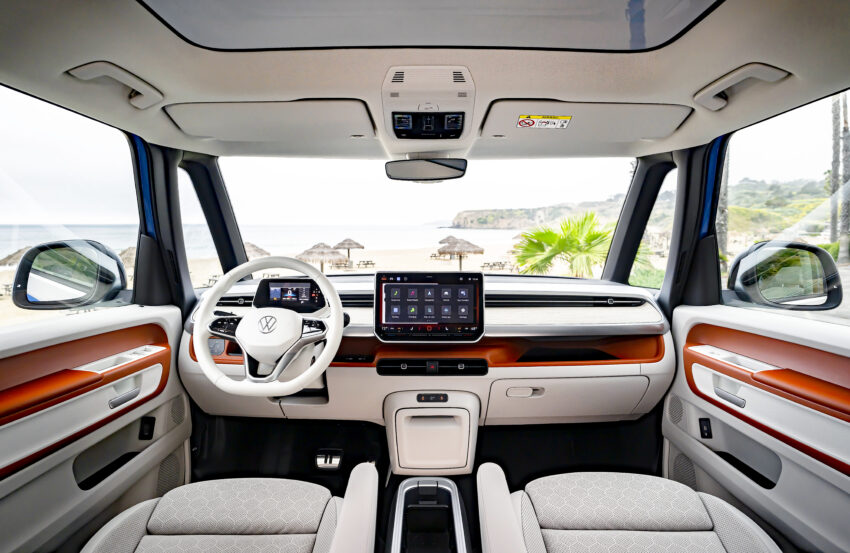 The center console is removable and has two lower compartments and a flexible upper storage area with dividers that can be removed and double as a bottle opener and an ice scraper. There's also loads of storage for small items including bins on the upper and lower door panels in the first two rows and on the window inset and lower trim panels in the third row, a glove box with an open cubby just above it, and a bin-type compartment in the lower center of the dash that hides cupholders for the front seat occupants.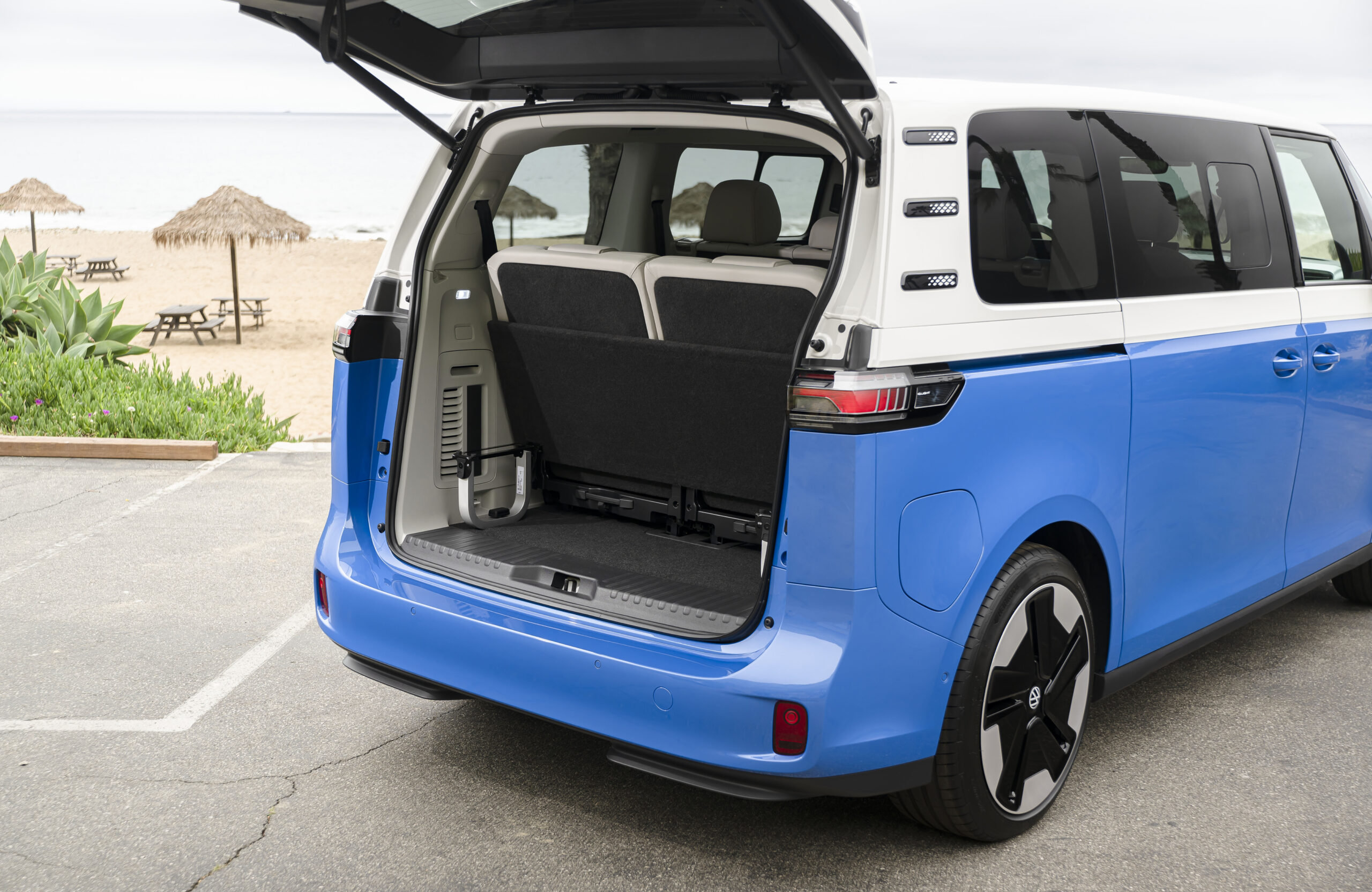 VW hasn't provided cargo capacity measurements yet, but there is a tall, narrow space behind the third-row seats that could fit a couple of large suitcases or a medium-sized cooler plus assorted small stuff.
The third-row seats can be removed individually with an easy tug of a release strap. They weight about 35 pounds each but are removed through the rear tailgate so are easy to maneuver in and out.
The side doors are wide – 7.6 inches wider than on the two-row version – making for easy ingress and egress., and the second-row seats tumble forward with the flick of a lever for easy access to the third row. But there is no strap or handle for passengers to use to help pull themselves up and into the third row – an omission we hope VW will address in the nearly year until the production models hit the showrooms.
VW allowed a group of auto writers to clamber around an early pre-production model of the three-row Buzz this week and it proved itself incredible roomy even in the third row, with both second and third rows easy to access even for a 6-1, 240 pounder.
The ID.Buzz will also be able to tow a light trailer. Official numbers haven't been released but we were told to expect around 2,000 pounds maximum for single-motor versions and 3,600 pounds for dual-motor variants.
Volkswagen expects a number of outfitters will be making camping and other gear for the long-wheelbase Buzz – the company showed a European version with a full-size double mattress installed over the folded second row seat backs and a series of storage bins plus a pull out camping kitchen fitted in the cargo bay space under the bed. The length of the open area behind the front seats in the short wheel base mode is 97.5 inches, so the three-row U.S. model should offer almost a full nine feet between the closed tailgate and the backs of the front seats.
Features
Outside, the LWB Buzz gets LED lighting, including a lighted, oversize VW logo on the nose, along with 20-inch alloys, power-folding and heated side mirrors, power tailgate, and power-sliding rear doors and rear windows on both sides.
The two-tone paint scheme that makes the Buzz evocative of its forebear will, unfortunately be an extra-cost option, but those eye-popping colors that white is paired with for the two-tone combos – Energetic Orange, Pomelo Yellow and Mahi Green – will remain They'll be joined by five others for the market here – Cabana Blue, Metro Silver. Cherry Red, Blue Charcoal and Iridium Grey (or orange, yellow, green, blue, red, silver, gray and charcoal, for those who find the adjectives a little much).
Inside there's a wood-look dash hosting a 5.3-inch driver information display and a 12.9-inch infotainment touchscreen that's also control central for many of the Buzz' adjustable or configurable features (see the "Tech" section below for more on that).
There are three interior color scheme choices, all with faux leather upholstery: Dark brown and black with dark brown faux leather seats with white piping, dark blue door panels and a dark wood-look dash and black headliner and trim pieces; light gray and clay, with light gray seats with clay-colored piping, clay-colored door inserts and a light wood-look dash and light gray trim pieces, and a modern look with light brown upholstery with yellow piping, light gray door inserts and a washed-wood dash finish, paired with black trim pieces.
Ambient cabin lighting is standard, with 30 color choices, and there's an optional panoramic glass sunroof option with electrochromic glass – dim it with the swipe of a finger – that measures a whopping 67.4 inches long and 40.8 inches wide. It is fixed, though, so no surfboards poking out through the roof.
Seating for seven including bench seats in the second and third rows is standard; a six-seat configuration – non-removable captain's chairs in the second row – is an option.
The center console is removable and has two lower compartments and a flexible upper storage area with dividers that can be removed to double as a bottle opener and an ice scraper. Front cupholders are in a separate pull-down bin located in the lower center of the dash.
The driver and front passenger seats are power adjustable, heated, and ventilated and have a massage function and seat position memory. Outboard seats in the second row are heated. All three rows have their own vents for heating and air conditioning.
Safety and Driver Assist on the ID.Buzz
The ID.Buzz comes with Volkswagen's IQ Drive system for hands-on, Level 2 capable highway driving assistance.
It includes lane centering, lane keeping assist with steering assist, blind spot monitoring with steering assist, rear cross-traffic alert with braking, front and rear collision mitigation and/or avoidance warning with emergency braking and front pedestrian recognition, adaptive cruise control with full stop-and-go function, driver awareness monitoring with emergency stopping capability.
Options- which may be standard on the upgraded trim – include automated parking assist with remote automated parking, and a surround-view camera system and monitor.
Tech
As in many all-electric vehicles, the ID. Buzz infotainment system is the tech center. It not only hosts the "normal" features such as audio system, navigation screen, entertainment and information apps and smartphone pairing, it also is control central for many of the vehicle functions that once were relegated to physical knobs, dials and switches.
AppleCarPlay and Android Auto compatibility are standard, as are eight type-C USB ports and a 120-volt AC outlet under the second-row seats.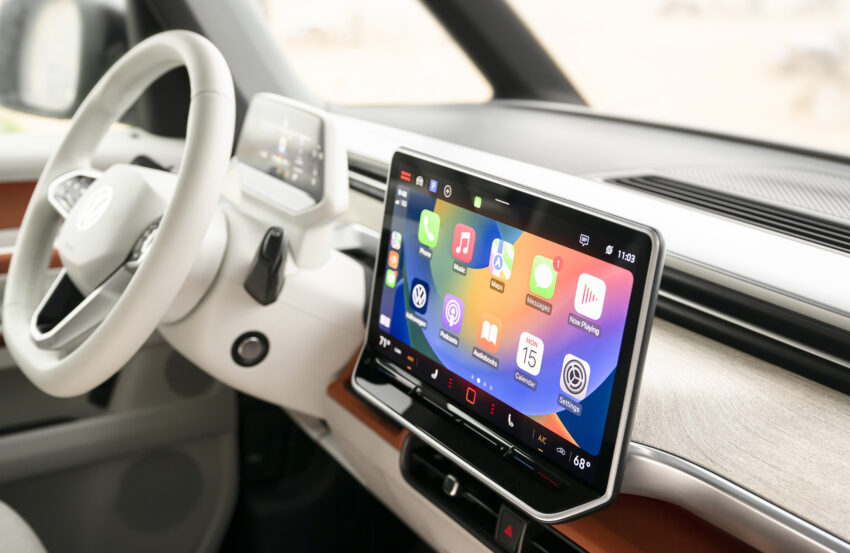 The Buzz will use the same upgraded system being introduced in the ID.7 electric sedan, with improved voice command and a number of features designed to make it easier for drivers to make adjustments:
A direct access icon on the upper left of the screen opens the man screen and an overview of all the apps with a single click
An adjacent Car Control icon provides direct access to the most important vehicle functions, which then can be individually configured
Both the main menu and car control screens can be opened without having to first exist whatever app is active on the screen.
Climate control functions have been integrated in the bottom of the screen display, making them easier to find and use
The slide controllers for audio volume and cabin temperature, have been moved to the base of the touchscreen and are now back-lighted so drivers can easily see them at night.
VW's "ID.Light" signaling system is standard on the Buzz as well.
A LED light strip along the base of the windshield uses various combinations of light pulses to provide the driver a number of eye-level visually signals for things such as readiness to drive status, incoming phone calls, prompts from the driver assist systems to apply brakes, turn instructions from the navigation system. It also signals the battery's state-of -charge levels when the Buzz is plugged in to a charging station.
We'll have to try it to be sure, but is seems that the combination of the upgraded infotainment system and ID.Light might make the ID.Buzz technology at least a bit safer and less frustrating to use than is the case with the bulk of today's infotainment centers, many of which require drivers to take their eyes off the road for far too long.