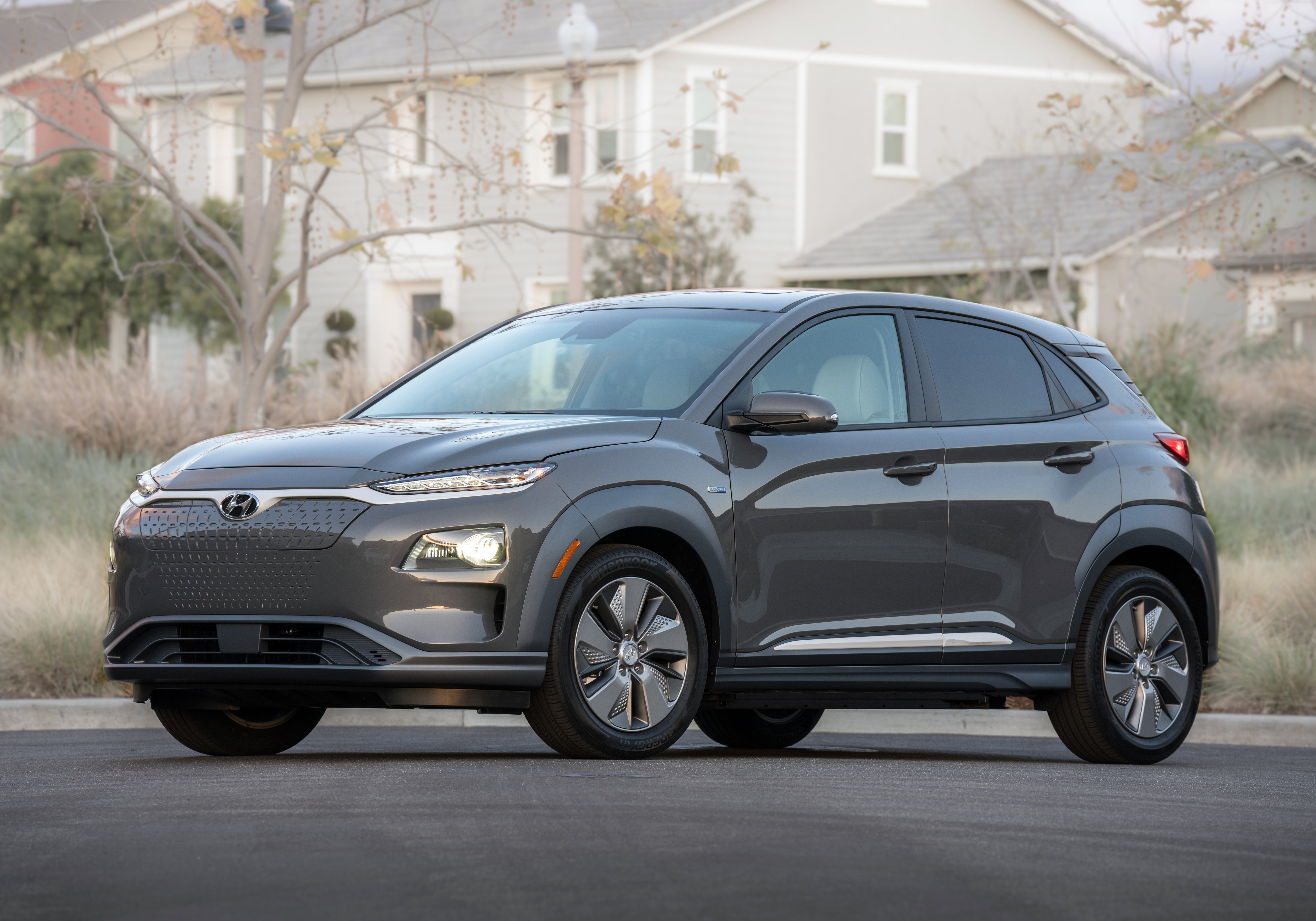 Hyundai's 2019 Kona EV is small, and the gray exterior/charcoal interior combo on the test car that Hyundai sent is lacking in presence. But the crossover – better described as a sporty wagon – actually is a pretty remarkable entry into the electric vehicle arena.
On the downside: It has little in the way of rear seat space or rear legroom, its cargo bay is fairly small and Hyundai is selling it in less than a dozen states – those that have adopted California's zero emission vehicles requirements.
(The "ZEV" states are California and Oregon on the west coast and Connecticut, Maine, Maryland, Massachusetts, New Jersey, New York, Rhode Island and Vermont in the northeast.)
On the upside: The Kona EV has 258 miles of range per the EPA estimate and can probably do better if you're not drag racing with it; power is impressive, as is the list of standard features; the front seat area is spacious; ride quality is good and handling is snappy.
I'll admit to being lax in getting this review done – I took delivery of a 2019 Kona EV several months ago for a one-week loan and then set aside my notes.
But the delay was worth it. I've tested several other new EVs and hybrids including the Audi e-Tron since my time with the Kona EV and found myself wishing they had some of the features the Kona offers.
Hyundai's EV, it would seem, has in many ways become a benchmark. Several reputable judges including Edmunds.com and the North American Car and Truck of the Year jury have called it one of the best EVs in the market, and TheGreenCarGuy is on board with that.
On the Road
We didn't take a long road trip in the 2019 Kona EV, opting instead to use it the way we use most cars most of the time – for daily driving chores and a weekend trip to the beach. We also ran it through our favorite set of twisties.
Handling was crisp, steering responsive although a little dull in the feedback department, and the suspension is superb. The Kona remains stable and composed even when being pushed (pulled, actually, as it is a front-wheel drive vehicle) through tight curves on rough, bumpy asphalt.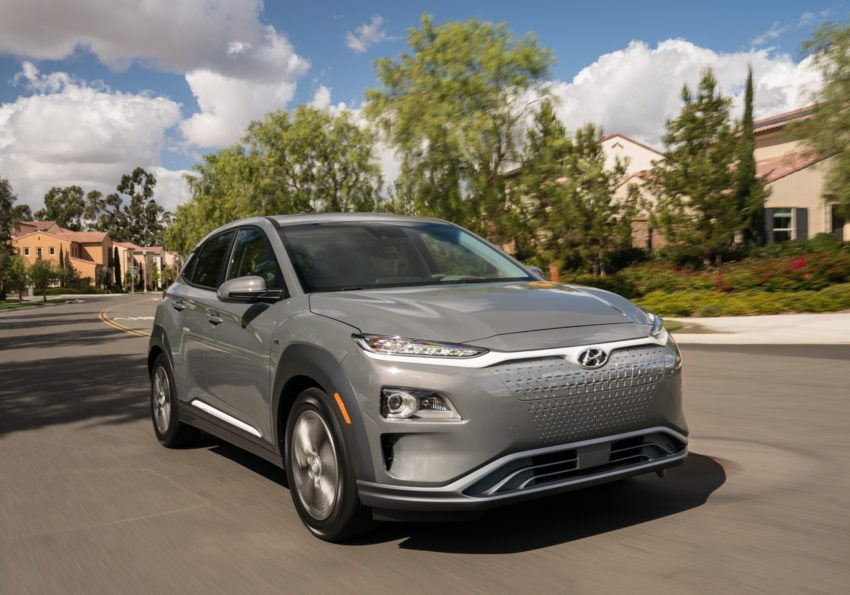 Acceleration is quick. You'll never have to worry about getting up to speed to merge onto a freeway or – unless you already are breaking the speed limit – passing slower traffic. Top sped is limited to 104 mph.
Typical of electric vehicles, the Kona's brute strength is most evident in the lower speed ranges. Torque flattens and the pace of acceleration slows a bit once you are cruising along at 60 mph or more.
Hyundai says the Kona EV will do a 0-60 mph sprint in 7.6 seconds, but Edmunds.com's testers clocked it at 6.6 seconds.
Braking is firm and steady. Steering wheel-mounted paddles let you click through four different regenerative settings, from full coasting at "0" to a fairly heavy drag at "3." In normal operation, the Kona EV defaults to the "1" setting, which slows the car at about the same pace you'd experience lifting your foot from the accelerator in a standard car with an automatic transmission.
There is no button or dial on the 2019 Kona EV that lets the driver select one-pedal operation with regenerative drag so strong it will bring the car to a full stop without use of the brake pedal.
But keep the selector paddle on the steering wheel engaged at the "3" level and the same thing happens – the Kona slows to a full stop. How quickly is dependent on how much your right foot is depressing the go-pedal. With a few practice attempts you can smoothly glide up to a stop sign or red light with one finger on the regenerative paddle and your brake foot flat on the carpeted floor.
Charging
Hyundai has equipped the 2019 Kona EV with both Level 2, 240-volt and Level 3 "fast-charge" capabilities with an SAE Combo Charging System or CCS port hidden behind the dimpled plastic panel that replaces the standard gasoline-burning Kona's grille.
Level 2 charging – the standard for home and many workplace and public charging stations – can replenish a fully depleted Kona EV battery pack in about 9.5 hours, easily accomplished on an overnight charge. Drivers who plug in daily should rarely have to recharge a completely empty battery.
Level 3 fast charging, designed to make road trips possible in EVs, is changing, and speeding up, rapidly. Initially, most of the direct current (DC) fast-charge stations were rated at 50 kilowatts. Now we're seeing 150- and 350- kW stations with 450 kW installations on the drawing boards.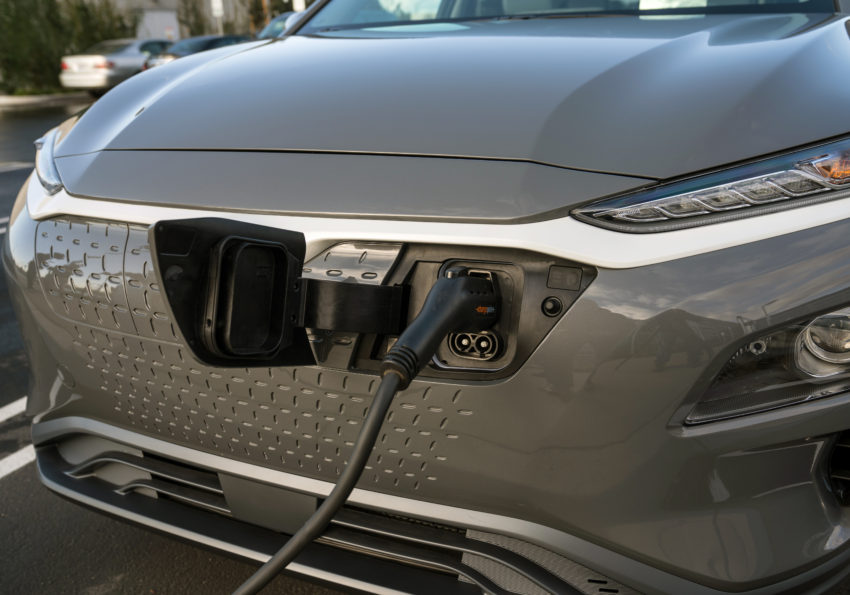 The Kona EV is rated to handle DC fast charging at up to 100 kW, but like most EVs can only sustain the peak charging power for a few minutes. Hyundai says that a fully depleted battery pack can be recharged to 80 percent of capacity – good for 206 miles of range – in 54 minutes on a 100-kW, Level 3 charger. It will take upwards of 75 minutes on a 50 kW system.
Competition and Pricing
The order of importance may vary for each person, but size, price and range are likely the three top considerations for shoppers who might have a Kona EV on their list of possibles.
That said, the competitive set is fairly small: Chevrolet's Bolt, which starts at $37,495; Nissan's Leaf Plus, starting at $37,455 and the Tesla Model 3 in either the Standard Range trim, at $38,500, or Standard Range Plus, at $41,400
The 2019 Kona EV starts at $37,995 and tops out at $45,945.
All fully electric vehicles qualify for a federal income tax credit, but the amount varies: The standard is $7,500 and applies to the Kona EV.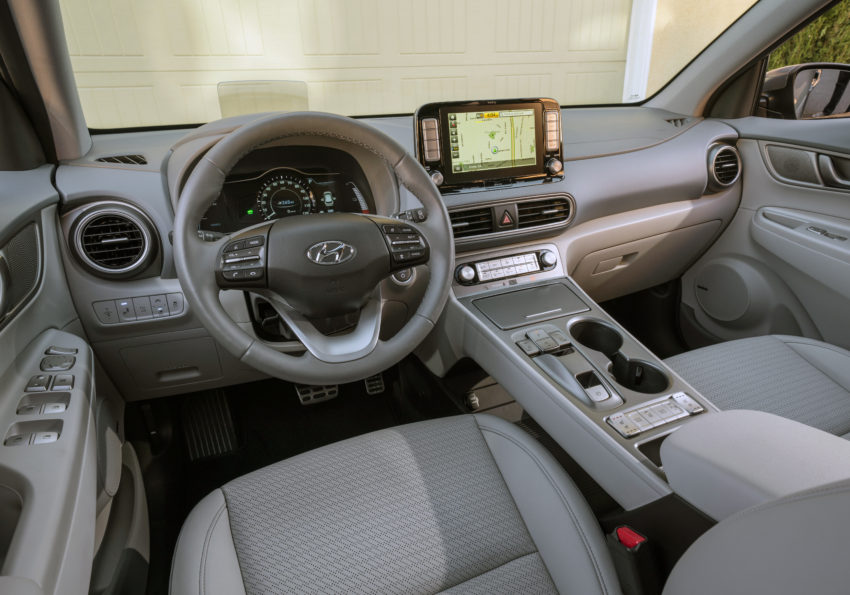 But the credit phases out after a manufacturer has sold 200,000 qualified vehicles. The Chevrolet Bolt's tax credit has dropped to $3,750 through Sept. 30 and will be $1,875 from Oct. 1 until it disappears altogether on April 1, 2020. Tesla's $3,750 tax credit drops to $1,875 on July 1 and disappears on Jan. 1.
Some states and local agencies also provide credits and rebates to EV buyers.
[For more on EV credits and rebates, check TheGreenCarGuy's plug-in-vehicle incentives guide.]
The Kona EV's limited availability apparently has led to a bit of price escalation, with some dealers tacking "market adjustments" to the MSRP. One reader has reported that a Southern California dealership recently asked for a $7,000 premium – and lost that sale.
Hyundai's official position is that "while we don't condone pricing adjustments like this, it's something that occasionally occurs when a vehicle is especially popular." A spokesman for the automaker said Hyundai "can't control at what price a dealer sells our vehicles."
Customers, however, can have a say. Paying such premiums tells dealers that jacking up prices is a worthwhile strategy; refusing to pay – even if it means delaying a purchase or looking for an alternative vehicle – will quickly discourage upward "market adjustments."
Efficiency
The Kona EV's EPA ratings are 258 miles of range per charge and the gasoline equivalent of 120 miles per gallon. The battery pack's capacity is 64 kilowatt-hours.
It isn't the most efficient EV on the road, but the Kona's numbers are among the best.
The Tesla Model 3 Standard Range Plus, with 240 miles of range, is rated at 133 mpg-equivalent. Chevrolet's Bolt, with 238 miles of range, has a mileage equivalency rating of 119 mpg. Tesla's base Model 3 Standard Range is rated at 220 miles of range and 131 mpg-equivalent. The Nissan Leaf Plus is rated at 215 miles of range and 104 mpg-equivalent.
Comfort and Convenience
The 2019 Kona EV's interior is outfitted with high-quality materials, comfortable and supportive front seats, and intuitive and accessible controls and displays.
There is plenty of room up front – head, leg and shoulder. The back seat area, however, is cramped and best reserved for people of smallish stature.
The ride – at highway speed or around town, on smooth or bumpy roads – is quiet and comfortable.
Hyundai's engineers took sound dampening seriously and there is very little wind or road noise.
The low-slung battery pack gives the Kona EV a low center of gravity, which helps keep it settled on even the roughest of roads.
At 19.2 cubic feet, the Kona EV's cargo area is fairly tight – adequate for a weekend getaway for two.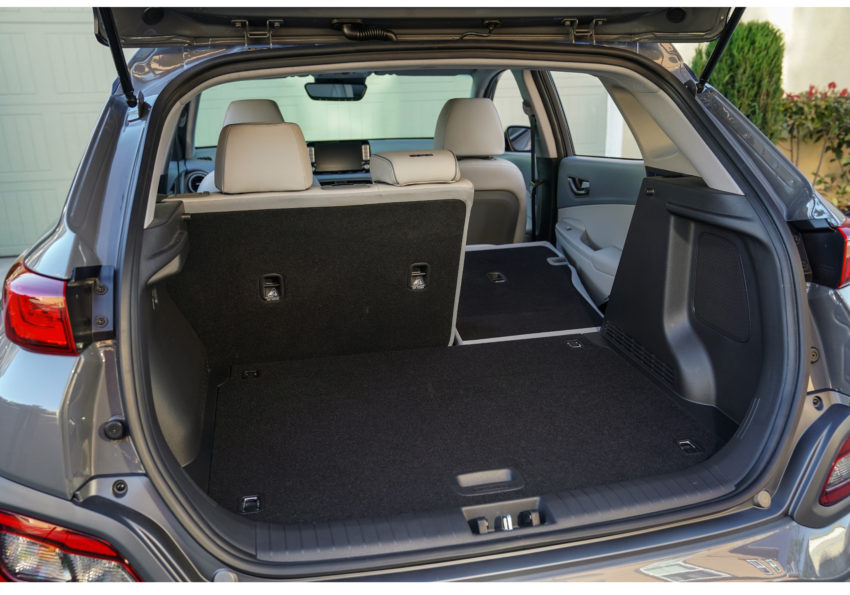 Trims and Features
The 2019 Hyundai Kona EV is available in three trim levels: SEL, Limited and Ultimate. The underlying vehicle and powertrain remains the same as you climb the ladder. Each new level simply adds extra electronic, safety and comfort features.
All three trims get a 201-horsepower, front-wheel-drive, battery-electric powertrain, rated at 291 pound-feet of torque.
Also standard across the three trims are the 64 kWh lithium-ion battery pack, electronic single-speed transmission, and four-step regenerative braking system with a "hold-and-stop" feature. That last allows the driver to use a steering-well mounted paddle to bring the car to a complete stop without using the conventional brakes.
All Kona EVs also get a dual-mode charging port that allows for both 7.2-kilowatt Level 2 charging and rapid battery recharging at commercial fast-charge stations. The SAE Combo system (also called CCS) used by Hyundai is the standard charging setup for most EVs in the U.S. Exceptions are Teslas, the Nissan Leaf and the Mitsubishi Outlander PHEV.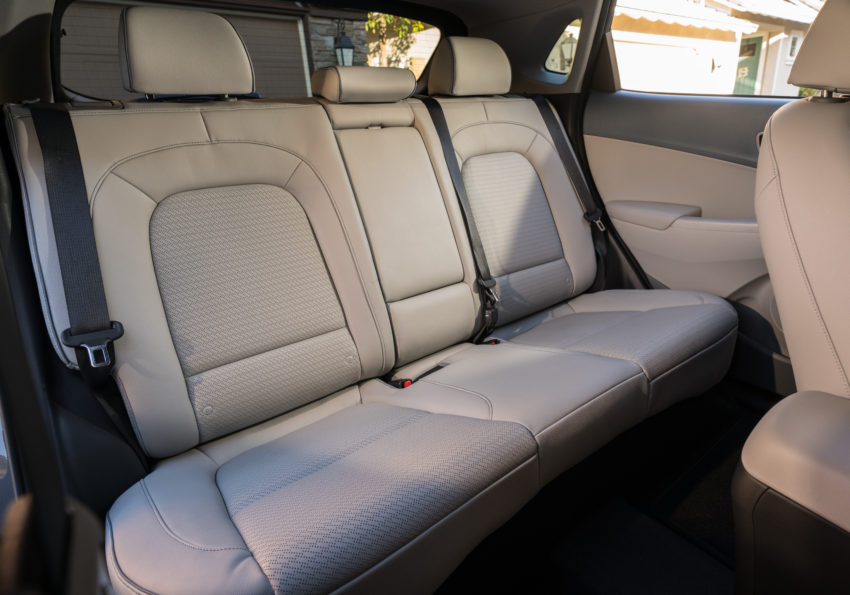 Other standard equipment across the 2019 Kona EV lineup includes forward collision avoidance, blind-spot warning, rear cross-traffic avoidance and lane keeping assistance systems; Apple CarPlay and Android Auto compatibility; and a proximity key with push-button start.
The base SEL gets active cruise control (but not complete stop-and-go capability, which is only on the top-of-line Ultimate trim), along with 17-inch alloys; LED taillights and daytime running lights; heated side mirrors; heated front seats; cloth upholstery; an audio system with a 7-inch infotainment system touchscreen, and an automatic climate control system with a feature that cuts power use – to improve range – by warming or cooling only the driver's side of the cockpit when there are no passengers.
Limited trim adds LED headlights; a power sunroof; leather seats; power windows; turn signals in the side mirrors; a power driver's seat; an auto-dimming rear view mirror with compass and HomeLink; a premium Infinity audio system, and wireless charging for compatible smartphones.
The Ultimate trim adds rain-sensing wipers; a heads-up display; on-board navigation system; cruise control with full stop-and-go function; heated steering wheel; heated and cooled front seats; rear parking sensors, and an 8-inch touchscreen display.
Final Words
If you are in the market for an EV and don't need tons of cargo space, the 2019 Kona EV ought to be on your list of prospects – if you live in one of the states in which it is being marketed.
This is an electric car that can fill most every driver's needs, for daily transport as well as the occasional road trip. And it will do so in a sporty, stylish and fun-to-drive package.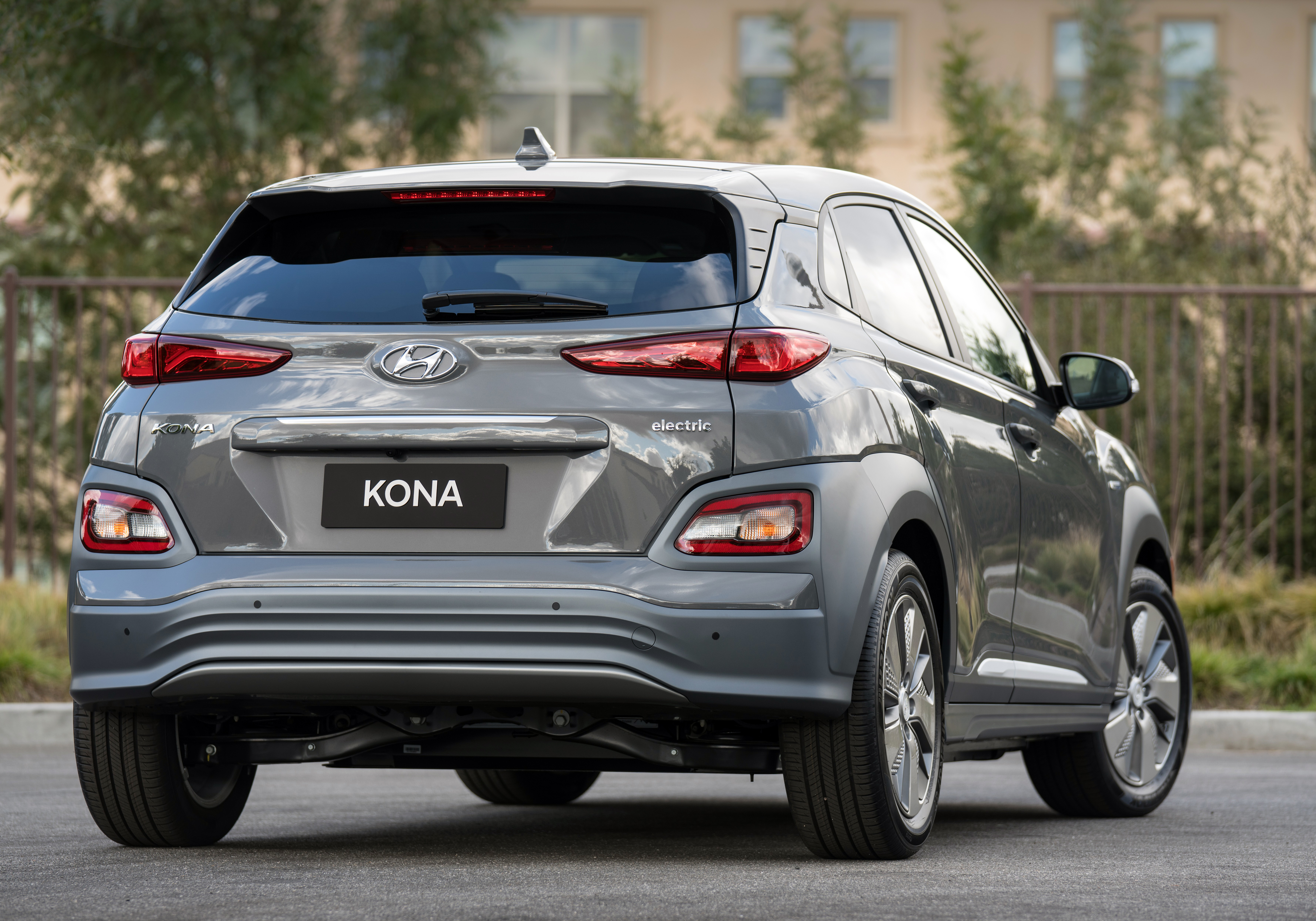 –All photos courtesy of Hyundai Motor America.