While other battery-electric cars are aiming for increased range – 100 miles seems to be the minimum these days and GM's Chevrolet Bolt is rated at 238 miles per charge – Honda's upcoming Clarity EV will deliver only about 80 miles per charge, according to a major trade publication.
[Estimated Reading Time: 1 min., 30 seconds.]
Automotive News reported the plan without naming its source, but did include comments from Honda's Steve Center, VP for environmental business development – comments that seemed to support the trade journal's report.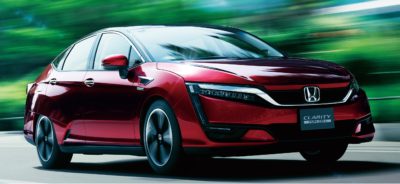 According to Automotive News, range was limited to 80 miles because Honda is wedded to using the Clarity platform – which now hosts the Clarity fuel-cell electric and is also intended to be used for a future Clarity plug-in hybrid – and to keeping the retail cost as low as possible.
More range would have required a bigger battery pack, eating into cargo or passenger space and raising the expected $35,000 cost of the Clarity EV. Auto News quotes Center stating that "a pillar of the Honda brand is affordability" and asking "if Honda came out with some obscenely priced long-range electric car, what does that do for the brand?"
One benefit the Clarity platform provides is size. The Clarity FCEV is a roomy mid-size, 5-passenger sedan, close in interior space to the Accord, and the Clarity BEV should be about the same. Other EVs in the sub-$50,000 price category are subcompacts and compacts.
Honda's market plan seems to be that a short-range BEV on the Clarity platform will be fine for many potential EV buyers, while the 366-mile range of the Clarity fuel-cell electric will satisfy those who want a long-range, zero-emission car. The Clarity PHEV will be aimed at those with long-range driving needs who don't mind burning gasoline some of the time.