Honda always said that the monthly lease  for to 2017 Clarity fuel-cell electric sedan would be under $500, it just didn't say how much under.
Now we know; the automaker will lease the five-passenger, hydrogen-powered sedan for $369 a month.
[Estimated Reading Time: 1 minute, 45 seconds.]
That's the second-lowest lease price for a fuel-cell vehicle. Toyota leases the 2017 Mirai for $349 a month, while Hyundai charges $499 a month for its larger crossover fuel-cell vehicle, the Tucson FCEV.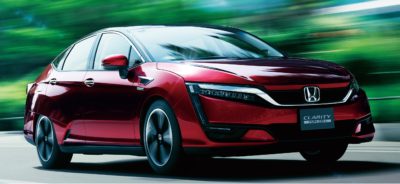 Honda requires $2,499 down, plus the first month's payment, when the lease is executed.
The 36-month lease deal includes a mileage allowance of 20,000 miles per year  (60,000 total), up to $15,000 worth of hydrogen fuel at no cost, up to 21 days of luxury car rental from Avis – within California – to cover trips that the Clarity fuel-cell car can't handle because of fuel availability issues, and 24/7 roadside assistance for the life of the lease. If you'd like more information have a look at this leasing guide.
As with the other two fuel-cell electric vehicles in the market, the Clarity is sold only in California and only to customers in areas of the state close to an available hydrogen filling station (there are 28 hydrogen stations in operation statewide so far, with at least 22 more slated to be built in the next few years).
To date, Honda is allowing just a dozen dealership to lease the Clarity FCEV:  Six in Southern California, one near Sacramento and five in the San Francisco-Silicon Valley region.
Toyota and Hyundai also have limited their fuel-cell vehicle marketing to a handful of dealerships in those regions.
As the hydrogen infrastructure is built up, availability of fuel-cell vehicles is expected to spread. In addition to the models now in the market (the Clarity is expected to be available before the end of the year, the Mirai was launched earlier this year and the Tucson FCEV hit the market in 2014) , numerous other automakers are developing fuel-cell electric vehicles with anticipated launch dates beginning in or near 2020.
The Clarity FCEV is a midsize sedan and is rated at up to 366 miles of range per hydrogen fill-up. That compares to EPA fuel efficiency ratings of 312 miles for the compact Mirai sedan and 265 miles for the fuel-cell Tucson compact SUV.