Jaguar, best know for fast, sleek cars with internal combustion engines that growl like jungle cats, says it will begin selling a Jaguar EV in two years.
[Estimated Reading Time: 1 minute.]
The automaker debuted the concept plug-in Jaguar SUV called the I-PACE.this week in conjunction with the  Los Angeles Auto Show media preview .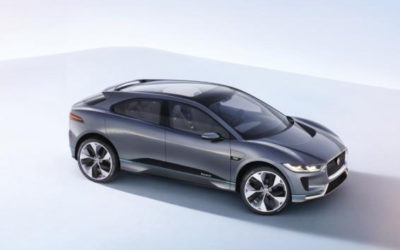 With the concept Jaguar EV and pledge to begin selling a real electric SUV in 2018, Jaguar is underscoring the industry's inevitable move to embrace EVs.
"There's no doubt the market is shifting" toward electric vehicles, said Joe Eberhardt, cheif executive of Jaguar Land Rover North America.  While there 's a lot of concern over how slowly things have been moving, the pace is picking up and Jag, he said,  wants to be prepared.
The I-PACE foreshadows a production model aimed squarely at Tesla's Model X electric SUV (although Jag will be late to the party as Tesla is already selling the Model X), although Eberhardt said the production version will be priced "much lower"  than the Tesla.
Audi, BMW and Mercedes-Benz, also have said they are working on electric or plug-in hybrid luxury SUVs.
The five-passenger Jaguar EV concept, co-developed with India's Tata Motors – which owns Jaguar Land Rover – features a dual-motor drive system and a 90-kiloWatt-hour lithium-ion battery pack that promises up to 220 miles of range.  The presumption is that this will survive in the production model.