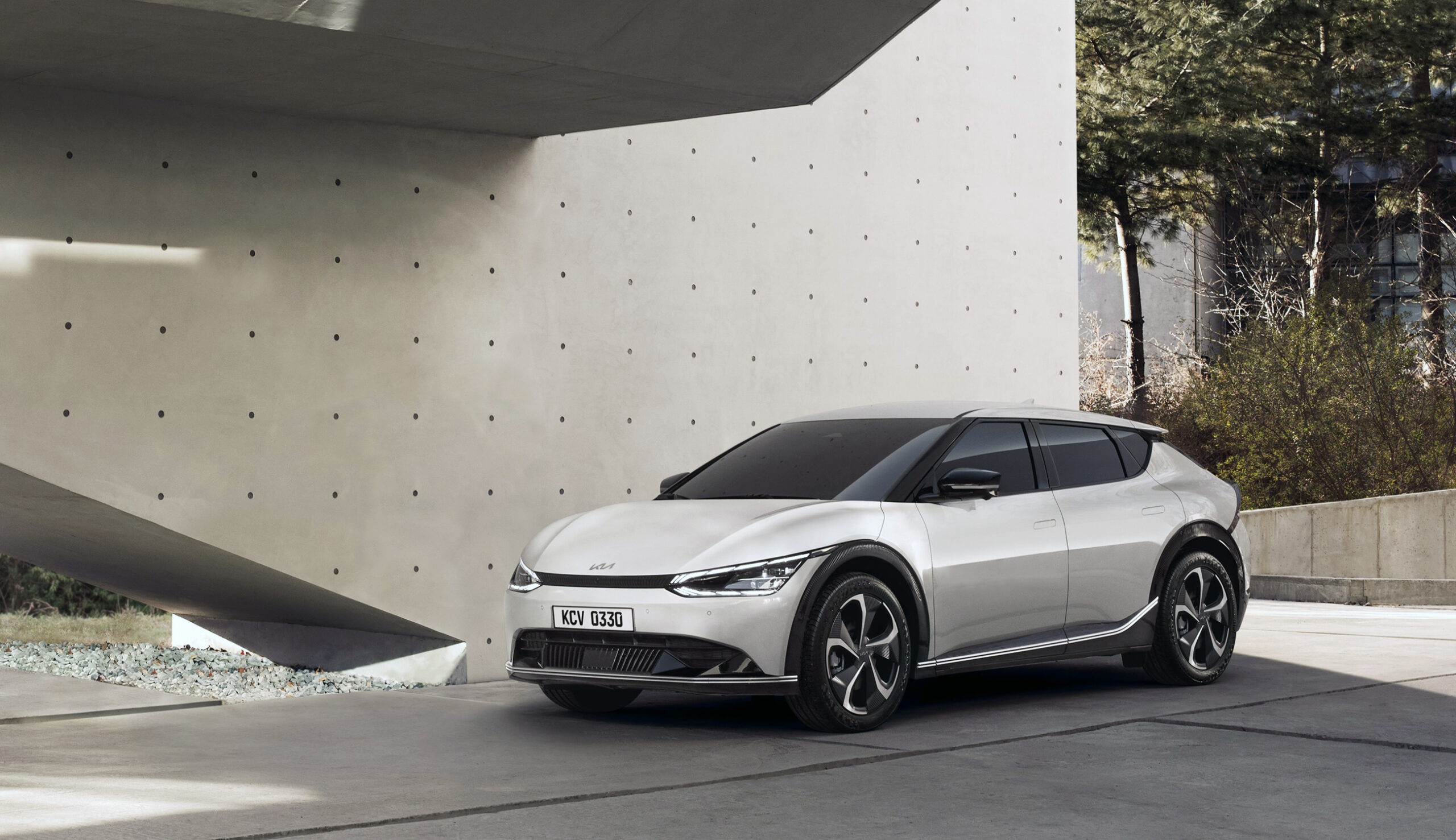 Kia's first dedicated EV shares its platform and powertrain with the recently introduced Hyundai Ioniq 5, buts its looks are all its own.
The compact crossover, which has the look of a long, low, futuristic wagon instead of a boxy SUV, is the first Kia to display the company's new design language.
[A 2.5-min read.]
Beyond what can be culled from the handful of photos just released, Kia hasn't revealed much about the EV6 – a world premier is slated for later this month with lots more info to be dropped. But because it is a shared-platform model (Hyundai and Kia are both units of Hyundai Motor Group) a few things are clear without being said.
The U.S. version of the 2022 Kia EV6 is likely to use the same 77.4 kWh battery pack and rear mounted electric motor as the Ioniq 5, delivering 231 horsepower, 259 pound-feet of torque and around 250 miles of range. If Kia offers an all-wheel drive version, as Hyundai plans to do, the battery pack will remain the same but output with a second, front-mounted motor, will jump to 302 horsepower and 446 pound-feet.
Now let's look at what the EV6 will bring to showroom floors: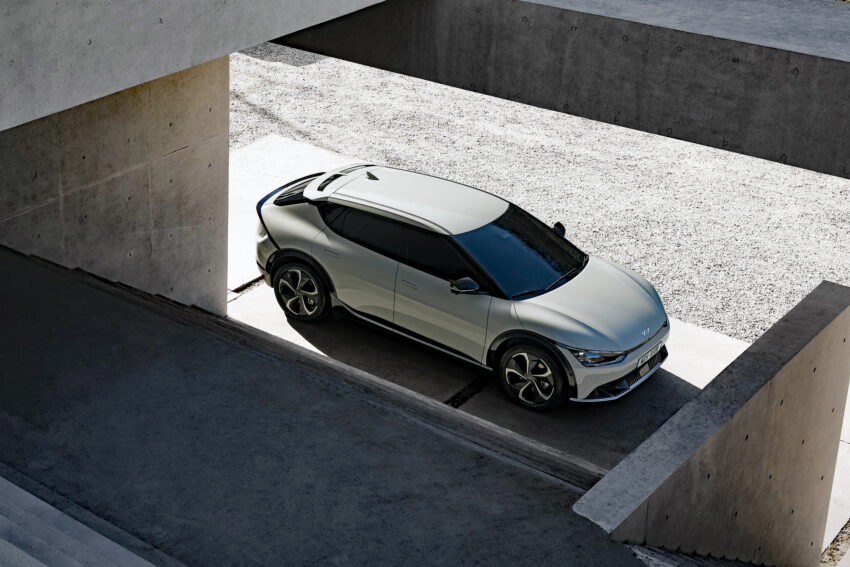 The four-door body has a fastback coupe vibe, thanks to its tightly bunched rear haunches, the nearly wraparound greenhouse and the short tail.
In profile, the EV6 evokes the current Nissan Leaf – if Nissan designers had penned a sleeker, more slippery shape – or even the Jaguar iPace EV.
The rear on many cars is often an design afterthought – silly considering that's the view many people have of a car most of the time its is on the road. but Kia's multinational design tram, working in studios in Southern California, Germany and South Korea, got it right.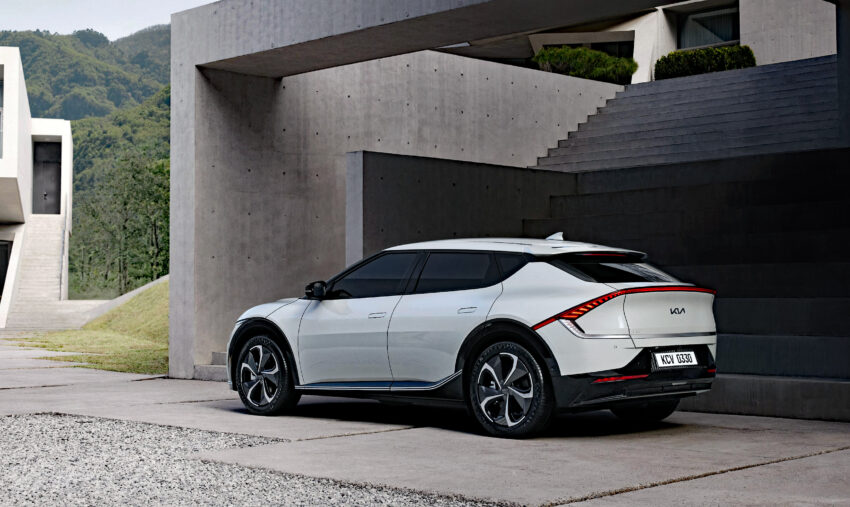 The the top half of the rear liftgate is canted sharply forward as if it cannot wait to start screaming down the highway. A silver character molding stretches across the EV6's chin and door bottoms and connects via an imagined line through the rear wheel cutouts with thin LED taillights that sweep upward from the rear wheel arches and across the lift gate in an unbroken line.
Inside, the driver information array and infotainment screen share a single housing and dominate a curved dash that floats above a two-level center console. Most functions can be controlled via the infotainment touchscreen.
But Kia nicely provides physical switches on the steering wheel or, for the climate climate system, arrayed along te bottom center of the dash. The infotainment screen features a single large knob, apparently for the audio system.
The driver gets a large digital screen that displays information such as speed, battery use, range estimates and the status of driver assistance and advanced safety systems. Both screens appear to be housed in a single freestanding enclosure mounted on a curved upper dash.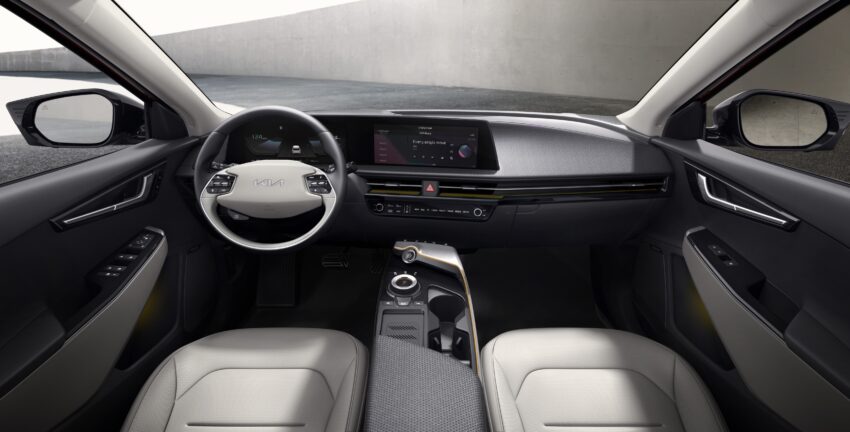 The top level of the center console is cantilevered above a large open storage bin.
Kia hasn't disclosed if it is fixed in place or slides up and back as in the Ioniq 5 to make it easier for passengers to climb in and out of the rear seating area.
To keep everything rolling, the EV6 likely will use the same charging system as its Hyundai cousin.
That will include DC quick-charging capacity of up to 350 kilowatts – replenishing its batteries in under 30 minutes – as charging stations of that power become available.
DC quick-charging is intended to facilitate long-range travel in EVs – from day trips to weeks-long vacations. It generates levels of heat that can speed battery degradation, so it isn't intended to replace regular, lower-speed charging at home or the workplace.
(Learn all about EV charging.)
The EV6's home charging capacity hasn't been disclosed, but the standard for the newest EVs is around 7.6 kilowatts per hour. That's sufficient to to would refill a fully depleted 77.4 kWh battery in about 12 hours or to add back about 20 miles of range per hour.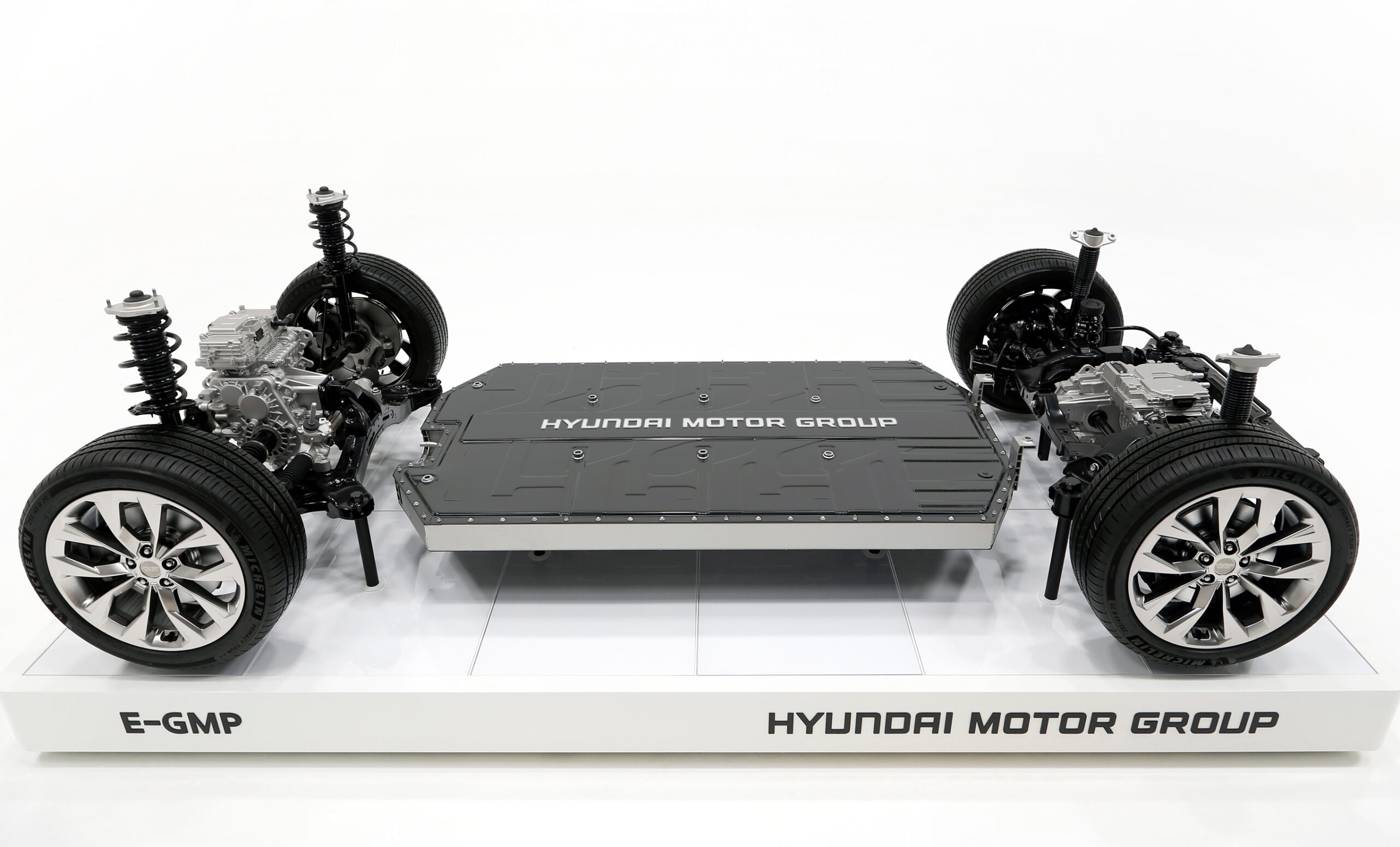 The platform Hyundai and Kia are using for many of their new EVs is the company's Electric-Global Modular architecture. It is designed specifically to house batteries and electric motors and will allow for a variety of motor and battery combinations and a variety of body types.
Because vehicles such as the Kia EV6 will be built on an EV-specific platform, they should deliver far better ride and handling, along with a lot more room, than EVs whose unique components are forced into a platform originally designed for an internal combustion powertrain.